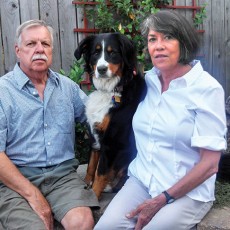 A medical practitioner for the past 33 years, Gill Anderson knew that once he retired he didn't have any plans of sitting around. He became involved in the art of winemaking having now both taken and taught numerous classes on the subject. Gill eventually decided that he wanted to start his own winery but with his family's plans to move to Ashland, Oregon in the Fall of 2013 he would first need to gain the approval from the city. Gill has now gained the approval and is the host to Ashland's First Urban Winery – Platt Anderson Cellars. I met with Gill to learn more about his new urban winery, his wine and passion for the craft.
Gill thanks for taking the time to speak with us today. Please start by telling us a little bit about yourself and your love for wine.
I was born and raised in Portland, Oregon. I graduated from Portland State College, then the University of Oregon Medical School where I completed my internship and residency as an Ob/Gyn. I moved to Seattle where I practiced at Evergreen Hospital in Kirkland, WA until my retirement in 2008. Anticipating retirement I wanted to do something that was challenging and productive. I discovered the wine program at South Seattle Community College and enrolled in the two year program. After graduating in 2009 I stayed on as an Instructor and Cellar Master until 2012 when we moved to Ashland.
When you first moved to Ashland you applied to have an urban winery in your home and were denied based on the fact that nobody has ever done this here before. Can you talk more about this and your process of gaining approval from the city?
This was no light task. The concept of Urban Wineries is common in Washington state, less so in Oregon. An urban winery must be located in an urban setting, usually residential and not a commercial area. My assumption was that I would have no problem getting a license for my winery on our residential property.  Ashland had never received an application for a winery within the city limits prior to my request.  The process with the State and Federal liquor agencies was fairly straightforward. The Ashland Planning Department was very helpful in guiding me through the paperwork and helping me deal with specific issues about water quality, environmental concerns. Overall, it was a positive experience for us and now the city has a protocol for the next applicant wanting to start an urban winery.
Gill, please talk about the trend of making urban wineries.
Becoming an urban winery would appeal to the wine maker who wants to make small lots of high quality wine without the large financial impact. Most urban wineries will partner with a larger winery for the processing of grapes (crushing and pressing) and then make the wine according to their own taste.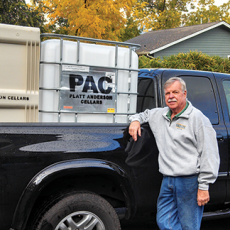 What are some of the benefits of an urban winery?
The benefit of an urban winery is the ability to produce high quality wine without the expenses of a large winery. The ability to take care of the wine with a more personal touch brings great satisfaction and personal enjoyment.
Isn't this how this has been done throughout history?
Yes, definitely.
Can you talk about the grapes that are grown here in Southern Oregon versus what you have known in Washington?
The main difference between Washington and Southern Oregon vineyards is the latitude.  Washington's latitude is parallel to northern France and Germany while Southern Oregon is comparable to southern France and northern Spain.  The climate here is warmer and drier than in eastern Washington so Tempranillo, Alberino, Malbec and others are ideal for this climate.
On average how much wine does a small scale urban winery create versus a larger commercial winery?
An urban winery may produce up to 500 cases per year, but often production is in the 200 to 300 case ranges. Urban wineries rely on local businesses and word of mouth for sales rather than paying others to market their wine. This helps keep costs down.
If our readers are interested, can they contact you to take a tour of your winery and/or learn more?
I am always willing and enjoy talking to people about wine, the aspects of making wine and the enjoyments that come with wine.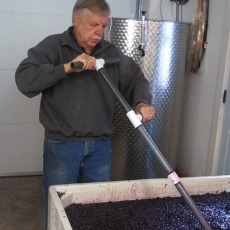 Please tell us about some of the wines you have produced and currently have for sale.
I had a small commercial winery, not an urban winery, in Woodinville, Washington. I transferred my wines made from eastern Washington grapes to Ashland. I currently carry a Chardonnay, Roussanne, Sauvignon Blanc, Bordeaux Red Blend, Dolcetto (also a red wine) and a Roussanne Sweet Wine. These are all 2011 vintage except for the Bordeaux Blend that is 2010.
Where can one buy these around town?
Currently my wines are available at Ashland Wine Cellars. I am hoping to have my wines in restaurants in Ashland and Talent in the near future.
I understand that you will be sampling some of your wines on First Friday.
I will be offering my wines at Houston's Custom Framing at the First Friday Art Walk this November.
When will you be doing your bottling this year and do you need any help?
I plan to bottle my 2013 Southern Oregon white wines in early spring 2014 and can always use help from any interested individual.
As a wine maker what are some of the most satisfying moments for you?
The entire winemaking process is enjoyable for me and I love working in the winery. The whole process, from visiting the vineyards as I monitor the grapes, to crushing and pressing and tweaking the juice, along with nurturing and bottling are truly the best moments for me as a winemaker.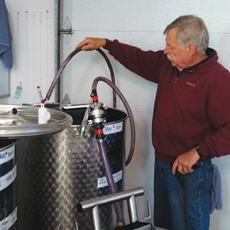 How has it been to be received by the wine community here in Southern Oregon?
Getting involved in the local wine community and networking has allowed me to make some very good connections.  We live in a great wine region and it's great to be part of this robust time in Southern Oregon winemaking.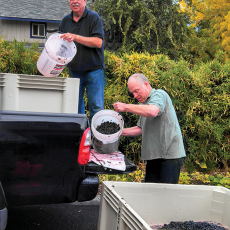 What wines will you be making this year?
This year all my wines come from the Rogue and Umpqua Valleys. The whites this year are Chardonnay, Sauvignon Blanc and Albarino. My red wines in barrels are Cabernet Sauvignon, Merlot and Tempranillo.
Gill, what are some of your hopes for Ashland and the future of wine?
Southern Oregon, especially Ashland, is a great place to live. With all of the outdoor activities, culinary and cultural benefits we have a great opportunity to become a wine center for the region. Ashland, surrounded by beautiful vineyards, could be on the cutting edge of being a wine destination by promoting the local wine industry. A Wine Village or Center where people could sample wines from many different wineries would increase tourism.
Finally, any last comments or thoughts you would like to share with our readers?
I will be pouring my wine at the Chamber of Commerce Culinary Festival at the Historic Armory later in November.  On December 12th I will be doing a wine tasting at Ashland Wine Cellar.
Learn More:

Platt Anderson Cellars
328 Otis Street (also my residence)
gillanderson42@yahoo.com
206-714-3345