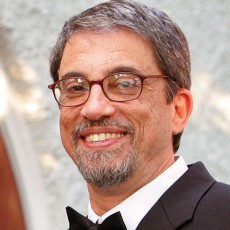 Jim Giancarlo is the Managing Artistic Director of the Oregon Cabaret Theatre. The Oregon Cabaret presents musicals, revues, and comedies and has established itself as a popular attraction with visitors and local patrons alike. Its uniquely inviting ambience and consistently high-quality productions have earned the Oregon Cabaret Theatre a nationwide reputation for excellence.
Jim thanks for speaking with us today. I am so impressed with your story and the great work that you have put into bringing Oregon Cabaret Theatre to life here in Ashland. Can you please take us back to how it all began?
I first came to Ashland in 1975 on a complete fluke and six months later found myself with my first professional theatre job as a dancer in the OSF Green Show. I worked at OSF in the 1976, 1977, 1981 and 1982 seasons. I returned in 1985 and during that stint was also hired to choreograph the musical GREASE at the Britt Festival. The production team from that show became the founding members of the Cabaret the following year in 1986 and the next year I became the Manager and then Artistic Director.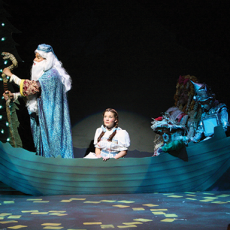 Your building has had an interesting history. Will you please tell us a little bit about it and the vision that helped to shape it into the theatre as it is today?
It was built as the First Baptist church in 1911 and served the Baptist congregation until 1969 when they moved on. The Mission style building then sat empty, neglected and vandalized for many years as it went through various owners who had good intentions but little else. One owner hired painters to paint it a supposedly terra cotta color and went on vacation. She returned to find a bright pink building known to locals from then on as the Old Pink Church. Craig Hudson purchased the building in the early 1980s and began a careful restoration and renovation with the intention of creating a theatre with a night club feel.
On average the Oregon Cabaret Produces five shows per year. This requires an enormous amount of effort from all involved. Can you take us behind the scenes for the creation of an upcoming show?
It takes a village! I select the shows we'll do each season and that begins a long process: hiring directors and designers (set, costume, lighting, sound) who put a lot of time and care and imagination into creating the vision for each production; auditioning and hiring actors, musicians and technicians who will bring it all to life on stage; a brief but intense 3-week rehearsal period where all the elements of music, words, movement and design have to come together to create a seamless production. It's really a series of thousands of creative decisions that somehow constellate together to make a show. It's very conscious and extremely miraculous at the same time.
Jim, tell us about the restaurant aspect of the Oregon Cabaret. You are actually running a fine restaurant, not a dinner buffet and your audience loves it!
Yes, we consider ourselves a theatre-restaurant, not a dinner theatre because we do strive to offer as high quality of a dining experience as we do a theatrical experience. And the patron chooses the kind of experience they wish to have whether it's a full-on dinner or brunch (all ordered from a menu) just appetizers, wine or desserts (served at intermission) or nothing at all.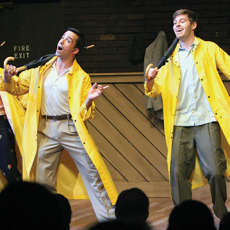 A huge part of the success of the Oregon Cabaret has been the local following you have developed. Will you please say more about this?
We've always considered ourselves a local theatre rather than a tourist attraction, though we do also very much serve Ashland visitors, of course. We love and appreciate our loyal local audience and our local volunteer ushers. The Cabaret is a social as well as entertainment experience because of the table seating and dining options so it makes a great date night, night-on-the-town, special event celebration or a unique place to bring guests and visitors. It's also somewhere where locals run into friends and neighbors.
You've created so many long term relationships with individuals in our community including one with photographer Christopher Briscoe who has worked with you over the years.
Chris has been our studio photographer almost since the beginning and Tom Lavine (a retired Medford police captain) has been our live production photographer since 1988. I've also had the pleasure of working with designer David Ruppe of Impact on all of our graphic materials. And, of course, with our resident designers Craig Hudson and Kerri Robbins who create most of our set and costume designs, Kathleen Mahoney, our Stage Manager, and Technical Director Mike Halderman. These are indeed cherished and valued long-time relationships.
Jim, how do you see that Oregon Cabaret creates synergy for OSF and vise versa?
Many of us have worked at OSF and OSF actors and designers have also worked at OCT. For visitors I believe we are a great complement to the terrific shows at OSF because we offer a completely different but equally high-quality theatre experience, so one can see a powerful drama like King Lear in the afternoon and then come to the Cabaret that night to enjoy dinner, drinks and dessert at a table with friends and see an intimate high-energy musical like 'S WONDERFUL.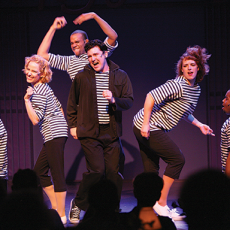 I am curious how you came to learn everything you do. ???Not only are you producing, directing, hiring and putting together shows, you are also successfully running the business side of things.
School of Hard Knocks. That's a joke but it is true that I have had to figure it all out as I've gone along – an exciting and often overwhelming process. I don't think there's any training program for running a theatre that is also a restaurant. Each is a foolhardy undertaking and combining them is insane – so ignorance may actually be a prerequisite (goofy smile here).
November is always a big month for you because you introduce your upcoming schedule.  Would you like to unveil your performance roster for the 2014 Oregon Cabaret?
I've found a wonderful new show DOUBLE TROUBLE featuring two song writing brothers in Hollywood in the 40s who also sing up a storm, dance like mad and each also plays four other characters in a quick-change frenzy. In the spring we'll be presenting WONDERETTES: CAPS & GOWNS, the third show of the popular Wonderettes series. AIN'T MISBEHAVIN' is one of my favorite revues of all time and it features the exuberant music of "Fats" Waller.  BACKWARDS IN HIGH HEELS is another terrific new show – a musical biography of our own Ginger Rogers (she owned a ranch in Shady Cove from 1940 into the 80s). There's a lot of great tap-dancing in that one. Our holiday show will be lots of fun: IT'S A WONDERFUL LIFE presented as a live radio play and we are the studio audience.
Tell us about season passes and flex passes that are now available. 
We have a number of Season Subscription options for patrons who like to see all five of our season shows for less than the price of four. We also offer a Flex-Pass that's good for a ticket to each of three different productions, also at a significant savings. These are great money-saving options and also really help support the Cabaret. In these difficult economic times we're all watching our wallets. We also offer gift certificates which make great holiday presents.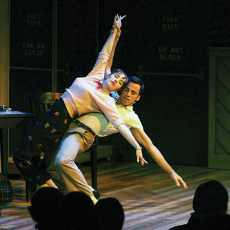 What have been some of your favorite moments over the past years of participating in the Oregon Cabaret Theatre?
Zillions of moments! I enjoy directing and choreographing and have occasionally enjoyed performing but I think what I've liked best is writing and/or creating original shows like our upcoming THE WIZARD of PANTO-LAND. I still remember the rush I got sitting in the first audience for CINDY RELLA and hearing people laugh at something I wrote! What a thrill!
What are some of the most satisfying aspects of your job?
I feel our job is to throw a really great party every night and it's very satisfying to see people cheering at the end of the show and leaving here happier than when they came in. For me, personally – I have been able to have a very creative life that changes all the time and uses all of my abilities (and then some!) working with other artists to bring people joy. What a gift!
Will you tell us a little bit about the Holiday Shows you produce? You have started an interesting tradition here.
It's always hard to find fresh holiday shows and I think we're all way over-inundated with the typical Christmas fare. Consequently almost all of our holiday productions have been original shows that we have written, assembled or commissioned. The most obvious example is our panto shows, inspired by the British pantos which are wacky, hybrid fractured fairy tale type shows that the Brits flock to during the holidays. Darcy Danielson and I wrote the Cabaret's first original panto – CINDY RELLA – in 1992 and our audience's response was so great that I've gone on to write 5 pantos in total and they've become a great Cabaret holiday tradition.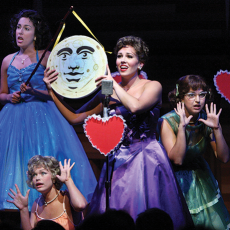 What are some things that you think our readers might not know about the Cabaret?
We have produced 134 productions in 28 seasons; that we are a fully professional theatre and employ about 35 people at any given time. That we are not a non-profit (in truth we are a no-profit), which means that we get no grants, sponsorships or other donated income and operate entirely on ticket sales, something very rare in the theatre world.
Jim, finally, are there any last comments you would like to share with our readers?
If you're a loyal fan and regular patron: thank you! We could not be here without your support and appreciation. If you've never been to the Cabaret: what are you waiting for? You're really missing out. If you aren't attending as often as you used to: come on back! We need your support and you need some more fun!
Learn More:
Oregon Cabaret Theatre
1st Street & Hargadine
www.oregoncabaret.com
541-488-2902