Interviews
Gina Unruh – Cutting Edge Hair Styling after 25 Years!
Gina Unruh always knew she would be a hair stylist.  Her dolls always had fresh haircuts and it was not out of the ordinary for her dad to be done up in perm rods on any given day at her house as a child.  You could say it runs in the family.  Gina's mom went to beauty school and her aunt was a stylist herself, but the truth is, Gina cannot imagine spending her time doing anything else.
Great listening skills, a cheerful attitude, and a passion for staying up on the latest products and techniques, make Gina really good at what she does.  Whether it is haircuts, color, perms or styles, Gina doesn't get bored. She always finds ways to keep it fresh for clients of ALL Ages.  And if happy customers are any indication of success, Gina has many that have stayed with her for twenty-five years!  We talked with Gina recently to learn more about her business and what keep her so happy keeping people beautiful.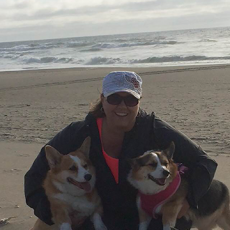 Thanks so much for talking with us today Gina.  Have you really been cutting hair for twenty-five years?
WOW! Twenty-five years? Yes it has been.  Although it sure doesn't seem like that long!   
Tell us about the experience clients have when they come to see you.
I strive to make every clients (new or current) experience be one they remember and look forward to. I want them to feel welcome and relaxed while having fun too. I think everyone that sits in my chair deserves the time and attention they are there for, not feeling like I am rushing their appointment by overbooking myself.  Some want to chat or visit while getting their hair done, while others want to sit and just relax and have a quiet appointment.  Whichever they prefer I am more than willing to accommodate.
You have mentioned that listening is a big part of what you do.
Definitely!  Listening is very important to what I do. Consultations should be a part of every appointment.

I always like to ask questions to inquire about their last service and see if they want to make any changes, and how it worked for them.

Were they satisfied? These are important for me to know to give them what they're looking for.  After all, they are the ones that know their hair best. I always want them to get the most out of it.    
Why is understanding a client's particular routine such a big part of what you do?
My goal is to be able to give them the most out of their style and make it as easily manageable as possible.  It helps to know how they go about achieving the look they want and how they style their hair daily. I want to know the products they use or don't want to have to use.  Also lifestyles play somewhat of a role in how they wear their hair. Most people are busy enough these days without wanting to be in front of the mirror for hours -good results with minimum time!
Do you have any tips for readers about what products they should use to take great care of their hair?
Oh Boy! Products, there are SO many out there. Deciding what to use depends on several things: hair type, texture (curly, fine, thin, colored, permed, well water) etc… There is something for everyone though. My best advice is to start with a good balanced shampoo and conditioner. Styling aids help with keeping your style.

I personally don't stick to one product line for all products at home or at work. Don't be afraid to "mix it up". It's always fun to try new things. However I must say that a good cut is a huge help to all.
You work hard to be very accommodating for your clients.  Tell us how this works for you.
I DO!  It works fairly simple. It's impossible for us to stock every product out there, whether it is an every day products or color or perms. I have the products that I use on myself, and my clients, in the salon.

But if they want to try something different they have heard about, or have seen, I am willing to get it for them. If new clients that I've not done before come in and wants me to use what their previous stylist used on them I have no problem with that. I'll make sure I have it.
What are some of your favorite appointments?
Honestly I enjoy them all.  But if I had to choose I would have to say color/weaves.  I love to do color because they are always fun, new and fresh. You can do SO much with it. Cuts are right up there too.  Another is helping out clients that are going through a tough time, such as cutting and styling wigs for clients who have lost their hair due to cancer treatments. Also I like helping them get through the process of losing their hair and or managing it as it comes back in.
You really love what you do and have had great success in making your clients very happy.  Are there any horror stories to share?
Luckily, there are no horror stories. I have lots of funny stories and even more FEEL GOOD stories!  Not that they're horror stories, but I will say in twenty-five years of doing what I love there were a few (three that I recall)  that I have suggested they should try someone else because in all fairness it "just wasn't working out". I would hope that if someone wasn't satisfied with my work that they would feel like they could let me know without feeling uncomfortable about it.
Did you always know you would be a hair stylist?
I did.  Although in high school I dabbled in culinary a few years thinking I might want to go that route. But my heart was still in hair. My mom and my aunt also studied cosmetology.  As far back as I can remember I have enjoyed playing with hair. My dolls always had new cuts and styled hair! I always was messing with my grandmother's hair too. She wouldn't let me loose with the scissors on her though. Not until later. But I have to say growing up my best client was my dad! He would sit on the floor for hours letting me play with his hair and even let me put perm rods all through his hair. He even got caught by co-workers a few times who came by to visit unexpectedly and that still didn't stop him. Thanks to him for his support!

I studied cosmetology in Medford at Phagan's right out of high school. I came to work here at Loose Ends and have been here ever since.
What are you up to when you're not at work?
My husband of twenty-four years (high school sweethearts) and I are very outdoorsy and always seem to be on the go when we're not at work. He's also self-employed so seems like we work a lot. But we always find time to take our two four-legged girls, Missy and Abby (welsh corgi's) camping, rafting, or to the coast. Everywhere we go, they go. They are A HUGE part of my life. Growing up I was in sports, 4-H and FFA. Then I became a 4-H leader for several years.
Are there any new techniques or opportunities that you are excited about?
Yes! There's always some small one day classes on new products or technique going on locally and a couple times a year there are bigger show or seminars going on up and down the West Coast. But this year I am going to Cancun in September for a big show that includes three days of hands-on training. I am really excited about this because it going to be very educational and full of new ideas, styles and products. Not too mention it will be FUN!    
What keeps you coming back to the shop week after week for 25 years?
It doesn't feel like a job! I really do love what I do. It gives me great satisfaction to make people look and feel good. Each day I go to the shop I try my best to give each and every client just that… My BEST and hopefully it is Their Best!  I feel like it's a good balance working Tuesday-Friday to not get burnt out.  And last, but not least, all the great people I see everyday and the girls I work with! Thanks Lois and Jamie for making it so great.
Tell us about some of your longtime clients.
They are a big part of what makes this all worth it! It's like visiting a different family member or good friend everyday. After all these years that is what so many of them have become. So many of them have been there since the beginning. One in particular reminds me regularly that he "practically helped raise me"! When I think about it, he's right. Each and every client that has sat in my chair whether it be once or hundreds of times have helped me grow in one way or another. I greatly appreciate them all!
What do clients have to say about working with you?
They always say, "How Do You Make it Look So Easy?"  I say, "Lots of Practice!" I always try to make it easy for them as well, by showing them how to manage their new (or old) style/cut. Most people try too hard at making their hairstyle look perfect, when it's almost always going to be different on any given day.

Some of the best compliments are when people re-book, or send in referrals.
Testimonials
"I've had the Good Fortune of going to Gina for a number of years. She is a superb hair stylist, and yet Gina is far more than that… For the young at heart, she is smart, fun and full of life. At the same time she is kind, compassionate, and patient with the elderly. No matter the person's age or circumstance, you leave Gina's shop looking great and feeling like a new person!"  – Darlene S. 
"Our nomination for Queen of Hair is Gina Unruh. She is an absolute joy to be around. My husband and I have been seeing Gina for fourteen years because neither of us has ever had a better haircut anywhere. Her clients appreciate the special amenities of her cozy nook at the back of Loose Ends Salon on Tolman Creek Rd. and Siskiyou Blvd -ever-changing holiday decorations, pictures of puppy's Missy and Abby, and the candy bowl.
She is the whole family's favorite! Gina has skills that rival those of top hairstylist in Chicago, Denver, and New York. Even my son in Denver has been happy with Gina's version of his Faux Hawk do. My daughter has never loved her cut and color more than she does after Gina works her magic! At a fraction of the price one would pay in major cities, Gina's services are a major Ashland perk."  – Suzanne and Jack W.
"Twenty five years ago when I moved to Ashland my first thought was "who will cut my hair"?. I noticed a Beauty Shop near the corner of my house, so I went in and met Gina for the first time. Since then Gina has become my only Hairdresser and good friend. Not only does Gina give a "heck of good " haircut but her kindness and generosity always shines through. She is more than a skilled Professional.  She is also kind and accommodating. I have been a Client for 25 yrs and have never strayed or thought of having anyone else do my hair!" – Andrea Shapiro                                                                                                                                                      
Learn More:
Hair by Gina (Loose Ends Hair Salon)
2400 Siskiyou Blvd. Ashland, Or
541-944-1465