Willow-Witt Ranch is located on 440 acres in the Cascade Mountains 12 miles east of Ashland.  Nestled in a magical hidden valley, the farm provides a wide variety of agritourism and farm stay opportunities that have achieved national recognition.
Settle down any season in the Farm House Studio or the Meadow House. Camp out in a forested tent cabin or bring your own tent late spring through early fall.  The calm animals and livestock guardian dogs will bring a smile to your face and make any stay on this working farm enjoyable for all ages.
We headed up to the ranch to learn more about the Farm Stay opportunities and all that Wi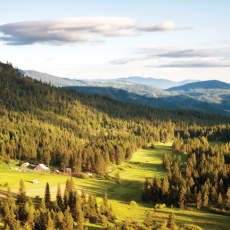 llow-Witt Ranch has to offer.
Suzanne and Lanita, thanks so much for doing this interview with us today.  Briefly take us back to share how your adventures all began.
We moved from northern California to find four seasons and a community with organic foods and cotton clothing for sale, and an excellent school system…Ashland.   We were looking for 40 acres, less than 15 miles from Ashland, above poison oak.  December 31, 1984, we drove up Shale City Road and looked down into this beautiful valley with an old barn and house, all covered with 4 feet of snow.

Our fantasies went wild as we imagined the family that lived there.  On our way back down, at Dead Indian Memorial Road, we noticed a "for sale" sign with an arrow pointing up the mountain; the next day we found out it was the valley we had dreamed about and was 440 acres!  We purchased the land in January, 1985.  Seeing it in all four seasons, we knew we wanted to share the land with others for its high mountain meadows, sweet night air, and star filled skies.
How has your original vision for the farm changed and evolved to what it has become today?
Early on we learned that stewardship of forests involved more than watching them grow.  Our land had been high-grade logged multiple times, taking out first all the sugar pine for fruit boxes and then most of the Douglas fir.  We had a sickly forest of about 220 acres of White Fir with mistletoe.  Over the first 10 years we learned about forest restoration and developed a proactive Forest Management Plan. Visitors can experience this long term investment in forest restoration on our hiking trails.

Our first animals were a pair of mixed-breed dairy goats.

They were smaller and easier to manage than a cow, and we learned to milk with a book, a kitchen pan, and a flash light.  Our daughter was in 4-H and had pigs for showing at the Fair.  We had not envisioned raising animals for meat, but our first FOR SALE product was weaner pigs we finished on organic grain and goat milk; we called them "mail order piggies" and sold about 20 pigs a year at 250 pound weight.  We also had cashmere goats for 8 years and made more money selling them for meat than from shearing 100 goats yearly…for $100!  This was when we discovered the guarding ability of Italian Maremma livestock guard dogs.  We have not lost an animal to a predator since we bought our first dog in 1998.

We have always had a flock of laying chickens and over the years have developed a system of pasture raising them with the protection of solar electric fencing and a hoop house.  We started with a dozen and now have more than 150 hens.  Each year we 'recycle' our spent hens into stewing hens.

In 1995 we started using our castrated male goats (wethers) for back packing; we raise them to be gentle with people and sell (and use them ourselves) for avid backpackers who want some help carrying the load. We also shifted to more dairy goats and out of cashmere goats. We now milk 12 goats daily and sell herd shares for members to enjoy the milk from their herd. Our dairy has been completed with an upgraded milking parlor, chill system, wash room, and processing room.

We were able to build the Meadow House in 2000 when land use laws changed to allow building on a 160 acre parcel in our Forest Reserve zoning.  It was first a rental house for rent-exchange for help with chores; about 10 years ago we rented to a group of students who were in the Environmental Education Master's program at SOU; they loved this land and had valuable observations and ideas.  We had continued a grazing option with a wonderful ranching family in Ashland to maintain our farm tax assessment, but our fences had deteriorated and our property was invaded by more than 100 cows from BLM leases, causing marked degradation of the wetlands.  This valley is sub-irrigated by 10 springs that flow out of the surrounding slopes, forming first an ancient lake, then the current wetlands that cover more than 100 acres. The cattle had eaten the grasses and willows and had worn paths that became large gullies.  The meadows were draining and no longer held water like a sponge; they were becoming dry.  With a new perimeter fence possible as Lanita's medical group practice moved to Providence and her portion of the sale of the group's building brought us the ability, we excluded all cows and entered into a wetland restoration contract (Conservation Restoration Enhancement Program) with the USDA Farm Services. The students knew about these programs and were part of our brain- storming about bringing people to experience this unique valley. This was the second major restoration on our land and is a beautiful learning experience for visitors.  We have brought school groups to help with planting over 15,000 willows in the meadow.  Now, eight years later, new raptors and other birds abound with more food, cover, and plant life.  Birding is an added attraction on our land.  The SOU Environmental Education students also helped envision the campground, its accommodations and location.
Visitors are encouraged to stay on the farm for a full experience of life on a working farm.  Tell us about that.
We approached Jackson County about allowing farm stay accommodations on the ranch.  This started with the Farm Stay Studio, attached to the back of our farm house; it sleeps up to six and is right in the midst of the action. We are far enough from town that having a full kitchen with all the amenities is a plus and adds to our goal of helping people experience living and cooking from the farm. They also learn where food comes from, both from plants and animals.  People can purchase our USDA-inspected goat and pork, truly fresh eggs, and seasonal offerings from the garden.  This was the beginning of fulfilling our dream of sharing the land with others.

Meadow House is a 3-bedroom 2-bath house that sleeps up to 10 and faces the South Meadow wetland restoration. Like all of our buildings, it is solar powered.  Its open main living area is roomy and at the same time rustic and cozy.  Guests can ski off the deck in snow season.  In the summer, our Berkshire pigs occupy a rotating pasture across the meadow.

The Camps are about ¼ mile from the farm-yard, with a pleasant wooded path bringing campers down to watch chores. We have two 4-person and two 2-person rustic furnished Wall Tents.  There are also 12 camp sites for your personal tent.  All guests at the Camps enjoy our beautiful Bathhouse with 'real' toilets and hot showers, and our 2 'outdoor' hot showers.  Guests also use our community Cookhouse, with propane camp stoves, tables, chairs, and full array of dishes and pots and pans.  There is a wood stove for roasting marshmallows and taking the chill off the night. There are no campfires, open flames, or smoking allowed due to the fire danger in our heavily forested land.

We lead a complimentary farm tour each morning for new guests; tours for day visitors can also be arranged in advance.  Guests help gather eggs, feed the pigs, work in the vegetable garden, and pet the baby goats.

Our land is 4 miles from the electrical grid and is powered by solar panels, including both houses, and a larger system for the barns and dairy. The campground has solar and rechargeable-battery lanterns.  Our water source is an incredibly pure and abundant artesian spring.
How does one make reservations?
Our website reservation system is real-time and has photos and descriptions of all our accommodations. Our lodging has a two night minimum, except for camping in your own tent.

For group tours, call or email with at least a week notice.  We host tours for school groups and other groups in fair-weather months.
What are the seasonal highlights?
March through June is birthing time for pigs and goats; baby animals are a big draw for all of us. Spring, summer, and through fall is u-pick time in our vegetable garden.  Our ambient temperature is usually 18-20 degrees cooler than Ashland, so hiking is a treat in summer and fall.  Winter is every one's snow dream-time!  Nothing beats cross country skiing or snowshoeing off the deck and returning to a pot of chili or hot chocolate!
Willow-Witt Ranch is also very involved in the local community, please tell us more.
We sell our meats, sausages, vegetables and eggs Tuesday and Saturday at the Ashland Growers and Crafters Market from March through Thanksgiving.  We are members of the Ashland Chamber of Commerce.  We regularly donate gift certificates to KS Wild, the Southern Oregon Land Conservancy, Friends of the Ashland Library, and other community groups and schools.  We are delighted to host school groups for agricultural/organic/sustainability education. The land offers so much for students to focus on, including forestry, wetlands, birding, hiking, and learning about food and compost.

We want the public to understand the nature of sustainable management of land, water, and woodlands.  We use only certified organic feeds and our pastures have been herbicide and pesticide-free for 30 years. We feel strongly that organic, non-GMO, and antibiotic-free feed is essential for the health of our animals, our land, the community and the world.
Willow-Witt Ranch has received national recognition that has visitors traveling far and wide to come and stay with you.
We are honored to have recent articles about Willow-Witt Ranch in Family Fun Magazine, Modern Farmer, Home Power Magazine, the New York Times, Condé Nast Traveler, and multiple publications in Portland.

An article in the L.A. Times 6 years ago was picked up by the New York Times, Chicago Tribune and many other papers. We recently had a great article published about us in Southern Oregon Magazine. We have guests from the Netherlands, Australia, Germany, France, Poland, and many other countries.  Many of our American guests come from metropolitan areas such as L.A., Portland, San Francisco and San Diego.  Recently we hosted exchange students from China visiting St. Mary's High School.

We also have local folks who stay with us, but we would love to invite more people from the local area to camp and stay with us. We are just 12 miles from Ashland, but a world away.
Your accommodations have also been used for large gatherings?
We host 4-5 weddings a year as well as family reunions and workshops.  Groups can rent a few or all of our accommodations and can design their own events.  Families enjoy the closeness they experience spending 3 or 4 days together, just on the farm and in nature.
What food is raised on the farm?
We raise Berkshire pigs for pork with delicate fat marbling; this breed is a favorite of chefs.  We do the breeding, farrowing (birthing,) and complete management of our pigs through to slaughter. We sell USDA-inspected pork cuts at the Growers Market and we sell half or whole pigs for cut-and-wrap by a custom butcher.  These animals can be ordered now for fall harvest; called "locker pork," this is the least expensive way to purchase organically fed, pasture raised, happy pigs for your bacon, ham, and pork desires.

We have USDA-inspected cuts for sale on the ranch in our FARM STORE along with our 3 cased pork sausages (Banger, Bockwurst, and Bratwurst) and packages of ground pork, Italian loose sausage and a wonderful breakfast sausage.  We sell goat cuts, too, and 3 cased goat sausages with recipes formulated by Susan Powell and Suzanne:  Chevon Blanc, Saucisson Maroccain, and Saucisse Pistache.

We have a large flock of black sex-linked and Ameraucana hens that lay a beautiful assortment of colored eggs.

They are raised on natural pasture, organic barley, flax, an organic soy- and corn-free ration, and lots of bugs and spring water.

All of our feeds are GMO-free and certified organic.
Are there any recent visitor comments or feedback that have touched you?
Just last week a Chinese exchange student who lives in a large city walked back with Suzanne from the Campground and as he looked at the tall waving grasses said, "Now I know the beauty of Nature.  I have never seen it before."

A somewhat skeptical mom from California, here with her family for Spring Break, left a comment in our guest book that this had turned out to be the best vacation she (and her family) had ever had.  Ever!

And a delightful 12 year-old boy, watching a goat kid born and holding it, still wet, quietly declared that this was the best day of his life.
What else would you like to tell us about Willow-Witt Ranch?
We look forward to celebrating our Thirtieth Anniversary with a celebration late in the summer.  Stay tuned to our website and social media for more information and an invitation.
Last but not least, would you like to share any last comments with our readers?
WOW!  30 years!  We feel so blessed to have fallen in love with this remarkable piece of the earth, and to have been stewards of these wetlands, forests, and animals for these years.  We have had such wonderful support from the community, both for our business and for us personally.  We would like to thank all of you who have supported us for all these years.  And Lanita will be retiring from her medical practice in January, 2016…then we will both be 'just farmers.'
Learn More:
Willow-Witt Ranch
658 Shale City Rd, Ashland, Oregon 97520
www.willowwittranch.com