Interviews
Happy 2nd Birthday White Dental Studio! Exceptional Dentistry – Environmentally Friendly
White Dental Studio recently celebrated their second year in Ashland! Over the past two years Dr. Brandon White and his staff have gone above and beyond to exceed their tagline: "Exceptional Dentistry – Environmentally Friendly." Not only do customers report that Dr. White and his staff have exceeded their expectations, but they also appreciate the genuine care and attention that goes into each visit. Many Ashlanders appreciate the cutting-edge green dentistry practices of White Dental Studio, which has also inspired and served as a resource for other offices seeking more environmentally conscience equipment, systems, and materials. This month we spoke with Dr. White to celebrate his two year anniversary!
Congratulations Dr. White, and thanks for speaking with us today!
Thanks so much for following up with us! I'm so grateful to the community and the LocalsGuide for the continued support and positive feedback. We are very fortunate to have settled in to our location and have grown with this wonderful opportunity.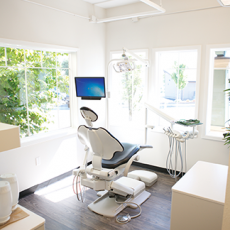 Ashland really loves White Dental Studio… Why is that?
I think one of the most telling reasons we are so loved is evidenced in our word-of-mouth growth. The practice started from scratch, but I was lucky to have past patients follow me here and also share us with their friends and family.  From our many early patients, we've received countless referrals of their friends and family as well. It is one thing to provide quality dentistry, another to provide good communication, and yet another to provide compassion and a caring approach. We strive to combine these principles into creating an exceptional dental experience for our patients, and I think it shows in the number of people joining our practice.
Green dentistry, while still relatively young, couldn't be more timely. Please tell us more.
Luckily it seems as if some of our drought concerns have been relieved this winter, but it doesn't mean we can just throw away resources! My feeling is that, by setting good examples, we have a potential to affect change both in the community and the profession. I'm not perfect when it comes to water usage and most of us aren't, but there sure are some very simple ways to reduce our environmental impact! The one super easy change everyone can make is to commit to turning off the water while brushing. Estimates range from 16 to 90 gallons per person per day are wasted by leaving the faucet on, and Americans waste billions of gallons annually because of this. Both the EcoDenistry Association and Colgate have active campaigns to encourage less water waste.

If 16-90 gallons seems like a lot, imagine pouring over 300 gallons of water "down the drain" daily! Many offices still utilize a "wet" vacuum system which runs water as long as the unit is on (we've nicknamed our suction 'Mister Thirsty' and it's how we get saliva, water, and debris out). By utilizing the dry-system we installed before opening, we have saved thousands of dollars and over a hundred thousand gallons in unused water since opening. I've had colleagues come by the office to see first-hand how these machines, along with oil-free compressors, operate.

We also have numerous other systems in place to reduce our waste footprint including the use of biodegradable disposables when possible or materials made from recycled paper/plastics, sterilization pouches from EnviroPouch, paper-less charting, energy efficient equipment, HVAC, and lighting, and the use of a steam/heat autoclave for sterilization of instruments.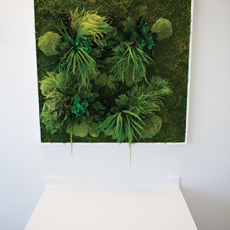 What are some specific examples you can point out in your office that might appear small at first, but can really make a big difference?
I've been pretty impressed with many of the systems we've worked to put in place and most of those have remained unchanged. But there is one new system that we're very happy about. Most offices provide samples of toothbrushes, rinses, floss, and toothpaste when a patient leaves, right? I've seen those given to patients loosely, packaged in a brown paper lunch bag (how fun!), or in a plastic baggie with promotions and coupons on the side. One of our suppliers for toothpaste sent us hundreds of those plastic baggies without us even asking for them! Many of our patients will remember the uniquely patterned brown recycled bags we provided in our first two years, but we've evolved. We now have totes made from 100% recycled paper which we provide patients for their take home supplies. So far they have been well received.
Dr. White, your practice has you working on patients of all ages. What have you enjoyed most about practicing dentistry here in Ashland?
I've really enjoyed the opportunity to meet so many people here in Ashland. Whether through meeting people while out and around town or welcoming a new family to the practice, it's very exciting to hear people's stories. Many of us are transplants to Southern Oregon – my wife and I moved here from Kansas City, Missouri right after graduating in 2007 – and I work hard to learn from my patients what their journey has been that led them to Ashland. Most of our patients appreciate the opportunity to have a discussion with us that doesn't revolve strictly around teeth and gums!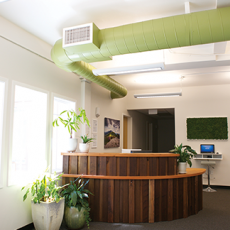 You've taken a lot of care to choose your staff. Please introduce us to them.
I've had the opportunity to work in the real world of dentistry for 13 years now. Wow, that puts some reality to time flying by! I started at 20 years old assisting for the fathers of friends from school in two different practices while in dental school. Between those practices and my years practicing here in Oregon, I would estimate I've been a co-worker to 51 dental professionals (chair side assistants, lab and sterilization assistants, receptionists and financial coordinators, and hygienists) along with 10 dentists. It is not easy to find staff who enjoy dentistry and enjoy practicing together, but I am fortunate to have had opportunities to learn what helps build a solid team.  Here at White Dental Studio, I've had the distinct privilege of practicing alongside an amazing staff.

Our lead assistant, Tishena, began working with me in 2012 and helped us put the practice together. We hear rather often from patients how well we work together to complete treatment in a comfortable, efficient, and professional manner. Tishena's expertise, thoroughness, and communication skills are invaluable to us.

Megan joined our practice in January 2015 in the role of treatment/financial coordinator and office manager. She is often the primary point of contact for us through the office and works so hard to help our patients with insurance questions, scheduling, and following up on care. Megan also has experience assisting and brings that knowledge to help explain proposed plans for patients to better understand the goals and outcomes we aim to achieve.

Newest to us at White Dental Studio is Deleen, our Registered Dental Hygienist. Deleen and I first practiced together for a year or so in Medford when I was fresh out of dental school. I was able to learn from her the benefit well done, consistent dental hygiene brings to a practice. Deleen has been with us now for 4 months and has enjoyed a very warm reception from our patients. Her focus on periodontal health and education is appreciated by our patients.

Staffing a dental practice can be incredibly challenging. I am so grateful to work alongside three people who I trust to provide oral health care for my own family.
Your wife also plays a big role in supporting White Dental Studio.
Lauren provided so much of the vision for the practice! She helped with 99.9% of the design and decor of the practice (yours truly can lay claim to one or two small details) as well as our marketing and advertising efforts. We are very lucky to have her talents with graphic design and promotion to put to use in the practice. She often works behind the scenes, but a couple times a month we will go over new plans or proposals with the staff in the office.

Lauren also provided much of the research and execution work for the practice's remodel, equipment installation, and supply ordering to meet the EcoDentistry Association's Gold Certification level at our opening.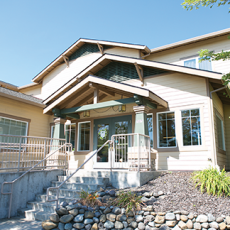 And you guys have two great kids, that many of your patients often check in about their latest adventures…
We do! Our daughter is 6 now and a fiery little kindergartener. She has been working hard this winter to become a better skier up on the slopes and I've been very fortunate to have advice and encouragement from our patients to help keep her progressing. One of her favorite things to do is dance. There are more than a few days where she gets to come 'hang out at the dentist office' after school and, when the day is done, we turn up her favorite songs and let her dance it out in the open space which is set aside for equipment as the office grows. Last fall, when I was working towards Dancing With the Rogue Valley Stars, she wanted to fundraise and set up a lemonade stand. She worked it and raised over $370 to go to Southern Oregon Sparrow Clubs and we couldn't have been more proud.
Our little champ will be 4 this summer and each day with him is a blessing. He was St Mary's School's adopted Sparrow for the 2012/13 school year and we are so proud of the work and determination he shows the world day in and day out. I was so thrilled last year to be invited by Sparrow Clubs to participate in Dancing With the Rogue Valley Stars. The chance to give back to an organization which has done so much for us and other families was an amazing and inspiring experience. We've had patients mention that they saw the show live or on TV over Christmas time and I'm so glad I had the chance to share the event with so many from our community. My partner and I danced in his honor and also succeeded in raising over $13,000 for Sparrow Clubs – a new record!  
When setting up your practice you intentionally planned it so that you could have generous time with each patient. Please say more.
So much goes into establishing a professional relationship with a patient who joins our practice. Who really wants to go to the dentist? There are so many other things we'd rather go do. I enjoy having my hair cut and styled, and I expect the person who I choose for that experience to make an effort to get to know me, understand what it is that I am looking for, and know how to help me achieve those goals. When I set goals for myself as a dentist, I knew I wanted to know my patients. What kind of hobbies or activities does my patient enjoy in their free time? From where did they relocate and what are some of the things they enjoy about Ashland? How do they feel about dental care and their teeth? What are some goals we can help with? What questions does the patient have that I can help resolve?

Is that going to be the right fit for everyone? I don't know, but I can say it makes the relationships we build with our patients much more meaningful and fulfilling to us as we go through a treatment plan or see people around town or at their recalls.
You've received some outstanding testimonials over the past two years. Will you please a few of your favorites with us?
I love to hear feedback from our patients!  We maintain Google and Facebook pages for people in the community to follow and use as a resource and we welcome you to follow us! I chose to share just one for now as it embodies an ideal first experience in our practice:

"After bringing my 3 and 4 year old children successfully to their check-up (not a tear shed), I decided I could do with a cleaning as well. White Dental Studio got the records and x-rays from my old dentist's office and reviewed them with me. Dr. White then came up with a plan of care for my continued dental health and explained the things he thought could help me. He was very professional but also able to explain things in layman terms." – Adam
Dr. White you've had the opportunity to work and connect with many great dentists around the valley. Please tell us about this.
Over the last several years, I've really found the analogy of the general dentist practicing as a quarterback to be quite accurate. We can do so much with our training and I enjoy almost every aspect of general dentistry. But what about the challenging wisdom tooth that needs to be removed? How about the 5 year old who needs more than I can provide in my office or the 13 year old who needs braces? What about the tooth that breaks and should be replaced with an implant in a difficult location? Our valley has some fantastic specialists available to take care of our needs and I know that by working with them, we as a team are going to achieve some of the best results possible.
I really like what you are saying and I think this is an important point. How does collaborating with specialists benefit your patients?
Very much so! I've built a strong relationship with many of the specialists in the Rogue Valley over the years. Collaboration with pediatric dentists or orthodontists help our children to have access to better oral health care than many of us had access to. Techniques in periodontics and oral surgery, especially implants, have evolved tremendously in my 13 years in dentistry. Our endodontists are using materials and equipment to better treat abscessed and painful teeth with predictable and long lasting root canals. As we work together, we see what is succeeding and how the changing technologies and materials used in dentistry provide better outcomes for our patients.
Dr. White, I am curious how you stay up on the latest green dental practices, and to hear feedback from patients who really appreciate the green dentistry approach of your practice.
We frequently research equipment and materials through the EcoDentistry Association. There's an old adage in dentistry that no one wants to be the first dentist doing something but you really don't want to be the last. I'm grateful that the EDA has put forth the effort over time to make good recommendations for equipment, furnishings, and supplies that reduce our environmental impact.

The City of Ashland also provided us a water audit and provided us a contact to review our water usage and faucet designs. At that visit, we were able to obtain hardware from the city to help us in our goal to save water. I encourage people to look into this program, and the city will send a technician at your request to review your business or residential systems. For more information visit the City of Ashland's website and search Water Conservation Programs.
Do you have any special plans lined up this summer with your family?
We enjoy spending time on our bikes (who doesn't!), growing veggies in our backyard, visiting with friends and family from the midwest, and exploring Southern Oregon. Our kids are usually pretty active in summer day adventures or camps and we hope to do a little more hiking this year. We also really enjoy learning new cooking techniques and I'm sure we will find some fresh and fun food ideas to try.  We will probably also binge watch a show or two on Netflix.
Looking forward to the next two years, what are some goals you have for White Dental Studio?
Our team is excited to spend some time growing together and learning. We look forward to participating in some really interesting continuing education opportunities this spring and hope to incorporate what we take away into our patient care as soon as we are back. I'd like to see us adding more available hygiene appointment times for Deleen as we grow busier. I am very excited to see what 2016 and beyond hold for us and hope to see many more join us!
Congratulations on all your success here in Ashland! Would you like to share any last comments with our readers?
I am so grateful for the opportunity to participate with LocalsGuide. We enjoy having an outlet to share our business with the community which reaches so many individuals and families. Our message is the same now as it was in early 2014 in that we strive to provide exceptional dentistry while being environmentally friendly. I'm very glad we've had the success we've had since starting our practice in Ashland and I look forward to continued success! Thank you.
Learn More:
White Dental Studio
727 N Main Ashland, OR
541-708-6288
Check out their website here