Interviews
3rd Annual Southern Oregon Grape Fair- You're Invited!
You're invited to the 3rd annual Southern Oregon Grape Fair on Sunday June 5th, in Downtown Talent. ?Brought to you by the Talent Chamber, Toys for Tots, and The Organic Alcohol Company, this event plays an important part of supporting the Talent Chamber and local business community. We spoke with Gretchen Hartrick, Co-Chair, SOGF and Talent Chamber President, and Bobby Townsend, Co-Chair, SOGF andTalent Chamber Board Member, to learn more about all the wine, food, and fun we can expect at this year's fair!
This is now the third annual event. Please tell us about all the event will have to offer.
We are excited about the 3rd Annual Southern Oregon Grape Fair. This is a community event, fundraiser, and celebration of the quality of life in our region. The event is a? small and intimate festival of regional a?rt, music, wine, food and beer festival.

We will have about 20 featured wineries tasting and selling their best wines. Ashland Wine Cellar manages our juried wine competition and will be on-site and managing the balloting for our People's Choice Wine Awards. The Rogue Growler, Medford's newest growler filling station (at the Highland roundabout at Siskiyou Ave), will come out with their mobile unit, with over 20 local and regional beers on tap. There will be area distillers sampling unique and mainstay spirits.

Delicious local foods will be available onsite. There will be tastings in the tent: confectionaires like Branson's Chocolates, specialty foods, baked goods and delicious snacks, as well as Sultan's Delight Gyros and Falafels, Peruvian Point Peruvian Food, Nguyen Vietnamese, Full Moon Creperie and local restaurants offering event specials.

There will be live music all day. Past musicians have included Lovebite, Cornflower, Fret Drifters, TC and the Reactions, UR Mom, Siskiyou Summit, Salsa Brava – this year's lineup will have you dancing in the streets!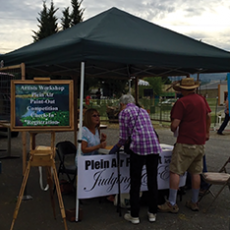 Oftentimes there is an opportunity to meet the winemakers themselves at this event. Please tell us about this.
Local winemakers and their staff will be at the events pouring and describing their best wines. Prior to the event, there will be a wine competition from participating wineries all around the region; the winning wines will be available for tasting and for purchase at the Southern Oregon Grape Fair. Judges for the competition are some of the most experienced and respected pallets in Southern Oregon.
As the wine industry in Southern Oregon continues to grow, what would you say the long term vision of the event is?
Southern Oregon has a long established history of grape growing and artisanal agriculture, specialty food products and incredibly talented artists creating in all mediums. The vision is to showcase the wines and artisans of our region—to promote encourage and celebrate the beauty and full flavor of Southern Oregon.  More food and wine pairing opportunities, more grape growing and winemaking education, more creative art of all kinds.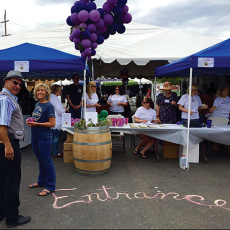 What has the feedback been from event attendees?
"Thank you for creating an incredibly enjoyable atmosphere and celebration in downtown Talent!" RJ, Talent business owner
"Thank you for having homemade confections at SOGF. You did an exceptional job to make our day successful and FUN!"  JG, Homemade Confections, Medford
" …. tasting food, confections and wine combined with beautiful weather and lots of friends– it just doesn't get any better than that!"  S W,  Ashland
"This is this is a must attend time for anyone who loves hanging out with others who appreciate great wine, food and culture."  Whitman Parker, Jacksonville Review
I love that you offer Will Call for the event. I can't possibly carry all the wine around the event that I would like to buy.
The Will Call is one of the most unique and successful aspects of our event. It works exceptionally for participants and vendors so you can buy what you want, enjoy the event and pick up your goods at the end of your day.
Please tell us about your Plein Air Paint Off.
This is an extremely popular event where artists pick up a canvas at 8am and paint a scene in town, at a local vineyard, winery or in nature, and return to the event by 1pm with a framed piece of art. There is such a great number of amateur and professional artists in the region; the artwork is truly fantastic – and can be for sale or donation.
This year we are fortunate to have last year's successful organizer, Rick Evans, the chairperson from the Artist's Workshop organizing and championing this exciting event.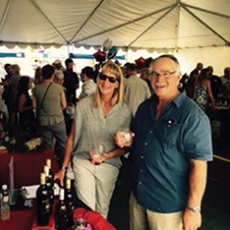 For a small town, Talent has 4 tasting rooms and 13 vineyards and more on the way.
With its unique small town experience, Talent is in the heart of Southern Oregon's Wine Renaissance.
You don't need to live in Talent to participate and help with the event. Please say more.
We are working with local wine touring companies like Bacchus Wine Tours to provide safe transportation. We are reaching out to Senior Centers to coordinate vans to bring people to the event who want to connect with their community and enjoy all that our region has to offer. Ask your community event coordinators to connect with us to set up transportation to SOGF. Volunteers and all inquiries, please email to info@southernoregongrapefair.com or message us at our Facebook page, Southern Oregon Grape Fair.
Gretchen, when exactly will the event be and do we need to buy tickets?
Sunday, June 5, 2016

       –Vendor Fair and Music 12pm-6pm

       –Plein Air 8am – 1pm Learn more here

Tickets will be available at the door, and for pre-sale here and on our Facebook page, Southern Oregon Grape Fair.
Any special dress code?
Be comfortable. Stay cool.
Learn More:
Southern Oregon Grape Fair
Sunday, June 5th, 2016
Check out their webstie here
Like them on Facebook