Interviews
Jaye Marolla & Steven Glaser – Holistic Bodywork with Asian Foundations
Jaye Marolla and Steven Glaser have enjoyed an incredibly successful first year as co-owners of the Ashland Center of Asian Bodywork. Not only is the Center a wonderful place to receive a deeply therapeutic massage session, it is also steadily becoming a community nexus for those interested in exploring classes in Thai & Shiatsu Bodywork, Hakkoryu Jujutsu and Qigong. The Center hosts several monthly events, including Ashland's only affordable sliding-scale bodywork clinic as well as a Bodywork Jam for practitioners to hone their skills and meet new people. We caught up with Jaye and Steven to learn more about their unique practice here in Ashland, Oregon.
Jaye and Steven, thanks so much for speaking with us today and congratulations on the recent anniversary of your center here in Ashland.
Steve: Thanks… It's been a really exciting year, not only because of the Center's growth, which is beyond our expectations, but also it's such a privilege to be a participant and witness to the changes in our clients' lives. So many people live with chronic pain and restricted movements that deeply affect their lifestyle, convinced that this is how life will be from now on. Then they stand up after a treatment and things are different. They can lift their arm above their head, they can walk without pain, they feel stiffness in their neck or back dramatically reduced, and they realize that they can they can live a full life… well, seeing that is a truly remarkable thing.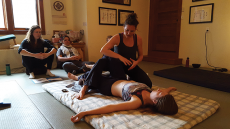 Your Sliding-Scale Community Clinic has been a huge success. Please tell us more about it.
Jaye: Yes, we are typically booked out one to two months in advance, which speaks to the need for affordable high-quality therapeutic bodywork in the community. We may expand the monthly clinic to a yoga studio in Talent, reaching even more people throughout the Rogue Valley. Currently, our sliding-scale community clinic is offered on the first Tuesday of every month here in Ashland (1hr sessions $30-$50). Those interested can call us for booking.
Jaye and Steven, your individual practices are quite distinct. Please share more about your specialties.
Steve: The foundation of my work is from Koho Shiatsu Igaku, a meridian-based system that is founded on two main premises. The first is that when the body's meridians are balanced with one another and are not bound by physical restrictions, then the body can move towards a state of wellbeing. The second premise states that when a point on the body is stimulated in the right way, the parasympathetic nervous system will send a response, not only to the the stimulated point, but also to the points corresponding with it. In this way, we can treat injured and inflamed areas indirectly, avoiding further damage to those tissues. The combination of these two principles can be quite powerful.

Jaye: Thai Bodywork is based on the central theory that in order for a body to exist in health and buoyancy, "Lom," a Thai word most commonly translated as "wind," has to be moving efficiently throughout the system. Thai Bodywork encourages the movement of "Lom" throughout the channels and wind gates of the body, alleviating blockages and stagnation that result in symptoms such as chronic pain, joint dysfunction and other expressions of imbalance. The internal lens both Thai Bodywork and Shiatsu carry allows Steve and I to move both with and beyond the framework of the Western allopathic approach towards the articulating forces and conditions of health and wellbeing.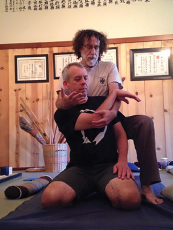 The Ashland Center of Asian Bodywork has hosted several visiting teachers recently. Please tell us about some of the guests you all have welcomed and what may be coming up.
Jaye: Yes, we have had the pleasure of hosting two masterful Qigong instructors, Claire & Jerigtu of ZY Qigong, who both live in Asia and travel the world sharing their teachings. Also, Sarah Bryden of the MogaDao Qigong lineage hosts several of her classes here when she is in town. All three teachers comment on how well-suited the space is for facilitating intimate and depthful teachings, and we are continually honored to participate and share in the energy of their work.
Steven, please share some recent comments or feedback you have heard from your clientele.
Steve: Sure… a few things recently have been comments such as, "I don't feel like you're changing my body… I feel like you are changing me." I am hearing more and more that the work is not just limited to the body alone, and this is in accordance with the holistic view we employ at the Center. There is a sense that when we apply our hands and then add our weight, there is a deep feeling of opening that is more than a muscle relaxing. It allows people to go to a place where balance and wellness can be found. The response from clients after the session is often, "That was exactly what I needed."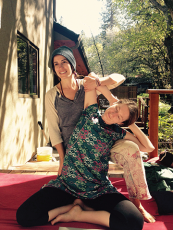 Jaye, what types of feedback have you received from your clientele?
Jaye: Yes, feedback I received recently was, "My body hasn't felt like this in years, it's as if I've accessed a former self." I had a wonderful teacher at the Ashland Institute of Massage who pointed to the importance of bodywork facilitating a change in someone's "state." A deep comprehensive change in "state" is fully possibly if we work attentively with clients, staying fully present with each movement and potential for release. Today a return client mentioned she felt so good after the last session that she was concerned about getting "addicted" to Thai Bodywork. I think getting "addicted" or truly interested in one's own embodiment and inner nature is a wonderful curiosity to cultivate!
Meeting your clientele where they need to be met is an important element of your work. Please talk more about this.
Steve: Both Jaye and I have been participating in practices, such as martial arts, Qigong and meditation, that are designed to develop a more sensitive body – one that can notice tensions and imbalances in a direct way. First noticing these tensions and imbalances in our own bodies and then applying this subtle understanding to our massage practice is a cornerstone of both our work. I think it's important to remain open, "in question," and curious from the moment we greet our clients, from the intake process through the treatment. With this type of work, I am always asking myself, what am I seeing, what do I feel, what is needed, and what is my client ready to receive? Ultimately, I believe it comes down to our ability to encourage our clients towards ease and participation in their own process and awareness.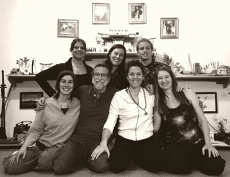 Jaye, you mention it's possible to receive therapeutic benefit and insight while you are practicing. Can you please say more about this and also how you share this with fellow practitioners?
Jaye: Steve and I focus heavily on applying appropriate body mechanics. Working on the floor lends itself to our own bodies being fully engaged in the work and thus we are able to give a tremendously therapeutic session while simultaneously receiving a gift of lively embodiment. The term I use to explain this concept in my Apprenticeship Program is "Therapeutic Symbiosis," where both the practitioner and client are receiving deep holistic benefit from the session. This is a huge reason why our clients find that the treatments they receive have long-lasting results. Our bodies are in a deeply relaxed and meditative state; therefore we can transmit and share this level of somatic relaxation with others.
In your interview last year you mentioned the idea of you as the practitioner "being the medicine." Can you elaborate on that?
Steve: We have a tendency to think of bodywork as something that is done. If you apply a particular type of pressure, in the right place, in the right way, then there will be relief and healing, and to some degree that's true. But there is a larger story, and we all know it on some level. We've all had the experience of being in despair, and having someone give you a hug, or place a hand on your shoulder, or just smile at you with kind eyes. In that moment something changes, there is relief. By the same token, we've had the experience of having a beautiful day, and walking into a room where somebody is angry or depressed, and you can feel the shifting of your mood to something heavier. We are constantly moving through emotional and physical states. In bodywork this exchange is even more direct. If I am tense while working on a client, that tension is what my touch carries, and if my body and mood is relaxed and free, then that is what my touch carries.

Tell us more about your unique mission for the Ashland Center of Asian Bodywork.
Jaye: Our aim at the Center is to cultivate an environment of curiosity and continual learning for ourselves as practitioners, our clients and our students. We consciously choose to lead with the excitement of innovation and discovery within our work, because we have seen that this is where truly high-level results lie in relation to unlocking chronic pain patterns, promoting successful rehabilitation, and equalizing imbalances both internally and externally. Although we employ various techniques, we are also searching for the answers and principles that lie beyond those techniques. Knowing how the body wants to work allows you to enter into a relational space with the client. It's really about finding the place the body wants to be, and then seeing and recognizing this as the highest possibility for the body to reach towards health.
You really see well-being as an attainable possibility for your clients. Please say more.
Steve: In Western medicine, we tend to look at symptoms and test results in order to identify the issue, to name the pathology and to establish a treatment protocol. Some of these conditions have cures, and others do not. From an Eastern perspective, however, the symptoms simply point towards imbalance and these imbalances can be addressed and the body can move towards well-being. Of course, the root cause must be addressed, and the body must have the resources, such as a good diet and supported physical activity, to achieve well being, but the possibility exists, and we know that it is possible because we're surrounded by people who have recovered from conditions that Western medicine has deemed chronic or terminal.
Please give us a quick overview of the services you provide at the Ashland Center for Asian Bodywork.
Jaye: Sure, we offer Thai (with Jaye) and Shiatsu (with Steve) Bodywork sessions, as well as side-by-side treatments for couples, family or friends. We also host our Sliding-Scale Community Clinic the first Tuesday of every month, 1 hr treatments are $30-$50. Once a month we also host a Bodywork Jam for massage practitioners to practice together and share in a community potluck following the event. I teach a Thai Bodywork Apprenticeship program for students looking for a more comprehensive pathway of study. Steve teaches Hakkoryu Jujutsu and his classes are open to new students. Details on our rates, scheduling, events and Thai & Shiatsu Bodywork class offerings can be found on our website (www.ashlandcenterofasianbodywork.com) and Facebook page.
Jaye, outside of your massage practice you train in aikido, yoga, qigong, meditation and other movement-related practices 15 to 20 hours per week. How do you see this playing into your work?
Jaye: That's it exactly; it's about "play." It's about developing my own somatic intelligence in order to offer my fullest sense of Self to my clients. Innumerable crossover principles exist in the studies of martial arts, yoga, dance and bodywork. Although each exploration is completely a whole system and lineage unto itself, universal principles of movement and internal development apply cross laterally. This is work martial artists, yoga and medicinal practitioners have cultivated for centuries and provides a rich resource for our larger community to become acquainted with in their own lives.
I would be curious to learn more about your partnership together.
Jaye: As co-business owners and dear friends, we've grown to know each other very well. We both feel our bodywork styles and business sense compliment one another very well, even our best meals are when one person starts cooking and the other person finishes and adds their flare and creativity. For years I ran my Holistic Thai Bodywork practice solo and it is an incredible gift to be mutually supported as a practitioner in a model that brings community, education, and depth together all in one place.
Jaye, what is the next step for our readers to learn more or begin working with either you or Steven?
Readers can visit our Facebook page or website (www.ashlandcenterofasianbodywork.com) for more information, to book a session, and for up-to-date announcements on special bodywork offers, classes and events. Jaye is also offering sessions every Monday from 12-5pm at Om Sweet Om Yoga Studio in Talent. Feel free to call us with any questions or inquiries (Jaye: 541-708-1690 and Steve: 541-708-1044).
Finally, are there any last words or thoughts you would like to share with our readers?
We are continually striving to find the inner harmony in our own lives and practice and look forward to sharing our knowledge and awareness with others.
Learn More:
Ashland Center of Asian Bodywork
1101 Paradise Lane, Ashland
Jaye Marolla, LMT # 19198 (541) 708-1690
Steven Glaser, LMT # 17988 (541) 708-1044
Treatments by Appointment Only
Testimonials
"Jaye's presence, resonance and holistic approach to Thai bodywork has helped me in many ways to heal, feel supported, and receive genuine care. She has a natural ability to give bodywork and cater to individual needs. Her unique and therapeutic touch is evident of her time studying and practicing this craft."
-Rachel Skinner
"Steve has complete awareness of the human body that is most impressive. Not only has his training provided deep insight and knowledge, but his personal instinct in finding the target area for releasing pain is beyond measure. I highly recommend Steve to anyone with acute or chronic pain."
-Tiffany Travalent
"We have amazing access to rich educational workshops thru the Ashland Center of Asian Bodywork. Jaye and Steve are wonderful teachers! The Center has also put together a team of gifted body workers! I highly recommend what the Center has to offer our community and look forward to networking my own clients and continuing my own work with them."
-Melissa Cooley
"My active career in building spans forty years, the past 25 have required regular bodywork for preventative maintenance and healing injuries. Steve's holistic approach and years of experience deliver lasting results every time".
-Robert Laporte