Interviews
Family Massage Education Center – Massage For Yourself and Your Family
Now in its fifth year of business in Ashland, the Family Massage Education Center is truly one-of-a-kind. Specializing in the instruction of massage for use at home, JoAnn Lewis and her experienced team of massage therapists are bringing back the use of touch as a true healing art for all ages to enjoy.
As infant massage for new parents gained popularity in the world of mainstream post-natal care over the past 30 years, JoAnn, who travels the globe teaching massage therapists, doctors and nurses how to teach parents to massage their babies, saw an opportunity to take massage at home to the next level. "Massage is regarded as the first essential form of medicine all over the world," reports JoAnn. "Recent generations have forgotten what our ancestors knew so well." Providing education in positive, nurturing touch to improve health and wellness, the Family Massage Education Center offers classes on a one-time, weekly or monthly basis to bring this powerful healing modality home.
We sat down with JoAnn Lewis to catch up on new classes and trainings she will be offering in 2016.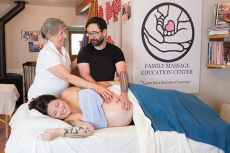 Hi JoAnn, thanks for taking the time to speak with us today. What's new at FMEC, the Family Massage Education Center?
We have more loving, healing massage series than ever! We expanded to weekly Couples & Singles classes on Mondays, Tuesdays and Thursdays and one weekend course, so lots more choices are available. Now there is even a Friday night Beginner's Class for a one-time overview of the simplified daily massage routine or a refresher for those who have taken some already!

As always the Pregnant Partners massage series is great preparation for an easier childbirth. Following it up with the Parent-Baby Massage series and you have a healthier, smarter, calmer child who will learn to do it for you too!!

Whether it's an evening small group series or a private day class, you give and get massage each time and learn it all and it's so much FUN to do!

Everyone enjoys the release of receiving massage and the empowerment of learning that it can be easy and simple to do.
JoAnn, you have been involved in the field of massage and massage education for more than 20 years. Please share more about your own personal journey of creating the FMEC here in Ashland.
I learned from my children how much massage did for them, especially after the trauma of a last-minute emergency C-section delivery of my second child, my son. He was very colicky. A lovely nurse midwife showed me how to do the tummy strokes with him. It went from a to z in change. It was amazing! It changed everything in just a few weeks time and he was sleeping soundly. I thought every medical person would like to know how to teach parents this massage that was so effective, so easy and loving to do.

In the womb, babies are massaged constantly by the fluid pressure and mama's movement, so naturally, babies require the same stimulation and relaxation from their parents to grow properly. I think if every parent knew how much they would be helping their child to develop better, sleep more, cry less, be smarter and healthier, then every parent would want to learn and do massage with their babies. And it's great bonding and fun.

And then I realized something! Many parents have never had massage, so how would they know this? So I decided that I needed to teach the parents too, and that's how Family Massage came to be. My son is very proud that he helped start it all when he was a baby and today at 29, he is also a Massage Therapist and helping FMEC.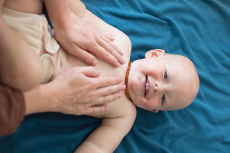 When you first started teaching parents about massage for their children, the parents began asking if they could also use the massage on themselves. Please say more.
Yes, that was another reason to start this new idea since everyone was asking me, "Can we do this with our other children and each other?" And I said yes, of course, it works well for everyone and you can save health costs and stay healthy. It also heals and restores loving relationships in a safe and wonderful means of respect and care. Even to give massage is self-healing in the discovery of doing it.

I am also one of fifteen USA trainers of instructors of Infant Massage for the International Association of Infant Massage, IAIM, with 65 trainers in over 70 countries.

In just about 30 years, IAIM is one of the fastest growing non-profit associations in the world today. Vist www.infantmassageusa.org for more info.
Not only is massage enjoyable but it is also part of the foundation of any happy and healthy society. Please talk more about this.
Human touch is our first language, the most developed sense at birth and the last thing to leave as we pass away. Proper touch with permission and respect, like a simple, nice handshake offered and received, is the cornerstone to becoming a healthy, responsible person who can care for themselves and others. This is especially true when we find out how to do massage for each other and stay as healthy as possible.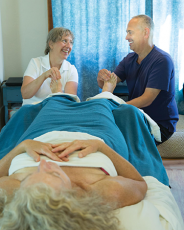 Please talk more about fear of touch in our society.
How we are touched in the first year of life dictates our ability to trust our parents to help us and ultimately how well we trust ourselves and our society. We can live without food. We can live without many things… but we cannot live without touch. Orphanages like the ones in post-war Romania have taught us that even though babies have enough food and are kept clean, if they are not held and touched well enough, they will close off and die anyway.

If a person has had little touch, neglect, and especially bad touch, they grow up to do the same abuses and sometimes worse, so it's very important to do and teach proper good touch from the beginning with permission and respect. People will discover that the respectful, caring, compassionate touch of massage teaches them to be that way as well, and can grow a healthier society of more well-adjusted and psychologically healthy people. Children are more bonded and attached to their parents through massage.
Please talk more about the concept of proper touch and social behaviors that work against this.
Children who have been massaged daily by their parents grow up to ask permission, adapt more easily to any situation, respond well, and respect others. Parents tell me this all the time, and they often wish they had done this with all of their children. It reduces sibling rivalry and bullying among all children, and later, as adults.

Asking permission of a baby before giving a massage helps us read our babies signs and cues. They are people. If we give them such respect then they will grow up to do the same. Many parents wish that others would have the same respect for their children and not grab them or pick them up without asking first.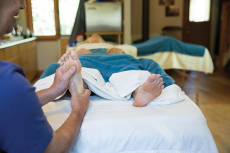 JoAnn, you have a deep respect and regard for children. Please say more about where this comes from in your life. How was this demonstrated to you? How did you learn some of the values that you now teach?
I was raised by very loving parents who were raised on farms and took care of each other and their animals on the farm. My mother massaged our backs and legs, and I thought everyone's mother did that. I was very lucky and feel very blessed. My massage education began at home with good teachers, my parents.
You have been able to watch many of your young clients and families grow up. What special qualities have been shared with you about how massage has touched and changed lives?
Besides hundreds of parents telling me how their child is more respectful, better able to do things for themselves and others, I have had the chance to work with several parents of multiple babies, twins, triplets and quadruplets. Babies born too early benefit greatly because massage supports a faster weight gain, and more myelin sheath coating the nerves, so they simply develop faster and better. The same is true for all babies, though it's more apparent with the babies born premature who get lots of touch and massage from their parents. They will go home from the hospital sooner than those who don't get it and are healthier and more bonded to their parents. They do simple touches and then massage more and more as baby grows more easily. The mother of the quads was an inspiration because she got massage therapy before and during the pregnancy from me, and she carried longer and did massage for the babies and they grew up with less problems than the doctors had predicted. It is truly amazing that at 17, the three boys and a girl are all very loving, calm, successful students and very giving individuals who volunteer in their community and take care of others.
JoAnn, are you seeing that people enjoy participating in massages together?
Oh yes, I think everyone has fun and I know I do because people teach me about caring for each other in every class. I only ask that they follow four simple guidelines: Ask, Listen, Trust and Praise. The rest is easy. I demonstrate on whoever raises their hand the fastest (haha) and we begin with learning the feet and legs. I also show and guide everyone to do proper body mechanics, so you don't get tired or sore from doing massage.

For example, everyone in the Couple & Singles massage class comes with stretch shorts and T-shirts, have their own massage table with sheets and blankets to stay warm and protect modesty, and are always covered for their comfort level.

Single persons always seem to pair up easily. We continue to add more basic body areas to the massage routine and practice at each class until the last class to complete the routine in the four weekly sessions.

Many couples have said it's the best date night and they love getting massage every week this way. Singles have said how fun it was to meet others in such a safe, peaceful environment.
You now have a new location at 77 Manzanita. Tell us about it.
Yes, we moved a year and half ago from the old art school building on Mountain and Main to an even older and lovelier large house behind Briscoe Elementary just off Main Street near downtown and next to the Iris Inn B&B. It really says Family Massage in this old, rambling house that we love. We even have a reflexology trail outside that people can walk on and work the reflexes of their feet to feel better. We have massage therapy here for those who prefer a professional massage and the many home massage series and classes to learn.
Can you give us an overview of your 2016 services?
Yes, besides the best in Massage Therapy our clients can enjoy each month:

Couples & Singles Massage four-week series – choose from Mondays, Tuesdays or Thursdays 6:30 – 8:30 and some weekends (Sat and Sun afternoons – 1:30 to 5)

Pregnant Partners Massage four-week series on Wednesdays 6:30 – 8:30

Parent-Baby Massage five-week series on Saturday mornings 10:30 – 12 or evenings 6:00 – 7:30

Beginner's Massage is every Friday night for a one-time overview 6:30 – 8:30

Reflexology "Happy Hands & Feet" is the 3rd Sunday of the month 5 – 7pm
You are also offering some special events with different types of massage.
Traditional Tibetan Massage called VITAFLEX 1 & 2 is coming up July 16 & 17 and July 30 & 31, 9am – 5pm, and the Certified Educator of Infant Massage training is August 26 – 29, 9am – 5pm. Both of these trainings are open to anyone over age 18 and for massage professionals.

We also offer Tuina /QiGong massage trainings for professionals with instructor Luca Moschini from the university in San Jose, coming October 28 – 30.

We are looking for massage therapists who would like to teach home massage classes with us. Certified Instructor training is November 11 – 14.
JoAnn, you've seen all ages of students come to learn massage. Please say more.
Yes… from grandmothers who have taken classes for their own family to professionals from every health field including midwives, doulas, doctors and nurses, people do love giving and receiving massage. It's easy, fun and completely blissful to discover and accept a person for just who they are and understand each other so much better.

It is the best of exercise for the body with peace for the mind, restoring love and self-healing, embracing wholeness in a non-judgemental form.
Would you like to share some recent testimonials with us?
Yes, here are some who have shared their feelings:

"We enjoyed the relaxation it gave us and the time for each other." – Rebecca & Sean, Ashland

"I learned so much that helped my baby and he really likes massage." – Amy, Medford

"I think our family has become closer and more connected thanks to learning to do massage for each other. Thank you everyone at FMEC!" – Rachel, Yreka

"We both benefited. I believe we found our relationship and our health has become a lot stronger." – Julie, Central Point
Finally, do you have any last thoughts or comments you would like to share with our readers?
Learning massage is for everyone, and though the ladies often talk the guys into coming, it is usually the guys who are first in the door at the second class!

They learn how playful, easy, and relaxing it is to do and that when you use proper body movement, you are energized instead of tired.

Hands stay relaxed, health is restored with massage!

"Hello Family, Let's have fun with a lifetime of massage."
Learn More:
The Family Massage Education Center
77 Manzanita St, Ashland
(541) 482-3567