Interviews
In the Beginning…Mountain Meadows Community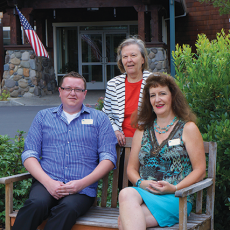 Mountain Meadows Community was the result of a vision of one woman, Madeline Hill.  Madeline wanted to create a community that would be owned and governed by the owners; a community that would give people choices, provide an investment for it's owners and allow for the residents to "age in place".
Her model of community was based on involvement, participation and engagement.
In 1989, Madeline set out to bring her vision to life.  Madeline was moved by the desire, expressed by many older friends – and her own parents- to live in smaller, senior-friendly homes.  They wanted to have some senior help available in order to continue to live independently and with dignity.  This would allow them to stay in the community where they have lived their lives and where they can be near relatives, friends, their church, doctor, barber or hairdresser.  Her goal was to encourage individual independence and a higher quality of life for those most in need.
Mountain Meadows is a continuation of that idea – creating a community where people over 55 can live and not have to move again.  If they ever need services or help, it can be brought to them, so they don't have to give up the security and dignity of their own home.  "Aging is not a series of losses." Says Madeline.  "It is a series of changing opportunities to expand and experience life in newer, fuller ways."
Mountain Meadows Community is located off of North Mountain Avenue and is on 27 beautiful acres.  The community now hosts more than 65 single family homes and 161 condominiums.  On the campus of Mountain Meadows is a separate assisted living facility – Skylark Assisted Living and Memory Care.  There are 280 residents living in the community and they enjoy resident owned services ranging from an indoor pool, dining facility, community garden, onsite library, private clubhouse and a wide variety of activities.
The Mountain Meadows community has attracted individuals from all around the country to set down roots in Ashland,  It is an eclectic and vibrant micro community with the greater Ashland Community and has received numerous awards including Best Small Active Retirement Community (NCOSH 1999); Gold Nugget Grand Award/ Pacific Coast Builders/ Best Senior Housing; 100 Best Master Planned Communities / Where to Retire Magazine.  I spoke with Madeline Hill to learn more about her story and this little gem she has created and now resides in Ashland.
Madeline, thank you for taking the time to speak with me today. I wonder if you wouldn't mind talking about some of the original inspiration for the creation of this community.
Before buying the property, I was working for the State of Oregon as an administrator for what was then called the state's Senior Services Division. As I visited senior facilities, I began thinking, what if senior housing could be done in a different and better way? Twenty years earlier, my husband, Hunter, and I lived in Denmark for nine months. While Hunter taught Psychology at the University of Aarhus, I traveled all around Denmark (it's a small country) observing how housing and services for seniors and the disabled in Denmark was so different from what I had experienced working as a caseworker in Los Angeles.

Another reason for creating such a community was that, at the time, there were no senior communities in Ashland. We had many friends in Ashland, and we began talking about where we could all live so we would still live near each other as we all grew older together.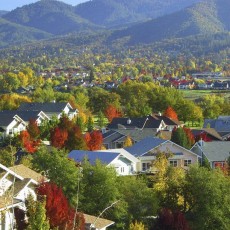 Mountain Meadows has attracted amazing people from all around the country to come and live in Ashland. What has this been like for you to see come to life?
Yes, Mountain Meadows has attracted amazing people, just like the rest of Ashland. When we moved here 42 years ago, Ashland was a very different place. There was one small bookstore, one movie theatre, no bakeries, a tiny food co-op, a tiny public radio station at the college, no theatre other than OSF, just three or four restaurants, no art galleries, etc. Ashland was a kind of cultural wasteland. It's the amazing people of Ashland, both long-term residents and newcomers, who've transformed this little town into the wonderful place to live that it is today.

And that's exactly what's happened at Mountain Meadows. Engineers move to Mountain Meadows and create music programs, computer programmers learn to paint, nurses study evolution of the universe, geologists raise money to help animals, former workaholics create works of wonder in Kitchen Creek Garden at Mountain Meadows. Introverts attend the first exercise class in their life and end up teaching classes at OLLI and learning to play Mah Jongg.
What are some of the key qualities that residents bring to the community that make it such a vibrant place?
The number one quality that sets Mountain Meadows apart is hard to define, yet we all know what it means–a "sense of community." In surveys conducted by SOU students, residents rate "a sense of community" as the thing we like most about living here. Incidentally, the SOU professor who conducted one of the surveys remarked that he had never seen such a high rate of participation in a survey, a fact he attributed to how much residents liked living here and how involved they were in the community they were creating together. Again, "a sense of community."

Someone once said they rated a senior community by the noise level in the restaurant. The louder the talk and laughter, the more vibrant the community. Imagine a room full of people, who three months earlier didn't know each other. Stop talking and listen to the talk around you. Laughing rings out. Two people are planning a bicycle ride tomorrow. One offers to take a car-full to the Tuesday morning Growers' Market. One is recruiting other residents to a program she's presenting on universal health care. Four people are discussing operating details of the community website they've designed. One offers to help another learn how to access and use the new community website. Several gardeners are congratulating themselves on the successful AAUW fund-raising event where our own Kitchen Creek Garden was one of the featured gardens on the tour.

What has this meant to me? It has given me a sense of awe and wonder.
Can you give us a little tour of the campus?
The campus is spread out over 27 acres. Our clubhouse is the community's hub, with the Meadowlark Restaurant on top. No question that it has the most spectacular view of any restaurant in Ashland. I've already mentioned the Kitchen Creek Garden, which adjoins the four acre Madeline Hill Park, with walking paths, the almost year-round Kitchen Creek crossed by two bridges, bocce ball court, pond, gazebo and putting green. What started as nothing but weeds, rocks, junk cars and piles of barbed wire has been transformed into beautiful, landscaped grounds. Trees that we planted when "coffee can" size are now so high that people occasionally complain, "those darn trees block my view."

Single family homes (65) form a sort of border around the campus and parks, and range in size from 1300 to 2900 square feet. There are four groups of condominium homes (161), and these condominiums are indeed "homes", not apartments. Each condominium neighborhood is quite different, which was all part of the concept of "choices". Condominium homes range in size from 700 to 1800 square feet. The entire community is designed using "senior friendly" accessibility guidelines. It was a concept ahead of its time, and I do appreciate working with City of Ashland staff while we were designing and building Mountain Meadows, because many things we wanted to do were unusual at the time, e.g., being able to enter your home from the garage without going up one or more stairs.
Skylark is an assisted living facility that is also located on the MM campus. Can you share a little bit about its role in the community?
Skylark Assisted Living and Memory Care, licensed by the State of Oregon, has 75 apartments in the Assisted Living section and 32 spaces in the Memory Care section. It's located at the northern end of the Mountain Meadows campus. Skylark is a private company separate from the Mountain Meadows organization, but it does share Mountain Meadows' values of independence, choice, person-centered values, and sense of community. One way the two communities cooperate is by sharing just one bus for resident trips, thus saving capital costs for each organization.
As you look back, what business milestones do you remember?
Twenty years ago, Hunter and I created Madeline Hill Realty dba Mountain Meadows Realty. The first building here was the model home at 621 Nepenthe Road. That same year we bought the home at 641 Nepenthe Road for my parents, Jack and Lillian Sanford. They moved in on March 15, 1996. The Mountain Meadows Owners' Association chose that date as our community's birthday. On March 15, 2013, Mountain Meadows celebrated its 17th birthday. In preparing for this interview, I went back to the old "deal file" log to see how many sales of homes and condominiums have been overseen by Mountain Meadows Realty since then. The answer: 467 Mountain Meadows homes sold and closed. Linda Doren, who's been with us for 12 years, is Principal Real Estate Broker. Chris Powers, Administrative Assistant, has worked at Mountain Meadows for seven years. My husband, Hunter Hill, handles the website, photography, keeps our computers functioning and regularly plays bocce ball in our park. They do a tremendous job for current and prospective residents of Mountain Meadows. The most recent milestone happened this month as a direct result of Linda and Chris' sheer determination that this very difficult task was finally going to get done: achieving FHA certification for all four of the condominium associations at Mountain Meadows. There is so much more to Mountain Meadows than I can begin to tell you in one interview. I encourage readers to call for more information and to watch upcoming issues of Locals Guide to learn about this amazing community.
Learn More:
Mountain Meadows
857 Mountain Meadows Drive
800-337-1301
www.MtMeadows.com