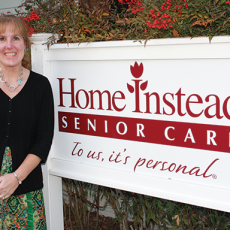 The 85-and-older population is expected to more than triple between 2008 and 2050 in the United States alone.  This staggering statistic not only proves the growing need for elderly home care, but also the fact that thousands of families are facing the same critical decision as so many of us.  Since 1994, The Home Instead Senior Care franchise network has been devoted to providing the highest quality senior home care.  Compassionate Home Instead caregivers are an invaluable resource in helping families eliminate worry, reduce stress and reestablish personal freedom.  Offices in Grants Pass and Medford are locally owned and operated by Indra Nicholas, and have been providing services to seniors for over 10 years.  Indra and her dedicated team are committed to their mission:  Enhancing the lives of aging adults and their families.  Let's find out how Home Instead Senior Care can help you through this difficult time.
Indra, thanks for speaking with us today. To begin, will you speak about the company culture of Home Instead Senior Care and why you chose to open a Home Instead franchise in the Rogue Valley?
When I moved to the Rogue Valley 18 years ago, I was blessed with the opportunity to stay at home and raise my children.  I did some substitute teaching as well, because that was my profession.  When my children got older, I decided to return to work.  After 10 years, I felt that I needed to do something for me!  I wanted a job with flexibility so I could still take time to be with my kids and attend their school activities and events, so I thought about starting a business.  I like change and new challenges.  After some online research, I discovered Home Instead Senior Care, an international franchise with 1,000 offices worldwide.  I really liked the idea of helping seniors stay in their homes as they age.  My great uncle had to go into a nursing home, and it wasn't a very pleasant place to be.  The Rogue Valley is a retirement community, so I knew there was a big need for in-home care.  As I investigated the company, I learned that the founders of Home Instead Senior Care, Paul and Lori Hogan, really care about seniors.  From the top down, everyone at the home office in Omaha, Nebraska, cares about the mission: Enhancing the lives of seniors and their families.  It shows in everything they do.  The experience and support of the Home Instead Network is outstanding, and I feel fortunate to be a part of such an organization.  It has been an amazing experience for me to own and operate a business that makes such a positive impact on the lives of the aging adults in our community.
Can you please give us an overview of the services Home Instead provides?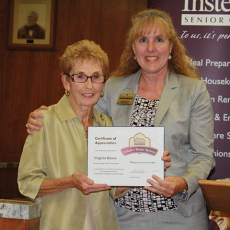 Non-medical home care focuses on helping seniors with the daily activities they need to engage in to remain safe and healthy.  Our services fall into three basic categories:  companionship, home helper and personal care.  Home helper services include light housekeeping, meal preparation, laundry/linens, transportation to appointments, shopping and errands, medication reminders, pet care, organizing mail and maintaining calendars.  Personal care includes assistance bathing, dressing, grooming and hygiene, toileting and incontinence care, nutrition/hydration and mobility assistance.  One of the most important needs of a senior who lives alone is often simple companionship, encouraging socialization and mental stimulation.  The companionship component of a professional caregiver's job can be just as vital as the physical assistance a professional will provide. Seniors need conversation and one-on-one contact to keep their minds alert.  We have caregivers who are specifically trained to provide Alzheimer's care.  We work well with Home Health and Hospice.  Whether you are looking for someone to help a few hours a week or need 24 hour care, we can help.
Indra, how do you know when it's time to get help for your loved one?
You're the family caregiver—the daughter who makes sure dad gets to the doctor, the son who stops by after work to tuck mom safely in at night, or the person responsible for ensuring Aunt Elsie eats nutritious meals. We know you want to provide the best care for your loved one, and you may not even be aware of your options.  Sometimes, just getting the answers and information you need can be exhausting.  It's important to educate yourself about the options available and create a plan for your aging loved one before an event occurs and you're in crisis mode.  It's important for adult children and others caring for their parents to look for signs that their elderly loved one needs help.  Ignoring these warning signs will likely lead to the kind of dependence that they are trying to avoid.  Be aware of physical and emotional changes, look for behaviors that signal a lack of or loss of attention, and observe your loved one's living environment.  Taking advantage of the variety of senior services, especially non-medical in home care, may be all she needs to remain in her own home.  It used to be that a medical crisis could be the end for seniors living in their own homes. But today, even older adults who suffer from chronic conditions or life debilitating illnesses can still remain at home. Convalescing at home can actually help some seniors not only survive but thrive.  Most seniors want to continue living at home for as long as possible.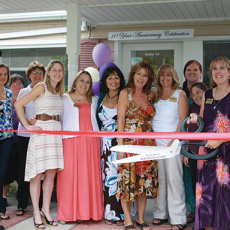 Many people don't realize that in-home care is an option or that it is affordable.
The unknown often makes us hesitate to take action; the cost of home care often affects a caregiver's willingness to consider such services.  Research shows that 49% of family caregivers overestimate the cost of non-medical home care.  We encourage you to explore and compare home care costs to other types of care.  While an increasing number of long-term care insurance companies are covering this option, non-medical in home care is still primarily paid for by the family or the seniors themselves.  Other senior care options are even more expensive than non-medical care because home care services are often only required for a few hours a week in order to make a significant impact on the seniors' lives and allow them to continue to remain in their own homes.  Some clients employ caregiver services four hours or less per week and most clients employ them between four and nine hours per week. That could represent a savings of thousands of dollars a month, when compared to nursing homes and assisted living facilities. Only you and your family can decide if non-medical home care is right for you and your senior loved one.  To help you, we suggest exploring additional resources or calling a Home Instead representative.
This past month you wrote an excellent article in the LocalsGuide entitled "When Seniors Say No." Can you please say more about this?
When we visit a senior's home to talk about our services, we often experience resistance from the senior.  It's understandable, they are afraid of losing their independence, and they fail to acknowledge all of the care that their family is providing for them.  Family caregivers should educate themselves on strategies to overcome their loved one's resistance so that they can get help.  We have numerous resources specifically designed to help family caregivers, including local workshops, websites, webinars, books, videos, articles, a 24 hour call center, and even a mobile app to help family caregivers who are struggling to care for a loved one with Alzheimer's disease.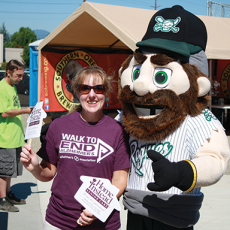 How about dealing with payments for having such care?
Most of our clients are private pay. Medicare will not cover the services of non-medical, in-home care.  Some of our clients have Long Term Care Insurance, which will cover all or a part of our services, depending on the policy.  We are able to directly bill insurance companies so that our clients don't have to worry about paying us first, and then being reimbursed from insurance, which can take anywhere from 30 – 60 days, initially.  We send invoices by mail (clients do not pay our caregivers), so most clients pay by check.  However, we do accept credit card payments and can receive automatic drafts.  Seniors may qualify for assistance through the Veteran's Administration if they are service connected.
How do you go about making the transition for seniors as smooth as possible?
Our team of dedicated CAREGivers help families restore balance, order and peace to their lives and help their senior loved ones remain at home.   Home Instead CAREGivers have the opportunity to meet wonderful people, build fulfilling relationships, and make a difference in the lives of our clients.  We prepare our CAREGivers ahead of time through a comprehensive, multi-phased training program, including specialized training for advanced levels of care such as personal care and Alzheimer's care.  Office staff is available 24 hours-a-day, every day of the year, to provide assistance for CAREGivers and clients.  Meeting a new CAREGiver for the first time can be a bit unsettling. That's why Home Instead staff helps smooth the way with personal introductions between CAREGivers and clients during that first meeting. We do everything we can to help the relationship get started on the right foot. We feel that communication is critical in providing the highest quality of care for our clients, and conduct regular, ongoing Quality Assurance visits to ensure that clients are happy with their CAREGiver(s) and satisfied with our services.  Home Instead offers flexibility in setting up a schedule and offers back-up and replacement caregivers.  Our CAREGivers are bonded and insured, and we provide worker's compensation, relieving you of that responsibility and giving you peace of mind.  You also receive our Client Newsletter, for monthly information, tips, stories, announcements, humor and inspiration.
Indra, can you speak to the emotional and financial toll that can build up in a family when having to care for a loved one?
Caring for an older adult can be among the most fulfilling experiences for any family caregiver.  So many tasks bring pleasure as you give back to someone who may have given you so much.  However, even as you lovingly provide support to a senior, you may have problems managing and balancing that support with your own busy life.  The responsibilities can impact you physically, mentally and emotionally, leading to the kind of distress that could result in serious health problems.  It's important to know how stress is affecting you and what you can do to address those challenges.  Home Instead Senior Care's caregiverstress.com website strives to help you care for your senior loved one through helpful caregiver resources, while helping you spot signs of stress on your emotional and stressful caregiving journey.  You'll get help with family relationships and difficult conversations.  You'll find training and resources on managing conditions as well as helpful tips and advice on senior housing, safety, nutrition, financial issues, and end-of-life planning.  In addition, you have the opportunity to lend your voice to our caregiver community by commenting on the articles or joining us on Facebook!
Tell us why seniors and their families should choose Home Instead Senior Care over your competitors.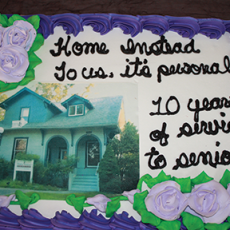 In addition to some of the things that we've already discussed, I want to mention the "hundred little things."  Our office staff and CAREGivers know that in our business, it's the little things that count:  a word of appreciation, a smile, and a helping hand.  There are a "hundred little things" that we, as individuals, can do throughout the day to make someone else's day a little brighter.  If we focus on our service to others, we will be blessed.  I encourage my employees to think "outside the box" and offer ideas and/or suggestions that will strengthen our relationship with others.  I support activities and educational opportunities that will lead to both professional and personal growth.  Our team is filled with compassionate and caring individuals who have a passion for seniors.  Every decision we make is based on what's best for our client, and providing the highest quality of care is our greatest achievement.  The Home Instead Network has so much knowledge and a wealth of resources to share with family caregivers.
Please talk about the goals and expectations you have for both your clients and employees.
At the Care Consultation, when we meet with potential clients to discuss our services, we learn what specific needs and challenges the senior has and develop a customized care plan to address these needs.  It's important to for seniors to stay physically and mentally active; our goal is to encourage, stimulate and engage activity.  CAREGivers encourage clients to do as much as they can, and provide assistance as necessary.   The elderly who stay home alone as they age run the risk of falls and other problems.  Falls are the leading cause of injury death and the most common cause of nonfatal injuries and hospital admissions for trauma.  A Home Instead CAREGiver can serve as a second set of eyes and ears to help keep seniors safer at home.  CAREGivers often provide assistance with exercise and walking.  A CAREGiver can transport seniors to special events or even just the grocery store, which can help decrease isolation.  Home Instead CAREGivers often enjoy activities with their clients such as gardening, concerts and games; they help stimulate the mind by engaging clients in activity and conversation.  Home Instead CAREGivers allow seniors to become more independent because they are able to continue doing the things they enjoy.  In addition, CAREGivers are scheduled according to the client's needs, so they are no longer dependent on other people's busy schedules.  Our goal is to help seniors live healthier, happier lives in their own homes.
Do you find that most people are planning for in-home care or is it typically a surprise?
In the past, most clients started services due to a traumatic event, such as sudden illness or a fall.  Families were desperately exploring options because they needed help right away.  Today, more and more individuals are researching online and educating themselves before an event occurs.  Social media plays an important role in educating families on all aspects of senior care.  Home Instead Senior Care has taken the lead to educate seniors and their families, and to provide invaluable resources to help family caregivers.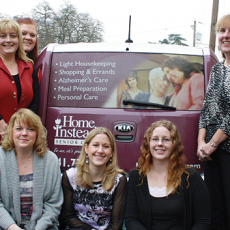 Indra, will you speak about the relationships that are formed in your business between caregiver and client?
At Home Instead Senior Care, we value relationships.  Relationships are not just lucky matches, but an intentional part of the care plan for clients, especially for those with Alzheimer's and dementia. The connection Home Instead CAREGivers make with families is just as important as the bond that is forged with seniors.  The CAREGiver/client relationship is formed and grows when we make the right match.  Clients and their families are often concerned about their compatibility with a CAREGiver, and compatibility matching is just as important to CAREGivers.  At the Care Consultation, we spend time getting to know our client's background, history, hobbies and interests.  This helps us to match a CAREGiver with similar interests and experiences.  Many Home Instead CAREGivers are seniors themselves who share the same hobbies and histories as their clients. Overall, we are very successful when assigning CAREGivers.  However, if a client is not completely satisfied with his CAREGiver, for any reason, we will find a replacement.  I love getting letters of recommendation from our clients.  One of our first clients wrote, "The term DEAR applies to you and to your staff.  I was desperate to bring Dolly home from the hospital where she was slowly sinking downhill…You provided the answer…After six weeks of excellent care by those girls who were so capable, so dedicated in making Dolly well, she is now on her feet, doing paperwork and even venturing into the kitchen…."  Another client wrote, "My wife and I wish to thank you for the attentive and compassionate care provided to our family member, Ruby.  All of the staff and caregivers were outstanding and went the extra mile to provide Ruby with not only physical care, but they also addressed her emotional needs. Living out-of-state added to the stress of seeing Ruby in ill health.  However, we felt very comfortable with the care Ruby received."
Home Instead offers an excellent level of quality assurance. Can you say more about this?
As a Home Instead franchise, we are subject to the high standards set forth by our home office.  Franchise standards are in place for CAREGiver screening, orientation and training.  We conduct background checks and perform pre-employment drug screening on all applicants.  In addition, we require applicants to provide three professional and three personal references, all of which we call!  CAREGivers receive classroom-style training in all aspects of senior care, including safety, senior illnesses and conditions, medications and personal care.  Home Instead's Alzheimer's Care training was developed by professionals and is one of the best in the industry.  We have an excellent Quality Assurance program to ensure that clients receive the highest quality of care.  Our Quality Assurance program consists of monthly telephone visits and quarterly on site visits.  Any time a client, client representative or CAREGiver expresses a concern, we immediately address the problem and attempt to quickly resolve the issue.  Communication is critical, and we have processes in place to promote communication between all parties involved in the care of a client.  Because most of our CAREGivers work in a one-on-one setting with their clients, we provide them with opportunities to connect with other CAREGivers and feel the solidarity of a CAREGiver team by hosting regular CAREGiver meetings, group training sessions and other events to bring everyone together.  Continuing education is required for all CAREGivers.  I know that our efforts to provide an exceptional level of quality care do not go unnoticed when I receive letters that say, "Thank you very much for the high level of service your business has provided for my mother.  We have been very pleased with the commitment and integrity of the caregivers you have sent us over the past two years…I deeply appreciate the strength and support (the caregiver) provided to our family…."
What else do you feel adds to the success of your business?
The success of the Home Instead Network stems from the involvement of its founders, Paul and Lori Hogan, who remain active in the business.  Paul is a founding board member of the Home Care Association of America and the Home Instead Senior Care Foundation, an organization providing financial support to non-profits dedicated to improving quality of life for seniors.  In 2005, Paul served as a delegate to the White House Conference on Aging.  In 2009, the Hogans entered into a partnership with the University of Nebraska Medical Center to serve as anchor donors for the Home Instead Center for Successful Aging, a hub of medical services, education, activities and research dedicated to seniors located on the UNMC campus in Omaha.  Paul and Lori co-authored Stages of Senior Care in 2009 to help seniors and their families make informed decisions about the senior care options available today.  Paul joined the World Economic Forum Global Agenda Council on Aging in 2010 and currently serves as Vice Chairman.   Lori focuses her work on bettering the lives of Home Instead's 65,000 CAREGivers and is a source of inspiration for franchise owners.  On a local level, I continually strive to be an advocate for seniors.  I am a member of the Oregon Health Care Association (OHCA), Associated Oregon Industries (AOI), Women Entrepreneurs of Southern Oregon (WESO), Grants Pass/Medford/Ashland Chamber of Commerce and the Rogue Gateway Rotary.  I donate both time and money to various non-profit organizations such as the Alzheimer's Association, Be a Santa to a Senior, the American Heart Association, Lovejoy Hospice, Access, Aspire, the Josephine County Food Bank, Relay for Life, Medford Senior Center, Friends of the Library, and HASL.  I believe in giving back to the community and especially want to help seniors who are financially challenged and/or isolated.  My goal is to promote Home Instead Senior Care as the resource for all seniors and their families, whether they require our services or not.
It sounds like Home Instead does an amazing job. What do you love most about your current responsibilities?
I love networking!  I meet the most interesting people.  When you are out there, working together with people to make good things happen, you realize that there are so many wonderful people doing amazing things in our community.  You get to experience the selfless acts of individuals with a passion for serving others.  I also really enjoy doing Care Consultations and meeting our clients and their families.  Our clients are truly the greatest generation – I truly believe that.  I love hearing about their lives and listening to their stories.  It's so interesting and inspiring.  They are so appreciative of everything and have a strong sense of honor and integrity.  They are also very humble and frugal, which is good, but can be a challenge when I talk about service rates!  I learn so much from our clients.  It's important to me that the aging adults in our community are treated with dignity and respect and don't get taken advantage of.  It's important to me that they are happy, and I'll do whatever I can to make that happen.
What's the next step?
The next step is just to keep doing what we're doing.  We have an aging population that's going to continue to grow and we must be prepared to take care of our aging adults.  We will continue to gain feedback and evaluate our processes to make them better.  We will continue to provide education and resources to seniors and their families.  We will continue to build a compassionate and caring team that is capable of meeting the needs of our clients.
Learn More:
Home Instead Senior Care
310 NW A Street, Grants Pass
541-479-2828
1245 N. Riverside, Ste. 14, Medford
541-734-2700
Homeinstead.com