Interviews
Christine & Jerry Molinaro FASHIONS FOR WINDOWS – STRONGER IN YEAR 2 AND KEEPING IT LOCAL!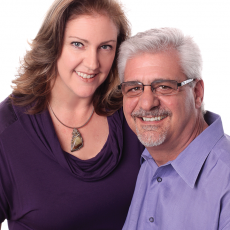 When we last featured Christine and Jerry Molinaro they were relatively new to Ashland and were already jumping in with both feet by volunteering with the Chamber and actively working to build solid relationships with the community.  In that interview we talked about the importance of supporting locally owned businesses and how working with Fashions for Windows was a direct investment you could make in our community.  Well, read and respond you did!  Fashions for Windows had an enormously successful year with lots of growth and exciting developments.  I wanted to check in with Jerry and Christine to see how they are doing, "Making Friends, One Room at a Time!"
Welcome back Christine and Jerry. It sounds like you guys had a very fun and fulfilling year in 2013.
First and foremost, our business has grown in many ways since last year's interview, and we want to thank the community of Ashland for inviting us into their homes. We feel that this has happened in many ways because the majority of our projects we were introduced to were from referrals. We also want to thank our partnership with the Ashland Chamber for allowing us to participate by volunteering and pledging in community events such as Greeters, the Fourth of July Parade and the Festival of Lights. We will continue volunteering at the Ashland Independent Film Festival and for other local events in Ashland since we love participating in this community.

Our motto, "Making Friends one room at a time", we found to be very beneficial to our customers; especially when we apply this thinking to a new home. Designing widow treatments in every room for a new home can become daunting. So we recommend that we do the high priority rooms first. This gives the homeowner time to use the products, to become familiar with the room we do first, and then they can make better informed decisions for other rooms in the home. In addition, it's important to live in a new place for a while and see how the light and heat enter the house.

Last year we spoke about "outrageously happy clients."  At Fashions for Windows, we know you have choices for window covering suppliers in the Rogue Valley. It is our goal to make the selection process through the installation process of buying window treatments the best buying experience ever. Read on to also hear about some new additions to our business.

As mentioned before, we thank you for inviting us into your home and adding the icing on your cake or making your home more energy efficient.  If you haven't purchased new window treatments, you've probably experienced our service program where we've repaired a blind or shade and extended the life of your current widow treatments. Our desire is to make the local buying experience surrounding your window treatments enjoyable, easy, and convenient.
You know, it is always surprising to me about how many people actually read the LocalsGuide.  Have you found advertising here useful?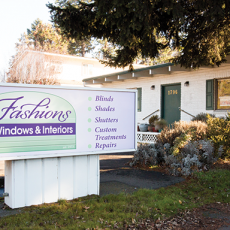 We have found that being in the LocalsGuide has really spread the word about our location and services in the Ashland area. As with any small business, we try to spend our advertising dollars frugally and wisely. When we ask customers how they heard about us most often they mention they saw our ad or article in the LocalsGuide directly or were told about us by a person who reads the LocalsGuide.
Amazing. The most amazing thing however is actually how many people respond. In your case for people to choose working with Fashions for Windows over driving to a box store in Medford is a big shift.
We don't actually have a number that we put on the buy local campaign. What we have found is that many Ashlanders are not aware that there is a full service window treatment company right here in Ashland. We are Hunter Douglas certified for installation, shutters, and motorization. We offer other lines for shades, shutters, blinds, drapes, bedding ensembles and upholstery fabrics. We also offer repair services for most manufacturers of window treatments. We do our best to make your window treatment needs convenient.
Good stuff!  Well I am honored to be able to have such thoughtful and interesting people to interview each month, and with that in mind let's talk about all the great partnerships and relations you guys have been able to form here in Ashland.
Well, in addition to the Ashland Chamber, we have worked with interior designers, home building contractors, remodel specialists, painting contractors, upholsterers, and even other window treatment suppliers whenever we can't supply a customer with everything from our store. Yes, we believe in complete collaboration around the Rogue Valley because our service is not only excellent when we can provide 100% of the product, but also excellent to get the client what they need even if it's not from our store.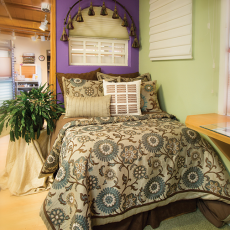 Christine, referrals have been a huge part of your business growth. Would you mind saying more about this aspect of your business?
Referrals have come from satisfied customers, builders, real estate professionals, property managers, designers, state and local government, and other home-related trades.  We have also tested and will be advertising more information and expanding more about our referral program. If a previous customer of ours brings us a referral customer, we will send the referring friend a $25 gift card from a local Ashland merchant.  We believe this encapsulates our philosophy of keeping our dollars local, incentivizes our friends to bring us more friends, and also shows how confident we are that our business will blossom from referrals. We know that we're only as good as our last job, and we aim to continue our value in the community of providing fair, competitive and quality products together with excellent service levels.  If you don't believe us, just ask around!
Jerry, what are some products and services we have to look forward to this year?
Hunter Douglas has come out with an iPhone app that can control motorized shades. We now have the ability to participate in the passive solar design within the home or building. We are able to automatically raise and lower shades based on time or sun conditions. This means we can deflect sun from your windows in the summer helping to cool your home or allow the light in to heat the space in your home.  Different types of shades have different thermal qualities. With the app, we can set up scenes for your shades within rooms based upon function of the room or orientation of the light. At certain times or by pushing a scene within the App the shades will operate at desired times for the most optimum performance. Other scenes can also be programmed for vacation modes that will close at different times than normal at home scenes. This offers a bit more privacy when away from the home but still gives the appearance of someone being at home.  In addition, there's a new product out called SoleraTM. This new shade is a combination shade that looks like a Roman Shade but has an insulation pocket like a honeycomb shade. Come visit our show room and take a peek!
Christine, you guys have updated your showroom. Can you tell us more?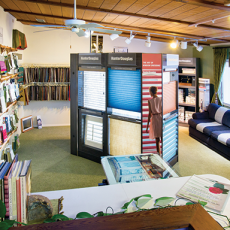 Indeed, we recently updated and added more shade and blind displays and reduced the number of fabric lines we used to carry.  We found this necessary to support the increasing demand for the multitude of products that are available now in the window covering industry. Due to so many high quality products, customers are not demanding as many customized soft treatment options, such as drapes or valances built in custom workrooms, but instead can find a quality warrantied product from any one of our lines of Hunter Douglas, Kathy Ireland Alta, or Graber. There's a lot to choose from and often we recommend that if a client is not sure what they desire for their home or office, they come to our show room first and narrow down their likes and dislikes in order that we may choose the perfect fabric, color and style during the measurement consultation on site.  We take our time helping clients make their decisions because these are important purchases that will last for 10, 15 and 20 years or more!
I also understand that you are now carrying a new line of bedding?
Yes, it's true! We are now able to order a ready-made bedding ensemble to compliment a bedroom makeover project.  We have access to Hampton Hill, Natori, Echo, Woolridge and several other lines with amazing duvet style comforter sets, which will typically include the cover, bed skirt, pillow shams, Euro shams and decorative throw pillows. Sets have 7 – 10 pieces all color and style coordinated. They are stunningly beautiful mixes and clients can also order separate throw pillows to coordinate and tie in other parts of the room.  Come see our model bed set up in our updated show room!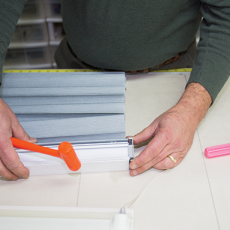 OK, so I wasn't aware that you guys were also doing re-upholstery work as well.
Well, to be clear, we don't do the re-upholstery ourselves, but we stock 2 fabric lines that can provide clients with a wide and varied selection of multi-purpose and specific purpose upholstery fabric that can be used to update old sofas, loveseats, club chairs, recliners, dining chairs, headboards, etc. We can serve as your one source for design and solutions for your upholstery project since we work with several local upholsterers right here in Ashland and the Rogue Valley. You name it; we can find you an upholstery solution! Just try us out!
Jerry, can you reflect back on some favorite or interesting jobs you guys did this past year?
All of our projects have been precious this year. We try to spend an abundant of quantity of time with our clients during the selection process through to installation. We are invited into homes to solve problems, change the light, mood, and look of a room or home. We've worked on some new construction homes this past year installing motorized shades and manual shades. We've been able to assist with a variety of wonderful products such as Silhouettes, Duettes, motor-tilt wood blinds, and remotely controlled motorized Roller Shades.  We also installed a beautiful set of custom valances in a medical waiting room over existing window blinds that completely changed the look of the room and brought about many compliments from waiting patients. Experiences like these allow us to be rewarded for doing a good job when our customer smiles from cheek to cheek. That's when we know we've met our commitment, the job is complete, and the client often mentions they will be happy to refer us to a friend.
Christine, what are some tips for customers you might like to provide around installing new blinds or shades?
First and foremost, before you even talk about installation, it's the window itself. Does it have wood frames or not? Does it have a deep window casing or very shallow? Are there window cranks or locks that might get in the way of the window as it goes up or down? If you're building or remodeling a home, these are very important questions to resolve prior to solidifying your design with your architect or builder.

Second, make sure to allow for a window budget. Just because you are months or even years away from that new construction or remodel project doesn't mean you should wait until you are 30 days out from living in a room that needs window coverings. Do your homework and visit us early to find out about options, budget and styles available.  Window coverings are now as important as your flooring, roofing and other structural needs; especially if you plan to opt for the new motorization functionality or if you are integrating all of your home lighting, security and other automation areas such as A/V.  Before you just "add on" to your system, we need to be involved to speak to your electrician about the correct type of wiring to enable proper operation and integration of your window coverings.

And lastly, just come see what's new in window coverings today. There are lots of products, styles and fabrics to choose from, and they don't always have to be white! Add a little whimsy to your room and you'll see how it transforms your mood and makes your home a lively and enjoyable space to come home to every day!
Finally, let's do it again. Let's have another awesome year with Ashlanders shopping local for all their shade and blind needs.
Absolutely! Shields, we thank you for your support and we love LocalsGuide….not only as place for us to advertise, but also as a source for us to utilize local businesses for our own purpose….and boy have we!  We invite one and all from the Ashland community to contact us and try us out! We'll bring the samples to you so call us for a FREE consultation and let us help bring your vision of new window coverings to reality! Thank you and buy local and read LocalsGuide!
Learn More:
Fashions for Windows & Interiors
1796 Ashland Street Ashland
(541) 482.9620
www.fashionsforwindows.com
www.facebook.com/Fashions4Windows.com