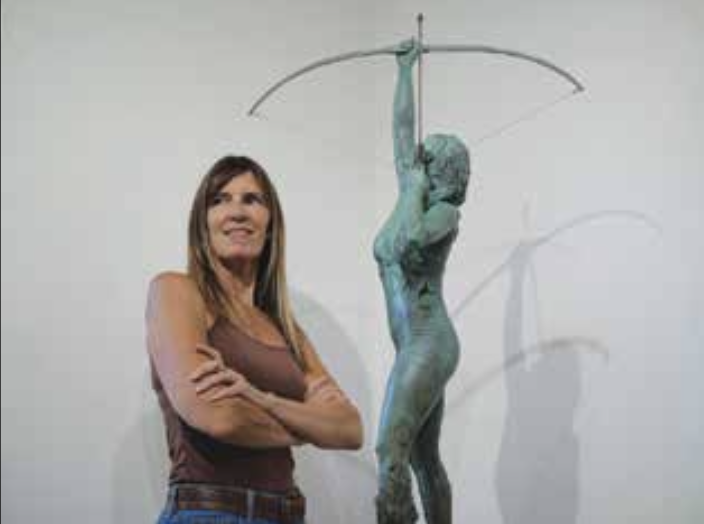 Interviews
Inger Nova Jorgensen Sculptor • Painter • Musician
You´ve seen her for years as a creative force around Ashland; making art, singing on stage, and living life. Introducing Inger Jorgensen – sculptor, painter, and musician. In today´s interview, I speak with Inger to learn more about her life and work as a dynamic creator here in Ashland, Oregon. 
Inger, thank you so much for taking the time to speak with me today. This interview has been long overdue.
It is an honor to have a moment with you! I respect and admire the LocalsGuide and feel you have done a fabulous job providing this service to the community.
Inger, please tell us when your story began here in Southern Oregon and how you first started your journey as an artist. 
I moved to Ashland in 2000 with my amazing son Soren and his father in order to start a new chapter after university. My former husband was working in the environmental field and had an opportunity to work out of Southern Oregon, and I had been rallying for us to move to Ashland for a couple of years to be amidst a town full of artists of all kinds. I was painting out of my garage for a few years in Ashland and slowly developed a body of paintings amidst being a parent to a young child. I slowly progressed into moving into larger spaces for my art and eventually moved to Briscoe School and helped form the Briscoe Art Wing, where I painted full-time and opened a frame shop. After a few years, I opened Bohemia Gallery and Framing on A St.  
I became more interested in sculpture after Bohemia was sold and I moved into a large studio space in Talent next to a sculptor (Kevin Christman). This was the impetus for my current sculpture addiction. 
Inger, you describe yourself as a painter, musician, and sculptor. To begin with, how do you dance between these three mediums of expression? Do you have different creative phases you work through? Are you project-based or just move through total inspiration?
That is difficult to answer, as it changes all the time. 
These days, there are so many projects, it is one after the other and it is constantly changing. I always have several art projects going at once, and often that involves commission work, in both sculpture and painting. The songwriting happens mostly when I am inspired, and it is often in a moment while I am in my art studio. I will sit down and write a song out of nowhere that just enters into my consciousness while sculpting or painting. Other times, I set time aside with my husband Jeff to write together. Then of course, performances are planned with one of several of our projects, and once we have a date booked, there are rehearsals and all the other forms of preparation there. My life is constantly moving through different phases of all of these art forms. Focus is a difficult part of this! Each art form seems to inform the next and I generate inspiration between each. I have even been known to write songs about particular art works!
When did you first begin painting and what do you enjoy most about this medium of expression?
 I began drawing realistic figures at age 5, adding color and perspective, then shortly after that I was painting with watercolors and acrylics as both of my parents are artists. But I began a more serious journey with painting when I created my first serious oil painting at age 15. I found a place within myself that I could draw from where no one else could understand, but the paint understood, and it became a part of my growth and "therapy" for many years to come. Painting is a visceral experience, and the longer you create, it becomes an extension of your being, and the satisfaction and rewards are endless, as well as the heartaches and frustration. So much of what I went through as a young person was processed through this medium.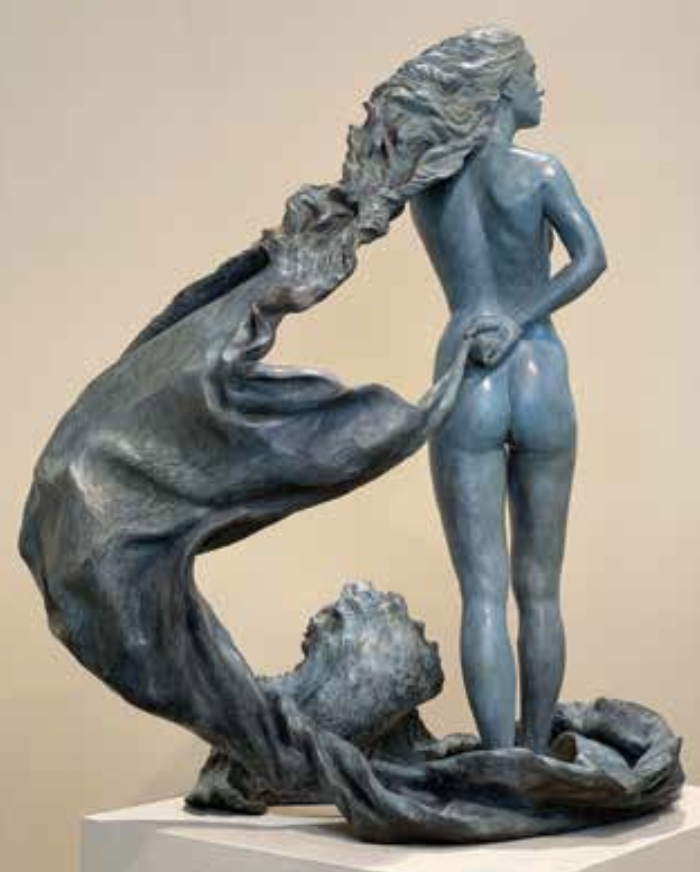 What stories do you seek to tell in your paintings and what feelings often arise for you in this creation process?
 I am most often telling whatever story is presenting itself in my own life and in the collective. I do not tend towards political art, but often there is some underlying commentary with an overarching theme of awakening. I don't mean to sound lofty, it just seems to be a part of the works which I do not really take credit for, as they say, a vessel. It is true, though, I have found that the most successful artists are the ones who can get out of their own way and just allow the works to speak through them. 
It's not easy to answer what "feelings arise," since I would say every feeling arises when making art if one is dedicated to it. It is wrought with anguish and frustration, worry, self-loathing, fear, and also love, elation, happiness, satisfaction, seduction, freedom… I could go on.
 Tell us about some of your recent works and the inspiration behind them.
I will describe my most recent sculpture which is a figure of a woman shooting an arrow up to the stars directly overhead. This new sculpture depicts the strength, fortitude, and resilience of women, as an archer, directing her focus. It speaks to the power of focus and intention, as well as the connection we each hold to the cosmos. I hope that people find inspiration in the being-ness of this piece, as I feel she is depicting a particular form of mastery of consciousness that we could all strive for. The sculpture also certainly holds references to Diana (Roman) and Artemis (Greek), which in certain depictions represent nature, the wild, protector of those less fortunate, the Goddess of the wild and civilization, turning darkness into daylight (light-bearer), as well as Goddess of the hunt and the moon.
Now as a sculptor, where and how did you first begin on this path?
My parents are both sculptors, and work with other mediums as well, but sculpture was a part of my entire childhood. I did not really start sculpting myself until college, where they had a clay studio and a foundry. It sparked my interest then but did not stick until I moved to Southern Oregon where I began sculpting about 15 years ago.
 Inger, your bronze statues are amazing! They become moments frozen in time. What are some of the stories you seek to tell through your creations?
 Thank you, I guess my first goal with the works is to create a sense of movement inside that frozen moment. Each piece is an extension of me in some respect, but I mostly let go and allow the piece to unfold and tell ME the story. 
When you look at other sculptures in the world, what do you pay attention to and what qualities or features intrigue you the most?
I am most intrigued by works that make me feel something, but I always appreciate great technique.  
What do you strive to achieve in your own work and how do you know when you've totally hit the mark for what you have set out to achieve in all aspects of your life?
I strive to convey energy and an essence of the soul in the figurative works, while still giving each piece something authentic and grounded that comes from me. I hope that people will connect their own stories to the work so that maybe some amount of healing may begin while living with a piece. There is never a time when I know I have "achieved" because there is always something more to gain, that is the plight of every artist, never being satisfied. However, when I receive letters years later from people who have purchased my works telling me how much their lives have benefitted by having a certain piece of mine, I certainly feel a sense of knowing that I am on the right track.
 Inger, describe the process you go through to create these amazing works of art.
 The bronze sculptures go through a very long process. It takes anywhere from 2-12 weeks to create just the first step, which is the clay model, depending on the amount of detail I am applying. After the clay model, then I make a mold (2-4 weeks) that I will then pour liquid wax into to make a wax positive. The next steps are all completed at the foundry. The wax positive gets "sprued" and is usually cut into several smaller pieces (takes sometimes many days). Those waxes are then dipped into the "slurry" tank which contains material to create the "shell." Those pieces are dipped into the slurry at least 9 times until it develops a thick shell around the wax positives (another week or 2). Once the shell is to a certain thickness, the wax is burned out. Then the shell is what the molten bronze is poured into. The bronze heats close to 2000 degrees. Next the shell is broken off and you end up with a bronze sculpture in several pieces. Those pieces need to be welded back together, and the welds need to be ground down, all the while attempting to create the same texture you had in your clay. The work is then sandblasted and the final patina (color) can be applied. Usually the whole process takes a minimum of 2 – 3 months if I am lucky. I have been able to do all these steps myself (with help) in the past but on most pieces I have help from the foundry with the whole second half after I make the molds.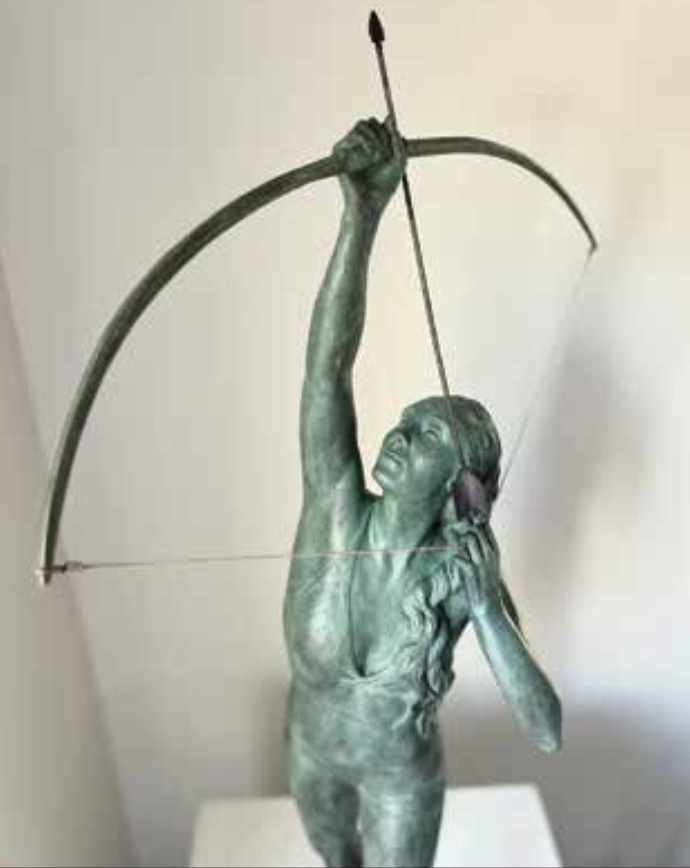 Inger, who are some of your favorite painters (and sculptors) both classical and contemporary?
 I have many influences: Cicelia Vicuña, Robert Beckmann (who once was local to Southern Oregon), Judy Chicago, Mary Cassatt, Audrey Flack, Van Gogh, Lucien Freud, Joan Miró, Malcom Liepke, Georgia O'Keefe, Anselm Kiefer, Henri Matisse, Alice Neel, Max Ernst, Richard Diebenkorn, Frida Kahlo, Georges Braque, Claude Monet… and so many others. 
One of my mentors was the late Karl Heinz Kautzinski, a German artist that mentored me when I participated in 2 separate painting fellowships (called Schildersweek) in Domburg, Netherlands. Two years in a row I spent a week painting on the streets of Domburg for their international painters festival, where people from surrounding countries would come to watch people paint on the streets in the town which is deemed to have the most beautiful light in the world (Piet Mondrian famously painted there). I was the only American out of 30 artists from 30 countries. The end of each week there would be a major exhibition of all the work, and the Prime Minister of The Netherlands among other dignitaries would even come to the opening. (I digress, but this was a pivotal time in my artistic life.)
 Karl Heinz later visited the States and I hosted a large, salon-style solo exhibition of his work at my former gallery in Ashland (Bohemia Gallery). The Mayor, John Stromberg, came and spoke and I hired a translator for Karl so we could all speak at the opening about the importance of cross-cultural art collaboration. 
 Important sculptors for me would include artists such as: my mother, Alixandra Summit, my father, Hans Peter Jorgensen, Simone Leigh, Javier Marin, Alberto Giacometti, Louise Bourgeois, Auguste Rodin, Louise Nevelson, Gianlorenzo Bernini, Augusta Savage, Cicero D' Avila, Henry Moore, Daniel Popper, Jason Arkles, James Stewart, Antonio Canova, Karl-Hienz Kautzinksi, and Kevin Christman (Kevin helped me begin my sculpture journey with an informal, long-term internship which begin with me sitting in on his sculpting classes and assisting, continued into me teaching a few classes, and then soon I was on to making bronze sculptures of my own).
 However, listing favorite artists is like listing favorite grains of sand. It is impossible to be comprehensive as I am leaving out so many.
 Next, you are a musician. Where and how did this form of expression first enter your life?
 I began singing in choirs in 6th grade and continued through the beginning of university. In 1992-95, I sang in an interfaith gospel choir which led me to soloing occasionally with 75 people singing behind me. This was particularly inspiring as there was great power in this. I learned and grew as a singer, playing music with friends for many years and then began to sing in bands in my early 20's while also writing songs.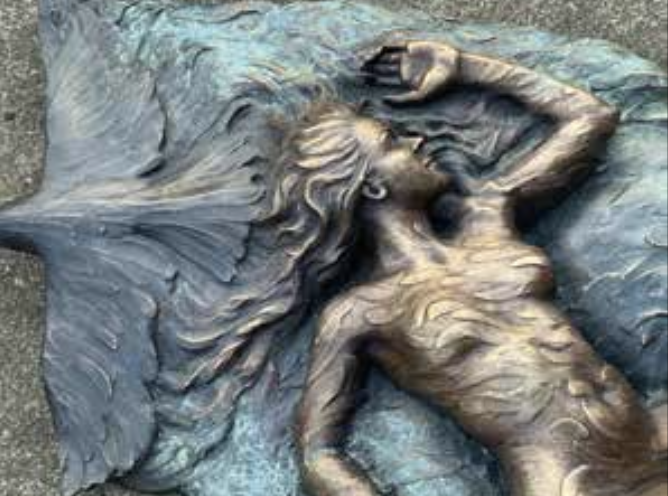 Inger, you have been both a solo musician and part of several bands, including consistently performing with your husband Jeff Pevar. Please say more. 
 I met Jeff in 2004 and it was a natural fit musically as Jeff is a truly inspired player. We began writing the first week we were together. Almost 18 years later, we have written dozens of songs and have a second record in the works currently. We have our original music project which is called "Jeff Pevar and Inger Nova." We play duets and with a full band – depending on the occasion. We have toured Italy, Denmark, The Netherlands and Germany several times with our duet project, playing small theaters, clubs, houseboats, house concerts, etc… It has been a beautiful thing to share as a couple. We hope to be back next year as things are opening up.
 I started a funk/R&B project many years ago, which Jeff later joined, called "Lovebite" but we now mostly use the "Jeff Pevar & Inger Nova" name for that music as well. We also have a Led Zeppelin and Jimi Hendrix interpretive project called "Zepdrix" where we play theaters and festivals mostly. I sing all the Zeppelin and Jeff sings the Hendrix. That has been an ongoing project for about close to 10 years. 
Jeff and I have also been hosting a successful house concert series (pre-pandemic) for 10 years at our place called "The Stone House Concert Series." Every month we play a set of our own choosing, and then for the other set we host different amazing musicians and then always do a finale at the end with all of us. I have been able to sing with some incredible musicians over the years from all over the US. We usually provide the house band so it is a big family affair. The show was sold-out almost every single month for the entire 10 years. Zepdrix was actually born out of the very first show that we played on Halloween. We thought it would be fun to have a rock Halloween, and it stuck!
 Together you and Jeff write and create original songs. What is your process like together?
 We have several ways of working, often I will write a melody with lyrics and record it by myself and bring it to him. When this happens, Jeff will usually find some beautiful chords that accompany my original idea. Other times, I will ask Jeff to play the guitar and just create something out of the air, and then I will write lyrics to his chord progressions. Once we have something we like, we refine from there and begin the process of recording. We have a home recording studio where Jeff produces all types of artists. We usually work together for parts of the process so that we both like what we are hearing. Jeff will often play a majority of the instruments, but occasionally we will bring in a drummer, a string player or other types of instruments. We often will layer vocal harmonies together as well. 
 How does interacting with a live audience shape and become part of the art form you create?
 Interacting with an audience is always a collaboration for me. It is always my goal to create a circle of energy so that the audience becomes a part of the music. I visualize this any time I am on a stage. I believe it engages people more deeply – and it always makes it more enjoyable for me.
 As a musician, what do you enjoy most about this medium of expression?
 Music is a more collaborative, extroverted way of expressing and it is nice to have the diversity and juxtaposition to visual art, which is very internal and quiet, as I create sculptures or paintings alone most of the time.
Let's talk more about art and the artist's life. You have surrounded yourself with great artists, with the one closest to you being your husband Jeff Pevar. What have you learned and continue to learn through your immersion in this world of creation? 
 That is a big question. Being an artist is an ever-unfolding array of possibilities. It changes all the time, and nothing is ever expected. Life in general is like this of course, but I think artists tend to live this in a very concentrated way. It is a microcosm of movement which is impossible to plan for and never gets boring. I do love it but in some ways I would not wish it on anyone. I understand why certain artists become troubled throughout their lives, sometimes turning to substances or other things, because it is like always having your heart raw and vulnerable for anyone to swipe at, including oneself, a constant lesson in self-worth. It is always confronting, but also so rich and satisfying. I feel very fortunate that I have been able to stay steady and unwavering in my path (mostly), and that I have a partner who understands my artistic nature. Jeff and I work very well together in music, but also we both are so intent on our own creations that it is a very supportive environment to create on our own. We spend time in our separate studios daily, coming together for most every meal and then of course sometimes for whatever co-creation is current. It is extremely loving and romantic as well, every day is a gift with Jeff and we both are very fulfilled. 
 The biggest lessons are about balance, and about truly allowing life to unfold, whether it is making a sculpture, a painting, a piece of music, or making a meal. The most important thing is family and friends, and taking care of ourselves. As an artist, the drive for creation never ceases, and so staying in balance is key. Jeff and I both could easily stay in our studios 7 nights a week until 1 or 2 in the morning, but we really try to line up priorities. That part is always a challenge. 
 I want to take a moment now to thank you on behalf of our community for gracing our stages and enriching our community with your art and creativity. For years you and Jeff have consistently shared your gifts with Southern Oregon. Thank you.
I appreciate that, we are grateful to be able to share our lives in part with such a wonderful community!
 Inger, with so much expression in your life, when are you not creating and how do you see your life as both a political and social statement for creating the type of world you want to live in?
 I hope that everything I do in my life creates a ripple of well-being. It is my greatest intention to help humanity in my small way by creating beauty in different forms and allow that to to be felt and digested by others, and to be an example in some way of how creativity can assist with the healing of humanity from the inside out. This very real phenomenon is not understood by people in the US as much as in many other countries. I hope that by living and breathing it, others may be inspired to use their own creative aspects to make a difference and be of service in a multitude of ways. 
 What have been some of your favorite wisdom quotes or advice you call on to do the work you do?
 "Art is standing with one hand extended into the universe and one hand extended into the world, and letting ourselves be a conduit for passing energy." Some say that Albert Einstein said this, but there is speculation. Nonetheless, it kind of sums it up. 
 One of my biggest influences as a child was Georgia O'Keefe, she said: "I've been absolutely terrified every moment of my life – and I've never let it keep me from doing a single thing I wanted to do." I am not sure if this is true for me completely, but it is certainly what I strive for.
 So what adventures are you up to next?
 This week we are delivering my paintings to Orbit ArtSpace Gallery in Fruita, CO, and my sculptures to Chauvet Arts in Nashville, TN! We will stay in Nashville for a week to be at the opening of the exhibition, then on to see family in the Midwest. Jeff will be touring with The Gilmour Project again in September while I focus in my studio where I am brewing up several exciting projects which I hope to reveal soon. I will also be making works for my Bay Area gallery (Bryant Street Gallery, Palo Alto), as well as more for the Nashville gallery. In 2023 I have a solo show at the Museum of Danish America! My work, as well as upcoming events can be found on my website:  ingernovajorgensen.com. 
 Inger, thank you once again for taking the time to share your story here with us today.
 I am thrilled to be able to share a bit more about myself with the community through this more in-depth interview, thank YOU for providing Southern Oregon with a great resource as the LocalsGuide.