Designed for youth ages 12 to 18, Inner Guide Expeditions offers an awesome selection of upcoming summer adventure trips that will have you wishing that you could enroll! These once-in-a-lifetime trips are not run of the mill, but are multifaceted wilderness adventures created to inspire, awaken, and rekindle one's deeper sense of self and connection with the world.
Youth are led into an experience free of external pressures. No Facebook, Snapchat, Instagram, or cell phone – nothing to buy, nothing to do. What remains is Mother Nature, a group who feels like family, and their feet on the path to guide them. Orchestrated and led as small groups of 10 or less participants, these lucky teenagers form a sense of belonging to the group quickly, allowing for trust and vulnerability to be shared. What happens on these trips has been described as "magical and transformational."
In today's Interview I speak with Inner Guide owner and team leader, Tom Shelstad. A lifelong adventurer and traveler, Tom brings over 20 years of experience to Inner Guide facilitation and leadership. Enjoy the interview, and remember, space is limited so make sure to get your kids signed up soon!
Tom, thanks for taking the time to speak with us today and to tell us about your upcoming summer schedule.
Absolutely. We are gearing up for the upcoming summer season right now. We have a lot planned and I am looking forward to starting the adventures.
Over the past seven years Inner Guide Expeditions has really earned a reputation for its transformative nature. Why does what you do work?
We live in a world that is hyper-connected in the electronic realm, with a dwindling connection on the human level. Depression and anxiety are on the rise in a sharp way. In our programs we slow down to the pace of human connection on an individualized level. As we slow down we are better able to listen to and understand each other, but more importantly ourselves. Nature is a perfect partner to work with as we invite this presence into our awareness.

In our programs, there's a relaxing and unfolding. We don't push, or even hold agenda, just an invitation to risk being seen with space and compassion for whatever shows up. As new experiences are being had, new areas within light up and come alive. We have fun! As the body moves, openings, emotions, thoughts, and beliefs are able to circulate more freely dislodging from stuck places. The kids are more present, sparked and alive, and there's an openness that is eager to connect and engage with the world, their community, and more deeply with themselves.
Tom, you have a strong conviction that the middle school and early high school years are a very important time to support young people in their emotional development.
Adolescence is the time when we develop foundational ideas and beliefs about others, the world, and ourselves that carry us into adulthood.

During adolescence, so many questions arise about who we are and if we're "okay" the way we are. By offering a platform where they are heard, valued, seen, and accepted for their own authentic expression, it shifts their whole life story and sets them up for success with clarity, confidence, and a sense of being appreciated for who they are.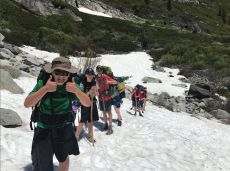 Tom, please take us behind the scenes and share with us about how you plan and organize your trips. What thought and consideration are you giving to each leg of the journey?
The design of our expeditions are driven by the reason we offer them: to create powerful experiences that help people to take pause, enjoy themselves, engage with the people (and the world) around them, and inquire more deeply into their own lives to support an empowered sense of self.

Each chapter of a trip provides a building block for the next. As the trip progresses, the solidarity we built on day one and two give the basis for which the entire trip unfolds. Specific questions and conversations are intentionally introduced during these days to support in this group development. On each trip we specifically design days that provides challenge to what they previously thought they were capable of. This builds confidence that follows them into their lives at home, school, work, and with family.

Expedition development starts with inspiration and grows into reality. I will get "a hit" about a place or feel drawn to travel to a particular location. Once we know it's possible, we begin thorough research about the trail and activities we could do in a particular place that would add dimension and adventure: canoeing, sea kayaking, soaking in hot springs, or riding in a plane or boat in order to get to an amazing area. It's a process that is fun, challenging, and creative.
Your trips are so multifaceted. How often are you having adults expressing interest in coming along on the journey?
Almost every time I talk about the program I hear that they want something like this for themselves! We cultivate a deeper calling I think we all have: to be away from the stresses of the day in and out, away from the phone, surrounded by beauty, where challenge is held and support is given each step of the way. We are planning on offering some open-enrollment expedition for adults in 2019. Stay tuned for that announcement.

We offer custom trips for families or even friend-groups. These are available year-round and are specifically designed around the needs, wants, desires, interests, abilities and budgets of the group or family. We've designed and led custom trips in 3 states and 5 countries. Similar to our trips for youth, this gives the entire family an opportunity to step out of normal habits and patterns of interaction in order to develop and uncover a close familial bond of honesty, trust, and play.
What are often the hopes of the parents for their children when signing them up for inner guide expeditions?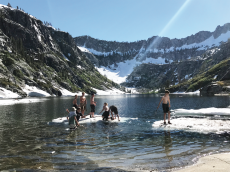 As we remove ourselves from the media addiction of our phones and other electronics, presence becomes more acute. 8-18 days away from technology is a powerful reset for intentional and empowered living, which is what every parent wants for their children.

Parents want their kids to have both the support and the skills to make wise decisions through their life. Independent experiences like those that we offer help them build these lifelong skills and adds to the solid support that is provided within the family structure.
What are the hopes of the teenagers and how do you see their perspective change as they get into the trip?
Teens hope to have an epic adventure. They want to explore a new area, meet new friends, push their abilities, and maybe learn a new skill.

As the days unfold, connective high-trust relationships with peers develop, along with a feeling of solidarity within themselves. I see teens, as they return from the trip, take more initiative on their own accord, communicate more clearly with their families, and have a confidence about them that is empowering in many aspects of their lives.
Tom what have been some of the most memorable trips or adventures you have engaged in your life?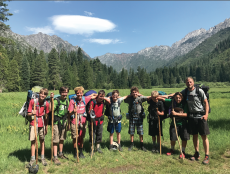 Sailing from Fiji to New Zealand (1000 miles of open water) in a 39-foot boat with just four people, climbing Liberty Ridge on Mt. Rainier, and hiking the Tour Du Mont Blanc in Europe two different times. Each of these adventures have shown me something I didn't know about myself beforehand that informs the presence that I am able to show up with today in my daily life and as a leader in my work.
As a young person did you have a mentor or guide that you looked up to?
Absolutely. Aside from a loving and supportive family, I had two formidable mentors that helped to shape me. Tom Thomas ("Mr. T") and Jim Anderson. Mr. T was a science teacher at the middle school I attended in Bloomington, MN. He ran the Outdoor Adventure program and was (still is) extraordinary with youth. He was always a great listener and asked solid questions that helped me sort things out in my life. He met me right where I was and spoke to me with the connection of a peer and the respect of a mentor.

Jim Anderson was a director of a youth group I was in throughout high school. He brought wonderful conversations that had us think about life differently, grow, and develop deep connections with the 25 or so regular teens that attended. It was a group where I felt seen, supported, and loved for exactly who I was. Both Mr.T and Jim have, in turn, had immense influence on the development of Inner Guide Expeditions. They have inspired me to create expeditions and ongoing programs that make a difference in the lives of the families and the youth we serve.
Let's talk about your trips for this year. Can you give us an overview and tell us about the highlights?
I'm very excited about this summer's plans.  We have four expeditions for youth this summer: two for Middle School and two for High School students.

Middle School

8-day:

From June 30-July 7th we head into the Trinity Alps of northern California for backpacking among the high country peaks, granite walls, mountain lakes, and breathtaking meadows.

10-day:

From June 18-27th we spend the first portion of the multisport trip backpacking a section of the Pacific Crest Trail, hiking through the Marble Mountain wilderness, and down into the Seiad Valley where, without even getting in a vehicle, we trade our backpacks for life jackets and spend the last several days rafting the lower Klamath River.

High School

14-day:

This is a multisport trip into the North Cascades National Park, from August 6-19th, where we backpack in the shadows of hanging glaciers, through dense forest, and over vistas with views that can only be earned. This trail dead-ends onto Ross Lake, where we are delivered canoes and we spend the last 4-days paddling down the length of the lake.

18-day:

We have an epic adventure into the wilds of Vancouver Island, in British Columbia, Canada from July 17th – August 3rd. We take a floatplane onto Nootka Island, an island off the western coast of Vancouver Island only accessible by boat or plane. We will hike the length of its pacific shore and through the headlands of pristine maritime environment. At the south end of that island, we are picked up by another float plane, which delivers us to a remote hot springs that faces west and is right on the shore of a different Island. After soaking for two nights, we are picked up by a boat and brought back to Tofino, where (after a lesson) we spend that last few days surfing some of the best breaks in the world.
Who is best suited for your trips and are there any requirements?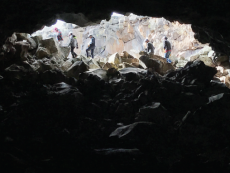 No previous experience is needed. We teach all skills needed to thrive in the wild for the duration of the expedition.

Trips are developed to include some warming into the activity to support people's adjusting to hiking with backpacks.

In addition, it's essential that there is a level of curiosity and desire for personal growth.
Tom, can you please introduce us to your team for 2018?
Our incredible staff is what makes the magic of these trips possible.  In addition to myself, I have four guides working with Inner Guide this summer: David Brownell, Ashley Hebert, Kate Joss-Bradley, and Wrenna Keller. David has been with Inner Guide for a few years now, working with the boys in our ongoing Guide Council program through the school year. We are stoked to welcome Ashley to the IGE team, who comes to us with an impressive background working with youth, leading trips, outdoor education, rites of passage, and group facilitation. Wrenna, whose been heading-up our social media, has led kayaking and backpacking trips in Alaska and has extensive personal and professional travel experience. Kate was a rock-star participant for several years, led with us last year, and is returning to us this summer after a gap-year in southeast Asia. You can find out more about each of these wonderful human beings through their bios on our website.
What is your current availability and what does your application process look like?
Our programs are open enrollment. We currently have room in each of the four trips we are offering this summer. Registration is done through our website (www.innerguideexpeditions.com). I am available to answer any questions you may have and welcome a phone call, anytime.
Are you offering any scholarship opportunities?
I do reserve some scholarship space on each and every trip in order to accommodate families that need tuition assistance. We can also get creative in payment plans and other tools to make sure the teen has the opportunity to participate.
Back to exploring the transformation that occurs with Inner Guide Expeditions, can you take us deeper into the magic of what is really happening?
With smaller groups, we've found there is more opportunity for deeper connection and sharing. Participants "drop in" with each other quicker, meaning they move past the surface level conversations and into a place that is more authentic, true, and vulnerable. Practically, around the fire, there's more time for each person to share and get reflection from the group.

People feel safe. When people feel safe, they can be who they are, instead of being the version they think they need to be for others. Freedom blooms. The safety we create is intentional and deliberate. We bring inquiry. Questions pertaining to "Who Am I?," social pressures and dynamics, media use and influence, the source of self-worth, what we hide from others, and what their own sense of self is from which they move. We connect people with their own "inner guide".
What are some of the best comments you have received that tell you you're doing exactly what you need to be doing?
"I would not be overstating things to say my daughters have had truly transformative experiences on their IGE adventures… As a parent, what you want most for your kid navigating the tumultuous waters of these teenage years are things you don't always get in school; things like: the development of character – respect, integrity, perseverance, teamwork; and connection: with others, the earth, and importantly, with themselves. Through this "work" (it's not really work, it's so fun) (they) gracefully guide young people to develop strength and capacity in the world, as well as to find an "inner guide" through listening deeply to themselves and others, through acceptance, and also, often, reaching for something more." Jennifer J., parent

"The common ground for all those who participate is that there is an experience waiting to happen without anyone knowing just what that experience may be. It is the combination of the group and the needs of each individual that make the defining moment a reality. Kelly and Tom are humble, graceful masters in providing an inner guidance to each and everyone of their clients." Jennifer H.M., parent

"Inner Guide Expeditions provides a unique opportunity for teens to experience personal growth. My daughter grew in confidence after her time pushing her physical boundaries and experiencing the gentle push provided by them to look within. Doing a session of Inner Guide is a wonderful chance for any teen to do something they will never forget and to push themselves to grow." Deneice Z., parent
Tom, as Inner Guide continues to grow, what will be some of your goals over the next two years?
Inner Guide is at an exciting point in its development.

We will continue offering epic summer adventures that support the healthy development of teens as well as our ongoing Guide Council program through the school year.

In the fall, we will start offering all-gendered Guide Council groups.

Adult programs are in development as we speak. Look out for adult trips that combine the magic that is created with Inner Guide partnered with master facilitators and teachers of their own modalities, like "The Work" of Byron Katie or Sarah Byrden and her work with "Women in the Wild."
Do you have any last thoughts or comments you would like to share with our readers?
I want to thank this community for all of the support you have given to Inner Guide Expeditions over the last 7 years and to me, personally, throughout the last 18 years I have lived in this amazing town. I look forward to continuing to support the youth of this valley and beyond as we develop and offer these programs. I recommend registering early, as there are only 10 spots per trip.  On another note, we also offer one-on-one mentoring/coaching for families, parents, and adolescents. If you're interested you can email or call us as well. Hope to see you this summer!
Learn More:
Ashland, Oregon
www.InnerGuideExpeditions.com
(541) 261-4959