Now celebrating their 8th year in Southern Oregon, Canopy takes pride in providing all of their customers with the best possible customer service and craftsmanship. Its team of experienced arborists spends each day doing what they truly love and bring a deep sense of connectedness with all things rooted in the ground.
Canopy is committed to delivering skilled and passionate care to trees in the communities of Southern Oregon and look forward to being of service. Their aim is to provide your home with increased safety, health, and beauty. Whether your trees are in need of pruning, have health issues, or require removal, Canopy offers a complete range of tree care options. Canopy is fully licensed, bonded, insured, and certified by the International Society of Arboriculture (ISA). 
In today's interview we spoke with Canopy owner Christopher John to learn more about the care of trees.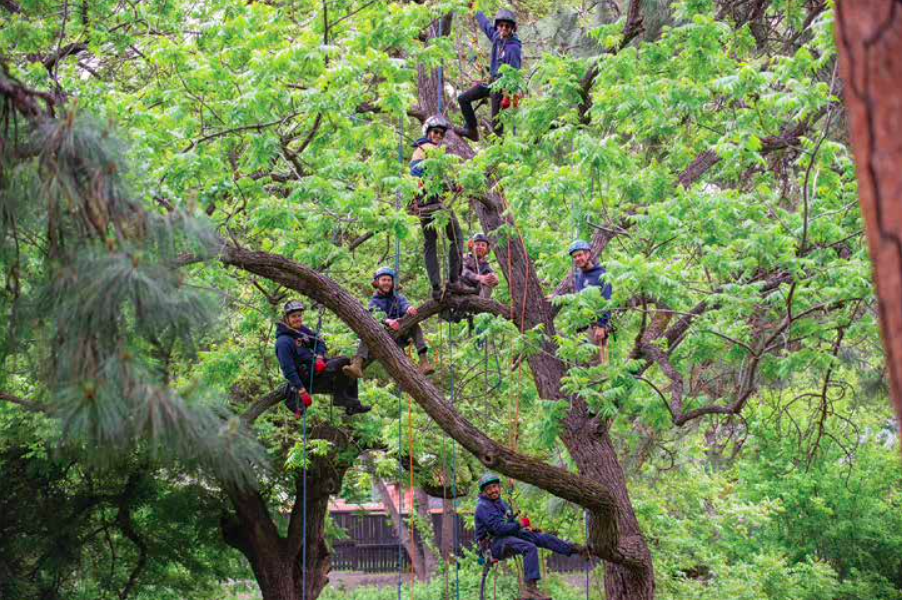 Hi Chris, thanks so much for taking the time to speak with us today and welcome back.
Thank you, it's always a pleasure.
Please catch us up to speed on the status of Canopy, LLC.
We continue to grow both in our capacity as a business and as people. Relying predominantly on word of mouth business growth, we are grateful for the good reputation we currently enjoy. Something hard earned and easily lost, especially in our tight-knit community. We strive every day to be worthy of that good reputation.
Chris, you have worked for many years to deliver the best services possible with Canopy. Please talk more about the vision of your company that you have sought to achieve.
When someone hires us to work on their trees, they are essentially inviting us into their homes and entrusting us with something they often have an emotional attachment to. Our goal is that every client should be left feeling good with not only our work, but with every interaction they have with us from the first phone call to when the last bit of sawdust is cleaned up. I think this attitude of service and gratitude goes a long way and has allowed us to serve an increasing amount of people (and trees).
Having a talented and strong team makes all this possible. Tell us a bit more about the Canopy crew.
I think it all starts with a passion for trees and genuine desire to be masters at the craft of caring for them. This covers a great deal of ground. Our arborists must be proficient at working at heights, current on best safety practices, learned in the science of trees, possess a 6th sense and an artistic eye, physically endure grueling conditions, and have the character to do it all with a smile. We are constantly learning, listening, and teaching.
I couldn't be happier with or prouder of the men and women of Canopy with whom I get to go to work with every day. They are an extension of our mission as a company and everything good we have to offer. Above all, they are outstanding human beings.
Christopher, many of your arborists hold certifications. Please say more.
The International Society of Arboriculture is the certifying body for arborists worldwide. 
In order to become certified, you need to have several years of experience working in tree care, demonstrate proficiency in a number of areas (such as plant health care, tree climbing skills, professionalism, safety etc), and pass a lengthy test. Maintaining the certification requires engagement in continuing education and events.
We are proud to have 4 certified arborists and 1 board-certified master arborist on our staff. There are only about 26,000 certified arborists in the world and 2% of them attain the master arborist certification. Engagement with this certifying program shows a commitment to professional growth and to the craft of being an arborist.
Christopher, fire prevention and protection has become a focus for your team. What steps is your company taking in this direction? 
Fire season is upon us again after the horror of last year. I think we are all experiencing a sort of collective trauma as the weather heats up and the dry winds blow.
I have a lot of conversations with clients who are experiencing a deep sense of fear and uncertainty. Understandably so. The fires narrowly missed our family home in Talent. We have our "go" bags packed, feel a bit irritable on hot and windy days, and seem to view many everyday surroundings through the lens of "what would happen if a fire came through here?"
As a company, we do what we've always done: advise people on how to reduce fire risk around their homes in regards to trees and shrubs. We do our best to dispel some of the fears around trees and fire while meeting the guidelines laid by the Firewise Communities program and Ashland's wildfire ordinance.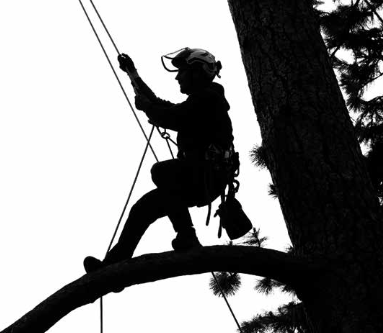 What is your current availability for these services?
Due to extremely high demand, most of our projects are scheduling 2-3 months out. We thank you for your patience. 
Ashland Firewise program has done a great job at providing informational resources on what steps to take in making your home more fire safe and also provide a list of local companies who provide various fire-proofing services as well as tips on doing the work yourself.
Over the past years Canopy has developed a very strong reputation for itself. What are some of the comments you hear coming your way?
I am especially proud of the feedback we receive. It is our report card of sorts and every one of us is responsible for the grade we receive. We place a great deal of importance on it. The relationships we have with clients and the way in which we approach and perform tree care are the most important aspects of what we do. It allows us to continue to do the work we love and quite simply, to be good people.
Below are a few recent comments:
"Dear neighbors, I'm writing to thank you all for your efforts in advancing our participation in the FireWise program. We were delighted with your choice of tree service. The entire Canopy crew was punctual, courteous, accommodating, and efficient. Our property looks much better and we feel more secure."  
"The guys did a fantastic job, were efficient and professional. The cleanup was amazing. We've worked with lots of contractors and crews, and your team was definitely the best we've dealt with. We'll definitely be contacting you for further maintenance on our trees!" 
"Before any more time goes by, I wanted to send a very sincere thank you to every member of the Canopy Team for a wonderful job done.  We are very grateful to have your help caring for our trees." 
"To a person, my fellow owners have stopped me to say how interesting it was to watch the cottonwood come down today; what a great job the guys did; and to mention their great attitudes. Thank you again.  We look forward to working with you for years to come." 
"I am just so pleased with the work your crew did at my place! It really exceeded my expectations… You are all are so nice to boot :)" 
Christopher, what services is Canopy currently providing to its customers?
We do all things trees:
Pruning: Always a favorite. We specialize in the fine pruning of large and small trees. Pruning can revive and beautify mature trees, set young trees on the path to optimal health and longevity. 
A proper pruning can transform the look and feel of a landscape, home, or neighborhood and can truly be… a work of art.
Removals and stump grinding: Sometimes they just need to go. Unfortunately, we have been experiencing a significant number of beetle-killed trees lately, especially birches and our native pines and fir trees. While we genuinely appreciate trees, we also have a thing for chainsaws and are adept at using them. Much of the firewood from removals is donated to the Jackson County Fuelwood Committee. Thank you JCFC for the awesome service you provide to families in need!
Planting: It sure feels good to plant a tree after spending time removing them! We can offer advice on what and where to plant, then select, deliver, and plant a large-stock tree of your choice. We source most of our planted trees from another great local business, Plant Oregon in Talent.
Fire Fuels Reduction: Dead trees and other "ladder fuels" can pose a risk to homes. We can help assess risk and establish a "defensible space" around homes. The Ashland Fire Department has made great strides in the effort to protect our communities and provide a great resource through the Firewise Communities program. We do what we can in support of these efforts.
Consultation: Another favorite activity is walking and talking trees with clients. We offer informal consultations as well as arborist reports, which are often required as part of the tree permit removal process, for protecting trees, for construction and landscape planning, for legal documentation, etc.
Risk Assessment: I am a qualified Tree Risk Assessor (TRAQ), which helps when asking the question: "should I be worried about my tree?" Big trees falling on houses are dramatic and unfortunate. These incidents are also relatively rare. 
TRAQ offers a systematic lens through which to assess risk and advise on the often-difficult judgement-call of whether or not a tree should be removed. I find that more often than not, risk can be mitigated through other measures such as pruning and/or cabling.
Plant Health Care: Why are my leaves sticky? 
What is that orange dust? Why are those branches dying?  We love getting to the bottom of these questions and more. We have a plethora of tools in our bag to treat all manner of insect, fungal, bacterial, and cultural issues affecting the health of trees.
Christopher, are there any last thoughts or comments you would like to share with our readers? 
Thank you for allowing us to be of service, Ashland!  
Also, if you think a career as an arborist sounds like something you may be interested in, give us a call. We are on the lookout for our next team member.
Learn More: 541-631-8000   
canopyarborcare@gmail.com
https://www.canopyarborcare.com/