Two years ago, Dr. James Burneson, or "Dr. B" as he's known to his patients, took the helm of Today's Dentistry, one of the oldest and most well-known dental practices in the Rogue Valley. He is determined to keep the legacy of his predecessor, Dr. Ed Warr, alive and well. It's exciting to hear Dr. B's vision and enthusiasm to perform excellent clinical dentistry all while infusing comfort and an appropriate level of humor into the office atmosphere. In our questions today I speak with Dr. Burneson about the plans for the future of the practice, the new technology that will get him there, and how the focus on total health includes incorporating Invisalign orthodontic therapy.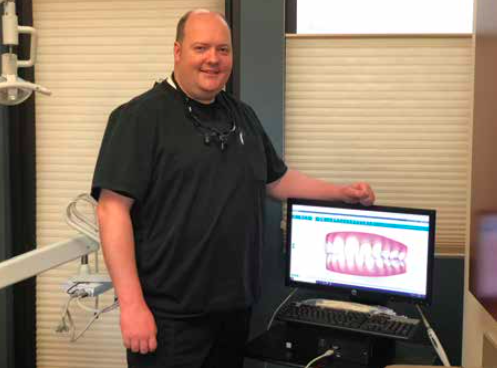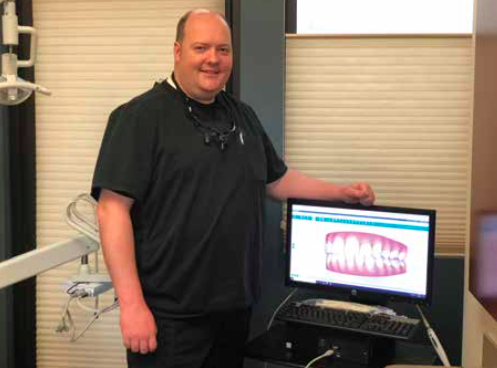 Dr. Burneson, thanks so much for joining me today and welcome back.
Thanks Shields and thank you to all the readers of the LocalsGuide! We regularly hear positive responses from patients and people about the content and wealth of information people can find here. I enjoy the community we all share in this corner of the valley.
To begin with, how are things going? 
Sometimes I respond to that question from patients with "chillin and drillin." I know that's terrible, but hey I'm just impressed they've gotten this far into an article about a dentist and they're continuing to read. Most people don't enjoy a trip to the dentist, much less reading about it. However, our patients regularly express their unexpected enjoyment in the experience and the relationship we provide. I know that they see we're having fun, and we enjoy one another.
The office is such a beehive of work right now. The assistants, the hygienists, and the front office are the most amazing team I've ever worked with. I blame Dr. Warr! He put together a fantastic team, and we have the same staff, plus one, that we had when I took over. Anyone that has developed a work-team can understand the value of the cohesivity that a true team has. I think that says something about how we can grow and change. I'll get into more of the changes we've implemented later but suffice it to say that everyone has been very adaptable and continues to perform at their best.
Dr. Burneson, in reflection on the past twenty-four months, what have been your best and most memorable moments?
A few things stand out. I've spent a lot of time doing continuing dental education. I've become proficient in areas that I've always wanted to learn more about, specifically dental implants and Invisalign orthodontic therapy. First, dental implants. I was awarded a Fellowship in the International Congress of Oral Implantologists, and a year later a Fellowship in the Misch-Resnik Implant Institute. These are some of the most education-focused and prestigious implant organizations in the world. It's been amazing to be involved with these groups. I feel like if any dental implant case or complication walks into the office we can help the patient out.
Second, Invisalign. There are many options when it comes to getting teeth straighter, but I've always maintained that straight teeth do much more than just improve esthetics. We know that when teeth are correctly aligned, they function better and they're easier to keep clean and healthy. A great esthetic result is a wonderful bonus that always accompanies the treatment. I've spent time honing my skills and developing methods to treat cases more predictably. My favorite class was a trip to meet Dr. David Galler and become qualified to use his special "engine" algorithm to move teeth faster.
Lastly, I think that the amount of book reading certainly has been an enjoyment for me. I enjoy books about business, leadership, communication, and self-help. It's been really fun to dive into the why behind organizational success and leadership. I love to read books from Simon Sinek, Patick Lencioni, Jim Collins, and John Maxwell. I love checking out airport bookstores and seeing what's new from these authors.
How has the experience of Covid gone above and beyond to exceed your expectations with your friends, family and staff?
I think we can break this into a few categories. First, I'd say we've all done really well at adapting to the requirements that have been in place. As far as I know, we've never had any cases of Covid-19 come from our office, and all of our team members have stayed healthy. Of course, we don't know if anyone was an asymptomatic carrier, but several of us have had our vaccines and we've taken appropriate measures anytime someone, patient or staff, feels unwell (they don't come in). Patients have been very understanding and the business saw a quick rebound from being totally closed-down from March 16th to May 4th last year. 
Second, the bad – if you know me, I don't like to dwell too much on the burnt side of the cookie. However, the truth is, the regulations seem to change constantly, and much like the frantic worry that we had with the fires last year in Ashland, there's no good method yet to really come up with a plan. (Actually at the time of this printing, I retract that, there's a very good plan for fires now in Ashland) I rely heavily on scientifically-backed facts for my work. I wish the same could be said for those who dictate policy for the state health organizations. Rant over.
Third – We can and will get past this. The New Normal-ers and the Unprecedented-ers will eventually quiet down and life will return to normal. I'm really confident about that, not overly optimistic, or flippant, but despite the brutal facts of a worldwide pandemic, I'm personally exceptionally impressed with how quickly vaccines were made ready and able to be distributed. I'm glad we live in a place where we are now able, if desired (and yes I recommend it, but will never force someone to do it), to obtain the vaccine. We literally had the vaccine less than one year from when we closed, and I think that's a marvel of modern science.
Speaking of scientific marvels, let's talk technology. What are you paying attention to these days in the practice and what are you excited to tell us about?
I'm a firm believer that the right technology can provide better care. I seek after the right technology all the time, although I consider myself a member of the "early majority" when it comes to adopting new methods. That means that I don't jump on the next great thing right away, I wait until it's been tested and can provide the best care for the patients. What is the right technology? I believe it needs to meet a few criteria. 1. It needs to help the user do more with less. 2. It needs to provide better outcomes. 3. It must help the patient have a better experience. 
We have had a digital scanner for about a year now, and we love it. The iTero scanner helps us cut down on an amazing amount of materials that normally are used for dental impressions that would normally go to trash and fill landfills. If changing that was the only thing, it would be enough, but it actually helps us get much better fitting crowns, night guards and other restorations, as well as measure the amount of wear a patient has over time. It's spectacular! Wanna see what your teeth look like in 3D, give us a call, it takes about 5 minutes to scan an entire arch.
Drumroll…… I'm really excited to announce that we now have the ability to do same-day crowns in office. This means that for many situations we can have your crown completed the same visit as the initial preparation! No more temporary crowns, no more two-week to wait to get it back from the lab. I've waited a long time to find the right mill that can give us the crowns that have the strongest material, and it's finally available. It's super cool!
Dr. Burneson, please talk more about your vision for the practice as we move into the future. What's behind the driving force for these tech changes?
Sure, it's really simple, our vision is Improving Lives. It took me two years to nail down such a basic idea. We really feel that everything we do helps to improve the lives of our patients, our staff and our families. There are three core principles that seem to have floated to the surface: Preservation, Restoration, and Renovation. Those came to me while reading a home improvement magazine. Really what we do isn't so much different from home improvement. We want to preserve the natural smile as much as possible; sometimes there's a need for a restoration project to get it working again; and there's even a need every once in a while, to "reno" some or all of it, and make it better than the original.
I felt like the vision for the practice, and the vision for my life absolutely needed to be on the same page. My mission is to help people to change their lives for the better, or simply improving lives. Whether that is myself, my family, my staff, or my patients, or my neighbor, it still falls into that same category. I get the most enjoyment in life as I'm serving others and helping them improve their lives. Sometimes that's just a smile, a hello, or a really corny dad-joke. My repertoire is expansive!
This has been such a revelatory experience because it forms the basis for all we do in the office. We can ask ourselves: When we hire this person – will it help improve lives? When we plan this treatment – will it help improve lives? It's like a compass that consistently points us in the right direction. 
What would you say has remained the same vs. what has changed?
No question, the first response is the team has remained the same. We lost a team member for a while, but we rallied around her, and won her back. Shiloh's a big part of how well we work together. She has a special way of comprehending each of our unique personalities and works with us. We added another wonderful assistant, Erica, that focuses on the hygiene and sterilization side of the office. 
She's top-notch and the only other person I can speak Spanish with. She's a wonderful addition. All the other familiar smiling faces are the same. We're really lucky to have such a large hygiene team with Jill, Rachelle and Mark, they really keep us moving!
The biggest change is that Dr. Warr has finally, regrettably, completely stepped aside. We miss him and the way he kept inspiring us to reach higher than our potential. We've also made some changes in the front office and have a lovely three-panel photo of downtown, with the Shakespeare Festival and the hotel as the focal point. I like to point out the room and balcony where Emily and I spent our anniversary last year at the Winchester Inn. Ashland is incredibly beautiful!
Ok, Invisalign orthodontic therapy, what is it, and what are the benefits compared to traditional braces?
Invisalign uses a series of custom-made clear plastic trays that move teeth incrementally over time. They work in many situations and make it easier for patients to have orthodontic movement, and teeth alignment without using traditional brackets and wires. This means patients can floss, eat, and function without the cumbersome and sometimes painful experience of brackets and wires.
Clear aligner therapy has been around for a long time. Now we're seeing some companies developing do-it-yourself at home aligners. I strongly discourage this. Without the constant verification from a licensed dentist or orthodontist, these cases can go bad very quickly and can be extremely costly and painful to rectify. Invisalign has been around the longest. They have done the research, the engineering and developed the science needed to produce the best outcomes. Invisalign consults are free at our office, and I'm always happy to take a look. Many times, we can see a simulated outcome for the patient before we start treatment. I have an exhaustive evaluation form for orthodontic consults. I've even had orthodontists request my forms! The biggest compliment I've been paid was when my wife told me she wanted me to do her Invisalign case. I mean, we know a few orthodontists, and she picked me! Woot!
Dr. Burneson, I know you have a great sense of humor. What have been some of the thoughts, jokes, or stories that have helped you through the past year?
Ha! Well, my 19-year old gets the credit for telling me this one, but it goes like this – 
Where does Dorian Grey shop for clothes?
-Forever 21…
-That joke never gets old…
-Get the picture?…
-I'm not trying to frame you here.
This just had me rolling!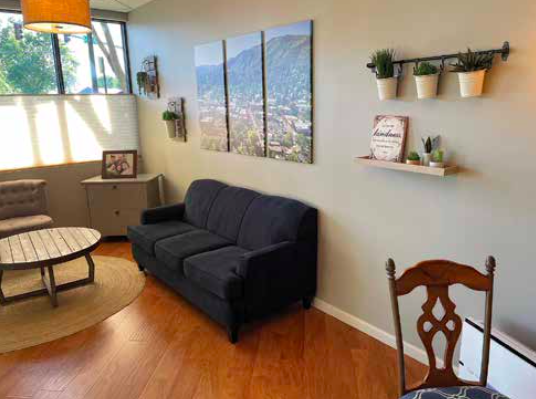 I told you I've been reading more, but I bought Jerry Seinfeld's "Is This Anything?" on Audible because it's all of his jokes. ALL OF THEM!!! I wanted to hear him deliver them in his time, with his voice. It's a long book, as you might imagine, and I couldn't get enough of it. I'll be honest, I've written a few jokes and to my great disappointment, one of my funnier jokes, I mean I babied this thing, was being told right back to me by a master. I can't remember ever hearing it before, but that genius from New York had done it at least 20 years before I thought of it. Basically, it's about horses and ponies. You see, Ed, (Dr. Warr) used to say, "Well that's the hitch in the giddy up" when something went wrong. I knew that wasn't a good thing, who wants a hitch in the giddy up? No one. It's a big deal…because a horse is a big deal. But you don't get the same respect, I feel, for ponies. No one says, "Well that's a real piddle in your pony trot?" Do they? And if they did, you probably wouldn't think it's so bad. A minor setback, but nothing major. Pony discrimination I say!
Finally, would you like to share some recent customer testimonials or success stories with us?
Absolutely! See the back cover of the LocalsGuide! Although, I did have a 3-star review lately. Get this, one of my good dentist colleagues in Medford gave me a 3-star rating because he said I sang "pitchy." Can you believe that? Well, he did! I don't sing pitchy! If you feel like I don't sing pitchy, please call Dr. Adam Fox at Fox Dental in Medford and let him know how well I sing! 541-772-1215!!!
If you haven't yet had the pleasure of me singing to you: 1. You either haven't had a cavity in a very long time or 2. You're not a patient yet, and you should call Shiloh or Teri now to set up your appointment. You know those docs that people say, "they're very good, you can't hardly find a time to get into that place they're so good." That's our office. (But since my mom is probably the only one reading this by now, you know I'll squeeze you in anytime, Mom!)
Thanks so much for being a long-term supporter of LocalsGuide.
It's my pleasure Shields. We look forward to keeping the community spirit alive and well here in Ashland.
Learn More:
Today's Dentistry
1530 Siskiyou Blvd, Ashland
www.ashlanddentist.com
541-482-9301