Interviews
Introducing the NEW Retirement Planning Specialists Chris Patterson & Chad Smith, CFP® Retirement Planning Specialists, Inc.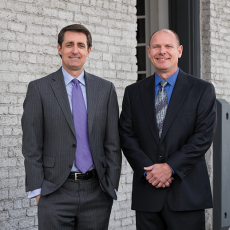 It's official…Chris Patterson and Chad Smith are the new owners of Ashland's premier financial planning firm, Retirement Planning Specialists, Inc.
Located at 645 A Street in Ashland, the firm manages a little over 200 million dollars of investments for clients.  The majority of clients are located in Southern Oregon and Southern California.
Originally founded in 1987, Retirement Planning Specialists, Inc. has built its reputation on income tax planning and retirement income planning with the goal of assisting clients in every aspect of their financial lives. They offer clients personalized services that help create financial stability and peace of mind.
Now as Chad and Chris take the reins of leadership, they bring with them a firm sense of commitment to providing top tier services to clients.  According to Chad, their goal is to under-promise and over-deliver.  "We want to exceed the expectations of our clients."
I met with Chad and Chris recently to learn more.
To begin with, congratulations to you both on the new ownership of your firm. I know you both had already been with the company for some time, however this now has put you two in the position to take things to a new level.
Thank you! We also want to thank all of our clients who have placed their confidence and trust in the firm all of these years. We are very excited to be able to continue the tradition of providing "Gold Medal Services" to our clients.  In the future, we will be placing more of an emphasis on consistently holding client educational events. These events will be interactive and will focus on topics that are important to our clients, for example, social security planning, estate planning and tax reduction planning.
Chad one of the first things you said to me when we spoke on the phone was that this business is all about relationships. Tell me more.
At our firm, clients come first!  Our goal is to be the last financial planning firm a client ever works with.  We do everything in our power to keep our clients focused on where they want to go, advise them on how to get there, and continually remind them of the importance of maintaining a disciplined approach to realizing their financial goals and dreams.
Chris, your position at RPS now will allow you to move forward with many new and exciting offerings for your clients. Can you tell us more about what you have planned?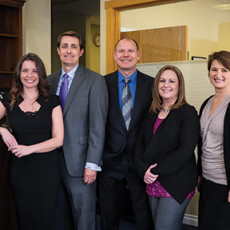 We have been creating a quarterly economic update for our clients.  In addition to this client service, we will now be producing monthly updates on specific topics, for example, many investors are concerned about rising interest rates and how this will affect fixed income (bonds) and equities (stocks). We will be consulting with various mutual fund managers to assist us in communicating how to protect clients' portfolios.

Most clients and prospects that we work with have a love/hate relationship with taxes. They love to reduce their taxes and they hate paying their taxes!  We will now offer the ability to review your tax situation, not at the end of the year when it is often too late, but during the year.  Our goal is to take a proactive approach to reducing taxes. One phrase that we love sharing with clients and prospects is, "We don't care who prepares your taxes we just want to reduce your taxes!"

We are also planning on assisting clients in getting organized.  One issue that many clients face is the fact that they are inundated with financial documents.  They keep everything!  We will be offering the ability to have a staff member go to a client's house and go through all of the documents to determine what can be "round filed" or shredded and what should be kept.  We will also assist in creating files that can be easily managed.  Many clients are starting to move toward "going green," where they receive financial documents via e-mail instead of paper mailings, which we highly support.  In fact, our office went "paper-free" a few years ago, and we encourage our clients to do the same.
These are some great goals and changes that you are implementing! Chad, you guys have a very unique advantage which is that RPS can play the role as a fiduciary for its clients. This is not always possible with larger investment firms or brokerage houses. Why is this and what exactly are you able to offer?
When Congress passed the Investment Advisers Act of 1940, its goal was to create a higher standard for financial advisors by requiring them to become registered as investment advisors.  By law, Registered Investment Advisors (RIAs) owe a fiduciary duty to place the interest of their clients ahead of their own.   A financial advisor held to a fiduciary standard occupies a position of special trust and confidence when working with a client.  As a fiduciary, the financial advisor is required to act with undivided loyalty to the client.  Many people are very surprised to learn that most people who call themselves financial advisors are, in fact, not registered investment advisers nor have a fiduciary obligation to their clients.  These folks are only required to meet a suitability standard with their client, which means they only have to recommend an investment that is suitable, not necessarily the one that is best for the client.

Our firm is an RIA and we offer complete financial planning services.  Financial Planners offer comprehensive advice by coordinating five critical areas affecting clients' financial health:

•  tax planning
•  insurance planning
•  estate planning
•  retirement income planning
•  investment planning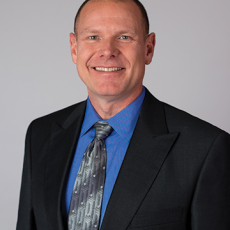 So if I understand this correctly, being a fiduciary means that you have a legal responsibility to do the best job for your clients?
Yes.
Can you explain one of the easiest ways to determine if a financial professional is practicing as a financial planner?  
One of the best ways to determine if you are working with a financial planner is whether or not he or she looks at your tax return before making any investment or financial recommendations. Ask yourself:

"Isn't it a good idea to know the income tax consequences of any investment transaction before I make my financial decisions?"

"How could anyone give me any financial advice without reviewing my i
ncome tax return and determining my tax bracket and other important factors, such as capital gains and losses, negative taxable income, etc?"
Interesting… I never realized this and it most certainly is a top priority to get the best advice possible.
Take comfort, you're not alone.  According to a recent TD Waterhouse survey, less than 25% of investors knew Registered Investment Advisors have a fiduciary responsibility to act in a client's best interest. In addition, almost 90% would NOT seek financial advice from a stockbroker if they had known that these advisers were, by law, not required to act in their best interest.
Chris currently your client base extends all up and down the West Coast with its primary base here in Ashland. What types of individuals, businesses or organizations are best suited to work with your company?
We work primarily with individuals who are within a few years of retiring or who are already retired.  We also work with the next generation, which we refer to as "Family Wealth Planning."  Many clients do not realize how involved we get with the estate administration after a loved one has passed away. This is a huge benefit to surviving spouses and to children of our clients.  We have received very positive feedback from the estate planning attorneys in the area with regards to how we go above and beyond the call of duty in this area.

Our clients are very loyal. Many of the clients have recently hit their 25 year anniversary as clients of RPS, Inc. Our clients worked very hard in their careers. Our clients come from very diverse backgrounds. We have engineers, teachers, doctors, etc. as clients (we even have a famous retired professional racing driver as a client).
Offering big city services while running the business in Ashland has been a great advantage for you both.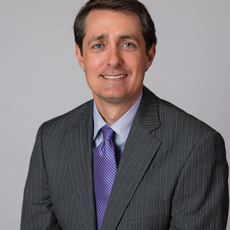 We love living in Ashland!  We are committed to this community.  Chris and I have great families. Our wives are a great support.  Chris has six children and most of them have gone through the Ashland Schools.  Chad has two girls, one is an AHS freshman and the younger one is an AMS 6th grader.  Chad has been involved with the Kiwanis Club of Ashland for many years. Chad is currently the Scholarship Chairman for Kiwanis.  Our firm supports the Ashland Schools Foundation, the annual Monster Dash, Ashland Little League, Ashland H.S. Athletics, Ashland Independent Film Festival, Youth for Christ, S.O.U. Raiders Scholarship Program and the Rotary Club Scholarship Program.
As the firm has grown how have you maintained the ability to continue to give each of your clients the individual attention that is required?
Our success relies on three key ingredients:  EXPERTISE, SERVICES AND SYSTEMS.  Because we have these standard operating procedures in place, we can effectively service each client.
How about fees?
We get compensated in two ways; first, through referrals.  Like any company, if we do a great job for you, we would expect you to let your friends and neighbors know about us. Second, we charge a wealth management fee that is based upon the assets that we manage for you. This investment advisory fee is typically 1% per year, or a quarter of a point per quarter.  We find this business model to be very simple.  The advisory fees are deducted directly from the brokerage accounts that we manage on your behalf.  We do NOT charge additional fees for all of the other services that we provide, in regards to tax planning, estate planning, insurance reviews, retirement income planning, quarterly reviews, etc.
Chad, having a clear plan and goal has always been a strong point for your company. What are some of the most valuable lessons you have come to learn along the years?
We are not a "one man shop."  We are a committed team of PROs (Professional, Responsible and Organized).  One of the most important things that I have learned is that investments are a matter of opinion however income tax planning laws and estate planning laws are a matter of fact.  Past performance is no guarantee of future results however we can control the services that we provide clients.  We are very confident that we will continue to be recognized as one of the top financial planning firms, not just in Ashland but on the West Coast.
It sounds like a great time for you both to have taken over ownership of RPS.
We are very excited about the future.  Chris is 48 years old and Chad is 43 years old.  One of the challenges that the financial planning industry faces is that the average financial planner is older and looking to retire in the near future.  We do not have enough of the next generation of advisors to take over.  Chris and I represent this next generation of financial planners.
Chris, your industry offers a dynamic nature which requires that you offer continual access for your clients to their investments. Can you say more about this and how your company is structured to meet this need.

Our clients have 24/7 internet access to view their accounts.  Most clients have a checkbook that is attached to their brokerage accounts, in the event that they need to write a check.  Also, the majority of our clients receive a monthly direct deposit to their banks from their investment accounts.  We like to tell clients, "Happiness is a positive cash flow!"
Finally, let's say I've just moved to Ashland and want to find a local investment specialist to work with.  Why should I work with you?
We offer prospects a complimentary, one-hour, private consultation with either Chad or Chris, at no cost or obligation.  There is a reason that we have been consistently ranked by Barrons as the # 1 financial planning firm in the State of Oregon.  To schedule your complimentary financial check-up, please contact Chris at Retirement Planning Specialists, Inc. at (541) 482-0138.
Learn More:
Retirement Planning Specialists, Inc.
645 A St. Ashland
chris@rpsemail.com and /or chad@rpsemail.com
541.482.0138