Interviews
Dr. James R. Benson, DDS – Ashland Dental Associates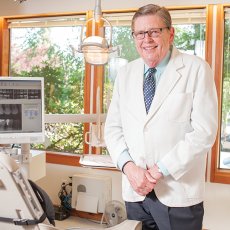 Located at 1144 Iowa St. in Ashland, Dr. Benson and his team have offered exceptional dental care in our community to generations of families for many years.  Ashland Dental Associates provides state of the art, minimally invasive treatment with an emphasis on natural biologic dentistry known as bioesthetics.  Bioesthetic dentistry is based on an optimal health model rather than the prevalent disease model of care.  Dr. Benson is currently the Director of Education for the OBI Foundation for Bioesthetic Dentistry.  Not only does he actively serve his patients, he has dedicated himself to the profession of dentistry by teaching and training professionals both in the U.S. and abroad. Because of his dedication to the profession, he was again recognized by Dentistry Today magazine as one of the TOP 100 Dental Educators in the U.S., an honor he has received for the past seven years.
 
In addition to his dental practice, Dr. Benson has placed a high priority on community involvement through his leadership and association with Ashland Kiwanis Club (past president), as an Oregon Shakespeare Festival volunteer, the S.O.U. foundation board of directors, as past president of the S.O.U. Raiders Athletic Association, through his membership in the Ashland Chamber of Commerce and as past president of the Southern Oregon Dental Society.
Dr. Benson and his wife Denise have raised their three children here in Ashland, all of whom graduated from Ashland High School and now have their own families.  Jim's daughter Barbara Gentry managed his dental practice for many years and is now Executive Director of OBI Foundation for Bioesthetic Dentistry, a nonprofit educational institution, while his son Jim manages Ashland Dental Associates.
Dr. Benson, thank you so much for doing this interview with us today.  
Thanks for your interest in our dental practice. Ashland has always been a special place for me and this is a great opportunity for us to re-introduce ourselves and say "hello" to everyone we know as well as all the new members of our community.

I agree, Ashland is a wonderful place to both raise children and to live. You have had the opportunity to experience both of these things here in Ashland. You have also taken on leadership roles in our community and I would be curious to learn more about what you have learned from some of these experiences.

I brought my family, my wife Denise and three children to Ashland because we fell in love with the magic of this place.  That magic remains, with all my children and several grandchildren calling the Rogue Valley home.

My wife Denise has been very involved in our community over many years. She was a member or volunteer with many organizations including, Junior Service League, Meals on Wheels, Tudor Guild, Ashland Chamber, Cancer Society, Girl Scouts, Home Room volunteer, Red Cross Blood Bank, public library organizer and she was a realtor for several years.

I initially got involved in the community by joining the Kiwanis club and volunteering as a red coat with the Shakespeare Festival. I was a red coat for 10 years meeting many interesting theater goers and having the opportunity to proclaim the virtues of living here. In 1977 I was voted president of Kiwanis. My greatest achievement was in promoting the Shakespeare inter-club, where Kiwanis clubs from around the state would come and have a wonderful sit down dinner in Lithia Park, followed by a play. I called the festival, to invite Angus Bowmer to be our dinner speaker. He accepted and gave a heartwarming talk about our community's support to his grand vision. I feel very fortunate to have met him.

For me the most important experiences were with my family.  All three of my kids graduated from AHS. All three were athletes and many happy hours were spent at football and basketball games, cross-country and track meets and tennis matches.  All of them also attended SOU with my son Jim graduating in 1986 with a degree in International Studies. My grandson Alex graduated from SOU last year with a degree in International Studies-Anthropology. I now have the privilege of watching two of my grandkids play ball at Walker School and ASH.
I am curious how you came to find dentistry as your career path. Did you have dentists in your family?
There were no dentists in my family. My mother and her parents, three brothers and one sister emigrated from Scotland to Illinois when she was 11 years old. I was the first of this extended family to go to college. My initial love was playing music. I had three bands in high school in which I played the clarinet and saxophone.  My greatest thrill was to be invited by a famous band at that time, The Dukes of Dixieland, to sit in on a live performance.  I was 17 years old. It was a great experience and I was sure that this was what I wanted to do. Ironically, it was the piano player who sat me down after the set and pointed out just how hard life was on the road for musicians.  It was a sobering talk. By chance the next day I had an appointment with my dentist. I told him about my experience and he asked me, "Do you enjoy helping people?  Do you like science?  Are you skillful with your hands?"  My answers were yes. Then he said to me, "You need to become a dentist," and so I did.
That's a great story and the neat thing to see is that you are still passionate about dentistry.
I consider myself very fortunate to have chosen dentistry as my profession because it is the perfect medium for me to express who I am. Every day I have the opportunity to make a positive impact on another person.

My passion for dentistry was amplified after discovering the incredible health benefits possible through Bioesthetic dentistry that were taught to me by the founder of Bioesthetics, the late Dr. Robert Lee. I regard this special training as a gift that must be shared with interested patients and other dentists. In fact, teaching the biological principles and clinical application of this discipline has become my life's work.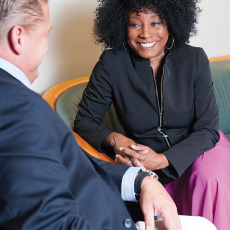 You mention Bioesthetic Dentistry and I am not too familiar with the term.  Can you please tell us more?
Bioesthetics is the term that describes the integration of natural beauty and optimal function. It is based on years of scientific study and observation of naturally gifted, healthy dentitions of all ages that have had little to no dental treatment.  For these people, their jaw joints are stable, muscles are relaxed, they are free of pain and the teeth are practically unworn.  They all display excellent facial esthetics while enjoying optimal function and longevity.  Dr. Robert Lee coined the word bioesthetics, and defined it as "the study or theory of the beauty of living things in their natural forms and functions."  Dr. Lee discovered certain commonalities in these great chewing systems that form the biologic principals of bioesthetic.  When I first heard Dr. Robert Lee in 1987, my life as a dentist was changed forever. He gave me the ability to recognize health and realize that successful and predictable esthetic dentistry must be functionally correct and in harmony with all parts of the chewing system. Dr. Lee was a seeker for truth and was a biologist before he became a dentist. He passed in 1997 and OBI Foundation for Bioesthetic Dentistry continues on his journey towards understanding nature.
What are some of the immediate changes and benefits that individuals can experience through Bioesthetic Dentistry?
Many of us have a disharmony in our chewing system wherein our bite position and jaw position are in conflict. This disharmony can initiate tooth wear, sensitivity, and muscle pain in the jaw, head, neck, and shoulders. The fact is that dentistry has been mostly concerned with bug control (tooth decay) and not force control. It is Occlusal (bite) disease that create chewing system overload leading to premature oral-facial aging, pain, dysfunction and disfigurement. Basically the immediate changes from bioesthetic treatment come from force control with proper alignment of the chewing system through MAGO therapy. The MAGO is a removable orthotic that gives the system the correct bite to achieve jaw stability. This results in immediate relaxation of tense facial muscles and restoration of mid-face collapse. The patients become pain free and project a more youthful and relaxed appearance.
When you talk about having fuller lips, a better smile and more youthful looking face what do you mean?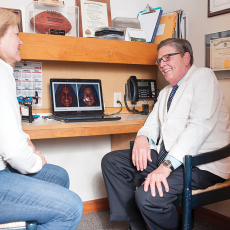 Misalignment of the chewing system causes tooth wear. As the teeth wear the mid-face collapses into a more aged appearance. This also results in thinner and thinner lips as time goes on. These individuals appear older even when in the 2nd and 3rd decade of life. Restoring original length back to worn teeth creates fuller lips, which were always there but become rolled inside due to lack of tooth support. With bioesthetics face height and lips are rejuvenated. It is such a joy to be able to give people their lives back, restoring lasting natural beauty to their smiles and their faces.
So here we have a multi-billion industry for Botox and facelifts when many of the root causes for the issues in the first place directly relate to the teeth and jaw structure of an individual.  Do I have that right?
You are quite right. Botox can increase the size of the lips but it doesn't address the cause for the thin lips for those in misalignment with tooth wear. Botox is not natural. Tooth wear is rampant in our society. Contrary to popular belief tooth wear is NOT normal. It is very common, yes, but not a sign of a healthy chewing system. The people we have studied who have naturally optimal chewing systems display little to no tooth wear for a lifetime. The oldest person we have studied was 103 years of age.
Being an expert in smiles, what are some of the key qualities that go into having a great smile?
First and foremost that it be natural and not contrived. Having studied great natural smiles gives us the health model to diagnose from and treat towards. We have the destination clearly defined. The smile must be in harmony with the face, the airway, the jaw joint, and the muscles of the head and neck; people with these attributes smile without effort. They are free from pain and display lasting natural beauty.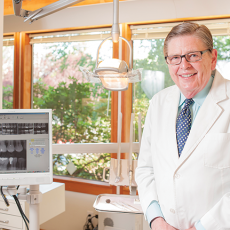 Can you tell us who would be an ideal candidate for Bioesthetic Dentistry?
First, it is for the ones you love and for those in pain.  I myself have had a bioesthetic rejuvenation. We also know that there are so many people living below their potential. Many are living a life of quiet desperation.  Because of their teeth (chewing system disharmony) they may be embarrassed or in pain, or both.  They don't like to smile.  They don't like to be social.  They really aren't living. This usually happens because of fear and it doesn't have to be that way. Our vision is to give these people their lives back through the health benefits of bioesthetics. The way we do this is by giving a safe, pain free experience that alleviates their stress and gives them the smile that they have always wanted so they can be who they were meant to be. We believe that life is better with great teeth.
What is your process and availability for treatment with this technique?
Most of our new clients are referred by existing patients. Our door is open to meet anyone interested in what we do. Our process is first to have a face to face interview. It gives us the opportunity to discuss the person's concerns and get to know each other.  There is no fee for this meeting. Then, if we are a match, we will schedule a comprehensive examination, the purpose of which is to begin the process to find answers to three important questions.

1) What is happening in my mouth and chewing system?
2) Why is it happening? – Diagnosis
3) What can be done about it and what are my options?

Our intention is to build a long term relationship based on trust and a mutual desire to improve or maintain dental health.
You work Monday through Thursday and then are usually off lecturing on Fridays. What does your travel schedule look like for 2014?
When I am teaching, I usually leave Thursday afternoon and return either Saturday night or Sunday morning. This can be once or twice a month.  Currently I have 2 ongoing classes that are being held in Salt Lake City, Utah. In June I will be traveling to Toronto, Canada to give a lecture. In the fall we have a class starting in Denver, and then Boston.

Our annual meeting, OBI foundation for Bioesthetic Dentistry, will be held in San Francisco in October. A detailed teaching schedule is available on our website, obifoundation.org. There are also instructional videos and testimonials regarding the health benefits of bioesthetic dentistry.
What is your best advice you offer to young dentists and or individuals considering enter the career of dentistry?
The three questions that my dentist asked me are still relevant. "Do you enjoy helping people?  Are you interested in biology?  Are you skillful with your hands?" Dentistry is a satisfying and worthy profession, wherein you can make a fair living and provide for your family. Finally, it is the long term relationships from your patients who become friends that are the most rewarding.
As part of your community involvement you were also involved with the Guanajuato Club. Can you tell us more about this experience with Ashland's sister city?
In 2003 I traveled to our sister city for the first time with the Guanajuato Club. It was a great experience! While I was there I gave an introductory lecture on Bioesthetic Dentistry to a group of local dentists.  I told them what I tell all dentists about bioesthetics, that early recognition of chewing system disharmony in young people can alleviate or prevent further tooth wear with minimally invasive procedures. They wanted more and I returned to give another lecture to a room of 180 dentists and the program was opened by the then governor of the state of Guanajuato.  The governor asked me to tell the audience why I was there. After my introduction I answered his question from the podium and said, "I am here to save the children of Mexico." There was a standing ovation. After my presentation the governor approached me and said to me, "We need to talk." That was the beginning of bringing bioesthetics to Mexico. I have taught many classes there since then.  In addition, we established OBI Mexico for Bioesthetics, which is alive and well today.
Dr. Benson would you please introduce us to your staff and the roles they play in your practice?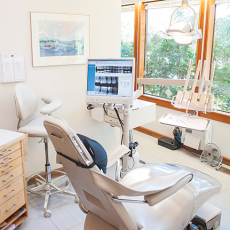 Tami is an expanded functions dental assistant and she has been with our practice for years. Tami brings an incredible passion and knowledge for dentistry. She has also taught dental assisting at the career school of dental assisting. Trained in Bioesthetics, her meticulous attention to detail and warm personality enable her to provide exceptional care to our patients.  She is a loving mother and native Oregonian. Tami and her husband are avid outdoors people and enjoy the wild and scenic beauty of Southern Oregon.

Caley is also an expanded functions dental assistant. She came to Ashland Dental Associates from a dynamic practice in Bend, Oregon.  As a young woman her goal was always to become a dental assistant.  After completing her studies in Central Oregon and obtaining her degree, she relocated here to Southern Oregon.  Her love of dentistry, vibrant personality, and commitment to quality dental care and patient relationships has served our practice well.  She and her husband love the beauty of Oregon and have a passion for snowboarding and outdoor activities. We are excited to have her on our team.

Sarah, our hygienist, came to our practice in 2010 from Great Falls, Montana where she obtained her degree in Dental Hygiene from Montana State University.  Her passion and commitment to dentistry coupled with her compassionate care has made a lasting impression on our patients and she is an integral part of our team.  Sarah also boasts a Bachelors Degree in Literature and has three amazing children.  Sarah, her husband, and the kids love rock climbing, skiing, biking, and back packing and love to call Southern Oregon their home.

James is our office manager. He came to our practice in 2012 from Lincare where he served in patient doctor relations.  Prior to that, James spent 8 years in Florida serving in Health Care Management for a Home Health Agency.  James brings a wealth of knowledge in dealing with insurance companies and benefit plans and serves as our office manager.  James is a graduate of Southern Oregon University here in Ashland and a Graduate of South University in West Palm Beach, Florida.  His dedication to our patients and assisting them in the insurance and financial aspects of their dental care has proved invaluable.
Do you have any favorite quotes or thoughts that you have run across recently?
I have one that means a lot to me stated by Dr. Lee shortly before his death in 1997.  He said, "We must save the children." He was referring to getting in front of the rampant problem of tooth wear today by early recognition and treatment.
Finally do you have any last words for our readers?  
Yes. As I have previously stated, Ashland is a magical place.  Why?  I think that most of the people who live here are here by choice.  You don't hear of companies transferring employees here.  Our residents find a way to be here.  This fact, in my opinion, elevates the collective consciousness and amplifies energy that we can feel.  Look at our schools, rated very high in the state with AHS outstanding. We attract the right people to live here.  As far as dentistry is concerned, the state of a person's dental health directly affects their systemic health and quality of life.  Finally, I believe that life is truly better with great teeth!  Thank you.
Learn More:
James R. Benson, DDS PC
drbenson@bioesthetics.com
541-482-1746
drjamesrbenson.com  
Ashlanddentalassociates.net
obifoundation.org