Interviews
Michelle Christian & Family – Ashland Artisan Emporium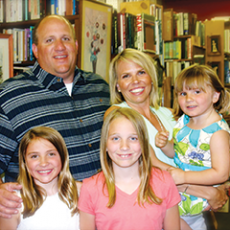 With over three years in business and a tragedy behind them, the owners of AAE have put down solid roots in the community and are settling in for the long-haul. Michelle Christian has learned how to manage over 160 vendors, a staff of four and a family of five with patience, kindness, and professionalism. AAE is taking flight and only getting better.
Located in the Ashland Shopping Center, the Ashland Artisan Emporium is a treasure trove contained in over 15,000 square feet of space. The Emporium features works by more than 160 artisans and resellers and ranges from everything from vintage collectibles to one of a kind arts and crafts, furniture, historic photos, comic books, books, tools, clothing, shoes, home décor, candles, soaps, and gifts of all sorts. Michelle Christian, owner of the Emporium, and her staff go above and beyond to ensure that shoppers and sellers alike find everything they need and thoroughly enjoy their time inside her shop. Now at 3.5 years in business, AAE has established itself as one of the best places in Ashland to find great gifts and treasures of all types. With inventory changing every single day, no trip to the shop will ever be the same! We headed down to AAE to catch up with Michelle to see what's been going on since our last interview.
Michelle thanks so much for speaking with us today. I'm excited to hear about all the latest and greatest things that have been going on here at the Emporium.
Thanks for visiting with us again Shields! I can't believe we are almost at our four year mark!  Each month we meet more people that are so excited about what we've got going on here – either as shoppers that are surprised to find so many wonderful treasures, or as vendors who are elated to find an affordable spot to sell their own treasures! We are hitting our stride and making a name for ourselves in the community as the place to find a gift or something for your home. We are also selling more clothing than ever. We have vintage, previously owned and new – as well as shoes, purses, and hats to complete the look.  I am so grateful to the committed vendors that I have for helping me get this far.
It seems like just yesterday that you opened your doors. I know a lot has changed since then. Please tell us about it.
So much has changed. When I opened this store with my father in November of 2010 I had NO idea how much work would be involved. And after the birth of my 3rd daughter in December of that same year and my dad's tragic death in March of 2011, I was almost paralyzed and ready to quit. It took a lot of help from my staff and support from my husband to keep going each day. Ultimately, I believed in my father's vision for this space and I couldn't give up on him. My heart has healed a lot since he died and I feel more confident in my abilities to manage people and make wise decisions. I have met some wonderful people along the way that were my cheerleaders, women that were able to help me see what could be done better or more efficiently. I've had some wonderful vendors that have become my friends; trustworthy people that are as committed to the store's success as I am. My staff has helped me work out the kinks from our first couple of years. We have established clear guidelines for our vendors, we know what works and what does not, and I am getting better at managing the ups and downs of public service in a calm and professional manner. Creating a peaceful and happy environment is the most important thing to me. I think that feeling has spread to our vendors and they are giving it right back.
As the Emporium has grown it's actually created its own mini-culture within itself. Can you speak to this?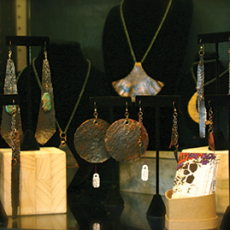 Yes! This is one of my favorite things about AAE! It's not just a place to shop. There is a wonderful little community here. The vendors support and inspire one another. I have seen friendships made in our front lobby and ideas hatched right before my eyes. Walking the aisles on any given day, you will probably find a vendor lovingly working on their displays or meeting a friend to spend some time relaxing. I am so lucky, every time I come to work I get to be with friends – surrounded by people that have found an outlet for their passions and are thankful for the opportunity. I am absolutely humbled by the love that the vendors bring into the store. I am blessed by a community of people that love their little spaces and have such fun doing it. I feel like we are a small microcosm of the world – representing people from all walks of life that wouldn't normally choose to work together. The key for me has been learning to appreciate everyone's unique ideas and input. The vendors are encouraged to meet each other and, hopefully, inspire one another. Even if this store closed tomorrow I would walk away with life-long friends.
Something I notice every time I come to the Emporium is the care and attention that is given to each booth and display. Your vendors care and it really shows.
Thank you! I am like a proud mama. The vendors do an amazing job with their displays. It really makes a difference for the shoppers. Most of the vendors have busy lives and other jobs, yet they still make time to come in during the evenings or the weekends to spend time with their booths. The large variety of people and creative styles really lends itself to a dynamic shopping experience.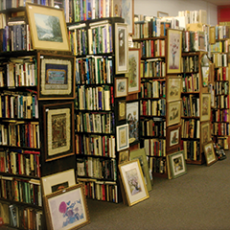 Currently you host more than 160 vendors at the Emporium who represent a wide variety of crafts and products. How have you gone about choosing these unique individuals?
Honestly, I have just been lucky! Ashland is such a diverse and creative community. There are thousands of people here that are so talented and they seem to all know one another. Once someone finds us and has a good experience, they go tell their friends, who tell their friends, who tell their friends… Word is getting out that we support local products and celebrate uniqueness. Social networking has been beneficial, as well as pieces like this in your publication!
The Emporium is a great place for finding those one of a kind gifts and more. What are some of unique items that you have seen come in the doors recently?
Well my eye, as a lover as fashion, gravitates towards the clothing and shoes of course.  And daily the racks are filled with high-end, affordable, second-hand pieces that make a new home in my personal closet. My daughter collects salt and pepper shakers, and I am always finding cute vintage sets to add to her collection.  We've sold vintage cigarette holders, horse bridles, handmade crowns, a purse made entirely of gum wrappers, feather boas, and love spell kits! The list could go on and on.
You have mentioned to me that you are continually surprised by how many people actually still don't know about the Emporium. How can we help you get the word out into the community to support your business?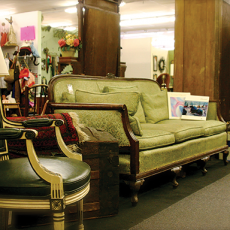 Well forums like this are a great start! And I mentioned social networking, that's a good way too. I would just hope that organic word-of-mouth is still the most effective way. Each vendor has a network of friends and family, and if each of those vendors tapped into that, word will just keep on growing. We have increased business consistently since opening, so I know it's working and people are talking. The college students are becoming quite loyal because they can furnish a small space with a small budget! And we love our out-of-town guests as well.  Once they find us, they are hooked.  Time is on our side for the steady building of a strong network of faithful customers.  I consistently hear, "I didn't know this was here. I have got to come back!" And they do keep coming back.  It's Ashland's best kept secret.
How have your employees or vendors inspired you?
Anyone that knows me knows that I care about people and I try really hard to make everyone happy. But, one of the hardest parts of learning to run my own business has been accepting the idea that I cannot, in fact, make everyone happy.  Besides my own family, my greatest source of strength has been some of the women I have met through the Emporium. I have made friends with strong, independent, smart women that I admire. My employees are included in this category. They each have gifts and talents that I aspire to. The many female vendors that I see on a daily basis are also women that I appreciate and look up to. And I am still surprised daily by small gifts given to me.

One day I was handed a thank you note from a vendor that had long since moved on. She was always a quiet person, keeping to herself, and just churning out handmade doll clothes. She seemed very meek and shy, but my staff and I always lifted her up and complimented her on the work she was producing. I was excited to buy her things, affordable handmade doll clothes for my daughter's dolls. She kept at it, but eventually left the store. Months and months later, this note came in and it made me cry. She wrote that "coming up with things to make and display at your place really did a lot to boost my confidence, I really began to see myself as 'somebody' because I could come up with some neat stuff." Here was a beautiful woman who didn't realize her potential and knowing that we might have had something to do with helping her realize that she has worth and value – well, what could be better?! That note changed the way I look at what we do at the Emporium. I have said before that it's not just a place to shop. To me, it is a place to learn from one another, be inspired by one another, and co-exist together in a tight-knit community that cares about the products they are selling and the people that are buying them.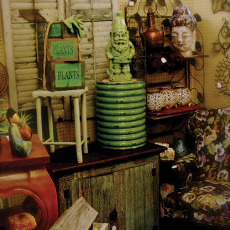 As a family run business you can often be seen at the Emporium with your kids.
Family is my priority. I have a loving, hard-working husband that supports me and together we raise our three daughters. This business was my dad's idea, and my mom is a huge support for us. Our world, both professional and personal, revolves around family. I was pregnant with Claire when I opened the store and now she is three and a half. She is growing up right alongside this store. She's got her own little space in the back and I often push her up and down the aisles in her pink plastic car. It's fun to see how comfortable she is there, but it hasn't always been easy with her! She is a dynamo and loves to get into trouble. With lots of tempting treasures at eye level, I can't take my eye off of her for one minute. She's our little mascot! I have a special place in my heart for mommies and kids. Whenever I see them in the store, I try to provide them with things to make their shopping trips easier – whether it's loaning out small toys or Claire's car, mommies need to stick together. It's not easy trying on clothes with a baby, but I am here to help! I'll hold the babies!
Your inventory is so vast and diverse. Can you tell us about the most popular items that sell there?
Over the years we have really acquired some amazing clothing re-sellers. With the tight economy, it's more popular than ever to buy second-hand. We see a lot of people looking for affordable, yet fashionable clothing. As demands increase, my vendors pick up on it and supply it. My top seller has an amazing ability to find beautiful, unique items that appeal to all ages and budgets. This is also the case for furniture, probably our second-most sought after product. Our consignment area has grown and there is always a wait-list to bring in new furniture. We keep our commissions lower than anyone in the valley, allowing the shoppers to find better deals and giving more money to the vendor.

Thirdly, our jewelry is outstanding. Marisa Youlden is our in-house jewelry designer and has been with us since the beginning. She is very talented and has spent many years working in LA's fashion scene. She is always displaying gorgeous one-of-a-kind, handmade pieces in her booth (see it front and center of the store). Among her handmade pieces, she sells her own collection of jewelry that she has acquired over her very vibrant lifetime. (She also is a talented photographer, as evidenced in the photos for this article.) We have a wide variety of vintage, estate, handmade, and second-hand jewelry.

We also sell a lot of records, CDs and books; lots and lots of previously owned books at amazing prices!  I could go on and on, but to truly experience the Emporium, you just have to see for yourself.
Ok, we're sold! When can we come by?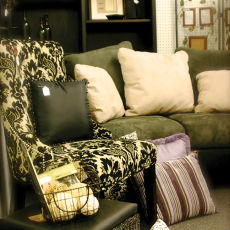 We are open every day of the week. Monday thru Friday 11-6, Saturday 11-5, and Sunday 12-5.
What are your current availabilities for vendors?
We are on a wait-list basis for our bigger booths, but we do have a few 4x8s and a couple of wall spaces. Wall spaces work well for those that aren't ready to commit to a large space. We are full on furniture, but you can always email photos of furniture to be considered to us at: ashlandartisanemporium@gmail.com. We also have our leases information on our website at ashlandartisanemporium.com
Any exciting developments for 2014?
I am excited about settling in for the long-haul. There are no gimmicks or tricks. We are just excited to meet more of the community members and get them involved in this creative space!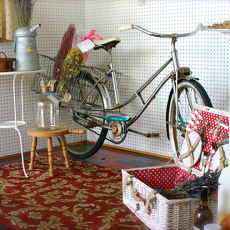 Finally, how would you describe the Emporium and all it has to offer to someone new?
Well I would reiterate what I said before – the Emporium isn't just a place to shop or sell stuff. It is a place to learn from one another, be inspired by one another, and co-exist together in a tight-knit community that cares about the products they are selling and the people that are buying them. I would like to invite you in to see what I am talking about. I don't take credit for ANY of this. The quality of the shop is directly related to the quality of vendors and the talent they have. Ashland is the perfect spot for something like this, because the creative energy is limitless. With these wonderful people by my side, we are sure to be around for years and years to come. I want to thank each one of them who have joined me on this journey. It wouldn't be possible without them.
Learn More:
Ashland Artisan Emporium
1670 Ashland St. Ashland
541-708-0577
ashlandartisanemporium.com