Located at 190 Oak Street, Jade Mountain Medicine is happy to announce the addition of their newest team member Chris VanderPluym L.Ac.. Originally from southern Illinois, Chris moved to Ashland in search of like-minded community and a new home. Always passionate about learning, Chris stood apart as the student who asked frequent questions and went above and beyond to enroll in nearly all available classes. Now as part of the Jade Mountain team, Chris is working with Jason & Kara Miller, acupuncturists who have made a name for themselves as highly skilled Traditional Chinese Medicine practitioners. We spoke with Chris, enthusiastic to learn more about his work and his passion for helping his patients achieve great results. 
Chris, thanks for taking the time to speak with us today and congratulations on your new position at Jade Mountain Medicine. 
Thank you very much… I actually came on the staff here just over a year ago, so I have already had the opportunity to meet many of the people out there, and I couldn't be more pleased. Jason and Kara run a truly wonderful practice and I can't express enough how deeply honored, grateful, and delighted I am to be a part of it.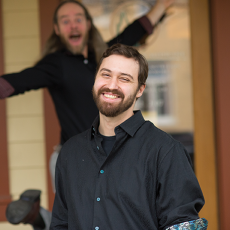 Having recently graduated from school in your training, what were some of the key qualities you wanted to find when looking for a work environment. 
After I graduated in 2013, the thought of opening my own practice was daunting. First, I needed to decide where to live. I knew I was looking for a small town featuring natural beauty, fertile land, and an educated community that valued organic food and who were strongly environmentally conscious. When I eventually visited Ashland, I was ecstatic that I had discovered a city that not only embodied all the features I sought in a home but expressed them all to the utmost. Shortly after that initial visit, I connected with Jason Miller, a name that continually arose when I spoke to locals, and we connected strongly straightaway. After a series of conversations and an interview, I was offered a dream position, to work alongside him and his wife, both well-known practitioners at the top of their game. Additionally, Jason offered to mentor me, offering me the benefit of his well-honed and diverse skillset, brilliant mind, more than a decade of clinical experience and his mountains of research articles. Mentorship was the norm in Chinese Medicine education for millennia, but has recently fallen to the wayside in modern times. To be offered such an honor is both very rare and fortunate and I very willingly accepted.  
It sounds like Jade Mountain Medicine has been the perfect fit for you. On the other side of the coin it must be great for Jason and Kara to have someone as passionate and dedicated to their craft as you are. Tell us more. 
From all I've experienced I think you are quite right. We are all three really excited to be working together and have connected splendidly on both personal and professional levels.  Concerning my passion, I am ridiculously in love with my career choice, and I bet the Millers have appreciated that similarity. I am one of those people that will excitedly talk about TCM (Traditional Chinese Medicine) anywhere and anytime, for as long as anyone else can stand it. In school, I prided myself on taking more electives than anyone else in my cohort and I'm fairly certain in the cohort that preceded and proceeded mine as well, though Jason assures me that is only because he wasn't in my class.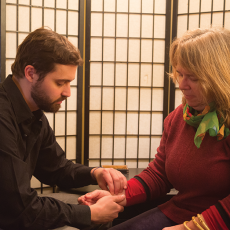 This is great to hear about your personal dedication as a practitioner. Who are some of the people in your life who have helped shape your worldview and care for others? 
As a child and throughout high school, I was always fascinated and inspired by those figures that were admired for their attainments of oneness or enlightenment, such as Lao Tzu, Buddha or Christ. That is probably where the foundation of my worldview was built, encouraging a goal of trying to be the best kind of person I could. My grandparents and parents taught me a lot about the value of service. My grandfather spent decades helping people who were homebound or in hospitals. He grew roses and would bake cookies, and then visit with these people and present them those gifts. My parents also often offered their skills freely, with my father as a mechanic frequently fixing other peoples' cars and my mother as an accountant charitably doing other peoples' taxes. Also, part of my worldview recognizes the indispensable importance of a strong community. We are all in this together, and one can only truly thrive through strong, mutually giving relationships. Shortly after joining Jade Mountain, I helped initiate low-cost treatment sessions on Fridays to help serve those in our community that have less financially. Additionally, I look forward to continue offering assistance to Joshua Graner L.Ac. with his Courageous Heart Foundation, a nonprofit offering complimentary care to veterans.  
Chris, what are the key areas of concern and attention that you like to give to your patients?
I always want to be absolutely present with them, letting concerns of everything else in the world go once I shut the treatment room door. I like to educate my patients as much as I can, both on what their TCM diagnosis means (i.e. most don't understand what Kidney Yin deficiency or Qi Stagnation in their Gallbladder Channel means), as well as why I am choosing the points that I do. I want all patients to feel empowered in their own healing because ultimately the greatest steps toward healing are made by each of us. To this end, I help them determine which aspects of their diet or lifestyle may be contributing to their discomforts and offer advice on lifestyle changes or suggest therapies they can undertake at home. Whenever possible, I also want the patients to be heard and to give them the time and space to express their concerns thoroughly, as this can be profound toward healing. One of the most unfortunate current attributes of standard medical care is that the doctors have so many patients that they have typically very little time to hear their patient's health stories.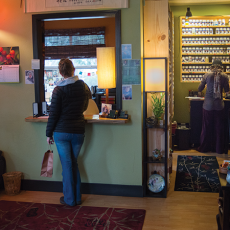 You have received extensive training in all areas of Chinese Medicine. Will you please tell us about your training?
I'd be happy to. Jason, Kara and I all went to the same TCM school, the Oregon College of Oriental Medicine, or OCOM, in Portland. Our degree of MAcOM, Masters of Acupuncture and Oriental Medicine, is awarded after typically 4 years of rigorous study including a year of internship. A minority of students choose to undergo the program in an accelerated 3 year curriculum and that is what all three of us proudly accomplished.  As students we study the broad categories of TCM theory, acupuncture, herbal medicine, Asian bodywork, western medicine, professional development and qi cultivation with several subspecialties within each. Our school stood apart for several reasons, such as emphasizing a heavier focus on producing and analyzing research, training practitioners to look at health from an integrative approach, and in 2012 and 2015 our school was ranked the #1 acupuncture school in the country. I spent about 3000 hours being trained and educated and another 1000 hours practicing under clinical supervision. We spent years thoroughly studying hundreds of single herbs combined into hundreds of traditional formulas, that we then learned to modify to meet the unique needs of each patient. We also learned western anatomy, physiology, pathology and pharmacology, including herb/ drug interactions, and diet and nutrition. We took TCM courses to learn to treat nearly any complaint and disorder with specialty classes devoted to dermatology, mental/emotional disorders, pediatrics, and gynecology. We learn to do bodywork with shiatsu or tuina, and I happily learned both. And the list really goes on and on.  
Which areas of your clinical care do you find most interesting and why?
I would say that thyroid conditions, diabetes and insomnia are at the top of my list. They are all quite complicated and I am continually driven and fascinated to learn about all of the extensive ways to treat and understand them both through the lens of TCM and biomedicine. I figure if I can master these conditions, I will be able to help a great many people throughout my career. I am also very interested in treating digestive disorders, menstrual disorders and migraines, as I love the seemingly magical effectiveness that TCM can have on resolving them.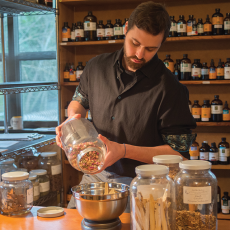 What is some of the recent feedback you have been hearing from your patients?
I have heard from a handful of patients that I have given them the best treatment they have ever had, and that sure feels great. Some patients have expressed that they appreciate how I articulate my thought process and explain my point choices. I have been praised by one of my dearest patients on how well I provide a safe and compassionate space with clear boundaries, as she is a victim of sexual abuse and has had difficulty finding male practitioners that she feels comfortable with. Also, it is not uncommon for me to go overtime with patients when the schedule allows it (often to help relax a secondary or tertiary concern such as a tight upper back and neck) and they all seem to really appreciate that.  
Going above and beyond seems to be a consistent theme for you.
Perhaps I do, but in some ways it doesn't really seem so. All of the doctors and healers that I've known exhibit a quality of going the extra mile for their patients, studying medical journals frequently and really devoting so much of their time to being the best practitioner they can be. Maybe that is just in the circles I run in, but it seems to be the norm in medicine. The best indication I have that I am really treating my patients well is in the way they have gifted me back. Just in the past two months I've had patients buy me drinks when they saw me out, bring me delicious meals they have prepared, drive me to the airport at 5 in the morning, and give me an extra unused pair of studded snow tires, and all of this was unrequested. My best thought of how I am consistently doing a little extra for my patients is using the extra time in my schedule to be with them longer, to possibly listen to their life stories for 2+ hours, or often I give people double treatments (or rarely 3 and once 4) in one session to try to address as many of their concerns as possible.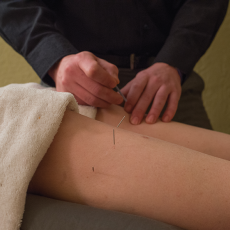 How has it been working beside Jason and Kara?
Inspiring. Very much inspiring. They have lived such rich and full lives already and it is apparent. They present themselves in this fabulous combination of professional, down-to-earth, authentic, fun, knowledgeable, and confident. When they interact with patients, hugs and laughter are often exchanged. Through the past year, Kara has been out of the office a lot as she just had her first child, so I have yet to observe her give a treatment, but her natural ability of making patients feel respected, taken care of, and simply better is obvious as I see patients eagerly enter her treatment room and blissfully leave it. I have, however, gotten to observe Jason's treatments quite a bit. The amount of medical information he has stored in his mind is utterly astounding. He sees a lot of really complicated cases, encompassing endocrine disorders, cancers of all types, autoimmune conditions, and much more. He nearly always knows exactly what drugs the doctors or specialists have prescribed, what side effects the patient is likely experiencing and he always has a long list of well-researched alternative therapies that the patients usually haven't heard about anywhere else. One of his most remarkable traits is his ability to creatively integrate biomedical and TCM disorders into a coherent hybrid, which is a truly unique skill. He is also masterful at treating basically any kind of pain and patients are always praising him about his dramatic effectiveness. I'm sure you can imagine how honored I am to be mentored by such a man.  
Will you please tell us more about the full scope of services available at Jade Mountain Medicine and perhaps tell us more about the backgrounds of Jason and Kara Miller?
Sure, we offer much of what you may expect to find at other TCM offices but there are some characteristics that really set us apart. All three of us place a heavy emphasis on botanical and nutritional medicine, and whenever possible we like to see all of our patients on customized protocols, always consisting of a TCM herbal formula tailored uniquely for that patient, and often augmented with tinctures, nutritional supplements and more. We all enjoy working with internal medicine, and these thoroughly devised protocols allow us to significantly magnify our therapeutic approach. Additionally, we offer acupuncture, bodywork (shiatsu and tuina), electrostim, moxibustion, cupping, herbal consultations and diet, lifestyle and nutritional advice. Our apothecary is extensively stocked and includes over 300 TCM herbs in powdered, granule form as well as wide range of bulk herbs, tinctures, essential oils, and potent nutritional products. We also make custom topical and pediatric formulas.

Kara, in addition to being a general family practitioner, specializes in women's reproductive health, pregnancy and postpartum care, and she has been doing this work for over 20 years. She and Jason did a post-masters internship in China, which I've heard was very educational.  

Jason has a strong background in biomedical studies and research. He completed three years of pre-med education and worked with Donald Yance at the Mederi Center for 5 years, directly after graduating from OCOM. He also writes for several publications and gives medical lectures around the country. Nowadays, he is trying to focus more and more on giving in-depth consultations to patients with very complicated disorders, with a large percentage of these having advanced cancer. They seek him out because he has made a name for himself at adeptly guiding patients through the very complicated and challenging journey that a cancer diagnosis brings, which often involves diplomatically coordinating with doctors and oncologists to come up with the most comprehensive plan for the patient. I spend hours every week trying to help organize the hundreds of new research articles he is constantly downloading. On top of all that, he is also a renowned musician who has played with tons of great bands over the past twenty years. 
Chris, please tell us about what first inspired you to become an acupuncturist.
There were several threads that all weaved together to start me on this career path. Ever since I was young I had always intended to be a doctor, and I followed that goal through my second year of pre-med. During that period of my life, I became very interested in Taoism and Buddhism and the appeal of the East Asian philosophies stuck with me through the rest of my life. In college I worked at a co-op and received a lot of education about the profound benefits of natural healing and wholesome nourishment. And there was also my own powerful healing experience from using acupuncture. I also wanted a career where I could consistently be intellectually stimulated and eventually be my own boss. With all that in the backdrop, I remember taking a bath one day and began reading the book Between Heaven and Earth, which is a wonderful beginner book about TCM that I wholeheartedly recommend. By the end of that bath I knew with that special kind of certainty that I had found my calling. Just like when I first visited Ashland and everything felt so obviously right, and all my preferences were so supremely met, I felt that same sense of finding my destiny with this career choice.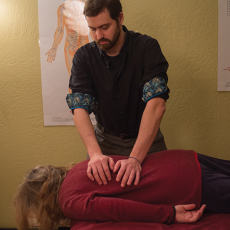 Chris, will you please share a recent success story with us?
Certainly. There are a lot of patients that have come in with varied musculoskeletal complaints, such as back or shoulder pain, that I have helped them resolve in a handful of treatments, but I would prefer to talk about a more complicated case that has left with me a more substantial feeling of accomplishment. Usually patients will come in with one or two chief complaints they want help with, maybe sinusitis and chronic knee pain for instance. But in my field, success and healing really occurs as every realm of someone's life improves. I had a patient begin seeing me for dizziness, anxiety and headaches. Over the span of 7 months, my patient's dizziness and headaches disappeared, and anxiety greatly reduced. Additionally, her irregular menstruation normalized, she has much more ample, consistent and grounded energy, her propensity toward frustration and other emotional lability is much more controlled, and her uncomfortable and frequent urination and constipation are greatly improved. With all my patients, I try to help them uncover all the ways they aren't functioning optimally, because the spectrum of ways this medicine can be beneficial is more broad than most people realize, and as this medicine heals someone, it can simultaneously improve numerous systems of the body instead of one at a time.  
You have also had your own powerful healing experiences with acupuncture. If you don't mind, would you please share a little of this experience with our readers?
I would love to. I was told in school that most TCM practitioners throughout history were drawn to learn the medicine because either themselves, a close friend or family member was cured by the medicine, and I am no different. When I was about 24 years old, I began to develop knee pain from an unknown origin. As the months went by, it progressed and I began limping. Shortly after, I began experiencing pain in my other knee, and then my elbows, neck, back and ankles. I grew quite concerned, assuming I may have Lyme's disease or rheumatoid arthritis. I went to my doctor and I had a plethora of tests run. The results all came back normal and I was given a pain reliever. Due to the extensive potential side effects and warnings about addiction I never took it and tried acupuncture instead. After my first treatment I was 85% better and it only took one more treatment until I was completely back to normal. Granted, my recovery was a bit faster than normal and I'm certain my young age helped tremendously, but such quick recoveries are not unusual for this medicine.  
You are now accepting new patients into your practice. What are the next steps?
For me, simply do good work and get the word out there. For the readers, give a call to our office and our wonderfully friendly front desk staff will take care of the rest. If you would first like a bit more information about our clinic or us then check out our website.
Chris, thanks for doing your interview with us today. Do you have any last thoughts or comments you would like to share with our readers?
To all those that haven't tried acupuncture before, I strongly recommend that they do. It is excellent at pain relief from basically any cause. TCM is a whole medical system, which means it is designed to treat just about any complaint. For example, it can reduce blood pressure or blood sugar levels, it can make PMS signs a complaint of the past, it can hasten the recovery of colds and flus and deter them from turning into more severe or chronic conditions, it can treat migraines, or morning sickness, or chemo-induced nausea or peripheral neuropathy. It is great at helping people recover from drug addictions, it can heal the scars from a negligent mother or spouse or help you be less frustrated at annoying drivers. And the needles are hair thin and many patients find the treatments put them to sleep.   
Learn More:
Jade Mountain Medicine
190 Oak Street (across from the Armory)
(541) 482-2107
office@jademountainmedicine.com