Serving the greater Rogue Valley of Southern Oregon
Have you ever needed handyman work done but found it difficult to find reliable help? Handymen are often very busy, often booked weeks out at a time, and once you get a good one, you are reluctant to let them go. Introducing HandymanPlus Services of Southern Oregon. High-quality services that are prompt, reliable, and top quality. In today's interview, I speak with John Palombo about his company and vision for excellent service here in Southern Oregon.
Hi John, thanks so much for speaking with us today, and welcome to LocalGuide.
Absolutely, thanks for having me.
To begin with, please introduce us to your company HandymanPlus.
Sure… HandymanPlus Services started with a Craigslist ad that I put up in the fall of 2016 to help me and a friend get through the onset of a tough winter. We each had different skills which combine well to help people with jobs around the valley. A year later, it was going so well, I decided to officialize the business and get my license. Three years later, we have a six-person field crew and two managers in the office, plus myself as general manager. I do more office work now than anything else, so I've had to keep my hands dirty in our shop with some fun carpentry projects for my own enjoyment. Meanwhile, I'm more than proud to have the team that I do. I've managed to find a few diamonds in the rough – gentlemen and women that are truly thoughtful individuals, that have pride in doing good work, and enjoy themselves while they do it.
John, can you please talk about the inspiration behind starting your company?
I've had a few different career paths in my life, from cooking to computer work, and I've ultimately found the most satisfaction from working with my hands. There is also something very fulfilling about taking a situation that is in disrepair and rendering it back into a functional and aesthetic condition. It feels good to change people's lives, making living in their environment easier and much more pleasing for them. Also, frankly, when I came into the field I found that simply by showing up on time, doing good work, and being friendly, people were blown away by my services. It was highly satisfying to find a field where my values in communication and integrity could fill a niche so well.
You have a 24-hour guaranteed response time. Wow… tell us about this.
Yes, for me, this goes hand in hand with having values in good communication. I've grown into that particular policy as my company has developed, especially now that I have an office manager and an estimator. I couldn't do it without them, and I'm not sure how I did it before. But this is part of what gives this company the value that it does. There's always someone standing by our office phone ready to answer questions and respond to emergency situations. We also leave pockets between big jobs in our schedule so that when these emergencies come along, we can easily slot them in on short notice.
What size jobs do you do and can you give us an overview of the services you provide?
There is no job too small or too large. The "Plus" in our title refers to our ability to offer full home remodel services. We also take care of smaller jobs such as drywall repairs, replacing fire alarm batteries, gutter cleaning, and the like. We find ourselves doing a lot of rebuilds and new installations of decks and fences. These are some of our favorite kinds of jobs to do, as it turns out. I also thought it was a good idea to mention exercise equipment assembly on our website, as it turns out one of our existing clients from last year asked if she could drop off her wife's christmas present at our shop – an exercise bike that needed assembly. We coordinated with her to drop it off just at the right time to surprise her wife. She was really tickled and pleased that it worked out so well. Another client had us remodel her open garden shed on the side of her house into an enclosed storage unit with a door, window, and concrete floor. As we were finishing up, she said "You guys are a bit more than a handyman company."
"That's right. We're HandymanPlus."
Services:
Kitchen and bath remodel
Fence installations
Deck installations
Trim replacement and finish carpentry
Cabinetry
Tiling and grout repair
Caulking and painting
Window and door installation
Flipping rentals
Replacing outlets and switches
Replacing faucets, dishwashers, and garbage disposals
Hauling and moving
Interior painting
Gutter cleaning
Fire alarm battery and lightbulb replacement
Since starting your business, things have gone very well for you. Please tell us about it.
Well, it's been a ride! I can say it hasn't been without a bit of holding on by the seat of my pants. The business grew much faster than I expected, and we have experienced our fair share of growing pains.
Because of the rapid growth, I haven't always been sure what would be around the next bend as I was bringing on more helpers with the hopeful promise that there would continue to be enough work to consistently support them.
Through 2017 I was operating the business by myself. I then decided to take on a skilled helper that summer as I was performing more complicated carpentry installations, and was operating mostly out of my friend's carport that I had been renting from her. In 2018 I started to grow my crew so we could meet the increasing demand, and purchased our first company vehicle. In 2019 I expanded into a large warehouse on Hersey St. that I built out for tool and supply storage. Today we have a full team, a heated office space, and the promise to support the crew with plenty of work has proved itself out as we're busier than ever, and I'm still looking to expand our team.
John, what do you attribute to creating the success your business has experienced?
I've always impressed upon my crew that quality and reliability are of the utmost importance in this business. It's written in big letters on my sign above our shop door. So as we've grown, I've found that I've attracted people that also stand beside these values in their lives.
There was one time and we had a subcontractor repair a deck for a client, and wasn't able to address a loose step. The estimator felt bad about it and went back in his own time to correct it. I was really impressed with how he chose to show up for client and company, and knew that I had found the right people to work with to reflect our company values.
Also, if anyone has an issue with their bill, we always take in the client's concerns and make sure that we are billing fairly, and don't ever charge for anything where it's evident that we fell short on our ability to meet expectations. These things happen from time to time, and we just do our best to leave clients feeling good about every engagement.
Your company is both licensed and insured.
That is correct, since 2017.
John, how do you do your pricing?
We bill by time and materials so that our clients are never overcharged with bid pricing. Our rates are $48 for unskilled labor/lead assistants and $75 for skilled labor/leads.
Our rates may be a little higher than some handy folks, but our value shines through in our quality guarantee, in our reliability, and customer service. We also provide our crew with three fleet vehicles, including two cargo vans loaded with tools and supplies to make sure we are prepared for any project.
John, you are joined by a great team. Please introduce us to them and tell us what makes them great to work with.
I feel overwhelmingly lucky to have such a great collection of individuals of integrity and kind heartedness on our crew, honestly.
Adam Rubino is my lead and has been working with me for the longest. He's also known as singer-songwriter Adam Gabrial, and is an incredible musician, as it happens to be. I love Adam's calm and considerate temperament, and his commitment to doing the job right. He's an excellent carpenter, as well, and I feel very lucky to have him spearheading our larger projects. Adam's house (rental) was burned in the Almeda fire, which was so tragic and heartbreaking for us all.
The day after, we talked on the phone and he actually made a point of how our company is in a good position to volunteer to help rebuild from our community's loss. Since then, I've formed the Cascade Builders Association along with a couple close friends, of which I am the president.
Another one of my employees, Thomas Goebel, volunteered at that time to input volunteers into a database that we're pouring in from the community. Thomas is next up for working with us the longest, and I really have similar praise for him. Thomas is thoughtful, alert, and operates under a calm and steady state of mind that truly impresses me, especially in this business where there can be many surprises.
We also just hired on a new lead crew member named Shanon La Fleur that is such a great fit for us. Shanon excels in high-end work, and maintains the same kind of calm, kind, even-temperament that I see in Adam and Thomas.
Royce Snyder hails from Alaska and works on the team as a lead assistant. Royce has a lot of grit, durability, and eagerness to get in and get the work done. Whenever there is something that requires a little more muscle or is physically challenging, we call in the Alaskan. Royce also truly cares about his community, which I find truly admirable.
In the office, I have Ajeet Napier working as office manager, who is very organized and has exceptional grammar skills, which is good because I'm super particular about that, and Pat Fitsimmons working as estimator. Pat is actually an old friend of mine and is my son's godfather. Pat has 52 years experience in the construction trades, and serves as such a huge asset to our team with his breadth of experience and wisdom. He has also served on the board or been in the service of several non-profits, including the Death Cafe and Asante Hospice, and has good organizational skills for project management, making sure all of our clients are communicated to and taken care of along the way with their projects.
Last, but not least, I'll introduce Megan, who performs small electrical tasks for us one day a week. Megan's father is a seasoned electrician, and she enjoys having a day out of the week to do something physical and that's a break from her other line of work as a psychologist. I enjoy connecting with her about this, because psychology is a field I very much enjoy studying and conversing about as well. Megan loves joking about our company name when people get introduced to us by saying, "I'm the plus!"
How do you go about hiring people for your company?
Primarily through Craigslist and Facebook, and then a thorough interviewing process where I review references and converse with my leads about compatibility. It's important to me to promote a positive environment and supportive relationships at HandymanPlus. We care about people, and our team is a crucial piece of that. We are upbeat, solution-oriented, and very supportive with education, good tools, and safety supplies. It's not always easy to find people who have the skills that we need, the work ethic, and the eagerness to show up, but when we do my gratitude certainly shows. We have a lounge in our shop with a kitchenette where employees can make hot drinks and heat up their lunch, and now and then we have employee parties where we pull out the ping pong table and enjoy drinks and snacks. Just last Christmas we had a very sweet evening with the shop decked out in decorations, too many varieties of cheese cake, hot apple cider with the option to spike it up, and a lineup of cards to all the employees stuffed with year-end bonuses. I can't express more how much joy it brings to my heart to create a company that truly feels like a family.
You work very hard to create a strong culture of great communication and positivity. Please talk more about this.
Our company is really driven to make people's lives better. We've found the best way to do this is to be sure our managers and leads are clear on the expectations of our clients and able to communicate with them on all details and aspects of the job thoroughly so that they feel completely taken care of from the moment our estimator shows up to when we do our final sweep up and deliver an invoice. Not every relationship has proven easy, but we always find a way to make resolutions that work for everyone. It's important that we keep our focus on solutions, because there can always be a problem for every solution, and our goal is to think far enough outside the box to find the solution that best resolves any issue that arises in our field. The only way for that to occur is to have a positive mindset, knowing that the solution is out there, and all we have to do is be available for it, and aware enough to discover it.
Can you please share some recent customer success stories with us?
Well, we just had this return client, Stephanie, that had us remodel her basement early last year, and just had us back this month to refurbish her kitchen. She gave us a great review on Google: "Great experience working with John and his team to finish a part of my basement. They worked fast and within my budget, checking in with me along the way to make sure we were all on the same page. I'm thrilled with the result and highly recommend HandymanPlus Services."
We also just installed a new shower surround for Paul and Susan, who don't live in the area and gave us access to their rental: "We selected these guys based on a recommendation – they really exceeded our expectations with communication. We are not in town, and we had to coordinate via phone/email. The shower stall replacement turned out very nice! Thank you!"
We have another client, Lavinia, whom we've done projects for over the years who recently recommended us to her mother: "I have hired John and his team several times, for projects large and small, and every time I'm so impressed by the professionalism, pricing, speed and integrity in which he/they work. He will always be our first call when something complicated needs to get done/built/fixed at our house!"
John, how far in advance do people need to call before expecting service with you?
We have been getting really busy. As I mentioned early, we try to keep small pockets between large jobs to fit the little things that come up into our schedule, but larger jobs should be considered 2 to 4 weeks out.
Finally, are there any last thoughts or comments you would like to share with our readers?
Well, yes… I just find myself being so grateful to work in such a beautiful place amongst such a caring and thoughtful community. It really warms my heart to be able to drive around our town and take note of the people we've been able to help and to have the opportunity to uplift and beautify the spaces that we have. I just drove up to a recent client's home to review our work and got to sit on the deck that we made, look out over the fence that we constructed, and enjoy the rambling expanse of the valley with its fine fields and softly rolling hills with him. It really warmed my heart to take a moment and enjoy that time with him. We live in such a beautiful place, and connecting with people, creating a fuller and more supportive community, and creating pleasant spaces to exist in really hits on my sense of purpose. Thank you Ashland.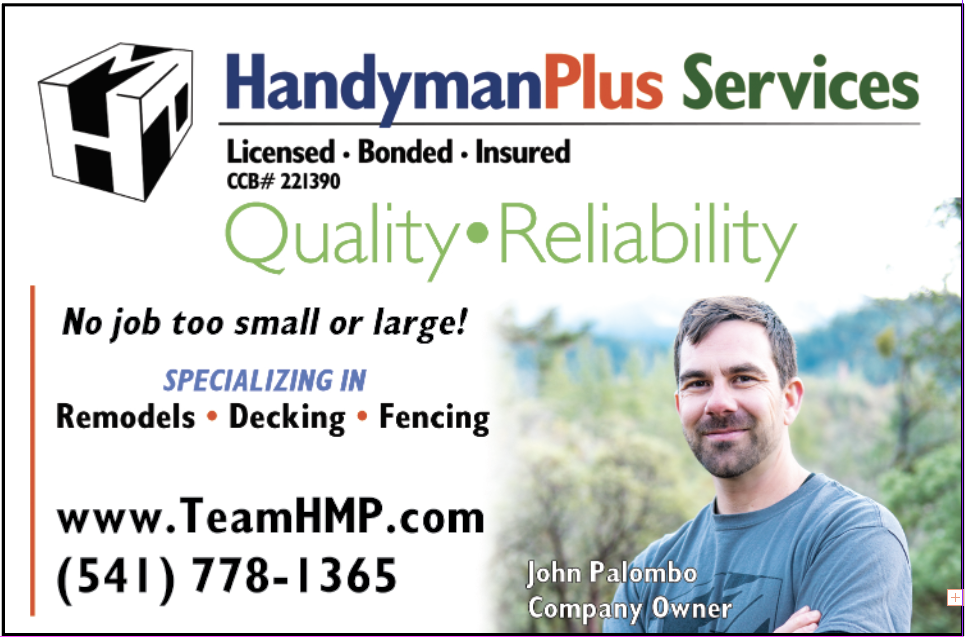 Learn More:
HandymanPlus Services
255 Helman St. #11
www.teamhmp.com
(541) 778-1365