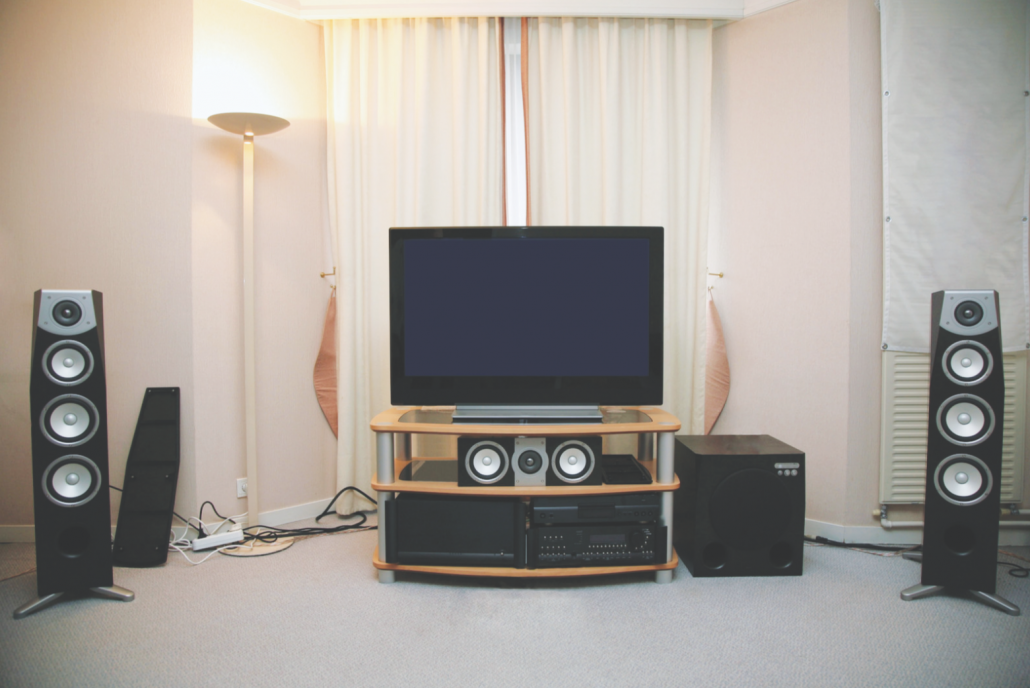 Next time you're struggling to connect your home electronic devices, whether it's audio or video systems, make sure to give Josh Sommers a call. For the past fifteen years, Josh has been helping people literally get untangled in their current setups. Josh can help you properly install and set up your new audio and video equipment, as well as streamline your current entertainment system. From Blu-ray players to Apple TV, surround sound, gaming systems, Netflix and more, you can rest assured that Josh can get you set up properly the first time.
Josh, welcome back to LocalsGuide. How have you been?
Thank you. I've been doing great and staying very busy. I've been working part time for REI for several years and steadily expanding my electronics jobs. I got married in June of 2018 and my wife and I are looking to buy a house this year.
Congratulations.
Thank you, we're very excited. I'm also excited to see my business grow and develop.
Josh, you have tailored your business to specifically work with audio and visual issues. Can you please give us an overview of your services?
Sure. I specialize in connecting and troubleshooting home entertainment devices like TV's, Stereos, DVD players and streaming devices (Apple TV, Roku etc.) I can help with Universal Remotes and other accessories as well.
What are the most common calls you receive normally regarding?
Well I get a lot of calls from people who have purchased a new TV and need some help connecting all their devices to it. I also get quite a few calls from people who want to improve the sound quality from their TV. Most modern TV's have weak speakers and can benefit greatly from adding a sound bar or speaker system. And there's always a steady demand for help with setting up Netflix, Hulu, and other streaming services.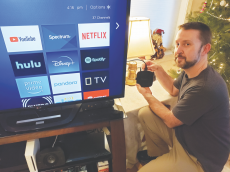 Please talk more about sound bars.
Sound bars have become the most popular choice for a quick and effective sound system to compliment an HD TV. They are long flat shaped speakers that typically include a subwoofer. They're available in a wide range of prices and are much easier to connect than a traditional receiver and speakers. They also provide a cleaner, less cluttered appearance, since they don't require any speaker wires. I made a recent trip to Best Buy and was impressed by the quality and selection of sound bars available. For about two to three hundred dollars you can have a pretty nice sounding audio system for your games, movies and shows.
Tell us about the Sonos sound system. I hear it is quite amazing.
Yes, Sonos has become my preferred sound system to recommend for people. In the last couple years I have had the opportunity to install some Sonos wireless speakers for customers, and it was a great experience. Sonos speakers are small and powerful, and only require an outlet for power, and a WiFi connection to stream music from your smartphone or tablet. I had heard about these speakers before but never had any experience with them. I discovered that they are not only simple to connect, but have fantastic sound quality as well. Everything is controlled through the Sonos App. You can play your music from Spotify, Pandora, and even JPR for local radio. Combine that with the fact that you can expand your system with more speakers when you're ready and easily sync them together. It's a very cool concept. The speakers that I worked with were not for TV sound, but are ideal for playing music in any room in the house, without needing a stereo or other equipment. However, Sonos does make a high quality sound bar and other speakers that can be connected to a TV. Also most of the Sonos speakers now come with Google Assistant & Alexa voice controls built in. It's optional but gives you another way to control your sound system. The speakers are pricey but ultra convenient and sound amazing.
Josh, in your experience what types of problems are your customers typically running into and why is it just best to call you?
I see a range of issues that come up, but one of the most common is when people get a new TV and have trouble getting their older equipment to work with the new device. Often times the older devices use different cables and may need to be connected in a different way to optimize picture and sound. It can be frustrating to run into these problems without knowing what you need to solve it. Fortunately, my years at Radio Shack taught me a lot about different types of cables and adapters. If you're having trouble, save yourself the aggravation and give me a call :)
Do you ever offer phone support?
Absolutely! I am happy to try to solve an issue over the phone if possible or to follow up on a job that I've already done.
Are you doing any type of mounting?
At this time I'm not, but I have been working with my father-in-law on TV mounting jobs and I can refer people to him. He's an independent contractor who can do the TV wall mounts, and I can assist with connecting the components.
You are also continually offering advice and feedback for product referrals. Can you please tell us about some recent recommendations you have been making?
Sure. I'm always happy to share with customers the experiences I've had with different brands and products. When it comes to TV's I generally recommend buying a Samsung or LG. I've been impressed with the sound bars I've seen from LG and Bose. And I like to recommend the Roku Streaming Stick to people who are looking for a cost effective way to watch Netflix and other streaming services.
With so much to keep up on, where do you find the best sources for information?
Well I find YouTube to be a great resource for information on just about anything, and I also make regular trips to Best Buy to pick up products for customers and check out the latest technology on display.
Josh, what are your goals for your customer to have experienced once you are done helping them?
My goal is for my customers to feel a sense of satisfaction once I've completed the job. I always try to explain what I'm doing and have the customer practice using the new device. I want people to enjoy their new entertainment devices, instead of being frustrated by them.
What would you say your key skills are?
I'm good at troubleshooting and solving problems. I will pursue a problem until it's solved. I'm good with people and I've been told that I'm good at explaining things. I'm a kind and compassionate person, and I have a lot of experience working with seniors.
Can you help with setting up universal remotes?
Yes, I can quickly program Universal Remotes to work with most entertainment devices.
Josh, you are also helping customers set up Netflix and other streaming accounts.
Netflix and other streaming services are obviously very popular and I enjoy getting people connected with the endless entertainment options that they provide. There are many options these days, but the most popular ones are Netflix, Hulu, Prime video and the brand new Disney Plus. Disney recently entered the streaming arena and has made a big splash with the live action Star Wars show called The Mandalorian. Disney also offers Marvel and Pixar movies on their streaming app.
Let's talk about the new Disney Plus service.
Now that Disney owns the Star Wars franchise and Marvel Cinematic Universe, their streaming App called Disney Plus is quite in demand. The monthly fee is fairly low at $6.99 and it offers a lot of exciting content for Star Wars and Marvel fans like myself :) The Mandalorian is an awesome TV series that takes place in the Star Wars universe but tells a new story that we haven't seen before.
Josh, please tell us more about the streaming devices you are working with.
I prefer working with the Roku devices due to their user-friendly interface, but I also help people set up Apple TV and Amazon Fire Sticks for streaming content. Roku offers four or five different models that range in price and features to fit your individual needs. They start at only thirty bucks and go up to $100, but even the basic model can stream all your favorite content in high definition.
Are all Smart TVs already enabled for easy setup?
Well yes, but to be honest I generally find it to be a smoother experience to watch streaming content through a Roku, Apple TV etc. Newer TV's are better at smart functions than older models, but I find it makes the TV menu a little cluttered. There are Roku TV's now by a brand called TCL, where everything is built in, and those seem to work well too. Also the WiFi range and speed from Roku devices seems to be better than most Smart TV's. It doesn't hurt to have both options though.
What is one of your top tips you offer to your customers?
Shopping for a new TV can be a little overwhelming. The amount of features and options to consider are a lot. To help simplify I have a couple tips. Most TV's will have 4K and HDR support. It's ok if you're not familiar with those technologies yet, just know that the TV will be ready down the road when you're ready to upgrade your media, and all your current devices will work fine with the new TV. The only catch is when choosing a new TV, you need to look for a few key inputs on the back to make sure it can easily connect to your current DVD player or stereo. Some of the newer models don't have any red, white and yellow RCA type plugs. If you want to be able to connect an older DVD player, make sure the TV has at least the Red, Green and Blue plugs (Component) or it may not be compatible. A lot of newer TV's also don't have a headphone jack (also known as 3.5 mm) or RCA (red&white) jacks for connecting older audio equipment. They will only have an optical (digital) output jack, or HDMI. If you shop around you can still find some models with the headphone jack, which is very helpful. Otherwise you will need to invest in a sound bar or other modern stereo equipment that supports digital audio cables.
From time to time, you also assist your clients with CD Mixing. Please say more.
Yes. I make a lot of mixed CD's for myself as a hobby and I really enjoy it. If a customer is looking for someone to put together a compilation of songs for them, like a greatest hits album for example, I can do that for a small fee. If the customer has the songs on their own CD's or digital device, I can put them together on my computer and make the CD. I also have an extensive collection of music so I may already have some of the required songs in digital format. I can also make copies of CD's for people to give to friends or family. It makes a great gift!
Please share some recent success stories with us.
A while back I got a call for help with a speaker system that wasn't working in a local business. Turns out it was the Sonos wireless speakers and it was my first time working with them. It took a little while to figure out what was wrong with one of the speakers, but eventually I got it and in the process discovered how cool the speakers were. I decided I would have to get one at some point. In the next couple months after that I did two jobs where I installed the Sonos speakers for people, and they were quite happy with them. Peter Ollman is someone that I've helped on several occasions, and lives down the street from me. He had this to say:
"Josh has been a great help dealing with our home entertainment technical issues. Always pleasant and professional… reasonable charges and highly experienced. Josh is a pleasure to work with."
Josh, do you have any special plans for this coming year?
My fianceé and I just got back from a week in Puerto Vallarta, Mexico, which was fantastic. We're getting ready for the wedding in June and planning on doing some hiking and camping over the summer.
Last but not least, you really enjoy working with customers of all ages. Please say more about this.
I've always worked in retail and customer service jobs, and I enjoy interacting with people of all ages. I enjoy the balance of working at an outdoor adventure store like REI, and helping people with their technology needs as well.
Are there any last thoughts or comments you would like to share?
I'd like to say thank you to the LocalsGuide for helping me spread the word about my business. You can contact me by phone or email. Cheers!
Learn More:
Audio and Video Solutions
Ashland
ianmedia3@gmail.com
541-337-3259