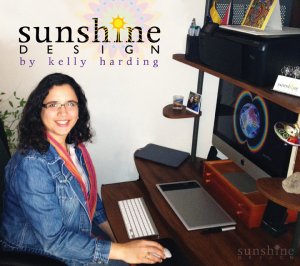 Originally from Maracaibo, Venezuela, Kelly Harding was studying Graphic Design at Universidad Dr. Rafael Belloso Chacin (URBE) when she learned about the 13 Moon Calendar Change Peace Movement and the Foundation for the Law of Time, a 501(c)3 non-profit which has its base right here in Ashland, Oregon. 
Kelly took interest in this organization and did her senior thesis on the topic, creating a multimedia software for teaching children the 13 Moon Calendar. This led her to Ashland when she came to help the Foundation for the Law of Time as a Graphic Designer, helping in the design of calendars, books, websites and more. She has now permanently settled in Ashland and continues to blend her passion of conscious living along with her love for the graphic arts. She created her own business Sunshine Design to share her talents with the community. 
We spoke with her to learn more about her story and the services she provides to Ashland.
Kelly, did you ever imagine that you would end up here in Ashland, Oregon, and what were your first impressions when you arrived?

I first came to Ashland in 2005 for an Easter seminar on meditation sponsored by the Foundation for the Law of Time (FLT), a local non-profit. I was part of the Planet Art Network – 13 Moon Calendar Change Peace Movement in my hometown, so this led me to come to this seminar. I never thought I would be living here in the future, but felt something special about this place and remember thinking "I would love to live here someday." So I was excited when I was called to come back in 2006 to volunteer for the FLT in the production of their series of books called

The Cosmic History Chronicles.

 I lived with Charu Colorado, an amazing local artist, which immediately gave me a taste of the community I was entering into, and I loved it! 

 
You ended up meeting your husband Jacob Wyatt who works with the Foundation for the Law of Time. Can you tell us more about this organization
and what appealed to you in originally helping them out?

The Foundation for the Law of Time is a local 501(c)3 non-profit organization founded by Dr. José Arguelles PhD. in the year 2000, and is now run by his apprentice Stephanie South. It promotes the 13 Moon Calendar as an instrument to bring peace to our planet. It also provides the local community and the world with information on the Law of Time.

The Law of Time is a universal law and principle. It states that time is the universal factor of synchronization. The Law of Time distinguishes between a natural timing frequency that governs the universal order, and an artificial timing frequency which sets modern human civilization apart from the rest of its environment, the biosphere. The effect of basing a civilization on artificial timing factors – an irregular calendar and the mechanical clock – has resulted in the creation of an artificial global mantle, the 

technosphere.

 By consuming natural resources faster than they can be replaced and creating more waste than can be eliminated, the technosphere operates at the expense of the biosphere. Hence, the current global crisis. The Law of Time affirms that all of the planetary upheavals and social chaos that we are experiencing today are directly related to giving precedence to human laws and machine technology, rather than divine order and natural law. This is due to living a collective misperception of time known as the 12:60 frequency. This refers to the 12 month cycle of the irregular Gregorian calendar paced by the 60 minute clock. Living in artificial time disconnects us both as a species and individually from our true nature. We always feel like we never have "enough time." In the 12:60 frequency, time is money. In the 13:20 frequency, 

time is art.

 The 13:20 ratio of the natural timing frequency is coded into the Tzolkin – the 260-unit harmonic matrix, first used by the Mayan civilization. You can find out more on their website 

www.lawoftime.org

.

When I heard about all of this it rang true in my heart and I felt it was my mission to help in whatever way I could, and I was thrilled to be able to use my Graphic Design expertise to help them with all their projects. And I still do today.
I like the idea of "TIME IS ART!"

I like it too! This comes from the equation T(E)=ART (energy factored by time equals art). When time passes everything in nature transforms and becomes a work art – a sunset is never ugly… The highest from of art for me is to see all aspects of life as works of art, art in everyday life brings happiness.

Energy factored by time equals art. In this equation, (E) refers to all phenomena in their processes of unfoldment; (T) is the present moment functioning according to the ratio constant 13:20 [universal frequency of synchronization]. Everything shaped by time is art.

 – 

www.lawoftime.org
You mentioned that as a student in Venezuela you studied both architecture and design and that you excelled in both.

Yes, during my 5 years of Graphic Design study at URBE I also studied 3 years of Architecture at my hometown's public University, the Universidad del Zulia (LUZ). It was by synchronicity that I ended up studying both careers at the same time. But it was really fun and helped me manage my time in an efficient way which helps me with my business now. I really enjoy designing, my favorite part of architecture was designing and drawing the architectural structures, being very precise, I love geometry. I feel it was a good complement to my Graphic Design study and the Graphic Design was a good compliment in Architectural study. I hope to complete my Architecture degree here in the USA at some point in the future.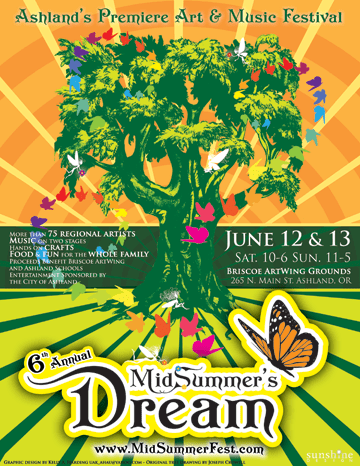 Now that you are based in Ashland you have started your own design company called Sunshine Design. Can you tell us a little bit about your inspiration
here and services you are currently offering?

My inspiration here is the community and the different artistic expressions within it. We have a fascinating, creative mind here in Ashland and I was eager to explore it beyond my work with the Foundation for the Law of Time. I love working with artists; I've worked with Betty LaDuke, Charu Colorado, Elise Peters and Victoria Christian in some of their projects and it's been fun. I offer a wide variety of graphic design services, from ads (like here in the LocalsGuide!) to business image development which includes logo, signs, stationery, business cards, brochures, website, newsletters, etc… I also offer book layout and design for self-publishers, poster design for events among other things. If anyone needs a graphic design problem solved they can give me a call and I will be happy to help in any way I can. I also offer special rates for non-profit organizations that help the planet physically and spiritually.

 
You had mentioned that print was one of your favorite mediums to work in. Do you have any particular project that you are especially proud of?

A few years ago, in 2010, Jim and Carol Young from the Briscoe Art Wing gave me the opportunity to design a poster for the MidSummer's Dream Festival that happens here in Ashland every year. The only parameters were to use a tree drawing made by Joseph Crowell and that they wanted to express the feeling of summer and sunshine, so I had a lot of freedom to create and it was loads of fun – I think it expressed the message very effectively. I also like the design I did for the Star Travelers 13 Moon Almanac of Synchronicity, an almanac that the Foundation for the Law of Time publishes every year, I am actually working on the cover for next year's right now – the 13 Moon Calendar year starts on July 26th.
One of your priorities is to place your talent into areas which give back to the planet. Thus you are especially interested in working with non-profits, spiritual, and educational groups. 
Yes, I am very interested in helping non-profits to be seen through effective design, especially ones that promote peace, spirituality and care for the planet. So I offer special rates for non-profits and am open to work with their budget.
You have also designed several wonderful advertisements that we feature here in the LocalsGuide.

Yes, it has been wonderful to work with businesses here in the community, I've worked with The Fiesta Lady, Dr. Casey Frieder, Sanctuary Massage, Alea Kent and Avril Betoushana from Inward Bound. Thank you Shields for sending some of them my way!


You mentioned that helping give form to ideas is one of your special talents. Can you give us an example of recent
project you helped create?

Right now the Foundation for the Law of Time is creating a social networking site for all the people that are interested in the information of the Law of Time and the 13 Moon Calendar, etc… it is called Galactic Spacebook and I created the logo and overall design for it. The idea was to express the name in the logo, and also the color scheme was a condition too, using purple as a main color and magenta and blue as secondary colors. I accomplished this by turning the "S" into a spiral resembling a galaxy in the middle of the name, also using a sans serif font for easy reading. The symbol of the "S" as a galaxy also helps in the recognition of the logo; it is an image that is simple enough to imprint in the mind, so when users see it somewhere else they will know what it is and where it's going to take you, kind of like the "F" in Facebook. I am also showing you here how I incorporated the logo in the background design of the site, I worked on a space image to give it some abstract form but keeping the feeling of a part of the universe, also keeping in mind the color scheme that was required. It also integrates the logo nicely, the "S" galaxy in its space in the universe. This was just to show you the conceptual part of what goes on in my mind when creating any design, but before this conceptual part kicks in I have a vision in my mind of what it is, it's like an activation switch when I listen to the client tell me what they need, ideas instantly pop into my mind. I make sure the design expresses many levels if required.
Kelly, what opportunities are you currently offering for new clients to come and work with you?

For new clients in the month of March I am offering a 10% discount on the total for their project when they mention this interview.
Any last words or comments for our readers?

Follow your heart, time is art and if you ever need an idea set into motion by the graphic arts I am here to help you, I am at your service! and thank you Shields for all that you offer to this community!
Learn More:
Sunshine Design

 I work from my home-office, so it is by appointment only, contact me and I will be happy to set up a time to meet.