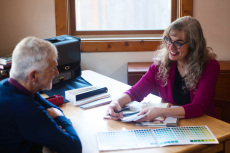 If you have been looking for a friendly, reliable, and honest interior painter with decades of experience then look no further. Introducing, L Citizen, Ashland's Lady Painter. L moved to Ashland in 2010 after 24 years living in Maine. She specializes in interior painting projects for clients who live indoors and want a beautiful change. She is motivated by a lifelong desire to make the world a better place. Room by room, home by home, she reliably derives daily satisfaction from helping people transform their homes with fresh high quality paint, from the whole spectrum of colors. In today's interview, I speak with L about her passion for color and painting. We talk about life and doing what you love.
Hi L, welcome to LocalsGuide and thank you for choosing to do this interview with us today.
Thanks, I'm excited to share Lady Painter with your audience.
To begin with, will you please introduce us to yourself and the inspiration for creating your business.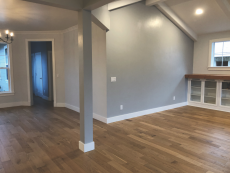 I grew up outside Portland, Oregon and moved to Maine when I was 20. I moved to southern Oregon 24 years later in 2010. When I lived in Maine I spent a good deal of my time renovating houses. I learned a lot of the different aspects of home improvement: some building, electrical, some plumbing and sheetrock, lots of landscaping. I came to see transforming an old, neglected house into a beautiful home as my art form. I loved it! When I decided to move all the way across the country I decided to specialize in the aspect of renovation that I liked the best: paint.
As time goes by, I realize more and more what a healthy choice that was. I find the act of painting therapeutic. Each day of painting is a day that I am progressively making something better and more beautiful, which I find vastly reassuring. This simple tangible reality is gratifying in the moment, on a daily basis.
L, you are specifically focused on painting interior spaces. Please say more.
Yes, I do the occasional porch or deck but I'm not interested in managing huge ladders on uneven ground. For the sake of safety, it only makes sense to do that with a crew.
I work independently so interior painting is a much better venue for me. I use brushes and rollers. I don't spray. Spraying literally sucks all the joy out of the act of painting. I have never spoken to a single person who loved using a paint sprayer.
So I just don't spray. Most people live in their homes and don't want to fill the air with a cloud of paint anyway.
L, you love color and the ability of color to completely change spaces. Can you please talk about your process of helping your customers choose the colors that are best for their living spaces?
I do enjoy color consultations. Many people have anxiety about choosing colors, so the fact that I simply love color and don't experience anxiety around color choices helps people to have confidence in their own preferences.    
Color is strangely subjective. Humans see color differently based on the cones in our eyes, so each of us is the best judge of how we see a hue and how it affects us. Mostly I help people consider their options.
For instance, what color would serve you? Do you need gray because it creates a sense of calm? Or is blue more pleasing to your eyes? Are you feeling the weight of the world and need an uplift? What about a yellow or even an orange?
There are so many hues and values that carry the ability to transform your space. When you have the exact right color surrounding you, you are literally optimizing your home for yourself.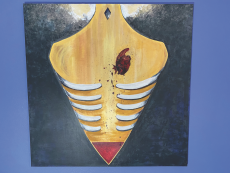 Please tell us about your motto, "No worries, simply a beautiful job well done."
I know from experience that it can be extremely anxiety producing to hire a contractor. Once you hire someone you are relying on them to get your job done right, on time and without damaging anything. I am a no-nonsense person, with a Maine work ethic and decades of experience painting. My motto offers people my promise upfront: They do not have to fret, I will do a beautiful job.
L Citizen, tell us more about your special talents. What are you really good at?
I understand the nature of homes as sacred spaces, they are the containers for our lives. I truly care about my clients and their homes and treat them with the utmost care and respect. I have cultivated an ability to remain mindful which gives me a strong focus and attention to all the small details of a job.
Please walk us through your process from when you first receive a phone call to finishing a project.
When a client calls, the first thing to set up is an estimate appointment, where I will visit their home or office and learn what their needs and preferences are. This initial visit is usually just a half hour if they have already chosen a color. We talk, I take notes and photos and then take the information home and think through the whole job. I try to account for all possible contingencies that might come up over the course of the job and include time for them in the estimate. This way, more often than not, the client pays less than the estimate and unless things are added to the job, they never pay more.
Once the estimate is accepted we book the time for the work. I always show up on time and work diligently to complete the project as efficiently and beautifully as possible. I clean everything up, leaving their space transformed and neat as a pin. My clients are thrilled. They pay me and everyone is smiling and happy.
Your schedule often fills up, so you are encouraging people to call early to get on the schedule.
Yes, please. I can get booked up several weeks or even a month or two out, so if you want some paint, give me a call and let's set up an appointment.
L, what is the best advice you can offer when painting a home?
Don't be afraid to imagine a gorgeous transformation and give me a call!
What are the biggest mistakes that can happen in choosing to paint interiors?
For the most part paint is very forgiving. I use the lowest VOC content paints from both Ace and Sherwin Williams. It's latex and washes off easily with water when it's still wet. That said, you don't want to get any paint on any carpet, drapes or blinds. Cleaning that up could be a real problem.
I'd say the most common problem is simply choosing the wrong color, which happens.
If people are undecided about the color they want, I like to use samples.  Both Ace and Sherwin Williams have small cans to try samples of colors. I will paint some 8 x 10 canvas boards of possible color choices and take them to my clients. Sample boards give people a chance to get a better feel for the color. They can move the board around the room, hold it up near a window and a dark corner to see how they like it here and there. I have found sample boards really do help eliminate the risk of starting off with the wrong color.   
L, why do people choose to work with you?
I get great referrals. I'm trustworthy, efficient and I do excellent work. This makes me good news. My clients tell their friends.
Also, Ashland Ace Hardware recommends me and so has Sherwin Williams.   Last year I had months worth of work from a post on Nextdoor.
Someone posted a question asking for a painting reference and Lady Painter got 4 out of the first 5 referrals in the comments!   
Testimonials:
"L is an amazing talent & I recommend her wholeheartedly!
I hired her to paint the entire interior of my newly purchased house, including new doors on all rooms & cupboards, while I still lived more than 475 miles away in NE Oregon.
I had never met her, didn't know her & can't even remember how I got her name & contact information. But thank goodness  I did. She was the best thing to happen to an absentee homeowner who knew no-one in town!
L's work was meticulous. We arranged paint colours long-distance & I had to just trust that what I requested is what she purchased & used!
My trust was not misplaced!
She called me one day to say that one wall of the master bedroom was in such awful shape – all rough – that she would be dissatisfied with the result if she just painted it, so asked my permission to use a new-fangled marbling technique. I gave her the go-ahead since I had no way of verifying what she told me!
The result was – and still is – nothing short of fabulous. People think it's wallpaper. Her work is excellent, her work ethic is wonderful & her help in color choices is the best!
I have recommended her to two close friends, both of whom sing her praises also.
She is simply the best!
I just hope that too many people don't hire her so she has no time for me!!!!
Thank you, L."
– Janie M. Burcart
"The brightening up of your home begins the moment Lady Painter steps though the door. L listens attentively and offers a clear focus to the vision of color that will best suit the job. Not only is she a thorough, efficient worker, L tends to the details while she respects the integrity of the house itself. I felt as if the walls of my new home received a healing massage before I moved myself and my furniture into the space. L brings positive energy, confident professionalism, and is simply a delight to have around."
– Dia Paxton
"L Citizen transforms houses into homes. She painted my townhouse first. I couldn't believe how the right color on walls could actually make me calm.  We sold the townhouse recently and bought a house and the first person I called was L. We decided on subtle grey/blue walls as the neutral color is supposed to be calming and restful. That is an understatement, I am peacefully thrilled. L is a perfectionist as well. There is not one stray drip anywhere. She is great fun to work with as trying to decide on the right color requires humor and patience. She has an endless supply of both.  I wouldn't think of using anyone else!
I can't tell you how thrilled I am every time I walk in that house – It's like taking a long deep breath of peace."
– Jean Sage
What do you love most about your job?
I love transformation. I'm all about it. There are many avenues, ways and means of transformation but paint is so smooth and fluid and reliable. It always works.
I love to make beauty and a freshly painted room is an extremely straightforward and achievable form of beauty.
I get to go home in the evening with a delicious feeling of satisfaction having accomplished, a transformative job, well done.
All day every day I'm making something better.
L, I'm curious to hear about the origin of your name. Is L Citizen your real name?
Yes, I was born an orphan and have had 5 different names in the course of my lifetime. For 20 years, while I was married, my name was Lauralyn Lenzycki. Which is sadly a bit of a tongue twister. And frankly, no one really liked it, too long, too unfamiliar, hardly ever remembered.
Therefore, when I got divorced in 2006 I started shopping for a new last name. It took a while, over a year. I didn't feel good about infringing on anybody else's name. Names represent family and heritage, which as an orphan doesn't really mean much to me, but I recognize that they mean a lot to other people. I came across the word citizen and it fit. It's true. I am a citizen and with Citizen as a last name, rather than being related to no one, I'm related to everyone.
Once I went to the courthouse to get the paperwork to change my name legally, I realized I really wanted to give Lauralyn a rest. It was just too much. I wanted pithy, manageable, recognizable, light. So I just chopped off all of the other letters and kept the L.
I like it. Why should we feel obligated to live out a story that is not ours to live. The world needs more creative deconstructions like this.
Thanks, I like it too. Creative deconstruction is a great way of saying it.
L, what are some other things you enjoy doing in your life?
We are living during extremely tumultuous, and in some ways, ugly times.   I think our circuits are sort of getting fried, at least mine are. So I find it necessary to find high vibrational activities that can heal, support and recharge me.
The act of creation is basically my favorite state of being. The last couple of years I have developed a process I call Emotional Landscape Painting. I have been using framed 30 x 30 canvases and acrylics to paint shadow, pain, anger, fear and grief. It's a vigorous process by which I have put my most bleak and despairing feelings on the canvas with color and shape. At this stage, the results are usually quite ugly. There is something incredibly satisfying about finishing a layer of an ELP and standing back and getting to witness the pain – outside of my body. It looks and feels like healing. I will paint on the same canvas on different days, over and over again and again, expressing whatever comes up. I have done this over a process of months as many layers of painful images and ugly landscapes emerge. At a certain undefined point I feel that something supportive is coming through and I'm inspired to paint a transformative image over the top of all the layers of expressed agony.
The results of experimenting with ELP have been healing on multiple dimensions from a deep place I have not previously been able to get to. I have found that this technique gives me a way of transforming unmanageable pain with a literal representation that has changed me over time. The third painting in my ELP series ultimately evolved into "My Shield" and continues to feel both mystifying and incredibly supportive. It hangs above my bed and feels palpably protective. I can honestly say I have never felt safer.      
But did you mean, what do I enjoy doing just for fun?
I did but that was great. What do you do just for fun?
If I'm local, I love the simple pleasure of laying out a blanket, sitting down on the earth in Lithia Park and listening to my beloved Daniel Sperry play his cello. We are both living creative lives and care deeply about making beauty. I so enjoy that spot in the park bathing in the deep, soulful vibrations of Daniel and his cello. Watching Ashland stroll through soaking in the quintessential beauty surrounding them.
I also relish a trip to the coast. Daniel and I got to Brookings 3 times last year and one time we made it to Florence. The endless generation of waves emerging from depth to sand has always been so vastly reassuring to me.   Between the salt air and the shore birds and the amazing rock formations, the Oregon coast never fails to inspire me and fill up my soul.
L, many times you end up making great relationships with your customers. Please say more.
Yes. Lady Painter has had such great clients, I have been amazed that I have somehow been able to attract the nicest people in town. It is a pleasure to get to know people through my business, because I love my work. Some of my clients have become dear friends and truly I have a soft spot for all of them.    
Finally, are there any last thoughts or comments you would like to share with our readers? 
Give me a call if you need a new delicious color anywhere in your home, office or business. I'm happy to help!
Learn More:
Lady Painter
L Citizen
Specialty Contractor #219556
Ashland, Oregon
541-880-4616