Interviews
Linda Fitzgerald Local Mortgage Professional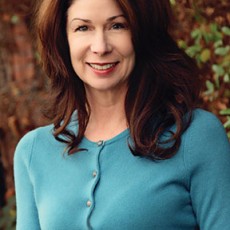 Linda Fitzgerald is a professional mortgage loan consultant and long term Ashland resident. For the past sixteen years Linda has served local families and individuals with all of their residential mortgage needs. Linda's sincere commitment and dedication to her clients have earned her a reputation of trust and respect that has turned many clients into a long term friends.
Hi Linda, thanks for taking the time to speak with us today. Can you start by telling us a little bit more about yourself and the services you provide for your clients?
After being raised in Rogue River, I lived in Southern California for 11 years before returning to the Rogue Valley. I moved to Ashland when my daughter entered first grade and she just graduated from college! While earning my Psychology degree at Southern Oregon University, I began working for a local mortgage broker and after graduation I found that I liked being gainfully employed, so I remained in mortgage. For the past 16 years, I have provided residential mortgages for Ashland homeowners.
In talking together on the phone you shared with me that one of your goals of this interview was to share and spotlight the human side of lenders and lending. Can you please tell us more about this.
As the mortgage industry has become increasingly regulated in response to widespread fraud and poor lending practices, many borrowers wonder what has happened to "common sense" and to personal acknowledgement of individual circumstance.  So much information and documentation is required on each transaction; it is easy to understand why borrowers feel their privacy has been invaded all for the purpose of obtaining a mortgage. One of my goals is to partner with borrowers for the length of the loan process – I am the human face that constantly remembers that lives unfold, memories are made and that home is the place we feel safe and cherished. This is my personal belief for the home my husband I created for our family here in Ashland and my wish for all of my clients. I recognize that a home is often the largest purchase each of will ever make and that misinformation abounds, fears and anxiety can run high, and confidence in the loan originator can make the difference between a miserable loan process and one that can be truly pleasant. My time in the mortgage industry and the knowledge, or lessons, I have gained along the way help me to create an experience that is informative, secure and, most of all, has the desired result of the best loan with the best terms for each individual.
Over the past sixteen years your work has made you hundreds of friendships. Can you share a story or two with us that highlight how the relationships you have created have helped you achieve success in your industry.
I have many fond memories and relationships with extended families.  Most recently I was at the Saturday Grower's Market and met a vendor who I helped when she and her young family moved to Ashland.  She was referred to me by her mother who had worked with me when she relocated to Ashland several years prior. Then I did a loan for her dad when he bought a vacation home in Ashland to be near his grandchildren.  This is all great fun for me, to be a part of these dynamics and to do my part to facilitate successful relocations and reunions. Ashland offers so much for a large variety of homeowner's and I get to participate in all stages of homeownership.  Currently I work with a number of families who have seen their children through college and are ready to sell a large family home and down-size into their retirement home.  I just closed a loan for an 87 year old who didn't want to rent anymore and wanted to move to Ashland to be near family!  I have been providing mortgages long enough that I now have young buyers purchasing their first homes who were referred to me by their parents.  I realize I have known these homeowners since they were in grade school. My willingness to work hard for homeowner's has given me the privilege to touch families for years to come whether it is for a first time home purchase, stepping up to a larger family home, scaling back at retirement, a refinance or an investment property.
Working with clients in the mortgage process can be time consuming and often times quite stressful. What steps do you take to insure as smooth a process as possible?
I agree that this can be a stressful process.  Lending is about relationships and trust and confidence are at the forefront of a successful experience. Much of what I do is set realistic expectations and set the stage for what will unfold over the course of obtaining a loan. I find that borrower's are much more comfortable with lending requirements if they understand the "why" behind the seemingly detailed requests. Another part of a successful transaction is managing the timeline. Often in partnership with the realtor, I keep a transaction on task and coordinate the moving pieces that must fall into place at closing therefore eliminating one additional worry from the borrower. My team and I are in constant contact with all parties to the transaction over the 30 – 45 days of the loan in order to make certain that needs are being met and questions are fully answered.
Linda, what is an example of a situation that can create stress in the mortgage process?
Mostly, I find that what causes stress is an unexpected loan condition or a seemingly "surprise" request from the underwriter. These requests often create additional work for borrowers at a time when they are already inundated. We attempt to meet conditions without going back to the borrower, but it is not always possible. As oversight of the industry tightens, additional conditions are passed down to us in order to make certain the loans we process meet investor requirements. One item I see repeatedly causing stress is documentation of funds to close.  A borrower provides us with their bank statement verifying their funds and to that borrower, they have done their part.  The underwriter sees the possibility of a stock or mutual fund that needs to be liquidated.  Now we are only a few weeks from closing and the borrower finds out that they have to provide proof that sufficient funds have been liquidated, are in cash form and provide us with a new balance statement verifying the transaction and cleared funds. The important part is to give the borrower ample time and information of what will be expected to properly paper trail funds. The same goes for gift funds or consolidating accounts.  It is important that I understand a file in enough detail to help navigate these transitions. The more information I can give clients about the process, the less a borrower feels like they were ambushed by an unexpected condition. This transparency normalizes the process and eliminates stress.
With so many important choices to make in the mortgage process how have you learned how to educate your clients and what element does trust play in this process?
When clients come to me, they might have seen incredibly low interest rates advertised on the internet or are often confused by the array of mortgage providers. Likely they have been advised to "shop around" and look for the best rates and low fees and this pressure can cause even confident calm people to feel mistrustful and nervous. I see this as an opportunity to share my experience in lending to build trust, gain confidence and to set a client at ease. Besides closing the transaction, nothing gratifies me more than to see clients relax and trust that they have made the right decision in choosing to work with me. I still remember my first day working in mortgage, hearing the strange lingo, seeing the piles of paperwork and learning about all the steps that must occur in an orderly manner. Now it is my mission to interpret the process for borrowers, discerning individual needs and creating a loan experience that is as smooth and understandable as possible. Each borrower brings a unique scenario and set of needs, some like a lot of information and some like me to streamline the process – regardless it is my background in customer service and lending that allows me the ability to create the best experience for each individual.
Having just gone through the mortgage process myself I was surprised to see how much information is required as well as how time consuming this can be.
Yes, I'm pleased you said surprising and not shocking! When I put a loan package together, it's my job to know the investor's requirements and to provide the information/documentation in an acceptable format. This is why trust is so important, because without it, the information and documentation requests can be overwhelming and even seem unfair. It is important to know that guidelines are not applied in a haphazard manner, but remain consistent for all borrowers. In understanding the details of each client's file, I can help them to accept why they are being asked to provide certain items that may not be apparent at first.
In reflection of my own process I can see how perhaps mass marketing and the internet wave of "GET THE BEST RATE POSSIBLE" really creates a lot of paranoia and stress. In fact it really completely removes you from the fact that actually finding the right lender is the first step in getting the best rate. 
I see this a lot.  Someone has been shopping on the internet and generically calling different lenders for quotes without ever really going deep enough to make certain they are getting an accurate quote and full disclosure or even if they qualify for the loan program. This potential borrower often has built up so much anxiety about making the right choice that they are more confused and mistrustful by the seemingly disparate information and lending in general. By working with a local professional, one who delves deeply enough into the details and who knows the important questions to ask, much stress can be avoided. I have experienced many, many times when meeting with me allows the much needed confidence and ease for a borrower. There is nothing like sitting across from someone who really cares about you and your transaction to move you toward a successful outcome.
Linda, can you talk a little bit about the way lenders like yourself are paid in regards to the loans you are processing. 
One thing unique about lending is that our compensation is disclosed on the Good Faith Estimate. I can't think of many other businesses where as clients we are provided with a document that details the revenue of the service provider. Compensation can be paid in one of 2 ways, the first is an origination fee (or percentage) of loan amount or that fee can be encompassed by paying a slightly higher rate and having the lender pricing (rebate) cover our fee.  Regardless of if you shop on line, with a large bank, mortgage broker or a correspondent lender like imortgage, we all have this origination charge. Lender compensation is regulated to protect the consumer by equalizing this payment across all mortgage providers and to ensure that a client is not steered to a loan product that pays a higher commission.
In speaking together on the phone I really got the sense from you that you really care a lot about the level of service you provide and truly want the best for your clients.
You are right, I do. I treat everyone the way I want to be treated – with fairness, respect and compassion. As a loan consultant, I am the professional with the knowledge, but I am also the person who makes the difference between a pleasant lending experience and a nightmare. When people like me, trust me and are comfortable with me, we enjoy this time together. My approach is that the journey is as important as the result; in fact, the journey determines a successful outcome.
So what experiences in your background helped you achieve the level of professionalism you have while still maintaining all the care and attention you bring to the table?
It is probably as simple as having been a confused consumer myself and being in the vulnerable position of relying on an individual who was an expert in their field. I still a recall a loan officer who was condescending and unhelpful to me. I went away from that appointment believing I could not buy a home, but based on a referral I tried another company and obtained a mortgage.  By nature, I am detail oriented and a believer in the benefits of home ownership, both of which give me a positive outlook on the industry. Not everyone will say lending is fun, but for me it is extremely satisfying to facilitate the process for clients. I have had the good fortune of working for only the best companies and with excellent mentors who set the bar high for integrity and service.
iMortage, the company you work for has some very high standards can you please tell us about this?
Imortgage, which is headquartered in Scottsdale Arizona, came to Jackson County in January of 2011 and every month since opening we have had the highest number of loan closings in Jackson County. We accomplish this by hiring based on personal referral or recommendation and only hire people with extensive lending experience. I am part of a great team whose focus is on individual attention. At imortgage you are never passed from one person to the next and each person who touches your loan takes responsibility for the outcome and your satisfaction.
Linda can you give us an overview of the services you are currently providing?
We offer residential mortgages for 1-4 unit properties.  This encompasses primary residences, second/vacation homes and investment properties.  As far as loan products, in house we underwrite conventional loans (Fannie Mae, Freddie Mac), USDA, FHA, VA and jumbo loans. Some of our products offer 100% financing,  accommodate low credit scores and non-occupant co-borrowers. Currently we are delegated to underwrite for 16 investors.
Do you have any specific types of loans or clients you particularly enjoy.
Ultimately I enjoy all my clients. With a degree in Psychology, people are my favorite thing and I'm fortunate enough to work with an amazing array of individuals! Attitude genuinely affects the loan process, and I always learn something new about how attitude either furthers or hinders us in our goals.  As far as types of loans go, I do not have a favorite, the product is simply the vehicle that enables me to help a more borrower's with homeownership.
What has feedback been from clients who have enjoyed working with you.
I often receive expressions of gratitude for helping navigate the loan process with calm and kindness.   
Any recent success stories you are especially proud of?
I won't specify one story, but I am proud that my team and I have the skills to persevere through all the details, expected and unexpected, of a transaction and find a successful solution. When it comes to a borrower's desire for a mortgage, I understand that I am the person with the expertise to put a transaction together, that my information matters, and I take seriously the responsibility of finding a loan that works with rates and terms that I can be proud of.
At the end of the day, what do you enjoy doing with your free time?
Free time is family time for me.  My husband, a recently retired theater teacher, and I enjoy eating out and shopping local, attending plays, bike riding, hiking and gardening. I love to cook for friends and family.  Basically, I enjoy all that Ashland has to offer! Two weekends ago we headed to Howard Prairie for the day to picnic and hike and on any given weekend you can spot me at a local coffee shop with a good book in hand.
What are the next steps for someone in coming in to work with you?
Give me a call!  With my fantastic location downtown Ashland, I am here to help and easily accessible. Because I understand how hectic and unexpected life can be, I schedule appointments and on weekends when necessary.
Linda do you have any last comments or words of wisdom you would like to share with our readers?
If you are curious about homeownership or real estate investing, please contact me. I hear concern that lenders are not lending or that loans are hard to come by, but many homeowner's have been happily surprised to find that they can get a mortgage. While it is true that some loan products are no longer available, I will share the many options we do have. If you want to own a home, be proactive. I consult clients who will not become borrowers for a year or two, but by providing as much information as possible, they will be prepared homeowners in a very short time.
Learn More
Linda Fitzgerald
imortgage

344 E. Main Street
Ashland OR 97520
linda.fitzgerald@imortgage.com

541-708-4010
www.imortgage.com/linda.fitzgerald

Text