Articles
Rose Gerstner of Sympatico Clothing Company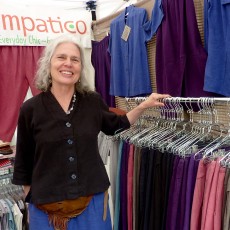 Rose Gerstner is a long time member of Lithia Artisans Market. She is a savvy business woman with a remarkable eye for fashion. She exemplifies that rare blend of sophistication, entrepreneurial drive, and creativity. Rose has a subtle way about her. She is intent on making positive change in this world using a soft voice and warm smile. A woman of her times whose actions speak much louder than words. 
How long have you been making clothes?
I've been absorbed with designing and sewing clothes for nearly as long as I can remember with my dolls being my first clients. It was only in my late twenties that I began to see apparel as a viable career rather than simply a gratifying hobby.

During the 1980s I became a part owner in a cotton clothing cottage industry in western Maryland and realized that I had found work that could be creative, useful and fulfilling.  Working alongside women whose jobs had been lost to lower-wage workers offshore, I learned the multitude of skills needed to create good fitting, well constructed clothing. Operating this cottage industry also offered lots of practical grounding in what it takes to be a self-employed woman. I also met my husband Marty Paule there!

After selling that business in the mid 90s I took an extended trip with my husband and two teenagers during which we visited craftspersons, weavers and dyers around the world.  I returned to study design, fit, pattern-making, draping, and fashion illustration at Baltimore City Community College. That led to work as a designer for a nurses' uniform company in Baltimore.

After my two children left home for college and adventures, my husband found work in southwest Oregon, so in 2001 I moved west and shortly after, joined the costume shop of Ashland's Oregon Shakespeare Festival. In 2005, acknowledging my love of small business and entrepreneurship, I began Sympatico Clothing.
What would you say is your main inspiration in crafting your clothing line?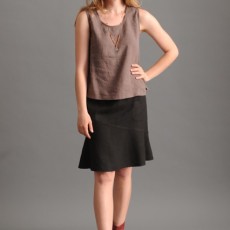 When creating my designs I try to incorporate timeless lines and shapes that aren't subject to the whims of fad fashion. I aim for versatile styles that my customers can wear in a variety of settings, and thanks to their quality construction and materials, will offer many years of use.

I see my designs as an alternative to fast fashion. For example, my Tuxedo Top has proven to be a perennial bestseller and typifies my approach in creating clothes that comfortably skirt the line between career, travel and casual wear.

My customers are also my inspiration. They are a smart bunch who travel extensively, do interesting work and grasp the more sophisticated issues of sustainability.
Your clothing line is very unique. How do you describe your style? How did this become your style?
When I first began my career, I studied traditional clothing and adapted it to everyday use in our culture.  My current style sense stems from using my own experiences as a fashion consumer as the main touchstone.  I choose good basic shapes and decorate them with unusual styling details. I aim for elegant simplicity, focusing on looks that are flattering on a wide range of body types. Many of my customers are 40-plus women who find my cuts easier to wear since they're designed with real-world bodies in mind. I include roomy pockets cut to avoid bulging on all of my skirts and pants. My fabric is comfortable layered or alone and breathes. I want my clothes to look good and work and feel even better.

The hemp/Tencel fabric I use takes color in a soft, earthy way, and I choose solid colors that integrate well into a woman's wardrobe.

Concern with the environmental impact of my work is the other driving force in how I approach the Sympatico collection. After exploring the textile market for Earth-friendly but stylish options, I settled on a hemp/Tencel fabric for my entire collection. It offers the drape and soft hand of rayon, but without rayon's extensive environmental downside. The hemp is produced without synthetic fertilizers or pesticides while the Tencel is made from farmed eucalyptus trees. The ground pulp used for Tencel is treated in a closed-loop process in which non-toxic organic solvents are recycled with a recovery rate of 99.5%. The tiny amount of remaining emissions is decomposed in algae-based biological purification plants. The resulting fabric can be machine washed and dried and is great for travel.

I like to use buttons made of natural materials such as tagua nut—a renewable resource, coconut, and sustainably harvested abalone shells.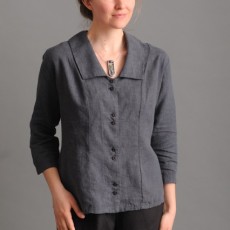 Why did you decide to pursue your craft as a way to make a living?
I graduated from University of Maryland with a degree in business in the 1970s, worked for a time in the financial sector and then did editorial work. While these jobs paid the rent, they didn't offer a sense of artistic fulfillment. Merging those earlier business experiences with the lessons learned in the cottage industry led me to realize that I love both the dynamics of growing a small business and the creative fulfillment of crafts.
In this down economy, how have you faired as an artisan?
There's no question that the economy has made things more challenging. My response has been to expand my reach by attending craft fairs across the region and by developing my online business, SympaticoClothing.com.

The growing shop local movement is highly encouraging in this tough economy. Seeing how sustainably based economics can replace a significant swath of our consumerist economy and culture is inspiring.
Where else can we find your apparel for sale?
The Sympatico collection is available at a select handful of boutiques around the country, at craft fairs and online. I have a page on my website listing those retailers as well as upcoming craft fairs I plan to attend. You can find those boutiques and shows here.

July promises to be an especially busy month with shows at the Ashland July 4th fair, the Oregon Country Fair (provided I find a booth to share), and the Salem Art Festival. When I'm not at out-of-town shows, you can find me at the Lithia Artisans Market in Ashland.
Do you have any suggestions or tips for aspiring new artists and entrepreneurs?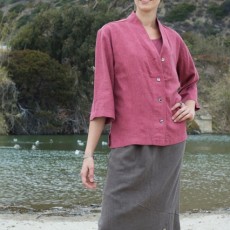 Start small and go slow.  Unless your idea is hugely capital intensive, develop a business plan that doesn't involve going deeply in debt—at least not until you fully understand the dynamics of your business. Your customers will tell you what they like about your products if you listen. Focus on those items, then add new creations related to the strong sellers. Make it easy for a customer to understand what you offer by presenting your work in a cohesive way.

When I began Sympatico, despite my many years of creating clothing, I still had a lot to learn about what markets were best for reaching my customers and what garments my customers chose to buy from me. Buying used equipment proved to be a good strategy.  (One of the few upsides of our disappeared garment industry is a large inventory of sewing equipment that can be bought reasonably.)