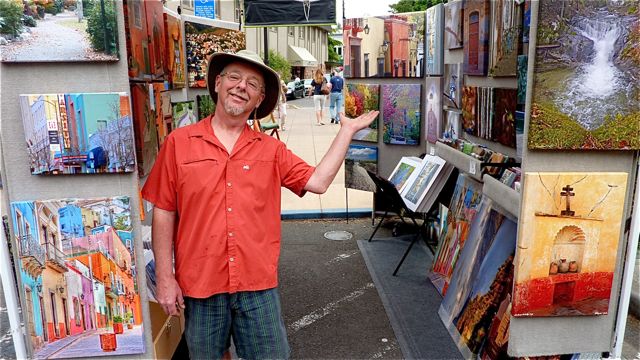 Pat Moore has been a member of Lithia Artisans Market for over 10 years. Born in Brooklyn, New York, Pat made his way to Ashland via the Puget Sound area of Washington, and Idaho. Before devoting his life to photography and printing, he studied Environmental Science at Evergreen State College in Olympia, Washington where he also taught for 13 years. His ability to capture color, texture, and form is what makes him a standout in his field. His booth at Lithia Artisans Market is like an open air gallery.
How long have you been a professional photographer?
Pat… I started selling images in 1995.  However, I had been an aspiring professional photographer for many years.  My professional aspirations began about the time I started farming in 1986. I was part of a farming co-op and was growing 65 acres of organic fruits, vegetables and flowers. I was so excited about the life of farming and decided to document it. As a result I accumulated a large stock of farm related images consisting of farmers, farm machines and crops. Many of these images are good sellers to this day.
What inspired you to become a photographer?
Pat… Easy answer. Photographs from National Geographic. Specifically, the images of Grizzly Bears in Yellowstone National Park and Brown Bears in Alaska. These images also inspired my move from New Jersey to the West. I spent many years in Montana, Idaho and Washington State before arriving in southern Oregon 11 years ago. I actually attended the University of Idaho and after studying Wildlife Management (turned out to be Wildlife Containment) I switched to a major in photography. The photography studies honed my basic skill set, but I would say I am a self-taught photographer.
How long have you been a member of Lithia Artisans Market?
Pat… This will be my tenth year at the market. This market is the primary reason I've been able to make it as a professional photographer. It provides a low pressure, affordable and supportive environment to develop my marketing and photographic skills.  Most importantly it provides a venue where customers can find me.  Since joining the market my business has steadily grown and I am now showing at various venues throughout the west.
My participation in this market is deeper than "just business".  Every weekend I sell here I simply have a good time with the other artists, listening to the original music and talking with customers. The Lithia Artisans Market is unique!  There are very few outdoor art markets that are open every weekend, have live original music, located along a mountain stream, and have been in business for 30 years.
Why did you decide to take an active role in leadership of Lithia Artisans Market?
Pat… I am currently President of the Lithia Market and am glad I've been able to help the market achieve a higher level of professional management. I have a long history of running my own business, as an organic farmer and now as a photographer and printer. My success at farming was due in part to my participation in the founding of one of the first organic farming cooperatives in the country. I served on the board of directors of the co-op for 10 years and simultaneously was on the board for the local farmers market.  These experiences at leading/ organizing groups of people with common goals honed my group facilitation skills. It also informed my sense of how to structure cooperative organizations that are focused on providing economic opportunities for their members.  I believe this market has incredible, unrealized potential and should play a leading role in the fostering of the arts in Southern Oregon.
You also run a small printing company, tell us about that endeavor.
Pat… I own and operate a printing company called Ashland Archival Printing.  I started the printing company in my home studio in Talent 8 years ago. It was an offshoot of my desire to control all aspects of the photographic process.  At the time I could not find any archival printing companies that met my photographic standards.
The printing I do is not the usual laser prints or vinyl banners from local print shops.  Everything we print is rated at 100 years fade resistance (archival) and has a very wide color gamut.  Another interesting part of the printing business is art reproduction and image restoration.  We specialize in reproducing (scanning/photographing) original art and restoring photographs.  In fact many of our clients are artists wanting accurate reproductions of their originals.  A color corrected image of the original will allow the artist to continue income streams by selling giclee prints of the original long after the original is sold.
What brings you the most joy when exploring your medium?
Pat… Every aspect of the photographic process has its own rewards. My favorite is when I go out to shoot photos, time disappears. I think I've been out for an hour and it turns out it's been 3 or 4 hours. It is a meditation on whatever I am observing. When I'm back at the computer to see what I've captured it's always a thrill when I've achieved a creative goal. For example, I have various photographic themes and a constant goal to add images to each theme so as to bring consistency to my catalog of images. I tend to be what friends call an "image trawler" which is apparent when one visits my art show booth and becomes privy to my chaotic approach. Everybody loves the variety.
Another aspect I enjoy is the process of discovery when reviewing photos on file.  When I come back from a shoot I only delete the obvious duds. I keep all images that are in focus and properly exposed for later review.  Many of my best images are found months or even years after they've been taken.  When time slips by the expectation or goal I had for a given shoot disappears and I'm able to see the value in what I originally rejected.
Tell us something about yourself that has nothing to do with your art?
Pat… My photography has always fit in with my life as opposed to my life being about photography. I am an avid hiker and in the past I've done a lot of long-distance backpacking, staying in the mountains for weeks at a time. These days I do a lot of day hikes and ski trips to places like Crater Lake, Trinity Alps, and the Redwoods. I've done some world travel and always have my camera in tow, trawling for images.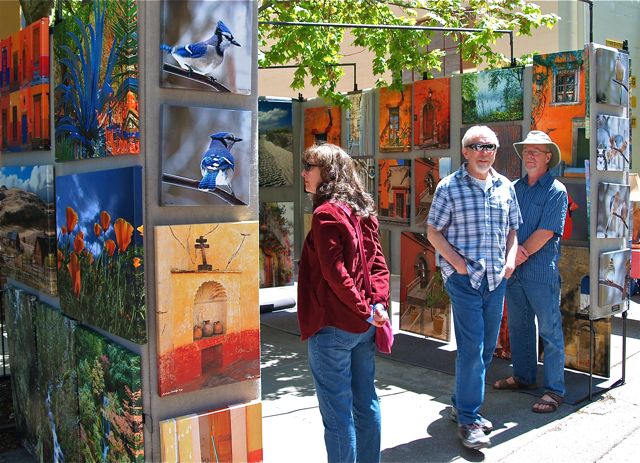 What inspires you to capture the beautiful images you create?
Pat… There really is no one thing that inspires me to do anything. I do what I like as much as possible. Closely observing everything around me is what I like to do. Drilling down to the intricate patterns and composing what is all around us into an image excites me. It pleases me to no end when someone purchases an image of mine to place in their home or workplace. It is such a compliment, such an honor.
Pat shows most weekends at the Lithia Artisans Market on Calle Guanajuato along Ashland Creek. He can also be reached through his Websites:   http://www.patmoorephotography.com/
http://www.ashlandarchivalprinting.com/