Interviews
Lorraine Rawls – Wild Provence to Southern Oregon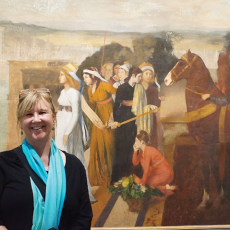 There are certain individuals who you meet, and literally everything they tell you about themselves is interesting. The funny thing about it is that they could probably tell you how they wash the dishes, and this unto itself would be interesting.
Lorraine Rawls may not agree, but I think she is one of these people. I'm not exactly sure how she does it but I do observe that it happens whenever I speak with her. We can be having the most ordinary conversation and suddenly it's as if the colors become brighter, the sounds richer and the views deeper.
I emailed Lorraine recently about doing an interview and received an immediate reply, "I'm in France… catch me next month." We then connected a month later by phone and she begins telling me about her horse. He is a Haflinger, a hearty Austrian breed that is a small draft horse bred for pulling and riding. Lorraine loves to ride him every morning when she gets a chance. She tells me that she adopted him 7 years ago… initially he was very nervous. Then she discovered that he loves to "drive." I assume this is what it is called when you hook a horse up to a cart. "He loved that experience and became instantly calm."
We then transition to Lorraine's childhood of growing up right here in Ashland. Her father, John d'Entremont now 97 years old, has been Ashland's longest serving police officer. Lorraine took him to the police officers BBQ at the recent 4th of July celebration here in town. I randomly ask her if he arrested lots of people in Ashland over his career. Lorraine explains that Ashland was wild in the 50s and yes – he even helped to rescue the kidnaped wife of a local restaurant owner. I knew she would have something interesting to say.
We talk more about horses and music, and raising her son in Ashland… how as a child she used to listen to the outdoor plays happening in Lithia Park. This was the time before the covered Elizabethan theatre. We transition to travel, adventures of cowboys and horses in France, the making of a documentary film and a book Lorraine put together called "Wild Provence."
Now days Lorraine runs a small travel and tour company offering both local tours of Southern Oregon and more extensive group tours in France. She takes small groups from the Rouge Valley to France once or twice per year. In the fall she will take a ladies only group and after that, a wine club group from Cliff Creek Winery.
Lorraine has this amazing LOCAL connection to Ashland while maintaining a much broader connection to countries and cultures far beyond. I hope you will enjoy our interview together.
Hi Lorraine, I hope that introduction wasn't too over the top… and thanks so much for talking with me today.
Wow! That was an amazing intro. I think I want to know that person! I really enjoy talking with you, Shields. You know how to bring out the best in people and I do think you may have been a folklorist in a former life. You know how to ask the right questions and how to listen.
So tell us… how do you do it? It seems like you just have this great connection with life and the things around you. Am I wrong or completely missing something here?
I'm not sure I can tell you specifically how I do what I do, but I do know that I distract easily and have an interest in all kinds of things. That can both work for and against me. Life certainly does inspire me and I have a tendency to fearlessly jump into things I find exciting. Sometimes that involves wanderlust.
Well however you do what you do… keep on doing it. Let's talk about France. You've developed this great connection to the Camargue region and the local people there. How did you first make this connection?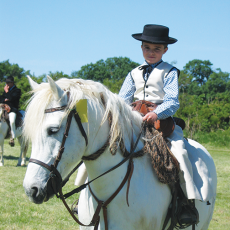 In my former life, I was a singer/songwriter. I traveled the west performing at festivals and produced some CDs of western folk music. Someone in France bought one of my CDs and in 2001 wrote to me and told me about an area of France I had never heard of, the Camargue and an ancient horse culture that has been there since 1512, called the Gardians. I was intrigued and traveled there in 2002 to check it out.

When I got back, I started doing fieldwork for a museum exhibit that I wanted to put together. I kept going back, asking a lot of questions and discovered a fellow writer in Wyoming who had taken pictures there. He introduced me to one of the most prestigious and well respected families of the area and from then on, the world opened up to me. I also bought rounds of drinks (Pastis) for people in local bars. That always helps.
Upon traveling to this region what did you discover and then what has kept you going back year upon year?
What has kept me going back is that the more I go there, the less I know. I love the feeling of discovery. I love meeting new people and and seeing new places. And, I feel honored that I've been welcomed into a closed society of Gardians and have built a trust. Within myself, I've discovered that I am capable of making things work out in completely unfamiliar territory, which is exciting in itself.
I find this so extraordinary… not only have you continued to visit as a traveler but you have also created an entire series of works including a book, documentary film, and museum exhibit. Can you say more? Describe for us some of the people you have had the opportunity to work with along the way.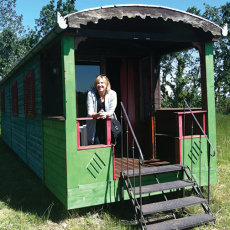 The idea for the museum exhibit came to me right away while doing the research on the Camargue I found very little written about it in this country. I approached a museum in New Mexico because I had developed a friendship with the director through my singing career.

He agreed that the exhibit had merit and set me up with a curator and allowed me to work under their international program. In asking questions and following leads in France, I made my way to the director of the Maison du Cheval. This was an organization dedicated to preserving the breeding of the rare horses and cattle in Camargue as well as preserving the way of life of the Gardians.

Everything just took off from there and in meeting the Laurent Family who have four generations of ranchers gave me another perspective. I did extensive oral interviews as I felt this was important to give this culture a voice and hear their story. I've been able to work with some incredibly gifted photographers, filmmakers, musicians and writers. The book "Wild Provence" and the film "Gardian Nation" seemed like a natural progression to tie in with the exhibit. I started taking funders from different museums to France and providing cultural exchanges as my exhibit traveled and then finally in 2006 opened up to the general public.
Locally you team up with local wineries to guide trips to France, what a great idea!
I usually take small groups of 6-7 on the tours to France and we always go to some wonderful wineries in Chateauneuf-du-Pape, Gigondas, etc. Pairing up with local wineries seemed like a great fit. Last year I took wine club members from Cliff Creek Winery as well as RoxyAnn Winery. Next year Cliff Creek wants to do it again!!
It sounds like you have a great job.
Are you kidding? I have the best job ever! It hits all the right notes for me; travel, wine, great food, fun people and beautiful scenery. When I'm lucky, my husband Dennis goes with me!
When is your next trip to France planned?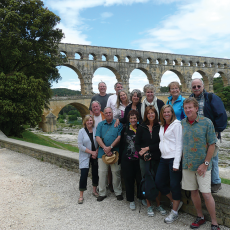 My next trip to France will be in September of 2015. I will start the month of September off with a ladies only tour. We'll do three cooking classes, go to some fun markets, have casual hikes, relax, try some wines and did I mention chocolate? After that tour will be the Cliff Creek Wine Club tour. We'll be starting our journey in the upper Rhone by Lyon, wander down to the Camargue for a few days and then head over to St.Remy. We will have a great variety of wineries to try and sights to see.
You also offer tours right here in the Rogue Valley. Please tell us about these.
I do offer tours right here at home. After discovering how much I love being a tour guide, it seemed only natural to try it at home. With the emerging wine industry, I figured, why not? I love wine. I drink wine. How fun would that be? Of course I've had to work on educating myself on the many aspects of wine. I'm constantly learning and just like in France, I don't hesitate to ask questions. There is so much to know but what I love the most is that everybody has a story, the owners, the winemakers, the tasting room personnel and the land itself. It's very cool. I will also take people to Crater Lake and show them the Gorge and the Natural Bridge on the way. What a fabulous way to spend a summer day! Because the tours are customized, we have lots of options for things to do.
Do you have a large tour bus that seats about 50 people?
Ha ha! Four max. I think it's more fun to be on a tour that doesn't feel like one, don't you?
Just kidding about the tour bus thing… but I'd love to hear more about who goes on tours with you and what types of questions they ask you.
I get the most interesting people! I always seem to attract individuals who are passionate about the theater and since I am a member of OSF and go to as many plays as possible, I love hearing about their knowledge and comments. I've taken people from Ireland, Russia, Spain, France, England and many from New York. They are always interested in the wildlife, the history of our area, the trees and the mountains. I love that people have an open mind about the wines here and I always encourage them to try some wines they think they might not like. They always do, by the way and are pleasantly surprised. They always ask about the types of grapes grown here and what was grown before the vines. They love to hear about our mining history and are always fascinated with seeing deer and wild turkeys!
I would love to know how you have grown into this global citizen while maintaining these great local connections. So many people with such deep, local roots often times stay small and isolated. You, on the other hand have embraced the world. You share your local treasure and it appears that it shares it right back with you.
When I was growing up, we had scores of books. Encyclopedias, natural science, National Geographic magazines and travel books. My dad talked about his adventures during WWII, his native Nova Scotia and of course we always watched Wild Kingdom on Sunday nights. Yet I grew up on a little farm and felt a deep connection to the land and what was going on around me. I still feel that connection and also want to feel it in other places. I think that's why whenever I travel, I long to delve just a little deeper. And when I'm home I have a real appreciation for what we have here.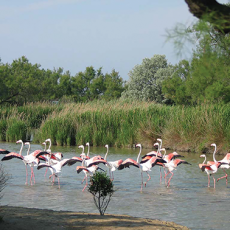 How about a few words of encouragement for traveling abroad… even exploring more locally?
I actually love to encourage people to travel and explore locally. I think explore is the optimum word. Travel with an open heart and be patient and courteous even in the most inconvenient situations. It actually helps. Accept things you don't have control over and just go with it. Don't be rigid. To locally explore is great! Be a tourist.
You have a wonderful relationship with your son and you both recently traveled to France. How was your trip?
We had the best trip! He had never been to France. He is 30 (I can't believe it) and we could never get our schedules together. But this last May we spent a week in Paris and then another nine days in Provence. We walked everywhere. He took hundreds of photos and I loved his photo point of view. He loves Van Gogh so I made it a point to get to the Van Gogh exhibit at the d'Orsay and then when we got to the south, I was able to take him to the places he lived and the places he painted. It was a very special time and the best thing he said was that the trip was a life changing experience. I agree.
What local opportunities do you offer for people wanting to learn more about Southern Oregon?
If people want to learn more about Southern Oregon, a custom tour is the way to go and you can do that by the way, anywhere you travel. When people call me, I always ask questions about what their interests are. I often combine a few wineries with maybe a stop at a fabulous flower garden or a beautiful ranch. I really just want to create a unique fun experience for my guests.
Last but not least… any last thoughts or comments you would like to share with our readers?
Yes I do. When you get frustrated with the traffic and lack of parking in the summer, just remember that we live in an amazing valley. People come from all over the world to visit. I hear every day how lucky I am. I truly believe that. We are incredibly lucky to live here. Look around. Don't be jaded and really enjoy what we have. Buy local and call me if you want suggestions for wineries. I love to give out info. I am now going to pour a glass of wine, sit on my deck and enjoy the view. After I feed the horses of course.
Learn More:
Lorraine d'Entremont Rawls
541-601-6150
lrawlsoregon@hotmail.com