L'Unica Skin Care and Sugaring Studio is located in Talent, Oregon and is an Eminence Certified "Green Spa". Owner and licensed Aesthetician Savina Cirelli believes in the importance of self-care and strives to provide a tranquil and peaceful environment. L'Unica is the perfect setting for ultimate relaxation and pampering. Savina absolutely LOVES what she does and truly believes that through self-care your quality of life will improve, allowing the transformation and healing you desire to begin! In today's interview I speak with Savina about her boutique spa and services.
Hi Savina, thanks so much for taking the time to speak with me today!
You're welcome, Shields! Thank you for the opportunity to promote my little beauty business.
First off, I would love to hear about how life and work are going for you. 
Life is good. Winter is a great time to set goals. I have some exciting things on the horizon for 2019, personally and in my treatment room. L'Unica is almost 3 years old, and it is growing and thriving thanks to the amazing people from our community.
Congratulations on the continued growth and prosperity of L'Unica. I am curious to hear more about what you believe has helped to create this unique niche for yourself.
I feel like the clientele that comes to see me feels well taken care of and supported with whatever they need. Whether you are shopping for a new Eminence cleanser for the winter, or need to shed some stress, or you're going on vacation and want to have your legs sugared – I am available and ready for what is needed. And I love all opportunities to be of service!
Interesting… and a testimony to the statement that small is beautiful.
I am a one woman run business so I pay attention to every detail of my clients experience at L'Unica. From the communication involved with making the appointment, to the cotton pads I buy to remove eye makeup before an eyelash tint. I pay attention and hope to create a beautiful, supportive experience down to the samples I give clients to try at home. I do things the way I would want if I were to come in – the smell of the sheets, the feeling of a warm neck pillow. This isn't a big spa where there are different people greeting you and handing you slippers. It's just my client and me. Each time a customer comes in we get to know each other a little more and I get to know what they enjoy most. Most importantly, I want clients to leave feeling better and better each time.
Is this why you are appointment only?
I am by appointment only so that I can give each person my full attention and set the space for what needs to happen. When there's candles lit and a client comes in for her facial it helps her settle into the vibe I've created for her. I set my schedule the 'old fashioned way', I have an appointment book and don't do online booking. I am available most hours of the day and night, and don't leave people hanging for longer than a few minutes if I'm doing back-to-back appointments!
Savina I'd love for you to tell us more about your space. I've heard it smells wonderful!
You know, Shields, almost everyone that walks in the door always comments on how good it smells! I do defuse essential oils at least once a day. There's a smell that is created from doing facials also. The blend of the masques, with steam, and body lotion is like a walk through a botanical garden. Each treatment comes with its own array of products and the Eminence products smell so fresh and delicious! During facials I hear that all the time…
I can hear that you put a lot of care and attention into L'Unica. It sounds delightful.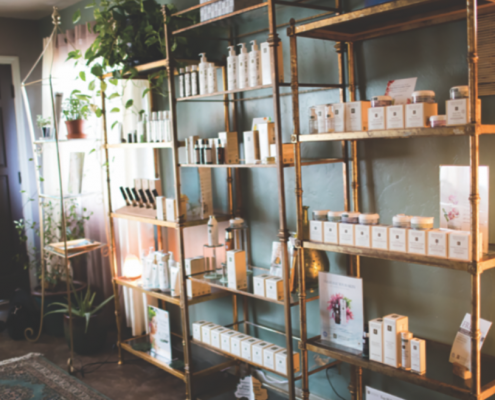 Thank you! I love what I do and feel so lucky to know everyone that comes in. In my free time I love reading different wellness and skin articles learning about healthy foods and different tips on which juice is beneficial in the winter, etc. I like to look at art; I love checking out new and old music. I am always finding new recipes to try out with my daughter.
Savina you are known near and far for sugaring. What is sugaring?
Sugaring is the ancient art of hair removal. It's water-soluble so it's safe for even sensitive skin. Sugaring has made hair removal an option for people who couldn't handle wax. It will never lift or burn the skin, either. It's organic and environmentally friendly, you can eat it! It leaves the skin smooth and soft.
What are the benefits of sugaring and what are you often hearing from your clients after the process?
Sugaring not only gently exfoliates the skin it reduces and refines re-growth. I use organic sugar paste that's made of simply sugar water and lemon, and extract hair in the direction of growth. This method leads to less ingrown hairs. That's a huge plus for a lot of people who struggle with this issue. For those of us who felt like after shaving there seemed to be new hair right away, sugaring is a great solution. Once the hair is on one growth cycle, you don't need to come in for 3-6 weeks. Some clients can wait eight weeks in between appointments. Most often I hear from clients that they are happy with how much less hair comes back even after the first sugaring. They are also impressed with how much less time sugaring takes verses waxing.
Savina please tell us more about the services you offer at L'Unica.
L'Unica is an authorized retail distributor of Eminence Organic Skin Care. My boutique is full of products, so my clients can purchase what they need for their home care. All of my facials and body treatments exclusively feature Eminence products, down to the sugar scrubs that are a popular add-on. Full body hair removal can be done either with sugar or wax. Lash and brow tinting, and starting this month, lash extensions! An esthetician friend of mine will come in once a week and offer lash extensions at $125 a set and $50 for a fill. I also have an amazing massage therapist who is by appointment only. Self-care is what happens at L'Unica!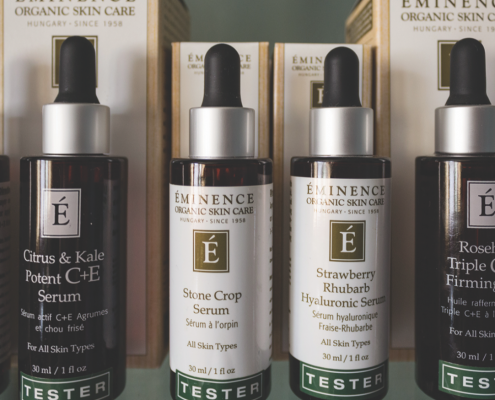 Can you share recent feedback or comments you hear from your clients?
My clients are so good to me! They love the vibe that I've created and tell me they feel safe and comfortable with me. Each appointment is like a visit with a friend and everyone leaves feeling beautiful and well taken care of. My clients who come in for sugaring are impressed with how smoothly and quickly I remove their hair, and each skincare service ends with a beautiful, glowing face and relaxed body and mind.
What are your personal favorite spa services?
As a single mother and a small business owner I don't get to the spa very often. Luckily I can lie on the Amethyst BioMat when I have time between appointments. It helps heal any pain I have in my body and helps me to relax and re-center my mind. My favorite way to treat myself is a massage! I try and get bodywork a few times a year.
Savina what do you enjoy the most about working with your clients?
I enjoy learning about each client's life. I love building new relationships and how my clients and I inspire one another to be our best selves. Laughing, learning, and loving! Other times I simply hold space when a client just needs to be, knowing when they are at that in-between place of complete relaxation and sleep. I making sure my movements and pressure will not disturb that bubble of bliss.
Many clients come from out of the area. How do they find you?
Most people come to me through a referral from a friend or family member. Google, Facebook and Instagram are other ways to find me.
Some of our readers may not have heard of your before. How can they learn more and go about setting up an appointment?
Please visit my website at www.lunicaskincareandsugaring.com and you can send me a message there, otherwise call or text (541) 890-8004. I post all my specials on Facebook and Instagram, so follow one of those platforms to stay in the loop. My monthly gift with purchase products will always be posted on social media, too.
Savina, outside the spa you also have two children. Do you guys have any special plans for this summer?
Yes, my son is 14 and my daughter is 11. Luckily I've been able to get them both out of the smoke during the month of August. They will be at my parents house on the east coast. My sisters live in Brooklyn so they will get their 'Auntie' time and my brother lives close to the Jersey Shore, kind of in the middle of nowhere. I'm crossing my fingers that we get our summers back in Southern Oregon! Our canoe misses Squaw Lake.
What do you enjoy doing in your free time?
I love spending time with my kids and my friends. If I have time to go to a yoga class, I love going to the hot yoga studio on Siskiyou Boulevard. I also enjoy going for walks in my neighborhood, or even just stretching to a yoga dvd – all are good to quiet my mental to-do list. My daughter and I like taking turns in the kitchen. I have a love for preparing raw foods and baking. Seeing local music with friends is always a treat, too.
I'd love for you to tell us more about some of your new services and certifications that you have been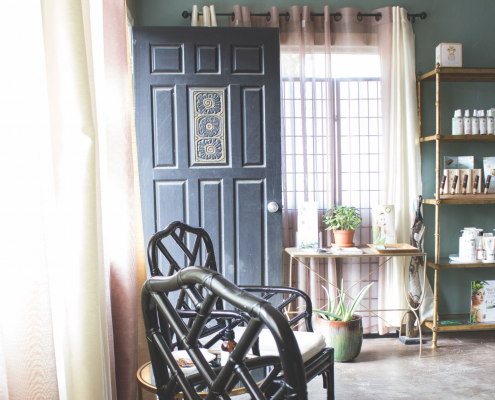 working on.
Yes, I am about to extend my menu to include some fantastic Eminence Organics body treatments. They make some delightful body wraps that I cannot wait to offer. I love to extend a facial to include more of the body so it's a 'complete' experience. That's why my 'Head to Toe' Treatment is so popular.

Another new offering is the Gua Sha Facial Rejuvenation, which is based on traditional Chinese Medicine plus Manual Lymphatic Drainage for maintaining youth and vitality. It's a facial therapy that brings about a fundamental change in the skin with a long list of benefits – it renews facial contour, tones, firms and lifts sagging skin, reduces inflammation, puffiness and dark circles, brightens complexion, stimulates cell activity, relieves tension, and increases ability to absorb vital nutrients. Really, the list goes on…The tool I use is a flat piece of jade with different carved edges. I'm going to carry the jade tools for retails sale and hold 'Home Care Gua Sha Workshops' in the near future, so stay tuned! We don't need lasers and injections to have healthy looking skin. It starts from within and our lymph system is a crucial part of it!

In a few weeks I will be attending an Eminence Organics regional training in Portland. Eminence just won favorite Skin Care line and favorite for product education for the 10th year in a row in the American Spa Professionals Choice Awards. I receive four trainings a year in my spa and there are two regionals a year in Portland, which I love because there is so much to learn when it comes to skin! I am very well supported by my Eminence family, and love to share my knowledge with my clients. This next training will not only focus on products, but a well known international trainer will be teaching Hungarian facial massage techniques, which I can't wait to bring back to my treatment room!
You are also a certified Green Spa and authorized Eminence dealer. Please tell us about this.
Eminence has a green spa policy designed to reward those actively supporting eco-friendly practices, such as reusable cups, energy friendly appliances, earth friendly cleaning supplies, and so on. Being an authorized distributor of Eminence, I encourage anyone who buys products to be careful buying from third-party sources that claim to be selling Eminence. For example, on Amazon you can get products at ridiculously cheap prices, but you don't know what's in the bottle. Mixed, old and who knows what. I order every week and the products in my spa don't sit long. You are getting fresh, organic food for your skin right out of the box that came from Eminence. It's all about integrity and freshness when using organic skincare. I could go on and on!
Savina, if you were stuck on a desert island what would be your top spa products to have with you?
 I love my serums and eye creams! In particular the Citrus & Kale potent C & E Serum, and the Marine Flower Peptide Eye Cream.
Thanks again for the great work you do. We count on you to help us relax and unwind from our busy lives!
Thank you for speaking with me today!  Thank you so much for reading. I have two lovely specials for this month if you would like to come in and treat yourself to some self-care! My Sugaring Special is a brazilian for the price of a maintenance, which is $45 (regularly $60). My facial special is the Head to Toe, a 90 minute facial with a full body exfoliation blended in for $90 (regularly $130). Look on my website for the full description!
Learn More:
L'Unica Skin Care and Sugaring Studio
105 Talent Ave. Talent, Oregon
www.lunicaskincareandsugaring.com
(541) 890-8004