Articles
Middleway Medicine Acupuncture & Herbal Clinic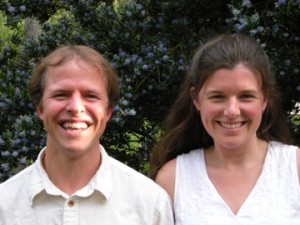 Ann and Clark Zimmerman, LAc. are a husband and wife partnership who practice Chinese medicine in downtown Talent.  They are both originally from Indiana, but met in Portland on the first day of school at the Oregon College of Oriental Medicine.  After obtaining their masters in Chinese Medicine, they got married, took a 6 month honeymoon thru Asia  and then moved to Talent in 2005.  Their medical practice combines the practical hardworking nature of midwesterners with the openness of world travelers.  They provide the services of acupuncture, Chinese herbs, Shiatsu and Tuina massage, nutritional and lifestyle counseling and qigong therapy. We spoke with them today to learn a little bit more about the services they offer.

WHY ARE YOU NAMED MIDDLEWAY medicine?
The MIDDLEWAY, implies a life of moderation and balance.  When we are balanced in our body, mind, and spirit we are able to live between the extremes of life, to live freely without disease.  We help our patients find balance between the peaks and valleys of their life experiences.  Our motto is "everything in moderation, including moderation."(meaning once in awhile you have to push your edge so you know why you should stay in the middle).  It is our honor to create a venue to serve and help people find the Middleway.  We  enjoy bridging the gap between conventional and alternative therapies, offering a MIDDLEWAY approach to health.  Even our clinic location in Talent feels in the "Middle" of Ashland and Medford both in location and ideology.
WHAT IS CHINESE MEDICINE HELPFUL FOR?
It has been the primary system of medicine in China for thousands of years and has been used to treat everything that you would consider western medicine to treat and some pathologies that are not recognized by Western medicine.  Primarily, people think of using acupuncture for pain relief and acute conditions.  The issues  most commonly treated in our clinic are; Motor Vehicle accidents, pain(back, neck, hip, shoulder, sciatica, carpal tunnel, whiplash, etc.), digestive disorders, allergies, headaches, menstrual issues, fertility enhancement, menopause, and mental-emotional tension.
WHAT IS A TYPICAL APPOINTMENT LIKE?
A new patient visit in our office is 1.5-2 hours long.  The first hour or so of the visit is reviewing health history, discussing primary concerns and goals and using our diagnostic tools of pulse taking and tongue observation.  From this information we make a diagnosis that determines the acupuncture points we select, and the herbal formula we create in our herbal dispensary.  The second hour is used for the acupuncture session, massage possibly and instructions.  Followup appointments are 1 hour, reviewing progress, acupuncture treatment and modifying herbal formulas.
HOW DO YOU USE CHINESE HERBS?
Depending on the diagnosis of a patient we may recommend that they use Chinese herbs as part of their treatment plan.  The herbs are often indicated when treating internal conditions.  About 60% of our patients are on a Chinese herbal formula. The formulas are individually created in our clinic and typically contain between 6-14 herbs that are carefully combined to achieve a specific result. The herbs are safe, have few to no side effects, are cost effective, and offer an alternative to stronger medications.  Chinese herbs are safe to use in combination with Western drugs.
CAN CHINESE MEDICINE BE USED IN COMBINATION WITH WESTERN TREATMENT OR MEDICATIONS?
Absolutely, the two can be quite complementary to one another, often filling in the gaps in care, progress and approach.
WHAT DO YOU CONSIDER SPECIAL ABOUT MIDDLEWAY MEDICINE?
We strive to live our lives as we run our practice.  Emphasizing healthy lifestyle choices and  striving for balance as a guiding principle.  Being a husband and wife team  makes us special, lending a casual family feeling to our clinic.  We are joined by our very special office manager, Marg who gate keeps for our clinic and patiently works on behalf of our patients billing their insurance.  We feel our clinic is special because of the presence and loving intention bring into the clinic.
DO YOU HAVE ANY SPECIALTIES?
Yes, Ann's practice has a strong emphasis in Women's health:  menses, fertility, pregnancy, and menopause.  And Clark has an affinity with digestive disorders, pain relief and headaches.
WHAT DO YOU DO WHEN YOU ARE NOT AT WORK?
We love to spend time outside in our garden, on mountain lakes in kayaks or hiking trails with friends and our puppy.  Animals, plants and food bring great joy to us.  We both love to practice yoga and meditation.
HOW CAN WE FIND MIDDLEWAY?
We are located in downtown Talent at 312 Main Street.  We are open Monday -Friday.  You are welcome to contact us via phone 541-535-5082, refer to our web page: www.middlewaymedicine.com or send us an email at contact@middlewaymedicine.com.