Articles
Siskiyou Challenge – Going All Out For Farms!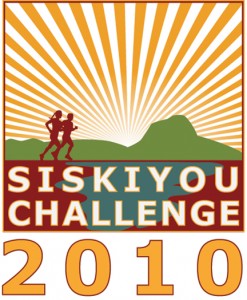 Submitted by Deborah Gordon MD.
Sustainable agriculture is local, organic, and affordable.  Sustainable
agriculture must also feed the farmer and, contrary to Monsanto's line, is the best way to feed the world.  So what can I do to help make that happen?  I know —  I can organize a 5-leg multi-sport relay event to benefit Rogue Valley Farm to School!  The first annual Siskiyou Challenge is coming to Ashland on September 25, 2010.  Now, I need your help in making this event the best ever!
If my name seems familiar to you, you might know of my other incarnation as a family physician.  Although I don't believe the word "health" was mentioned in medical school (University of California at San Francisco, 1975-1979), it might have been whispered in my Family Practice Residency, and it has definitely been a focus of mine in 30 years of practice.  Healthy food, healthy lifestyles, lots of exercise.
I've fully enjoyed a wide sampling the healthy lifestyle offerings available in Southern Oregon since I moved here in 1986.  One of the startling discoveries I made about six years ago was that it's never too late to be part of an athletic team and have a great time getting strong enough to compete.  As a member of the racing team in the Ashland Rowing Club, I became even more of an outdoor enthusiast and competed successfully at regional and national competitions.  So last August, visiting my daughter Anna in Whitefish, Montana, I was confident enough to take the place of a missing canoe paddler ("Oh, it must be something like rowing, isn't it?") on her team in the Glacier Challenge.
The Glacier Challenge – wow!  What a great event.  Crazy solo athletes doing 7 relay legs on their own, and then our team of 5 in purple feather boas!  Live music, local park, it was a wonderful day.  I realized that Ashland would love a Challenge type event. My only question was, if I took this on, for what organization would I want to raise the money and put in the time? Visit Galcier's website, www.theglacierchallenge.com, check it out.  I am eternally grateful to Glacier's Race Director Hannah Plumb who has helped us out every step of the way!)
Before I even knew what they really did, I knew that Rogue Valley Farm to School just sounded like an organization that might change the world.  One child, one farm at a time perhaps, but change the world in a way I hope the world can change.   I decided that if they wanted a fundraiser, I wanted to do my part to help. Farm to School's board was momentarily surprised before their enthusiasm took hold.  It has been smooth work to organize a team.  Tracy Harding (Executive Director of F2S) and I have been working closely for a couple months and our own local Siskiyou Challenge is coming together.
Siskiyou Challenge 2010's centerpiece is the athletic relay event.  Inspired by the Glacier Challenge, we kept the idea of multiple sports, but eliminated the canoe leg.  I'm not sure there are enough canoes in all of Southern Oregon to supply one to each team we're hoping for.  So the event starts of course with a pre-race meeting (everyone has to know race time and the rules of the day!) and then the first leg is for runners and will take them over about 11 kilometers of wonderful countryside.  Leg two will be a buoyed 3K kayak course on Emigrant Lake.  Leg three is for cyclists to travel 25 miles through the countryside and orchards from the Lake to the far side of Talent and back to Lithia Park.  Leg four is a mountain bike loop through the Ashland watershed trails that ends at Triangle Park.
And finally, leg five is a briefer run, about 5K touring south Ashland's city parks on the way back to the finish line.
One person can do the whole relay, or a team can consist of two to five athletes.  Athletes may be cut-throat competitive or just out for a great day in the fall air.  Entry fees range from $75 to the solo competitor to team fees of $125 (2 folks), $250 (3-5) or $350 (corporate team).
In the midst of our first meeting of interested folks including with some F2S Board members and other community folks, I enthusiastically described what is admittedly an arduous race course.  Ruth Alexander (a Board member of both Farm to School and the Ashland School Board) first smiled then looked worried, "But I can't do any of those legs!"  And magically an obstacle became an inspiration:  we will also have a fun run/walk that children and adults of all ages can do without having to traipse all over our lovely countryside.
Great local food will be provided by Standing Stone Brewing Company (free meal to Challenge athletes!) and we're working on arranging live music and other features related to the relay and to farms.  Maybe our biggest attraction, in addition to the relay itself, is the fact that ScienceWorks has offered their support and allowed us to stage the event out of their grounds.  So after your run, while you're waiting for the awards ceremony, you can wander through ScienceWorks or lounge outside enjoying a local meal.
The whole concept is an easy one to "sell":  healthy lifestyles, local farms, everyone likes the idea.  We have had a great reception at all of the many places we've reached out for help or permission. Our Lead Sponsors include Standing Stone, Bioskin, Full Circle Realty, Ashland Food Co-op and Project A.  Our other generous donors are listed on our website.
In Montana, the Glacier Challenge benefits a shelter for homeless youth and receives their race "seed money" as part of the local Rotary's general support for the shelter.  Hannah warned me it would cost about $4 – 5,000 just to put on the race, so that all our racers' fees and additional donations can benefit Farm to School.   I am not a comfortable fund-raiser in general (who is?), but this event has been inspiring for me and evidently worthy in the eyes of the people I've asked for support.
Some local business have been amazingly generous with support both financial and "in kind" .  We have a list of great sponsors which you can find on our website.  The whole event — the relay and the party at ScienceWorks, Farm to School, and of course the importance of community —  is for me closely related to what I do in my medical practice.   I value that it celebrates so many key aspects of maintaining good health, so I asked a number of physicians to contribute as well, and they have also been generous.  We created a category of  "Fitness Sponsors" and that list will be on the website, too.
We still need athletes and volunteers!  Staging the event must be seamless so everyone has a great time, safely!   We need people to help before the event, maybe even racers, and of course lots of people the day of the event itself.  We'll appreciate help of any kind, from people with zero or lots of race or event experience.  The Siskiyou Challenge should be a lot of fun, and with enough help, a perfect start to an ongoing annual event.
If you are interested in being a competitor or a volunteer please contact me at DGordonSQC(at)gmail.com  or 541 944 4118 and visit our website at  www.siskiyouchallenge.org and our page on Facebook!