Interviews
Moving Forward With Direct Physical Therapy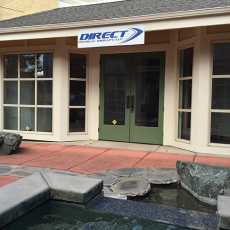 Newly relocated to the corner of Oak and Hersey, Direct Physical Therapy, LLP is one of Ashland's favorite outpatient physical therapy clinics. Direct Physical Therapy is owned and operated by Ashland native, Scott Brown, PT, and Lance Cooper, DPT, ART. Together Scott and Lance offer their clients quality and individualized care with a wide range of physical therapy services. All clients receive generous personalized attention during a session which leads to a speedy and successful recovery. From knee injuries to low back pain and post-operative care to accident recovery, the key to regaining pain-free movement is fully realized with this skilled team and their consistent well measured approach. We visited with Scott and Lance to learn more about their practice and philosophy in helping people recover faster while also enjoying a higher quality of life.
Lance and Scott, congratulations on your new move! Please tell us about it.
Over the past 3.5 years, our practice has been emerging. We outgrew our previous location and wanted to move to a place with easier access for our clients. Our beautiful new location is centrally located in Ashland at the corner of Hersey and Oak streets. The location is more spacious, has excellent parking, and a warm welcoming atmosphere. The ceilings are high with improved natural light into the clinic. Despite being located in a more travelled area, the clinic is a quiet and private setting. We feel that this location will help potential clients to find Direct Physical Therapy.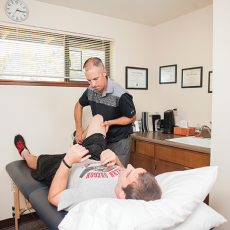 As mentioned above, Direct Physical Therapy has really moved into a position of being one Ashland's premier physical therapy clinics. Lance, what do you think has contributed to the success of Direct Physical Therapy?
We have a strong commitment to helping all clients achieve their goals. We are compassionate individuals that want all clients to succeed. And the quality of our services and clinical expertise are valued by clients. We design individualized treatment programs for each client's specific needs and goals. Many new clients seek our physical therapy services due to referrals from family, friends, and community members that have had a positive treatment experience at Direct Physical Therapy. Also, the response from local medical clinics has been very positive because of the excellent treatment outcomes achieved for their referred patients.
Scott what do you attribute as some key factors to your clinic's success?
I believe people choose Direct Physical Therapy because of the quality of care they receive and the wide array of treatment options offered. We take the time to evaluate clients' conditions and work with them to prepare a treatment plan to help accomplish their goals. We focus on providing manual therapy, directed exercise programs, modalities (when needed) and home programs for progress and prevention. Our clients appreciate that their goals are a priority.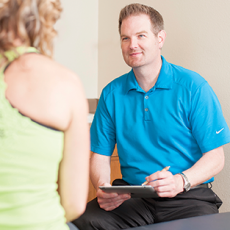 Lance, Active Release Techniques® has been a popular treatment sought by your clients. Can you please talk about this and what benefits ART® has to offer?
Active Release Techniques® (ART®) is a soft tissue treatment system designed to restore motion, reduce pain, and improve strength to help people return to participating in their daily activities. During ART®, the clinician applies deep tension at the area of tenderness and the patient actively moves the tissue through the restricted site from a shortened to a lengthened position. This helps to break up the scar tissue and return the affected soft tissues to a healthy state, enabling improved performance and decreased pain. ART® can relieve these issues quickly and with lasting results. I am the only physical therapist that is full-body certified in Active Release Techniques® in the Rogue Valley.
Scott, can you give us an overview of one of your sessions?
We provide 60 minutes of individualized treatment with our clients in a relaxed and welcoming environment. After a comprehensive evaluation, we coordinate with our clients to develop goals and an action plan. Based upon each client's needs, we will incorporate a good balance of hands-on treatment and corrective exercise training. In addition, we talk to our clients about activity modification, posture correction and proper body mechanics, to help them return to their daily activities. The plan of action is revisited and modified based upon the client's progress and satisfaction.

On average how long are you working with your clients and what happens once they are done with rehabilitation?
The average duration of physical therapy treatment is between four to six weeks. However, everyone's experience is different. We like to ensure that our clients reach their goals before they are discharged. After completing physical therapy, clients have ongoing exercise and self-management programs that are an important part of maintaining their progress. We encourage our graduates to contact us with updates on their progress or call with questions if they need guidance.
Lance, recovering from an injury can be a time consuming and frustrating process. What approach are you taking in your practice to help individuals have an easier time working through this process?
Many of our clients have never been injured or participated in physical therapy prior to their first appointment. I have found that it is helpful to reassure clients of their progress on a regular basis. Although every client's recovery time is different, it is helpful to know that what he or she is experiencing is normal. Goal setting is another important part of our treatments. It is crucial to discover what goals a person would like to achieve to motivate them during their recovery.
Scott would you mind sharing a recent success story with us?
I recently had the privilege of working with an avid local photographer. She came to the clinic after undergoing knee surgery to start the next phase of her recovery. She started with the typical post-surgical conditions of pain, stiffness, weakness and difficulty walking. She worked extremely hard to improve her range of motion and strength. She progressed from walking with a walker and a cane to being able to walk without assistance. While this client is still working hard to improve, I am glad to announce that she has returned to nature for photo shoots!
Lance what would you say are some of the key points to consider when choosing a physical therapist?
As physical therapists, we must be compassionate toward our clients. They trust us enough to bring us their ailments and problems, and we help them find solutions. Scott and I show our clients that they are important, and that we will help them overcome any difficult circumstances. Sometimes we will collaborate on developing treatment plans for clients that are struggling with their problems. We feel that different perspectives combined can help solve difficult problems.
Scott, can you talk about billing. Is physical therapy typically covered by health insurance?
Typically, health insurance covers physical therapy treatment. Prior to the start of treatment, we verify the client's insurance benefits. We take the time to explain the benefit information to our clients, so they understand their financial obligation for treatment. We offer flexible payment options to minimize financial strain. In addition, we offer a very competitive cash rate for clients without insurance coverage.   
Does a potential client need a referral to come work with you?
In Oregon, physical therapists are direct access providers. However, we encourage clients to obtain a referral from their physician, and many insurance companies have this requirement. We are contracted with many private insurance companies, Medicare, Workers' Compensation, and Motor Vehicle Accident insurance plans.
You guys really get to form some fun relationships with your clients. What are some of the best things about your jobs?
Lance – I enjoy helping my clients reach their physical goals and visiting with them about their lives. Finding a personal connection is important to gaining trust from a client. I enjoy listening to their stories and sharing my own. I feel that developed connections make me a better physical therapist and provide an enjoyable experience for my clients.

Scott – I really enjoy getting to know my clients. I like to find out about their interests and hobbies. I am typically pleasantly surprised by the activities in which they are involved. We are very fortunate to have a very active client base.  Having grown up in Ashland, I am always curious to know what has brought each of my clients to the area. I also like seeing the progress my clients achieve while working with them. Helping my clients get back to participating in their normal activities is personally a rewarding experience.
If someone wants to work with you, what are the next steps they need to take?
Calling us or coming to our clinic is the best way to start the process. Once we have talked on the phone or in person, then we can schedule and direct potential clients about the steps to take prior to their first appointment. As mentioned earlier, we usually encourage clients to obtain a referral from their treating physician prior to starting physical therapy.
Finally any last words or comments you would like to share with our readers?
We want to thank all of our current and former clients for helping the business expand during the past three years. We could not be successful without you. As we look to the future, we hope to continue to grow and help more in the Ashland community reach their goals. We are very excited about our new location and hope that former clients stop in to see us. We would love to reconnect with you. If you do not know about us and need physical therapy services, look no further than Direct Physical Therapy to help get you moving forward again.
Learn More:
Direct Physical Therapy, LLP
108 E. Hersey Street, Suite 1
Ashland, OR  97520
541-482-5525