Interviews
Share a Dream Mountain Meadows 55+ Community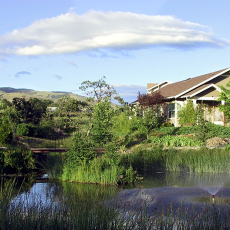 Mountain Meadows is an award-winning 55+ retirement community in
Ashland. Voted the "Best Small Active Retirement Community in America" by the National Council on Senior Housing and the National Association of Home Builders, Mountain Meadows is thoughtfully designed, solidly constructed and located on 27 acres of beautifully manicured lawns, trees and landscaping. The residents of Mountain Meadows enjoy year-round scenic views of Mt. Ashland while being only minutes away from downtown arts and entertainment. The residents, who take great care and pride in the community and ownership of a home or condominium, are what makes the community unique. There is a fitness/wellness center with indoor pool, clubhouse, dining room, community garden and 4 acre park with pond – all amenities that the residents call their own. While many people in Ashland and Southern Oregon may be aware of Mountain Meadows, most have not had the opportunity to visit or see what the community has to offer. I visited the community to speak with the founder, Madeline Hill and Principal Broker, Linda Doren, to learn more about this gem located right here in Ashland.
Madeline and Linda, thank you so much for speaking with me. The grounds look amazing!
Yes – this is a beautiful community! It is very well maintained by our residents and the owners' association. This time of year, the community comes alive with color. We enjoy the trees and the colorful flower gardens, the deer that meander through the park and by the creek and the views of the surrounding hills and the city.
Can you give us a little tour of the campus?
The campus is spread out over 27 acres. Our clubhouse is the community's hub, with the Meadowlark Restaurant on top. There is no question that it has the most spectacular view of any restaurant in Ashland. I've already mentioned the Kitchen Creek Garden, which adjoins the 4 acre Madeline Hill Park, and has walking paths, an almost year-round creek crossed by two bridges, bocce ball court, pond, gazebo and putting green. What started as nothing but weeds, rocks, junk cars and piles of barbed wire, has been transformed into beautiful landscaped grounds. Trees that we planted when they were "coffee can" sized are now so high that people occasionally complain, "those darn trees block my view." Single family homes (65) form a sort of border around the campus and parks and range in size from 1300 to 2900 square feet. There are four groups of condominium homes (161), and these condominiums are indeed "homes," not apartments. Each condominium neighborhood is quite different which was all part of the concept of "choices". Condominium homes range in size from 700 to 2000 square feet. The entire community is designed using "senior friendly" accessibility guidelines. It was a concept ahead of its time, and I did appreciate working with City of Ashland staff while designing and building Mountain Meadows, because many things we wanted to do were unusual at the time, like being able to enter your home from the garage without going up one or more stairs.
In the previous interview, we learned more about the history of the community, so this year I would like to hear about the people who choose to live at Mountain Meadows. Who are they and what traits do they have in common?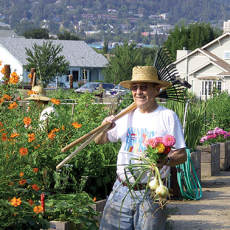 The residents of Mountain Meadows are retired physicians, engineers, musicians, artists, university professors, farmer or ranchers, homemakers, school teachers – and the list goes on. They all have incredible life stories and many have family right here in Ashland and Southern Oregon.
Madeline, I'd love to hear more about your thoughts on aging in place. You really have gone above and beyond to make this possible. Please tell us more.
Well, aging in place is simply that – you can stay in your home or condominium as long as you desire. Each property is designed with aging in mind because as we age our needs change. Each unit has been designed to meet those needs. You can arrange for help as you need it, but you can stay in your own home in familiar surroundings.
Linda, the thoughtful layout and solid construction of the homes at Mountain Meadows is so evident. Will you point out some of these details to us?
Yes of course! The homes and condos are all Craftsman style with attention to details specifically designed to help residents age in place. There are raised dishwashers, elevated electrical outlets, phone jacks in bathrooms, slightly lower cabinets and countertops, extra wide hallways and interior doorways and much more. All properties are pre-wired for cable, phone and high speed internet. There are low step-in showers with built-in seats and hand held showerheads – there are so many things here that help the residents stay in their homes longer.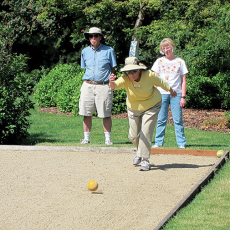 Raised dishwashers?
Yes – they are 18" up from the kitchen floor with a storage drawer underneath. This helps prevent falls due to loss of balance when bending over too far. It also works beautifully in the event that a wheelchair becomes necessary.
Linda, what types of homes are available for purchase in the Mountain Meadows community?
There are a total of 226 residential units – 65 single family homes and 161 condominiums. There are also 9 commercial condominiums located in various locations in the community. Properties range from small one bedroom condominiums to large 2400+ square foot single family homes. Currently, there are a few condominiums available to sell and two single family homes, but the availability list changes periodically.
Let's talk about resident "independence." This is a key value of the entire community.
I like to call it "freedom." We all have a desire to be independent and the design and layout of Mountain Meadows helps residents maintain their individuality. As a resident, you are free to choose in so many aspects of your life – stay in your home and hire housekeepers, pet walkers; hire caregivers to assist as you require it – all the while you remain in control of your life. The goal is to encourage individual independence and a higher quality of life for those most in need.
Linda, what are some of the most common questions you receive from new people wanting to buy a home in Mountain Meadows?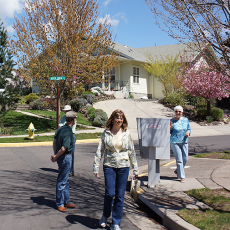 Usually they ask if there are HOA fees or dues. The answer is yes. There are monthly dues, and I go into detail explaining what the dues cover and what is included. Another common question is how close are we to downtown Ashland? We are about 1.8 miles from the plaza in Ashland. Another question is do we ever have any rentals? The answer is yes. Periodically we have a property available to rent, but the terms of the rentals vary.
Madeline, how do people at Mountain Meadows work together and support one another? Could you ever have imagined this when you first started?
Mountain Meadows has far exceeded my expectations. The community is self-governed – there are no corporations. Residents elect the board of directors to represent them and continue with the sustainability of the community. Residents help one another in so many other ways. They provide moral and physical support. They provide encouragement. They travel together and eat together in the Meadowlark Restaurant. It really is amazing!
Linda, I know you have said that the deciding factor for most people who are looking for the perfect place to retire is when they actually come out to visit. When should we come and visit?
Call us today to make an appointment for a tour of our community. We would welcome the opportunity to show you around Mountain Meadows and provide that first-hand experience I talked about. Madeline and I work together to do the tours and show the available properties. Simply call us at 541-482-1300 or 1-800-337-1301 – we are looking forward to sharing with you all the wonderful things about Mountain Meadows. You can also read more about the community, see photos and check on available properties on our website at: www.mtmeadows.com.
Linda will you please tell us about how someone can go about scheduling a tour?
Absolutely! Call our office at 541-482-1300 or call me on my cell phone at 541-499-5322. You can also email us for more information or to schedule a tour at linda@mtmeadows.com.
Do you have any final thoughts or comments you would like to share with our readers?
This is truly a unique community and to appreciate the beauty and design you should see it firsthand. A dream started Mountain Meadows. Come see and share our dream.
Mountain Meadows Realty
857 Mountain Meadows Drive
www.mtmeadows.com
541-482-1300