Articles
ROGUE VALLEY SYMPHONY MASTERWORKS CONCERT 2 FEATURES ISRAELI CELLIST AMIT PELED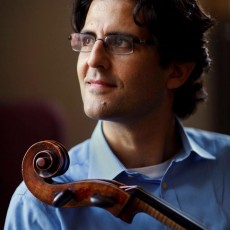 Masterworks of Beethoven, Dvo?ák, and Smetana to be played on the Rogue Valley Symphony's concerts in October. Concerts will be held on Friday, October 16 at 7:30 pm in the SOU Music Recital Hall, Mountain Ave, Ashland; Saturday, October 17 at 7:30pm in the Craterian Theater at the Collier Center for the Performing Arts, 23 S. Central Ave, Medford; and Sunday, October 18 at 3pm in the Grants Pass Performing Arts Center, 830 NE Ninth St, Grants Pass. The pieces performed will be Bed?ich Smetana's Overture to The Bartered Bride, Antonín Dvo?ák's Cello Concerto, and Ludwig von Beethoven's Symphony No. 6 "Pastorale".
The Rogue Valley Symphony is extremely pleased to present cellist Amit Peled as the soloist for Dvo?ák's Cello Concerto. Dvo?ák's Cello Concerto in B Minor is one of the greats for that solo instrument and is loved by cellists and audiences alike. From the United States to Europe to the Middle East and Asia, Israeli cellist Amit Peled, a musician of profound artistry and charismatic stage presence, is acclaimed as one of the most exciting instrumentalists on the concert stage today. Mr. Peled performs on the historic cello of Pablo Casals. The instrument, a Goffriler ca. 1733, was personally handed to him by the Maestro's widow, Mrs. Marta Casals Istomin. At 6'5″ tall, Peled started life as a basketball player and was called "larger than life" when he enveloped his cello and was likened to "Jacqueline du Pré in a farmer's body." Peled often surprises audiences with the ways he breaks down barriers between performers and the public, making classical music more accessible to wider audiences. Mr. Peled has performed as soloist with orchestras in the world's major concert halls, such as: Carnegie Hall and Alice Tully Hall, New York; Salle Gaveau, Paris; Wigmore Hall, London; Konzerthaus, Berlin; and Tel Aviv's Mann Auditorium.
In this second concert series of the season, Martin Majkut wanted to offer a completely different side of orchestral music. After what he described as a "bombastic" opener with Nielsen, Majkut treats the audience to a concert that is "rustic and inspired by folk music." Dvo?ák's musical language is always acclaimed as having strong folk music influence. Beethoven himself used these words to describe his sixth symphony: "Pastoral Symphony, more an expression of feeling than painting. 1st piece: pleasant feelings which awaken in men on arriving in the countryside. 2nd piece: scene by the brook. 3rd piece: merry gathering of country people, interrupted by 4th piece: thunder and storm, into which breaks 5th piece: salutary feelings combined with thanks to the Deity." Similarly, Smetana's opera The Bartered Bride made a major contribution to the development of Czech music.
Conductor Martin Majkut will give a pre-concert talk one hour before each performance.
Concerts: Friday, October 16, SOU Music Recital Hall, Ashland, 7:30pm, Tickets: $36, $42, $48, $55. Students 50% off regular prices
Saturday, October 17, Craterian Theater, Medford, 7:30pm, Tickets: $31, $36, $42, $48. Students 50% off regular prices. Limited $15 available- no student discount applicable to these.
Sunday, October 18, Grants Pass Performing Arts Center, Grants Pass, 3pm, Tickets: $22, $30, $37. Students 50% off regular prices. Limited $15 available- no student discount applicable to these.
At the Grants Pass performance, tickets are available for $5 each to Oregon Trail Card holders from "SNAP". Tickets can be purchased online at rvsymphony.org or by phone at (541)708-6400 for all performances. Medford concert tickets can also be purchased through the Craterian Theater at craterian.org or (541)779-3000.
Please contact Kristin Kessler (541) 708-6400 at the Rogue Valley Symphony to arrange for interviews with our Music Director, Martin Majkut, or soloist, Amit Peled, if you are interested.
Attached are photos for Amit Peled. No photo credit.