Interviews
Rogue Jet Boat Adventures – Unplug- Reset- Discover
Looking for something new and exciting to do this summer? Want to unplug and connect with loved ones? Take an opportunity this summer to learn more about the amazing history of the Upper Rogue River and Table Rocks with Emily and Taylor Grimes, owners of Rogue Jet Boat Adventures.
Rogue Jet Boat Adventures combines thrilling jet boat rides with educational opportunities that are safe and enjoyable for all ages. Located only 30 minutes from Ashland, you will be amazed at how quickly you can be surrounded by some of the most natural and untouched sections of the Rogue River. Combined with unforgettable scenery, magnificent estates, celebrity retreats and deep-rooted knowledge of local history, Rogue Jet Boat Adventures is an adventure not to be missed. We spoke with Emily and Taylor to learn more about Rogue Jet Boat Adventures and the trips they will be offering this year.
Hi Emily and Taylor, thanks for speaking with us today. You guys had a great season last year and are off to a great start this year. Please tell us what you have in store for us.
We had an incredible season last year, doubling our growth and meeting so many wonderful new people. Our customers really are the best part of what we do! Our experience puts the biggest and truest smiles on their faces and it it such a joy to see those transformations. Our customers seem to book our experience with a certain expectation of what they will receive in return and when those expectations are far exceeded, it is such a rewarding experience for us. We also want to say how much we appreciate Ashland as a community and the exceptional support we have been shown. The fact that we are just a short drive away really resonates with locals and tourists alike. Since we are located so close to Ashland, our activity gets them back to Ashland to carry out their planned activities, keeping tourism dollars and time well spent in the Ashland community. A tourist can easily stay, dine, see a play, or even work in Ashland and still take part in our attraction all in one day. When Ashland books our activity, they spend less time on the road and more time on the Rogue!
That's great to hear! You guys have really created a unique and memorable experience. This is not your ordinary jet boat ride.
Our Discovery Tours are so much more than exhilarating jet boating with beautiful scenery. We  connect our customers to the intriguing Southern Oregon history by telling the stories and events that ultimately lead to the formation of our state. It's one thing to learn history by reading or sitting in a classroom, but when you see actual historic locations in person. along with fresh river smells, wildlife, and the wind in your hair, it becomes a much more interesting and meaningful experience.
One of the new features for Rogue Jet Boat Adventures this year will be an entirely new boat!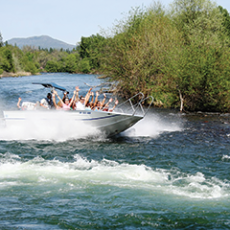 Yes, we are so excited about our new addition! We started our company with a 22 ft Rogue Jet Fastwater that seated 8. We then retrofitted a former Jackson County Search and Rescue Boat to seat 10 people, which enabled the captain to drive at the rear helm and all the passengers to be forward facing in the front. Our new boat is in its final stages and is being built by Bruce Wassom and crew at Rogue Jet Boatworks in White City. It is a state of the art boat that will seat up to 20. The nice thing about this boat is that even with doubling our capacity the boat is still only 24 ft long. A lot of thought and effort went into keeping the boat the same size as other boats using this section of the river, which is really important to us.
I know you were just talking about the boat, but can you say more about what makes you guys unique, and the experience for the participants? Rogue Jet Boat has customers of all ages.
What our customers enjoy about our tours is the intimacy we provide. Your captain does all the narrative next to you without a loudspeaker, and by the end of the trip you feel like your fellow Rogue Jetters are all new friends. Since we take small groups, we can also be flexible with the experience. We are able to control how wet our passengers want to get and don't normally  allow walls of water to come aboard to drench you to your panties – unless requested of course! We do have an onboard water system that mists you just at the right time to get you cooled down. Our customers also have the chance to take a quick swim or even skip rocks. Who doesn't love perfecting their skipping technique? But by far our most popular side activity is being able to hunt for a souvenir arrowhead. Halfway through our 2 hour trip we stop for the arrowhead hunt and bathroom break if needed. Finding an arrowhead (no they are not artifacts) is such a cool experience for all ages. It is a memento you can hold on to that brings our Native American history to life and encourages you to take a minute and think of how different life must have been centuries or millennia ago. It is also a humbling fact that white settlers have only been living in this area for 170 years now, and the indigenous peoples are gone.
What is this I hear about your trips now including lunch or dinner?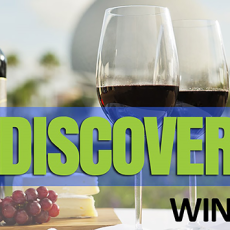 Yes, we are excited to announce that we have partnered with Central Point's The Point Pub & Grill and are offering the option of every trip including a sit down lunch or dinner! They are located in the beautiful Historic Kurth & Miller brick building near the Artisan Corridor. You can enjoy entrees ranging from salads, pastas, and fish & chips, to ciabattas and their famous burgers with blue cheese fries. Yum!
You've actually taken great steps to make your loading process very comfortable. Please talk about this.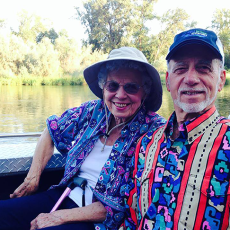 We strive for excellence in every aspect of our tour, and try to be conscious of our customers possible needs before they are even aware they have one. Sometimes just by slowing down the boat loading process and taking an elderly one's hand to guide them into their seat makes all the difference. Walking surfaces can vary from gravel to sand and grass, and we work hard to make it as safe as possible for all abilities. We also load the boat from the front with 3 steps and hand railing. The varying landscapes and environments our customers are exposed to only add to the outdoor connection and nature of their adventure.
Emily, will you please talk about some of the natural scenery, and about the many Native American sites found along the Upper Rogue River.
The section of the Upper Rogue tour wraps around both Table Rocks and is between the towns of Eagle Point and Gold Hill just outside of Central Point. Our section of the river is not commercialized in any way and you see very few river users. Sometimes we don't see anybody! The few houses along this stretch of the river are upscale with varying architecture, including a few historic homes with interesting celebrity history relating to Clark Gable, Ginger Rogers, and Theodore Roosevelt. My favorite parts though are the locations related to the Native Americans that once called its banks home. I wish I could travel back in time to see how it really was, but for now I'm going to have to rely on the recorded history and passed down stories.  It is sad and embarrassing to me that the indigenous peoples were rounded up and marched out of here, but it's a pattern that has been repeating itself countless times throughout human history, all fueled by greed and fear. Taking our Discovery Tour might even make you do some soul searching to who you are as a human being and if you would be one to repeat history or not. We feel that sharing the history and stories of the Takelma and other Rogue tribes is a way to honor them and help ensure they are not forgotten.
Taylor, can you give us an overview of what an average tour looks like?
Well it's not ALL about history and culture, it's also about letting go of everyday stress and having fun! We think of ourselves as a memory making company, which is definitely enjoyable for us to see take place with our customers. Our tours are not about taking our customers on a ride to lunch or dinner. We offer a real jet boating experience on a river section that many are unfamiliar with. Although this section of the river is so close to the Medford area, it really feels a world away. Our Discovery Tours offer the stunning scenery of the Table Rock 'Islands in the Sky,' lots of river wildlife (you might even see a bear swimming), breathing in the fresh river air, feeling river mist on your face, and of course we have to throw in some 360's to get the adrenaline pumping!
You guys have had some great testimonials. Would you mind sharing some of those with us?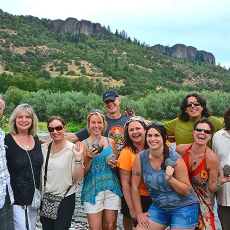 "Decided to try Rogue Jet Boat Adventures for a friends birthday! It was a great trip, a knowledgeable guide and beautiful scenery. We loved learning about the history on the Upper Rogue and enjoyed the smaller boat, which made it feel more personal. I would highly recommend it to anybody thinking about a trip on the Rogue." -Erica L.

"Great people! Not only did they accommodate our crazy group, they shuttled us and made changes to fit our groups personality! Truly one of the best experiences I've ever had! Most amazing time I have spent in a long time." -Terrie H.

"It gets harder and harder to entertain teenaged grandkids from out of town. But this jet boat ride was just the thing for three generations. Taylor was a great guide and driver with a couple of big doughnuts to add to the excitement. I've lived in the valley for 30 plus years but never saw this section of the river and the Table Rocks from this angle. I would highly recommend Rogue Jet Boat Adventures."  -Kim M.
Check in is located at the Rogue Creamery?
We have an exciting change this year in that all our customers will check in at our new location on the Artisan Corridor right off I-5 in Central Point. You will then take a short drive on our shuttle to load the boat. Visiting the Artisan Corridor is a great introduction to what the Rogue Valley has to offer. It is home to Rogue Creamery with their world famous cheeses and treats, Lillie Belle's handmade gourmet chocolates, and the superb local wines and tasting of Ledger David Cellars. By allowing yourself time to visit our neighbors before or after your Discovery Tour on the river, you are in for a really nice treat. Children are allowed in all businesses and there are shaded picnic tables throughout for picnicking. Any purchases are allowed on the boat, including wine or beer, and we also provide coolers for keeping items chilled. This new customer check-in location will be a convenient area for our customers with ample free parking.
I would like to hear more about your company mission.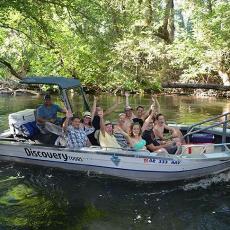 We feel that sustainable travel can be created through economic growth, and economic growth creates the awareness that in turn protects the resource. A percent of our customers who are introduced to our local treasures here will come back and use the resource, donate to the resource, and or get more involved. This is our definition of sustainable recreation. We have partnered with Travel Oregon and donate a portion of each ticket sold to Travel Oregon Forever, which was created to fund various sustainable tourism projects around the state, including the Table Rock Interpretive Trail Project right out our back door. We also have officially adopted the 14 mile section of river between the old Gold Rey Dam site and Rattlesnake Rapids through the Oregon State Marine Board. We have various cleanups throughout the year, with at least one involving the community. These are some of the ways  we strive to lead by example and share our adventure in a meaningful and responsible way.
This year Rogue Jet Boat Adventures was selected to be the Grand Marshal of the Pear Blossom Parade.
It was such an honor to have been chosen as Grand Marshal! We were chosen because of our efforts in preserving the local history and the impact our attraction is making and will continue to make on the local tourism economy. In the past very large corporations were chosen to represent the Rogue Valley, and the fact that we as a smaller company were recognized was just awesome! The Pear Blossom Parade and Festival is such a fun Rogue Valley tradition bringing so many together and it was a blast to be in the thick of it all.
Your trips are open to all ages?
Yes, our trips are great for all ages and interests, making it a perfect multi-generational family outing.
Last but not least, when do trips begin and how can we get signed up?
We started running our trips in the middle of May and will be operating every day throughout the summer. We recommend booking as early as possible to beat the summer rush. You can book anytime at www.roguejetadventures.com or by calling 541-414-4182.
Learn More:
Rogue Jet Boat Adventures
131 N. Front St. Central Point
541-414-4182 – 855 JET-TRIP