Interviews
True South Solar – Rooftop Revolution 2016
For the past six years we have followed the phenomenal growth and success story of local company True South Solar. On a mission to place solar on every roof in Southern Oregon, the company has the wind in their sails and is on course to make their dream a big reality.
As happy customers abounded with word of mouth referrals and passersby took mental notes to soon install their own solar electric system. I was able to catch up with local owners Eric Hansen & Shawn Schreiner and their team to conduct the following interview.
True South Solar…. WOW! Congratulations on another amazing year of continued growth, excellence in service, and taking leads forward towards having solar on every roof in Southern Oregon!
Thank you. We're really lucky to have so much community support and such an awesome team to work with.
Shawn & Eric… what's really happening here… are we really in the midst of a rooftop revolution?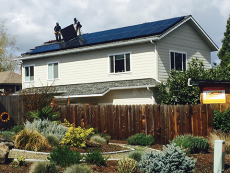 Yes, this is absolutely a rooftop revolution and it's awesome to be a part of it! We have a choice where our energy comes from — more and more people are choosing solar. Solar is an investment in our community's independence, a cleaner environment, and a good investment in our own homes & businesses. The economics of solar are incredible. 50 to 80% of the costs are offset by tax credits and incentives. Over a system's lifetime, its return is often better than what folks are getting in other investments.

Touring around the Valley, you can see more and more installations popping up. We're a leader in the state for sure, but we're just keeping pace with the industry as whole. Nationwide solar is growing about 150% a year and that's what True South is doing as well.
Eric, can you tell us more about this being the right time and right place for solar right now?
Of course, I'd love to. Prices are at an all-time low. Tax credits and incentives are very good. And solar technology is more efficient and better-built than ever before. Couple all those things with a consumer awareness about energy use and the environment and it's no wonder so many folks are choosing solar.

Now that people can easily get their hands on an electric car and fill it up with their own homemade solar electricity, there's a whole new group of folks going solar. Elon Musk and the rest of those Silicon Valley innovators are helping popularize this part of the movement. We have an electric SmartCar & Ford Cmax at work and run them off our solar system — we love it!
I've been hearing a lot about the new SunPower Equinox system and it sounds amazing.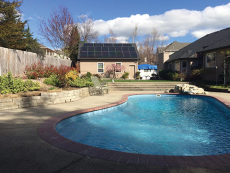 Yes – SunPower's Equinox system is the first engineered "AC module" system solution of its kind. I think the coolest thing about it is that has less system components so it looks really discreet. It's also very efficient! Each module has its own micro inverter on the back optimizing the output of each module. This means shading that might affect one module won't affect the others. Another cool feature of the system is that it has comprehensive monitoring. With Equinox we can see both what each panel is producing and what the house is consuming. Monitoring like this allows folks to see exactly what's being made by the system and consumed by the house so you really get to drill into energy efficiency as a consumer.
Talk about the SunPower Equinox from a design perspective.
It's very modern looking. The array's innovative racking system looks like it is floating on the roof. Because there is not a central inverter, it's possible to not see any additional conduits or equipment. Others have tried this in the past but they have always gone away. SunPower is a solid 30-year company with a 25-year bumper-to-bumper warranty. We went to a training in spring and came back with this package and our customers love it. It's a premium product with premium output and people are stoked on it.
True South Solar is so much more than the products alone. Please introduce us to your team!
We so fortunate to work with a Solar Dream Team. We've grown to 14 full-time employees. Out in the field Ry Heller leads our seven person installation team, which includes Josh, Lance, Mike, Oshia, Dan, Rane, and Zac. These guys give 110% out there in the elements every day and the results are awesome. They really make solar look good!

Shawn leads our sales team: Matt, Wade, and Sean Franks. They're always running around the Valley educating folks about their solar potential and connecting them with our custom, engineered systems. When you call True South for the first time you usually get to speak with Shaun or Wade first.

Dea manages the office. Dea's been amazing in streamlining our processes and customers can always call her with billing, tax credit, or other front office-related questions. Sonia recently joined the team to help us keep up with permits, tax credits, and incentives.
Eric, you are always diving in to figure out how to serve your customers better. What do you see that gives True South Solar that leading edge?

1) We are solar advocates — we live, eat, and breath solar. We have solar on our shop and run our business from it. Many of us have solar on our homes, and have worked in other renewable energy fields before True South.

2) We are quality-oriented. We choose the best materials and we install it to look its best. People want a discreet system and we go out of our way to build them perfect. We take care to make it look nice and this is apparent in what people see.

3) Our team is phenomenal. We cover all the bases in a timely manner. We deliver on our promises and maintain relationships.
Sean, will you please share some recent testimonials with us?
"True South Solar was great.  We just moved to Medford and wanted Solar Panels installed quickly. We contacted a number of companies and everyone was booked until the fall at the earliest – some until next year.  One of them actually recommended True South.  I love the SunPower panels they use – they are the highest performing ones on the market and they were able to size a system that should generate 100% of our needs.  They were very easy to work with and were able to meet our desired schedule. From the time they started the installation to the point we were fully operational was one week, but several days of that were final inspections and approvals.  The system is performing better than estimated and right now, even with all the smoke and haze, we are generating more than we use." – Brian Ball

"The staff answered all my questions and developed a plan for my electricity needs.  They are very knowledgeable and professional.  They braved the rain to do our install in November and were happy to do it.  I am very happy with the solar panels they installed, looks like it will cover all the electricity I need during the summer months and supplement my winter electric bill.  You won't go wrong calling them for an assessment and install.  Thank you True South Solar." – Tracy Koerschgen-Allen

"I cannot speak highly enough about this company. All of the staff were courteous and efficient as they worked through the process of planning and installation of panels at our house. I would recommend them without reservation." – Geoff Ridden

"True South Solar installed my 10.8kW photovoltaic system 18 months ago. The system has proved 100% reliable so far and the annual electricity generated is actually greater than originally estimated. I highly recommend this company." – Bob V.

"Great experience with Matt in sales, with all the installers, and everyone in the office. So helpful. Everyone was excited for us to get our solar installed and running." – Kevin Hearne

"We chose True South for our rooftop residential installation because they're a local company using components manufactured in Oregon. What we got in addition was a very smooth installation process and outstanding service. It has been an absolute pleasure to work with the people at True South, and we would recommend them wholeheartedly to anyone considering a similar installation." – Char Peterson

"Smooth process from first meeting-price/install options-install. These folks really know their business. The "solar credits" are adding up right now!" – Rick Ukena
Eric, your sales, installation, and customer support process has become so fine-tuned that you have the potential to put together a full system right at the convenience of a homeowner's dinner table, and literally have the system fully installed within a day. This is remarkable. Say more.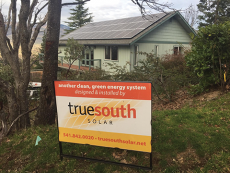 Yes, it's true. We've fine-tuned the sales process so we can finish our initial site survey with a contract and deposit. After we're off the roof, sometimes we'll sit at the kitchen table, create a proposal, have it accepted, and even have the financing approved, all within an hour or two. We know everybody isn't ready to commit on our first meeting — but some people want that level of expedited service. It's great to be able to deliver it.
Let's talk more about your team and True South Solar as a company with a culture. Take us behind the scenes and tell us what you are looking for when choosing and bringing on new team members.
Our team is the "secret sauce" to our business — any business, really. I think it's the reason we're so successful. We work hard & play hard too. We hire folks with that want in on the mission of "solar on every roof and best job ever" –  high integrity, excellent customer service presence, and strong work ethic. Coming to work early and staying late to get the job done is encouraged, and so is taking time off to enjoy life. Work is hard, life can be hard too. This group knows how to get the job done with a smile, then turn it off and go play!
As the parents of a company doing great things here in Southern Oregon, what type of legacy do you want to see left behind?
We're working towards a totally carbon-neutral energy mix. We want to see that legacy continue worldwide. We want our children's children to know a life free from energy pollution, resource extraction, and other harmful realities.
What would you define as your specific focus in solar electric and who is your ideal customer?
Our mission is solar on every rooftop. Our ideal client is somebody open to learn their options and ready to do something good for themselves, their bottom line, and the planet.
Eric and Shawn, what do you imagine it will look like 50 to 100 years from now here in Southern Oregon?
Fifty years from now everybody will have solar on their roofs. I suspect we'll all be living an all electric "George Jetson" lifestyle. One hundred years from now? I trust we'll make great strides on social, economic, and environmental issues and the world will be a better place than it is today.
Learn More:
True South Solar
330 E Hersey St #7, Ashland
(800) 947-1187