German car enthusiasts and local business owners David and Sue Hawkins appear to be having a lot of fun with snikwah motor werks!  With a fan base of over 128,000 German car lovers worldwide, the couple is not alone in their passion for these fine machines.
Located near Dagoba Chocolate at 1000 Benson Way, Suite 103, snikwah motor werks offers classic German car restoration and appraisal along with specialty installation services for Yakima Racks and systems, as well as Yakima cargo box rentals. Among local car buffs, snikwah has become well known for hosting its monthly German Cars and Coffee event.
I headed down to the shop to meet and talk with David and Sue about all that snikwah motor werks has to offer. Maybe they'll hook me up with one of their cool German car-inspired T-shirts too!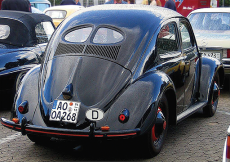 Sue and David, great to meet you guys! I love German cars and coffee. What a great mix you have put together here. Tell us about it.
Thanks for stopping by! Well, the second Saturday of every month, from 8-11am, we meet at the Brammo (old Talent Walmart) parking lot. The "We" being anyone that owns, did own, will own, or just plain loves German vehicles. It's a very informal event that we are now co-hosting with Aaron's Autowerks. We provide free Noble Coffee, free doughnuts from Puck's in Phoenix, and it's a great place to park and mingle with super friendly like-minded people and sometimes whole families bring their generations of German cars. It really is such a blast and a sight to behold. So many fun stories …
About two years into our business, as members of the Porsche Club of America, BMW Car Club of North America, and various Volkswagen groups, we found that differing German car brand owners stuck together and didn't really mingle with each other. We really wanted to create a venue where all German cars could show up and shine, regardless of whether they were worth $300K or $500. It's such a pleasure to see the mix of new and old, shiny and rusty, expensive and economical. So after over a year of gathering each month, we continue to be excited to share in the dreams, wishes, and stories that we hear… the sights, sounds, and smells are intoxicating!
Turnout has been fantastic with our largest meetup being around 70 vehicles. People come and go throughout the three hours, so it's difficult to nail down an exact count. We have plenty of room in the Brammo parking lot, so please tell your friends and stop by. It's a great place for families and young car enthusiasts too!
Let's talk about your passion for German cars. How did it all start?
For me it was playing "Slug Bug" with my two brothers as a child, seeing the smile on a Volkswagen Beetle's face, and hearing its two "Peashooter" mufflers. I always knew that when I was old enough, I would have one! My mom had a Mercedes Benz and my brother had a BMW 2002 growing up. My first car was a '72 Beetle in 1977, and I can honestly say that I have never been without some sort of German vehicle since. Sue's first car was a '69 Beetle in 1985, and she had always dreamed of having a Volkswagen camper van. Shortly after we met we bought a beautiful '86 Volkswagen Syncro Westfalia named "Flo," and for the next several years we went up and down the West Coast, up and down the Cascades, and everywhere in between. This period marked the beginning of so many amazing adventures for us!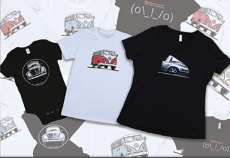 David, you in particular had a specific affinity to the first Porsche you ever saw. What happened there?
What sealed the deal for me was in the early 1970s, I heard a car start up somewhere in a parking lot and I was immediately covered in goose bumps on a sunny SoCal day! A sparkly, twinkly, guttural high-pitched whine revved loud and fast. As it backed out of its spot, I noticed that unmistakable smile, so similar to me yet different. I picked my jaw off the ground as it rolled by, then all the hair on my neck stood up as it rapidly left the driveway. Oh my, wow! I was looking at a relative of a Volkswagen Beetle, a Porsche 911. Since then, the hook was set and I can't seem to learn about, see, hear, or drive ANY of them enough!
What's amazing is that you guys are not alone here. You have hundreds of thousands of fans all around the world who follow snikwah on social media. These fans write to you, send photos, and one has even started hosting their own German car meetups in Brazil!
Our social media experience has been amazing. Joining Facebook wasn't a decision we made lightly and it took us until 2014 to start it. You may not have guessed it, but Sue and I are actually introverts. Sharing our love of these beautiful machines brings us out of ourselves and we just love it. We went from zero followers on Facebook to over 100,000 in our first year. Now, we're at nearly 130,000 … wow! I wish there was a formula we could sell, but really it's all about love. There are a lot of people on this planet that love German cars. Not like, not kind of like, not sort of like, but LOVE. Through the power of Facebook, we've been able to get connected with these folks not only in our area, but as you say worldwide. Thank goodness for Google Translate! We get private messages daily, at all hours, and it's truly amazing. We're astounded everyday when we publish a post and there are already a hundred or more likes within the first few minutes. We have been able to develop real connections with people and we treasure it dearly. We only see our Facebook presence growing and we have been so excited and thrilled by the response that we created a line of German car-inspired apparel. We've had orders come in from all over the world and throughout the US which has been very cool. We have tees for the entire family including the cutest baby onesies you've seen. Check them out when you get a chance!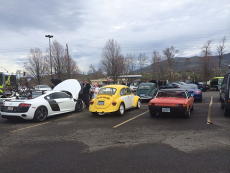 What are some of your favorite cars and why?
Wow, truly an impossible question for me to answer. There's not just one or two … Unfortunately, I appreciate them all!!! There is a definite similarity, flavor, and action to all German cars. Hard to explain … I love the smell of the inside of classic Volkswagen, I love the solid suspension and brute speed of some BMWs, I love being behind the wheel of any Porsche … anywhere. You can't touch Mercedes Benz integrity, nor variety; the sound of Audi's V10 takes your breath away. The designs and workmanship of all of them, the illustrious histories of how they have evolved, and each one of their prolific careers in a variety of racing venues is phenomenal. I could keep going, but these manufacturers, in my humble opinion, make driving fun!
Very cool. For the record, I drive a VW Passat Turbo, but my dream car is the Porsche 911 Turbo S. Just need a cool $188K to seal the deal… and of course a good cup of coffee.
I can help with the cup of coffee, but … see, even though your heart and soul yearns for a rear engine wonder car that most of us can't afford, you own something that at least shares the energy and spirit of a Porsche. I bet you love to quickly roll a short freeway on-ramp at 70 … hit corners at 20mph over the recommended speed, all with ease … They ALL share that same energy and spirit regardless of their price tag.
Please tell us more about the classic car restoration you do at snikwah motor werks.
Personally, we strive for original as possible or what is known as "sympathetic" restorations. Saving and reusing factory items as much as possible, rebuilding, repairing, and polishing what came with the car from the factory. Unfortunately, some vehicles need a lot more and we have hundreds of sources for rare and specialized parts. From gauges to headliners, that one little rubber plug, mirrors, fabric, wheels and even brand new crate motors. The list goes on and on … if we don't have it, we can find it. Over the years we've developed a close network of very talented people that specialize in anything anyone could possibly need, want, or have done. We are happy to facilitate relationships between client and service or take on a complete project.
As a licensed and bonded Oregon Department of Motor Vehicle broker/dealer, we have access to all of the auctions nationwide and would be happy to help you find your next German dream car. We are also a CarFax dealer and will gladly run FREE reports for any car, for any reason. Just email us the VIN and we can usually have it to you within the hour, business hours of course. Lastly, I recently received my state license to offer professional appraisals of your German car, so if and when you are ready to sell or buy, I can help with the valuation.
Our clients have been a total blast, both sales and restorations. No matter what kind of car, they have all been intelligent folks who ask great questions, accept bad news politely, and have incredible stories to share. The vast majority of our clients have become dear friends and we stay in touch as the years go by.
We like to think our clients appreciate our by-appointment-only hours. We get to spend solid quality one-on-one time, no matter the time, day, place, or issue. We think they appreciate that we're the furthest thing from a used car dealer. Our vehicles and restorations, if priced right, sell themselves. We also know that our clients appreciate that we are there long after the sale or consultation.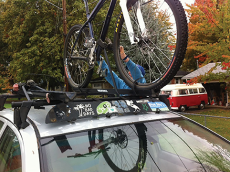 David, can you tell us about some of the recent projects you are working on?
Our most recent restoration was a beautiful blue '71 Porsche 911T Sportomatic. She started out as an exhausted, rusted, barely running bucket of bolts. We were able to have her rare transmission rebuilt and added new mechanicals to the 2.2L flat 6 engine. We then had it completely disassembled, glass out with the rust issues addressed. New fenders, bumper, and door skins along with all new rubber and a beautiful correct paint job. We then replaced the lights and lenses, dash, carpet, door cards, and had the factory Recaro seats re-upholstered. Lastly, new wheels and tires give her a sturdy and powerful stance. We were able to keep the original motor and transmission, the beautiful original Porsche green tint glass, and all bright work. She turned out so beautiful!
We recently picked up a very nicely loved and rare '68 Karmann Ghia Deluxe. This model came with two tone paint, factory air, automatic transmission, and larger towel bar bumpers. So much of this vehicle is original and in great shape. We plan to leave as much of it as possible alone. They are only original once. However, all of its running gear, suspension, and interior will soon be replaced. Then, our old shop truck "Schnitzel," a '69 Volkswagen Crew Cab, will soon be taking on other duties elsewhere, so he too is due for some serious refreshing.
Currently, we're also consulting on three client restorations, a '72 Porsche 914-6, an '80 Volkswagen Doka, and a '74 Porsche 911. Each vehicle has its own unique areas that need addressing, but we are able to source parts, pieces, people, and hopefully the right prices to help their dreams come true. It's so much fun!
You guys are also very well-known for your Yakima car rack installation services and sales.
Yeah, we are really proud to be the "go-to" Yakima install place in the valley, and we sure appreciate the other local Yakima dealers for supporting our shop and referring us. If you have a Subaru and need to get it set up with all the latest gear, call us. If you buy something elsewhere and don't know how to install it, call us. If you have several old racks and want to make one work, call us. If you have a Peterbilt 18-wheeler and need to carry a bike, call us. If you have a Volkswagen Westfalia or a Winnebago camper that needs a box or other gear, call us. We can pretty much do it all. One of the coolest things that we help clients with is getting all their Yakima systems to work with one key. It doesn't sound like a big deal, but it sure is a convenience. As a Yakima dealer, we have access to their complete line and if it's not in our stock, we can usually have it in a few business days. So call us the next time you need to upgrade or service your Yakima equipment, we'll be happy to help you!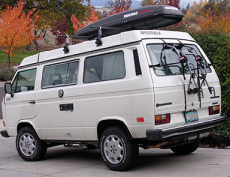 What are some of the risks of installing the rack improperly?
For folks out there installing it themselves with limited experience, there is a risk. We've helped several customers repair improperly installed equipment. There really is no risk for us with the install at all, standard or custom. We've done thousands and we follow the directions exactly. Our specialty, for years, has been Volkswagen Pop-Tops. Yakima has spent almost 40 years perfecting how to carry our toys and gear. They have been in our life since the early 80's, and in that time, I have yet to find or see a system that has failed. Granted, things wear out but that is to be expected. The real risk is in improperly loading those toys or tools or pulling into an underground parking lot after driving all day cross-country. We've heard some heartbreaking stories along with ones that would curl your hair…
You guys also offer roof rack rentals?
Well, we don't rent the actual foundation for the system. We couldn't afford to fit every vehicle on the road, but we rent most accessories – several different Rocket Box sizes with keys, bike, snow, and paddle accessories too. Our box rentals have been doing fantastic with a lot of repeat business. Most of these clients live in apartments, do an adventure or two a year, and most just can't see paying $500 or more to own and store one too. Some folks even want to try out a box or two before they purchase to see what fits their needs best. It's a win-win for all!
Most interesting car to show up at German Cars and Coffee recently?
Oh my, they are all so darn interesting and beautiful!!! But, a dear friend of ours periodically stops by with vehicles that are from another dimension. This last GC&C brought us a very rare '01 BMW Z8, a brilliant silver with a tomato brick interior. James Bond would have been jealous! This gentleman has shared other amazing machines with us before and every single time, it's an honor.
Do you guys have any last thoughts or comments to share with our readers?
We sure appreciate your time, and thanks for stopping by and chatting with us. We would really like to invite people to come out to our next German Cars & Coffee event on May 14th. We're very excited to see this event grow and we do welcome other European car owners to join us too. We've had some beautiful Ferraris and Alfa Romeos join in and we'd like to see that grow. Lastly, we are so thankful to be in this business and to share our love and passion. Thank you!
Learn More:
snikwah motor werks
1000 Benson Way #103, Ashland, OR 97520
www.snikwahmotorwerks.com
541.227.1758