Interviews
Ron & Donna Bergquist – Callahan's Mountain Lodge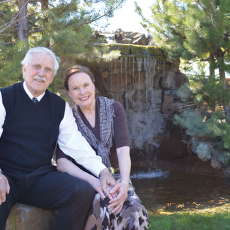 Callahan's Mountain Lodge is located just south of the I-5 Siskiyou Summit at the Mount Ashland Exit 6, and is owned and operated by Ron and Donna Bergquist. Originally founded nearly 70 years ago in 1947, Callahan's Lodge is a self-reliant lodging and hospitality resort hosting 19 rooms, a full service restaurant, bar and both indoor and outdoor banquet facilities.  
Dedicated, determined and resilient only begin to describe Ron and Donna and the journey they have undertaken to create and guide Callahan's to its enduring appeal. One only needs to spend an afternoon walking the property to see the complete care and attention to detail that they and their staff have put into making Callahan's an experience worth returning to again and again.  It's no wonder why it's become one of Southern Oregon's local favorites for celebrating weddings, anniversaries, birthdays and family reunions.
Earlier this year, Ron and Donna announced that they will be selling the Lodge, and are now seeking Callahan's new owners.  They intend to remain close by to help guide Callahan's through its next century of service to the community and interstate travelers.  I recently headed up to the lodge to spend the afternoon with Ron and Donna and to speak with them about the history of the lodge and their upcoming transition. 
Donna and Ron, thanks so much for speaking with me today. This is very exciting news and what a great establishment that you have created here!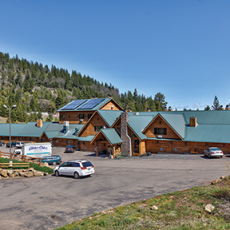 In the course of life, sensible people plan for their education, plan to get married, plan for their babies, careers and retirement. We've reluctantly come to admit, that we are not immortal.  We don't want to wait until we're too old, too sick or too tired to give Callahan's the proper transition.  Sooner or later we have to step aside and plan to pass this hallmark Southern Oregon tradition on to younger hands.  There is no deadline and no urgency.  All arrangements for events will be honored going forward.  We most certainly would like to see a family enterprise (brothers, sisters, wives, husbands) with business, culinary and hospitality talents take Callahan's into the next generation.
Ron, when you first looked at purchasing Callahan's how did it look and what type of potential did you see when you took it over?
I grew up in the Rogue Valley and as such had long-term, pleasant memories of visiting Callahan's through its transition from a small roadside (Old Highway 99) restaurant with rooms to the current location and a larger restaurant.  As a point of interest, in 1959, as a young architectural designer, I completely remodeled and updated Mrs. Callahan's somewhat awkward kitchen.  I remained in contact with Don and Nilde Callahan during subsequent years.  I was familiar with the unique relationship Callahan's had with the community and thought it would be worthwhile to invest in that tradition.
Early investigation in that pursuit, we discovered that the Callahan holdings were larger than we first thought.  Instead of being just a 2 ½ acre restaurant property, it has a total of nearly 60 acres.
Using the development term "highest and best use," indicated the properties had significant possibilities, which could include a larger restaurant, guest rooms, cabins, campgrounds, guest residences and banquet facilities, both indoor and outdoor.
Taking over, building and rebuilding Callahan's has been an adventure to say the least. Tell us about it and talk about the qualities and experience that helped the two of you be successful with this venture.
I have a passion to design and build things and Callahan's allowed me to exercise that energy.  It did not start here.  After remodeling Mrs. Callahan's kitchen, I was hired by a large national restaurant chain, as its primary architect to design and build many of its units.  When I turned 30, I was determined to become self-employed.  After designing, opening and operating seven restaurants in Eastern Oregon, I founded Shari's Management, Inc., and expanded it to 34 restaurant units in seven states.  I sold that company in 1985, and returned to the Rogue Valley where I designed and built what is now the Rogue Regency Inn.  While operating that enterprise, I met and married Donna.  We found that we both have a lot of drive to engage new challenges.  Donna founded and operated a talent agency in Austin, Texas, for 18 years.  Her business was primarily of a marketing and public relations nature.
Donna, give us a tour of the lodge and its amenities.
From outside you see what you would expect in a mountain lodge, log-like siding and heavy timbers at the entrance.  Inside, guests are welcomed into a 24-foot high vaulted ceiling, wood burning fireplace, comfortable overstuffed furniture and a juniper block front desk below a stone backdrop.  Guests see through to the dining room, which is furnished with two more large rock fireplaces and view windows overlooking the expansive dining deck.  The 10,000 square foot backyard features a gazebo, waterfall and pond, a great space for company and family gatherings, weddings and receptions.  A lodge pole staircase leads up to a mezzanine overlooking the lobby.  The four-floor facility offers nineteen luxury guest rooms, two that are fully handicapped accessible.  In-room features include Jacuzzi tubs, wood-burning fireplaces, pillow-top beds, kitchenettes and covered outdoor terraces.  Three two-room suites with expanded kitchenettes and queen size sofa sleepers are just right for families.  A family game room with a pool table and shuffleboard is available to all guests on the yard level.

The lobby opens to a 150-seat banquet room, dividable into three separate event spaces.  An elevator provides access to all levels.  Ron's architectural design talent has always been impressive, but what I appreciate most is his attention to detail evidenced by many woodcraft intricacies:  his knobby lodge pole stairway in the lobby (harvested personally by hand from forests near Diamond Lake), juniper dining tables, chinquapin mantles, thick rounded wood baseboards and window trim, western cedar oak paneling, handmade furniture in all but three of the guest rooms, and my favorite, the gazebo on the edge of the backyard where so many couples say, "I do!"
What a cute little gift shop you have created.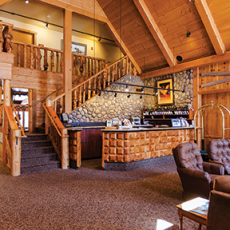 Yes, just inside the entrance to the lodge is a sweet, small space loaded with wine and mountain inspired art, clothing, lotions, jewelry cards, books and Callahan's signature souvenirs.
Ron, will you please tell more about the thought and planning that has gone into the high level of self-sufficiency Callahan's has achieved?
After we bought Callahan's, we measured each and every space in detail, and then drafted it to scale.  That allowed us to visualize what to keep and what to improve.  The priority was to keep the mountain lodge feeling guests value so much.  In 1997, we determined to excavate the floor below the restaurant to add six economy units, and remove the roof to add six deluxe rooms upstairs.  The kitchen was also updated.  The improvements made Callahan's profitable and successful until it was destroyed by fire on September 2, 2006.  We spent almost eleven years breathing new life into the old ill-built building.  Remodeling old buildings is no fun!  The fire caused us enormous despair, but then that old creative energy kicked back in, and we were free to rebuild the structure as it needed to be.  We knew from the beginning that we wanted to restore the lodge like the earlier version of Callahan's. It took only two months to present plans to the county planning department.  Twelve months later we had permits, and re-opened on August 15, 2008.  The building is designed to withstand a 100 mph wind, a 90-pound snow load and a seismic level 5 earthquake, all at the same time!
In 2004, a state of the art fiber filtration wastewater processing plant with the capacity to serve a small community replaced the old wastewater sewage lagoon.  After the fire, our spring water source on 26 acres on the west side of I-5 was re-developed so that it now gravity flows into the lodge.  The gravity from 215 feet of elevation produces 102 pounds of water pressure.  With the addition of a 12,000 gallon water tank below ground on the restaurant property fitted with a fire hose hook up, at any given time there is 22,000 gallons of water for fire protection benefiting the lodge and nearby properties.  Prior to the fire, we relied on a pump requiring electrical power to move water into the lodge sprinkler system.  The electrical power to the building was turned off immediately when the fire broke out, rendering the sprinkler system worthless.
The new restaurant kitchen is twice as big and much more efficient.  Two cook lines enable staff to serve restaurant dining guests at the same time a banquet service is going out.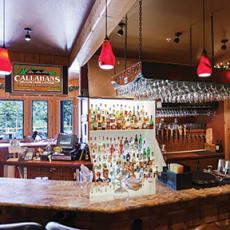 Donna you keep a close eye and monitor visitor feedback. What are some of the most common comments you receive from visitors about their visit to Callahan's?
Few businesses, and especially those of a hospitality nature, achieve almost 70 years of operation under just two family owners.  The personal connection that guests have with Callahan's unique location and being able to identify with its owners has been essential to accomplishment.
We encourage and value guest comments, and relay them to our management team at meetings held weekly.  The great majority of comments received are very positive, encouraging and even forgiving when something does not go just right.
The most endearing comment since the re-opening after the fire has been simply, "Thank you for rebuilding."
Let's talk about your restaurant. I hear your baby-back ribs and smoked salmon are second to none.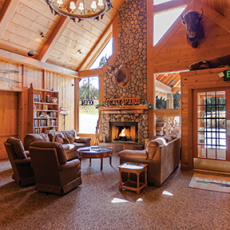 The full rack of pork baby back ribs is scrumptious:  fall-off-the bone tender, flavorful and finger-lickin' messy.  Smoked salmon happens for breakfast (Smoked Salmon Benedict, the Siskiyou Scramble), for lunch (Smoke Salmon BLT Sandwich, or a wedge alongside the entrée salads), for an appetizer (Smoked Salmon Crostini-a Taste of Ashland award winner) and for dinner, we oak grill a boneless filet.
Our daughter, Anna Braje, grew up here and has worked in the lodge for most of her life.  A vegetarian since age 10, she inspired several wonderful menu items such as Eggplant Parmesan, Stuffed Portobello Mushrooms, Vegetarian Lasagna and Omelettes, Berry Breakfast Crepes and delicious entrée salads.
Ron, walking around the lodge it is easy to see the great craftsmanship and quality that has gone into building everything. Can you point to a few items of interest that you are most proud of?
I am proud of the chinquapin fireplace mantles, sculpted from our own land, the juniper tables and the western red oak wall paneling.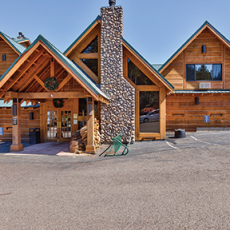 I love the tables in the restaurant.
They are not easy to build!  My shop helpers threatened to quit if they had to make any more tables from raw juniper boards, though they are really beautiful.
You both have an extraordinary work ethic and it shows in this amazing space you have created. Donna will you please talk about this in relationship to Callahan's mission statement and relationship with its staff? 
Our mission at Callahan's is to provide perfect food and perfect service to every guest, every time.  It is each employee's individual dedication to high standards in a respectful, humble and team-oriented environment that allows us to succeed.  Our success depends upon the quality of the memories that our guests take with them.  This is a lofty "mission statement," but we must set the bar where it needs to be.

When a staff sees its owners work hard every day and in any capacity needed to support their success, their appreciation and dedication are elevated.
I understand that Wally your bartender has worked at Callahan's now for over 32 years. What keeps an employee working with you for so many years and how has his involvement in your business helped to shape the Callahan's experience?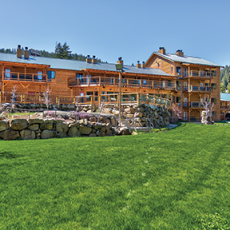 "I like who I work for. . .Nilde Callahan and now, you," says Wally.  Wally gave us his three-year notice last year.  When he turns 80 (a few months after Ron turns 80), he wants to move to the east coast to be with his daughter and grandkids.
From the moment we met Wally (and Nilde Callahan), they made us feel that we could take on this very big responsibility, to become the stewards of one of Southern Oregon's landmark properties, a treasury of memories.  Callahan's has been blessed with Wally's dedication.  Whenever asked for any assistance, his answer has always been, "yes."
As you prepare to sell the lodge and place it into new hands how are you prepared to help Callahan's move into the future?
We plan to build a small home on land we own just a ¼ mile below the lodge.  If new owners will let us, we will furnish architectural drawings and our lifetime of experience in construction, business accounting and marketing.  Our business is very well organized and detailed.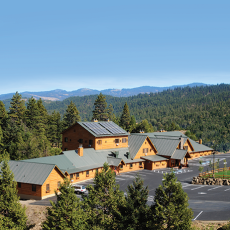 Donna, you and Ron have spent so much time together building and creating this dream together. What has been the secret to your success?
Picking the right person to engage in a partnership is the key.  Sharing appreciation for each other's work and talent, respect for each other and honesty deepen our relationship.  It also helps when my middle name is "one more thing," and his is "I can fix it."  This man is one of a kind.  At home he can be relentlessly absent-minded, especially when it's about housekeeping.  On the whole, I am amazed by his stamina, equanimity and ability to find the remedies to what seem to be (almost) impossible to me.
Ron, you have some great ideas and plans for the future of Callahan's. Can you give us a little preview of a few of these?
County approval is secured for the addition of four more guest rooms within the lodge and nine cabins.  Many days each year we are full and could easily sell more rooms if we had them.  I have also explored the possibility of the development of a campground on the 22 acres across from our backyard.  It is an allowable use of this forest property and there is a demand for (very few available now) such sites along Interstate 5.  The necessary infrastructure to support these developments is in place.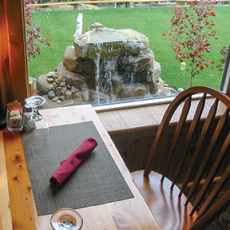 Donna, I would love for you to tell us more about your staff.
In addition to Ron and me, thirty associates keep Callahan's Lodge open for business from 8 am until 9 pm, every day of the year.  Most live in Ashland, but some live in Talent and Medford, and even in Yreka and Central Point.   Two entertainers perform live music seven nights a week:  Ken Hart on Sunday through Wednesday for almost fourteen years, and John Hollis on Thursday and Friday for almost 12 years. Breakfast, lunch and dinner are served every day, along with service for many meetings and events.  We have a fantastic kitchen team. Every person dedicates energy to cleanliness.  We've earned a perfect score on the last two county inspections.
We are blessed with staff that takes pride in being part of the long-term success of Callahan's.  They get excited about sharing its remarkable history with guests and enjoy understanding and contributing to the infrastructure of small business.  Many associates have left and come back, which we take as an approval of our employment standards.  Our managers, Mike Leimas (Kitchen), Nancy Stewart (Guest Service), Geraldin Reyes Gomez (Housekeeping) and Wally Crum (Bar), work well together and have earned the respect of their departments.  I really want to note what every single person on our staff does to make Callahan's work, but you would have to expand your publication by several pages.
Callahan's is continually receiving great comments and feedback from guests. Would you mind sharing some recent comments with us?
Shields, now you are really going to have to add pages, so in the interest of conservation here are only a few recent comments:
"We have stopped at Callahan's many times on our trips north and south.  We have always had excellent service and have been warmly welcome."
"As we are coming home from a hot, tiresome drive from Disneyland, we came across Callahan's to find gracious people who encouraged a long relaxing and traditional setting for brunch.  We ordered the Monte Cristo sandwich and is was of more taste and quality than Disney's!"
"Callahan's is a beautiful lodge.  The customer service was excellent.  We enjoyed our dinner. . . .Delicious!  Out room was beautiful with a great view of the landscape.  Thank you for making our 15 year wedding celebration memorable!"
"We had a lovely lunch after a hike and after the service and views of the rooms we plan to return for a stay.  Thank you so much.  Erin was our server.  She was great!"
"We want to share how much we loved the selection of music, and the quality of the food was excellent!  This lodging so comfortable.  A top rated experience.  Thank you.  P.S.  The coffee (GoodBean) is excellent."
"When we come to Ashland, this is our special treat!  The Monte Cristo is fantastic.  Even your potato salad is great.  Your setting is spectacular!"
"Our first visit and it was a wonderful experience.  Already looking forward to coming back."
"Food was great, the service was more than great.  The last time we were here was when the old lodge was still here.  You've done a great job putting it back together.  Thanks!" 
"Thank you so much for making our special day so memorable.  The staff was wonderful and so helpful.  We will recommend Callahan's for a wedding location any day!  We can't wait to celebrate our one year with dinner at your fantastic restaurant."
We benefit substantially when guests leave compliments, suggestions and criticism.  As my grandmother said, "If you have a complaint, tell me; when you have a compliment, tell everyone."
In conclusion would you like to share any last thoughts or comments with our readers?
Before sunrise in the winter of 2008, when we were without guests for almost two years after the fire, and the construction of the new lodge was underway, I looked toward the new lobby from our home alongside the project.  I saw that construction workers left a light on in the new enclosed lobby.  Then, I knew that Callahan's would be back and could hardly wait to make it open again.
This property is a pursuit of heart.  Ron and I live in and treasure this place.  We are blessed with a fantastic staff, every guest and Callahan's exceptional history.  We hope to be present for the opportunities that abound in its future.  Fundamentally, this business is one of our nation's greatest assets wherein our endeavor, every employee and every guest is a personal and integral part of the success that makes America work.
Learn More:
Callahan's Mountain Lodge
7100 Old Hwy 99 South, Ashland
541-482-1299