Interviews
Vaping Kicks Ash At The Green Dragon Vapor Company
Newly opened downtown, the Green Dragon Vapor Company of Ashland has the widest selection of E-Juices, Mods, Tanks & other gadgets to help you quit smoking. 
Hitting the markets about ten years ago, E-cigarettes and vaping (the act of inhaling a vapor with nicotine and/or flavors) has grown to be a nationwide trend in replacing the conventional cigarette. E-cigarettes are an alternative to the highly chemical-laden conventional cigarettes, but many people are still unfamiliar with the whole concept. We headed downtown to speak with the manager of the Green Dragon Vapor Company, Missy Leonard to learn more.
Missy, thanks for speaking with us today. So tell me what is vaping… how and why is it done?
'Vaping' is the verb created to describe inhaling infused steam or vapor.  Just like "googling", vaping is a new technology.  While a cloud coming out of someone's mouth may look similar to smoking, it is not. That is the greatest misconception about vaping.  There is no flame, no smoke, just superheated liquid.   Most people start out with a battery, a tank and e-juice in a flavor of their choice. Inside of your tank there is a coil and a wick, that is what heats up when contact is made to the battery and produces vapor. I heard that the vapor delivery method was created ten years ago by a pharmacist looking for another solution to the hazards of tobacco smoke.  With improved technology and options it is now an easy and cost effective option for all of us.  Vaping is a great alternative to conventional smoking cessation products.  There are many e-cigarette systems available to help people quit and many of them mimic cigarettes without delivering the thousands of chemicals cigarettes often contain.
What are the supplies required for vaping?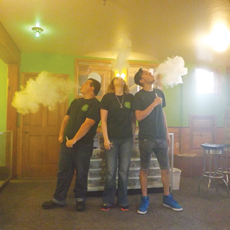 The supplies are very basic for vaping.  You need a battery, tank and E-liquid to get started. As people get into the vape life more they often start looking for more interesting tanks, batteries and Mods (tubes that hold batteries) that suit their personal style. There is a whole new world out there for people who wish to quit. Vaping is cheaper with startup costs in the low $40s and e-juice refills as low as $5. Our shop has the best selection in Ashland because we are a dedicated Vape shop. We also offer nationally competitive pricing.
You currently have over 70 different flavors of the e-juices. Can you tell us about these?
We offer a great selection of premium e-juices, and actually have ten 100% organic Vegetable Glycerin-only flavors. Our e-juices only contain the necessary ingredients, PG and or VG, flavoring and nicotine. All of our e-juice selections are made by reputable distributors in clean laboratories located in the United States.
What are some of the most popular local flavors that you offer?
A few of our top selling e-juices include 100% organic VG Kiwi and Blackberry from EC Blends, Unicorn Milk by Cuttwood, Grimm Army Tobacco, Strawberry Circus and Caramelized Banana from Namber Juice, and Cold Soul by E-Juice 2 Die 4.
I understand that you can control the level of nicotine that gets put into the e-cigarette. How does this work?
All of the e-juices that we carry come in five different levels of nicotine, 0, 6, 12, 18 and 24 milligrams. In our NamberJuice Epicloud line there is also a 3 mg option. This allows people to dial in the strength level to their needs.
What does vaping offer versus using something like the patch?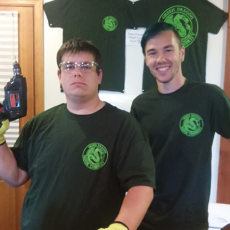 There have been no side effects reported in conjunction with vaping unlike the patch. It also replicates the hand to mouth action of smoking which in itself makes vaping a much smoother transition from conventional cigarettes. Also vaping allows people to control the harshness of their vapor. There are variable voltage batteries available that allow you to drag a smooth take or a harsh one. Many smokers in their first weeks of quitting enjoy this option.
Is it possible to vape without using the nicotine?
Absolutely, there are quite a few people who vape on 0 mg of nicotine simply because they enjoy the act of vaping. Also, cloud chasers as they are known in the vaping community are more likely to be vaping on 0 mg e-juice because it actually produces thicker plumes of vapor in comparison to e-juices with nicotine in them.  Once a person works their way down to zero nicotine they can continue to vape and many do just for fun.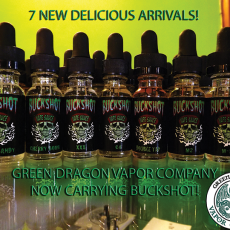 What are the comparative costs of smoking regular cigarettes versus switching over to e-cigarettes?
Former smokers or transitional smokers (those who still go between vaping and smoking) report, that the savings are substantial. Most say vaping saves you at least 50% off your smoking habit.
Are there second-hand smoke issues with vaping the way they exist with cigarettes?
That is part of the beauty of vaping, even if someone is vaping on the highest level of nicotine there is absolutely no second hand smoke being emitted to those around you. Also, vapor does not have a strong foul odor and won't stick to your clothes/curtains/car interior. Vapor is far safer than tobacco. There have been no reports of cancer related to vapor.
Many people have voiced concerns that vaping turns young people onto smoking. What are your thoughts on this?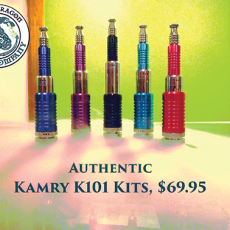 We are always careful not to sell anything to anyone under the age of 18. It is our policy: you must be 18 to try and 18 to buy even for zero nicotine products.  It is our goal to help people stop smoking, not start up. There is a massive effort by big tobacco to shut down this alternative because the actual number of smokers is decreasing, not increasing. With the huge success of e-cigarettes if it were creating new smokers, you would see an increase in new smokers not a decrease.  Right now in the US, vaping is where wine was in the 70s or where coffee was in the 90s. People in general have little information about quality and product branding. We are here to help with that.
Missy, do you have any favorite products or juices you would like to highlight?
I am a huge fan of our authentic Kamry K100 & K101 mods. I use my beautiful hot pink Kamry K100 every day along with my new favorite RDA (re-buildable tank that holds e-juice) the Enigma. My top three e-juices would have to be Unicorn Milk by Cuttwood, Doughnut Pounder by NamberJuice and Eternal Love by E-Juice 2 Die 4. My favorites change almost monthly as new items arrive constantly.
What has the feedback been from locals who have now switched over to vaping?
We have had very good feedback from those willing to try. We have also learned new strategies in helping people quit. For example, one friend found himself going back and forth between vaping and smoking cigarettes. While this was an improvement, it was not the situation he was looking for.  We asked him what was he missing, he said he enjoyed the harshness of regular cigarettes and vaping was just too smooth even at higher nicotine levels. We introduced him to the variable voltage EGO Twist batteries that allow you to control harshness and it worked for him.
Others have noted that breathing issues have improved. This is likely because the lungs are no longer being exposed to tobacco tar which can clog the cilia that protect the alveoli.
Are there other benefits to vaping nicotine over smoking?
The list is endless. When we step away from fear and ignorance and look at the facts surrounding vaping we see a massive overall benefit. Despite the challenges from the multinational tobacco companies, vaping is here to stay. They have as much chance banning vapor shops as they do banning air.
Recently the American Heart Association stated that they acknowledge that vaping is better for your heart than smoking traditional cigarettes. The American Cancer society recently agreed. The evidence is overwhelming and this admission is major progress.  Both organizations believe that the products should be regulated and kept out of the hands of minors. The Green Dragon Vapor Company is already in compliance with all proposed regulations regarding safety and use.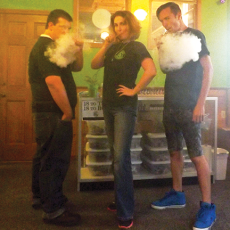 Thank you for clearing up the finer points of vaping for those of us who are new to it.  What is the next step for those who want to make the switch to vaping or have more questions? 
We are not here to convince anyone to vape. Quitting smoking is something done for personal and health reasons. We are here however to give information and assistance to those who have made the decision to explore this alternative. We have a well-trained and knowledgeable staff at the Green Dragon Vapor Company, who can help you get started.
What is the easiest way for customers to find you? 
Look for the Green wall below Tabu on the corner of Will Dodge Way and Pioneer Street across from Wells Fargo – We are open Tuesday through Saturday from 11 AM to 7 PM, or visit our website at www.GreenDragonVaporCo.com
Learn More:
Green Dragon Vapor Co.
72 N. Pioneer St., Ashland
541-200-8342