Interviews
Savina Cirelli L'Unica Skin Care & Sugaring
L'Unica skin care & Sugaring studio is located in Talent, Oregon and is an Eminence Certified "Green Spa". Owner and licensed Aesthetician Savina Cirelli believes in the importance of self-care and strives to provide a tranquil and peaceful environment. L'Unica is the perfect setting for ultimate relaxation and pampering. Savina absolutely LOVES what she does and truly believes that through self-care your quality of life will improve, allowing the transformation and healing you desire to begin! Savina is a licensed Aesthetician and professionally certified in the ancient art of hair removal, sugaring. Specializing in organic skincare, Savina has worked for years with the line, Eminence Organics. She believes that what you put on your skin should be as clean as what you put in your body. Skin is our biggest organ and we should treat it delicately and with love. Skin needs nourishment, so at L'Unica only clean, organic and biodynamic products are used in treatments. Savina's intention is to provide you a space to relax and help you restore and replenish your skin, reach your skin goals, and have you leave feeling renewed!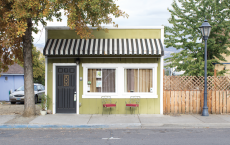 Hi Savina, thanks so much for speaking with us today.
Your welcome, Shields! I am excited for this opportunity to introduce myself to the community!
Savina what first inspired you to create the L'Unica spa here in Talent, Oregon?
I feel extremely lucky to have found this magical green oasis. I had been working in Ashland for a couple years, and had been on the lookout for something that would be cute, easy to get to, with convenient parking…I was open to the entire Rogue Valley, because I see clients from as far out as Williams.  Finding this gem in Talent puts me in a convenient location so clients from all points can get to me.  The bonus of finding this place was that I could finally become a distributer of Eminence Organic Skin Care, which I've been working and training with and personally using for years.
What does L'Unica mean and how did you come up with this name for your business?
My younger sister, Gina lives in Brooklyn and is an Italian Pastry Chef at a restaurant in Manhattan .  My other sister, Renata, lives in Hoboken, NJ and teaches Italian to high school students.  Both of them are fluent in Italian and have lived in Italy on and off.  They recently completed the painstaking process of obtaining dual citizenship for our family.  Naturally when I asked for their advice we came up with "L'Unica", which means "the one" or "the only."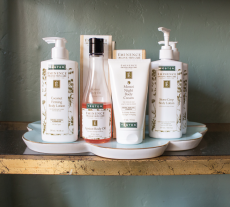 Savina, what is sugaring and how does it work?
Sugaring is an all-natural and effective method of hair removal that uses an ancient method made modern.  The sugar I use is a certified organic and fair- trade paste. It's the cleanest, most natural alternative to waxing on the market.  I 'mold' the softened paste and remove it in the direction of hair growth, removing the hair from the follicle.  The sugar is never hot, and will never lift or burn the skin.
What are the typical results of someone who is sugaring and how often is it needed?
Sugaring not only gently exfoliates the skin, but it refines and reduces regrowth faster than you'd imagine.  Soft, smooth and hairless skin is what the results are.
L'Unica is an Eminence Certified "Green Spa". Why did you choose to work with this line of products?

Eminence is the leader in the spa industry in their commitment to the environment.  They are extremely dedicated to keeping our planet green, and constantly looking for ways to implement sustainable and green practices through every aspect of business.  Their Forests For the Future is a program where every time you buy an Eminence product, they plant a tree.  Eminence has planted 8 million trees so far! The Green Spa program recognizes spas that are actively engaged in green practices so that customers seeking eco-friendly spas can locate us on their spa finder. Their products are handmade using only the freshest Hungarian ingredients known to nature without harming animals or using any harsh chemicals.  Eminence Organic Skin Care is award winning, organic skincare with results. I couldn't be prouder to represent this company!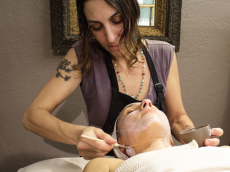 Savina please tell us more about yourself and your background in the healing arts.
I moved to Oregon as a teenager from the east coast, already into healthy foods as medicine and sort of an alternative (to where I came from!) lifestyle. I explored different areas of the west coast and New Mexico for years, learning about organic farming, wild crafting, yoga, massage, vegetarian and vegan cooking.  My two kids, aged 13 and almost 10, were born in the Rogue Valley and I'm so happy that they have had the experience of growing up here. We currently live in Ashland and love it!
Do you have a personal mission or intention for your practice?
My mission is to inspire my clients to take their self-care to a level of delight and to feel good about treating themselves.  I am an advocate for decadent skin care and am here to help my clients reveal radiant skin and enjoy a luxury experience that is affordable enough to become a routine.
Please give us a full overview of the services you are currently providing.
The list of services at L'Unica is in the process of expanding to include full body treatments. I can't wait. I offer full-body sugaring and waxing, and customized facials and peels.  My head to toe treatment involves a sugar scrub on the back and feet, dry brushing on all limbs, warm lotion applied to all limbs, and a facial all in one. This is a 90- minute treatment and is one of the most popular. My 60 -minute facials are a treat too, as they include a luxurious leg and foot treatment. All skincare services are done exclusively with Eminence Organic Skin Care products.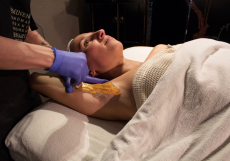 Why do your clients enjoy working with you?
I am told that my clients enjoy working with me because of my calm, friendly, and confident manner that allows them to relax fully during their treatments. They appreciate that I listen closely to their concerns and am willing to adjust or customize a treatment to their individual needs. My clients are often surprised by how well I know my extensive line of Eminence products and love that I will suggest several testers and even send them home with samples to ensure they get the perfect products for their unique skin care goals.
I'd love to hear more about your space.
L'Unica is the perfect setting for relaxation and rejuvenation.  It's quaint in size, with a treatment area and a boutique.  I've gotten a plethora of compliments on the environment that I've created there, from the decor, to the scent of essential oils coming from my air diffuser, to the calm and clear energy of the place as a whole. All aspects of L'Unica work in harmony to ease your spirit when you arrive.
What transformation do you see regularly occurring in your clients?
I see clients from a spectrum of different ages, lifestyles and backgrounds. My clients are relaxed, restored and renewed after coming to see me. They are excited and satisfied about their appearance. Whether it be freshly revealed radiant skin, or smooth and hairless skin. Even a quick 20- minute appointment, simply lying on the amethyst biomat promotes a feeling of of well being, as stress is released by relaxing your muscles and enjoying Far Infrared Ray heat.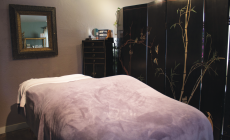 Many of your clients choose to come back again and again and again.
One of my goals truly is to provide affordable services so you can take your self-care routine to new heights. I offer a monthly special on products and services, peel packages, and regular sugarings are discounted. My clients appreciate the savings and it makes it easier for them to keep up with their goals.
Savina please tell us some more about your own passions for organic living and maintaining a natural lifestyle.
When I was a teenager, I began my lifelong journey of organic living. Studying nutrition to gardening, and cooking, to realizing my passion for holistic, organic skincare. I am always reading about skin, I love webinars! Eminence provides exceptional education. I go to regional trainings in Portland twice a year, and quarterly trainings with my lovely Rep in Southern Oregon. When I'm not spending my time keeping up on the beauty industry, I spend it with my kids.  We love escapes to the Oregon Coast, any time of year. My kids will run into the water no matter what temperature! Baking with my daughter, listening to music with my kids, and when there's good music in town. I love to go dancing.
Where would you say you are most masterful in your practice?
My clients tell me that I have magic hands, and have always felt skilled in the art of touch.  During my facials and body treatments I incorporate a good dose of massage, which helps bring my clients to a completely relaxed state.  I also pay attention to the lymphatic system through lymph stimulation, which is very gentle, rhythmic and extremely relaxing.
Please talk about your goal in providing facials for your clients.
Facials are a head to toe experience, and I want to bring my clients to levels of peace and relaxation, along with treating their concerns. I want to reveal and illuminate healthy, glowing skin.
Can you share some recent testimonials with us?
"My skin is the best its been in my life after getting an hour facial and having Savina design me a skin treatment routine. Baby soft skin and clear pores! I absolutely love the Eminence product line. It works and has no disgusting horrible chemicals. I bought an exfoliant, serum, toner, and moisturizer and I actually look forward to washing my face. I can't wait for my next facial. Savina is the absolute best and always takes the best care of me!"  -BL     

"Getting treatments from Savina is such a nurturing experience. Her friendly demeanor puts me immediately at ease and I always leave feeling refreshed and youthful. A visit to L'Unica is my favorite new way to pamper myself!" -KS

"I've been going to Savina for several months now, for a total of four sugaring appointments. I have not been disappointed. I had been waxing and shaving for years and had reached the end of my rope, and after reading about sugaring decided to take the jump and make an appointment. It was so much easier than waxing. Less heat, less painful, and it leaves my skin looking so smooth and glowy!  Savina truly cares about her work and it shows. My arms and legs look and feel so much better than they did so many months ago.  I can also vouch for her facial skills as the one she gave me left me glowy and happy for days! You will not be disappointed!" -SP
Savina, please describe your ideal client.
My ideal client would be open-minded and down to earth.
Savina your practice is currently by appointment only. Please tell us more.
I am available by appointment 7 days a week currently.  That means I am there everyday. When customers want to come try products they contact me and I tell them a good window to come in when I won't be in an appointment. Starting in December, I am going to have boutique hours twice a week, and not schedule appointments those days. Until then call or text me!
You are now offering fall special How can we learn more?
My fall special is a peel package, as fall and winter are the perfect times to peel back the signs of aging and skin damage, as they say.  3 one-hour peels (which is a facial with a peel treatment added) for $150
Are there any last thoughts that you would like to share with our readers?
Thank you for taking the time with me! I am honored to be able to serve our beautiful community!
Learn More:
L'Unica Skincare and Sugaring Studio
105 Talent Avenue, Talent
LUnicaSkincareAndSugaring.com
541-890-8004