2019 symbolized a prolific year of art exhibition for the Schneider Museum here in Southern Oregon. Hosting 11 exhibitions throughout the year, the museum is ever taking steps forward to bridge the gap between the arts and the community in which we live. In today's interview, I speak with Schneider Museum executive director Scott Malbaurn about his plans for 2020. We discuss exciting new shows for the upcoming year and more, including a very special exhibition called "Celebrating Wild Beauty."
Scott, hello and welcome back to LocalsGuide!
Thank you.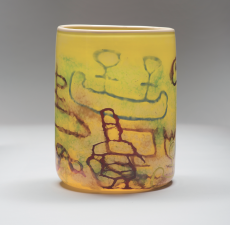 Congratulations on a prolific year of art in 2019. Please give us a year in review of all that happened.
Thank you! It was an exciting year. We staged 11 exhibitions, each providing programming of lectures, tours, and Free Family Days. The artwork on view was by a spectrum of artists from young and emerging to blue chip such as Roy Lichtenstein, Kenneth Noland, Yayoi Kusama, Mark Bradford, and Mark Grotjahn.
We also collaborated with new and local partners. Over the summer we showed artwork inspired by science so that we can connect with the American Association for the Advancement of Science (AAAS) Pacific Division's conference that was taking place on the SOU campus. This also included bringing ScienceWorks into the mix where they selected Seattle-based artist Nat Evans as a participating artist in the show. Local businesses Bestow & Bloom and Jacklily Seasonal Floral Design collaborated with Nat on his exhibition, Mutual Therapy. In the fall we borrowed work from the Los Angeles-based non-profit organization Self Help Graphics & Art.
Working with the Creative Arts program, in 2019 we launched our Visiting Artists and Scholars in Teaching (VAST) residency program to great success. Here artists spend an entire season with us making art, teaching our students, and engaging with community members. This past fall, Las Vegas based-artist Justin Favela used our main gallery as a living, breathing classroom and engaged with both academic and community groups weekly. The VAST program continues in 2020 with a great lineup of visiting artists such as Sarah Shebaro, who runs a print shop in Knoxville, TN. She is here this winter and Grayson Cox from New York, NY will be here this spring.
How did the audiences respond to the works you shared?
Responses have been overwhelmingly positive and we are grateful to all those who spent time with us in our galleries and working with our artists.
Scott, when we first talked in early 2016, you shared many goals and plans for increasing the Schneider Museum in the community of southern Oregon and beyond. Now 4 years later, how do you feel you have met these goals?
We have met those goals and more. We have collaborated with so many local organizations with more to come. We have also taken the museum beyond our valley, hosting talks in Portland, OR, and Brooklyn, NY. This winter we will present the artwork of London, England-based artist Diana Puntar, who was our spring 2019 VAST resident, at Portland Community College Rock Creek Campus's Helzer Gallery. We are excited to share what we do with new audiences.
I'm really excited to hear about your fundraiser gala, "Celebrating Wild Beauty." Please tell us about it.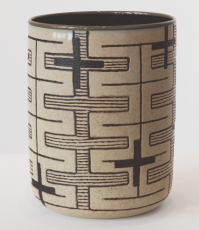 The Schneider Museum of Art's gala celebration will be on Saturday, May 30th. The galas are formal fundraising dinners within the museum's galleries and they are organized by a committee of volunteers which includes Sandy Friend, Judy Howard of Hanson Howard Gallery, Vivian Stubblefield, Mary Gardiner, Roberta Bhasin, and Jeannie Talyor. This year's theme is "Celebrating Wild Beauty" to correlate with our summer exhibition that also celebrates the 20th anniversary of the Cascade-Siskiyou National Monument.
Can you please introduce us to some of the artists you will be featuring in that summer exhibition?
Celebrating Wild Beauty will feature:
1. Grayson Cox of Brooklyn, NY is an artist working in a variety of media, from painting and printmaking to photography and furniture-like sculpture. He is our spring 2020 VAST resident and will make a new artwork in response to the surrounding area.
2. Dot Fisher-Smith of Ashland, OR, who calls her art "moving Zen" and uses canvas salvaged from the meditation yurt she and her husband John had on their land, canvas marked by lichen and streaks from the rain.
3. Malia Jensen of Portland, OR has just completed a statewide project supported by the Oregon Community Foundation's Creative Heights Initiative which includes the Cascade-Siskiyou National Monument.
4. Chris Russell of Portland, OR creates paintings that explore the tension between observation of the natural world and its recreation on the painted plane. He embraces his Portland home, and its access to nature, but is constantly aware of human-imposed boundaries on the natural world.
5. Rick Silva of Eugene, OR will show a suite of 4K videos titled Western Fronts with sound design by Kuedo + Holy Other with drone cinematography assistance by Zack Dougherty. The footage is 4K drone footage of national monuments: Cascade-Siskiyou, Gold Butte, Grand Staircase-Escalante and Bears Ears. The videos are the artist's response to a 2017 leaked memo from the United States Department of the Interior. The memo outlined plans to drastically reduce the borders and protections for these four western national monuments.
6. Isabella Thorndike Church of Ashland, OR will create a local flora installation in the Treehaven Gallery.
7. Mark Tribe of New York, NY will show his 24 hour 4K video Deep Green: Cascade-Siskiyou National Monument, July 20, 2019 which is a 24-hour-long, single-take landscape film with immersive sound that captures the beauty and fragility of a wilderness that is threatened by climate change. This project is supported by an Oregon Community Foundation grant obtained by the Schneider Museum of Art. Special assistance provided by the group Friends of the Cascade-Siskiyou National Monument.
I am also curious to hear about your winter exhibition called Two Generations: Joe Feddersen & Wendy Red Star.
This exhibition is curated by Mack McFarland of Portland, OR and presents the work of two Northwest Indigenous artists who work across media and whose work responds, on their own terms, to historic and contemporary misrepresentations of Native Americans. Joe Feddersen, born in 1953, is a member of the Confederated Tribes of the Colville Reservation and has exhibited internationally since the early 1980's. As a printmaker, basket maker, ceramicist and glass artist, Feddersen combines contemporary materials with Native iconography to create powerful and evocative works that explore the interrelationships between urban symbols and Indigenous landscapes.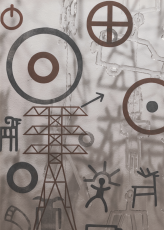 Scott, how do you keep up with it all?
Great support from the University, the Director of the Oregon Center for the Arts, David Humphrey, my team and staff in the museum, our amazing volunteers and museum members along with cold brew coffee.
Please tell us more about your plans for 2020. What do you have in store for us?
Following our winter exhibition of Joe and Wendy's work, we will stage our fifth collaboration with the Ashland Independent Film Festival and bring in Jill Hartz, former Executive Director of the Jordan Schnitzer Museum of Art, Eugene, OR and spouse to AIFF's Artistic and Executive Director, Richard Herskowitz. Jill, Richard and I have curated the exhibition titled Migrating Bodies: For(saking) Life, Liberty, and the Pursuit of Happiness, an exhibition working with the theme of migration and it will include some international and Oregon-based artists with work by:
1. Deborah Oropallo of Novato, CA and Andy Rappaport of San Francisco, CA have collaborated together on an artwork.
2. Superflex, Denmark
3. Guillermo Gomez Pena, Los Angeles, CA
4. Mohau Modisakeng, South Africa
5. Tannaz Farsi, Eugene, OR
Following the summer exhibition Celebrating Wild Beauty, we will present two concurrent solo exhibitions by Daniel Duford and Elizabeth Malaska, both figure-based artists of Portland, OR.
Duford is a 2019 John Simon Guggenheim Fellow, a 2010 Hallie Ford Fellow and a recipient of a 2012 Art Matters Grant. His murals and public art can be found throughout Portland, OR. His work has been shown at MASS MoCA, The Atlanta Center for Contemporary Art, Maryhill Museum, Bellevue Arts Museum, The Boise Art Museum, Museum of Contemporary Craft, to name a few. His work has been reviewed by The New York Times, The Village Voice, New York Press, The Albany Times Union, The Oregonian, Sculpture Magazine, Art Papers, Artweek, The Willamette Week and the Portland Mercury. He is cofounder of Ground Beneath Us, a place-based institute and artist fellowship in Waterford, Virginia. Published graphic novels include John Brown's Body, The Unfortunates Graphic Novel, The Naked Boy and The Green Man of Portland. His critical writing has appeared in High Desert Journal, Parabola, Artweek, ARTnews, The Emily Dickinson Award Anthology, The Organ, The Bear Deluxe, Ceramics Monthly, Ceramics: Technical and Ceramics: Art and Perception.
Elizabeth Malaska holds a BFA from California College of the Arts in San Francisco and an MFA in Visual Studies from Pacific Northwest College of Art in Portland, OR. She is the recipient of a Painters and Sculptors Grant from the Joan Mitchell Foundation, the Hallie Ford Fellowship from The Ford Family Foundation, and a grant from the Elizabeth Greenshield Foundation. Her work is part of the permanent collection at The Portland Art Museum and the Schneider Museum of Art. Elizabeth lives in Portland and is represented by Russo Lee Gallery.
You also have an upcoming docent training?
Yes, we are getting more tour requests than ever before so we are putting out a call to increase our docent pool. Become a museum docent! It is a great way to connect with the community and share a love for art.
We will have a free docent training class on Friday, February 21st from 2:00PM-5:00PM. To register, please call 541-552-8248 or email sma@sou.edu.
Are there any exhibitions you are interested in bringing to the Schneider Museum that you have your eyes on?
Yes, there is an exhibition titled What Needs to be Said: Hallie Ford Fellows in the Visual Arts which is packed with the 2014, 2015, and 2016 Hallie Ford Fellowships in the Visual Arts program recipients. The exhibition includes the artwork of Karl Burkheimer, Ben Buswell, Tannaz Farsi, MK Guth, Anya Kivarkis, Geraldine Ondrizek, Tom Prochaska, Wendy Red Star, Jack Ryan, Blair Saxon-Hill, Storm Tharp, Samantha Wall, and Lynn Woods Turner. I believe we will be able to bring the show here winter 2021 if I can solidify funding.
Scott, what is your vision for how you will continue to grow the reach of the Schneider Museum more and more out into the community, southern Oregon, and beyond?
Currently, the vision to continue to grow the reach of the Schneider Museum of Art is to create a new visual art event in southern Oregon. Something that will be able to increase the awareness of the visual arts as well as contribute to our local tourism and economic sustainability. We are looking at events similar to ArtPrize in Grand Rapids, MI and Desert X in Palm Desert, CA. Both Art Prize and Desert X have created a significant impact on the arts, ecology, and local communities. I believe that our region is poised for something like this. We have the hospitality infrastructure in place. We now need to find partners and co-sponsors and start planning for the future.
Thanks so much for speaking with us today. Do you have any last thoughts or comments you might like to share?
Be sure to see our current exhibition Two Generations: Joe Feddersen & Wendy Red Star now on view through March 14th and check out the other events listed and save the date for our upcoming Museum Gala on May 30th!
Learn More:
Schneider Museum of Art
555 Indiana Street, Ashland, OR 97520
sma.sou.edu
541-552-6245