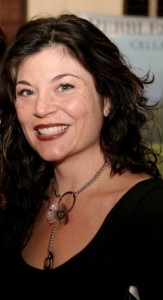 Shannon Christopher is the owner of Renú: A Hair Salon in downtown Ashland.  I decided to catch up with her to learn a little bit more about her salon and the role she plays in our community.
Shannon, thanks for doing this interview with us today can you start by telling a little bit about what your sparked your interest in creating Renú and also some of the ideals and values you bring to life through your creation or Renú: A Hair Salon?
My first experience with ownership was with Salon Anubis in the Underground Marketplace.  I had that shop for about 3 years, and we existed in a windowless, concrete floored basement.  It was pretty ugly at times: flooding, eau de sewage, other basement-like issues, but overall it was a really great experience, and it certainly guided me to know exactly what I do and do not want in a salon environment!
So, that said, I had this itch to do something different as a salon.  Mind you the economy had just tanked when I decided to make my move, but I pulled myself together and with the help of Ed and Tanya Bemis (owners of both the Anubis location and the Renú space), I was able to open a beautiful, bright, airy, very organic and natural feeling salon.
My desire was and still is to maintain a space where many of the furniture and décor items are recycled, found, or handcrafted locally; where I carry all-organic hair care lines because I believe that caring for our hair in the same way we care for our bodies is crucial to our overall health; where I can create a salon-gallery feel and be open for occasional First Fridays to display works of local artists, (who have all been clients of the salon, so far).  I continually want to bring in some kind of feeling of community.  We don't "just do hair."  We are part of Ashland, individually and as a collective.
When you first got the idea to create Renú, how did you go about designing and pulling it all together? Did you already see yourself as an artist / designer or is this something you discovered along way?
Well, honestly my very basic inspiration was the bottle color of one of my hair products.  Orange.  Delicious orange.  I feel that it is such a clean color, and I have accents of orange throughout the shop.  I also wanted Renú to feel soft, positive, and a little urban, (being in the alley evokes that city feeling).  I did not over decorate, I very thoughtfully considered skin tone and lighting when choosing my paint colors-actually the most common question I am asked is about my paint palette!  The colors are also a lovely backdrop to the variety of artwork that has been on my walls.  (That's my plug for Miller Paint…)
I have art studies in my background-that's is why I have such a creative job-but I had never really designed anything before, and this job included deciding where to put walls, a window, doors, picking out lighting, custom cabinets, sinks, etc.  I guess I didn't realize my inner designer until I had the opportunity to just do the whole thing!  It was hard, but fun.  And now I have a really beautiful and unique space.  Our customers love it!
Renú is surrounded by several other hair salons, talk a little bit about how you work together with the other salons to have a unique symbiotic experience?
Ashland has quite a few salons; five of which are within a shampoo bottle's throw of my own.  There has never been animosity or the feeling of competition with my neighbors.  The owners of the other shops are professional and friendly.  My experience is that we send clients to each other and we call if we need a tube of color or help with something.  I love that there are so many shops close by.  Each salon has its own flair and ambiance, and I think that within my block, there is something for just about everyone!
Ok, now for the readers who have not been into Renú one of the unique aspects everyone will immediately notice is a very bright orange park bench which sits inside the salon. I'm sure that you get this question a lot but tell us the story about how you ended up getting this bench and any tales that come along with it.
I had seen it at the Grange, and immediately fell in love.  It was that perfect, delicious orange that I mentioned before.  I did not get it right away, though.  It was a little more than I wanted to spend, I was at Salon Anubis at the time and wasn't even sure where it would go.  I just knew I loved it.  So I stewed and swooned over it for 2 weeks.  An afternoon arrived where my daughter was tired of me wishing for the bench.  She grabbed my keys, smacked them in my hand, and told me to go get the stinking bench!  So she and I went and got it-thankfully it was still there-and we took it down to the salon, and found a perfect spot for it.  Funny, though most people didn't really notice it until it got moved to Renú.  Now it gets multiple compliments weekly!
Shannon, how are you working with your clients to build long term relationships, develop friendships all the while having fun and reaching out to support our community?
I think client retention is not only about skills and technique, but also about personal chemistry.  If you and/or your customer don't feel quite right about the relationship, it will be short lived.  When you can find that sweet spot, a deeper, more trusting stylist/client relationship will grow.
I have many close friends in Ashland.  I will have lived here for 18 years next April, so I have had plenty of time to establish a strong group of supportive friends.  My best amiga from college even moved here from Colorado via Seattle to hang with me in Ashland!  (My plug for my BFF Erin O'Kelley Muck, owner of Ruby Slipper Designs).
As far as our community involvement goes, we did a hair drive early last summer to send hair to the gulf and help create boom to absorb oil.  Hair is amazingly absorbent, and literally tons of hair was donated from all over the nation.  It felt great to be a part of something bigger, and customers loved that their locks were going to help clean up the BP disaster.
We also do an annual food drive to support the Ashland Food Bank.  It is happening right now, actually.  We are a donation drop off site until Dec. 23, and if you bring in 4 or more items for donation, you get 20% off all hair care products as a little thank you.
I am also interested in joining Rotary.  I just have not carved out the time, but it is certainly an intention for my future.
Best advice you were ever given and or best story every told while dressing hair?
I don't really have one answer for this one.  In my 10 years behind the chair, I have experienced births and deaths with my clients.  Graduations and weddings. Cancer and recovery.  Outrageous laughter and sorrowful tears.  I have had hellos and goodbyes and hello-agains.  Being a hair stylist is a very intimate profession.  The stories and advisories are the details of our lives.  I feel grateful for the opportunity to be an insider into so many people's biographies.
Shannon, you had mentioned that you and your husband have three teenage girls and that you get to do their hair from time to time.
Can you share a little bit about this experience with us?
It gives me individual time with the girls.  I see my two stepdaughters three days a week and we rarely if ever get an hour alone, so it is a nice way to connect with them.  I think at least one of them is due for a visit to my chair now!
My daughter and I have great talks and plenty of laughter while she's getting her hair done.  In the past, several of her friends have come to have their hair done too, and we all spend the afternoon at the salon.  Kind of a hair party.  It feels special to me, and I hope my girl has fond memories of those times later in her life.
What's your favorite part of living in Ashland?
I love being able to walk and ride my bike everywhere.  I love the high school.  I love the hills and the access to the coast.  I love the local wine.  I love our community!!
Favorite local hike?
Oredson Todd Woods to the top of White Rabbit.  Butt buster and beautiful.
One thing you would like to see citizens of Ashland working together to change or accomplish?
I would like to see Ashland become more dog-friendly.  This means dog owners would actually have to be responsible for their pets-read: keep your dog on lead and clean up the poop.  Bend, OR is a fantastic model of a city that has come to terms with the fact that 90% of its citizens have a canine!  Seriously my Dobie Lucy and I would really appreciate it!
Any last words or comments for our readers?
Stop by the salon!  I would love to meet you!
Also come check out beautiful paintings by Robyn Janssen hung through December.
Renú: A Hair Salon, 141 Will Dodge Way, Ashland, 541.488.9567
renú
revive
restore
replenish
reawaken
regenerate
reactivate
revitalize
reinvent
renew
renú