Interviews
Sheila Burns & Karen Chapman – Bloomsbury Books
Shelia Burns and Karen Chapman are two of the original owners of Bloomsbury Books. Over the past 33 years Bloomsbury's Books has found its way into the hearts and homes of book lovers from far and near. Visitors to Ashland make it a mandatory stop and ritual to visit, while children have grown up reading from one section of the store to another.  Local authors, guest lecturers, local reviews and a friendly, dedicated and knowledgeable staff bring everything to life. Even with the advent of enormous outside forces, Bloomsbury Books has held its own with local customers stepping forward to say "YES, books are important and having a local book store is something we will support!"  I had the pleasure to meet and speak with Shelia and Karen to learn more about their story and the unique gem that is Bloomsbury Books.
Karen and Shelia, I love your book store!  Please take us back to where it all began?
Bloomsbury was born in the fall of 1979.  The four founders were Denise Harnly, Nancy Peterson, Karen Chapman and Sheila Burns.  We didn't know each other well but found we each had a long-time dream of opening a bookstore.  At the time, we all had young children and felt we couldn't do it alone.  After our first meeting, we discovered we also had the same vision of a perfect bookstore.  Denise moved away five years later and we lost Nancy to cancer in 1997.
When did you make the move to downtown?
Our first location, the E.V. Carter House on Siskiyou Blvd., was small (700 sq. ft.) but it was a good place to start.  We shared the house with Hanson Howard Gallery and enjoyed our relationship with Judy Howard while we were there.   However, we quickly had growing pains and our move to downtown five years later doubled our space.  In 1991 we again felt the need for more room, so when a store a few doors away became available we remodeled the space to fit our needs.  Part of our original dream was to have a coffeehouse and this move gave us that opportunity.
What were you both doing before you started the books store?
Sheila:  After graduating with a degree in theatre from Northwestern, I worked quite unsuccessfully as an actress in New York before moving to Oregon and becoming the administrator of a non-profit.

Karen: Before the bookstore I had a life of dance.  The University of Utah's excellent dance program drew me and I envisioned a career.  But the plans changed with love, marriage and children.  After we moved to Ashland in 1970 I taught ballet while raising two daughters.  During this time I also worked part-time at the Daily Tidings assisting their bookkeeper.  This experience translated very well into the needs of the bookstore.
Did you both come from literary families?
Sheila: My parents, both lawyers, were avid readers.  My father had an early copy of ULYSSES, which intrigued and puzzled me for years.

Karen: I was one of five children and the only one who enjoyed reading.  From the time I first learned to read I had my nose buried in a book.  I think reading allowed me to escape the chaos of a large family.  I would get so engrossed in a book that I could tune out everything.  To get my attention my brothers would cup their hands to my ear and say "earth to Karen."
What has made your partnership successful?
Sheila: We shared the same vision – a literary bookstore that would be welcoming and inviting, the intellectual heart of the community.  We treat the store as its own entity, as if we both are employees.  Consequently, the staff feels the same ownership we do.  They refer to it as "my store."

Karen: We were warned at the beginning that few partnerships survive, but here we are 33 years later.  Our partnership has been based on a mutual desire to be a part of a successful bookstore and we each found our niche within the partnership.
P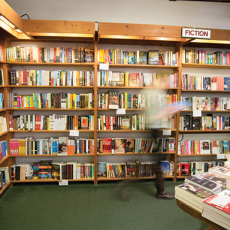 lease introduce us to your amazing staff.
Anita Isser, our manager and children's book buyer, has been with us for almost 25 years.  She makes sure everything runs smoothly.  Rebecca Gabriel, a successful artist and another long-timer, likes working part-time so she can have time for her art.  You will find her working on most weekends.  Susan Chapman is indispensable as the events coordinator and general all around expert. Our youngest member, Becky Gilmer, is in charge of our social media.  Check out Becky's Blog on our website, bloomsburyashland.com.  Greg Lincoln came on board a little over a year ago and has already become a valued member of our staff.  He is in charge of our science fiction/fantasy sections and, along with Becky, has been doing our window displays.  John Gaffey is a familiar face to most Ashlanders.  He has been working at the store off and on for many years and we appreciate his computer knowledge. Thank goodness for John Mullowney who takes care of ordering and maintaining the magazines and calendars.  Kara Jordan sorts and posts incoming invoices and makes sure our vendors are paid on time. We have a great staff of interesting, accomplished people.  Everyone is a book lover and they all have remarkable depth and variety in their literary tastes.
Tourists love Bloomsbury as well.
Sheila: The Oregonian chose us as the best small bookstore in the state last year.  We even had a young man, living in Portland, get married in the store because he felt that, growing up, it was his greatest influence

Karen: Travelers to Ashland often express to us how glad they are to see an independent book store thriving.  Many have lost their community book stores in the past several years and appreciate the uniqueness of a local book store.
I can't imagine an Ashland without Bloomsbury.
Sheila: We thank our customers for our longevity.  Small book stores have disappeared in shocking numbers in the last few years, but our literary community has chosen to support an independent store.

Karen: Yes, we are so fortunate to be in this community.  We believe in "paying it forward" by supporting community events and donating to worthy causes.  Our window displays are often dedicated to promoting a community project, such as EAT SHOP LOCAL; reminding people to support our local growers.
I love reading the little reviews you have displayed in the store and also your great selection of books by local authors.
Sheila: Besides our great staff, we have a carefully curated selection of titles.  We can't carry everything and sometimes a huge selection is overwhelming.  I think, after thirty-three years, we are good at picking the books our clientele wants to read.  Since we opened, we have posted our own reviews beside titles we think deserve attention, and the reviews, done by the staff, are a very popular feature of the store.
Karen, will you please tell us about the local events you host. 
Often we have major authors reading at Bloomsbury.  Last year Cheryl Strayed (Wild) and Pam Houston (Contents May Have Shifted) appeared together for an event.  We have hosted Jean Houston, Jamie Ford, J.A. Janice, Ursula Le Guinn and many others.  We have many local authors and like to support them and provide a space for their readings.  All of these events are free.
With the adve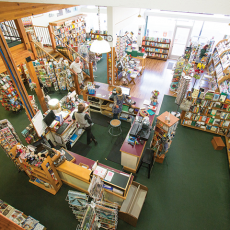 nt of Amazon, ebooks and the internet many towns have lost their local book stores. How has Bloomsbury held it's own and what do you see as it's unique edge as we move into the future?
Sheila: The advent of ebooks initially drove a lot of small bookstores out of business, but their momentum has slowed.  Electronic books are going to be around – a lot of people love them and, for many, they're a great travel accessory, but no one thinks they will replace print.  Amazon is still willing to sell books at a huge loss in order to dominate the book industry.   They are tough competition and we appreciate customers who buy locally, knowing that our business enriches and supports the community.
Let's talk about the holidays! Books make fabulous gifts, give us a few suggestions.
Sheila: It's a fantastically rich, new season.  All of our favorite authors, including Bill Bryson, Amy Tan and Thomas Pynchon have new books coming.  We have been reading advance copies of debuts we believe will be exceptionally strong.  Look for our reviews in the store.

Karen: Bloomsbury offers free gift wrapping and customers like our gift certificate card which says, "A book is a present you can open again and again." We are happy to special order books and often they will arrive just one to two days later.  We also provide "out-of-print" book search service.
Learn More:
Bloomsbury Books
290 E. Main St. Ashland
(541) 488-0029

 Hours:
8:30am – 9pm  – Weekdays
9am – 9pm – Saturdays
10am – 6pm Sunday