Introducing Soulsmile, the dental office of Dr. Aron Kivel. By combining leading dental technology, good old-fashioned communication and sincerity, and modern business concepts such as transparency and patient collaboration, Dr. Kivel and his team are able to create a unique dental experience.
One of the special services offered by Soulsmile is the use of video-streaming computer-aided design (CAD/CAM) to make a virtual model of a patient's teeth. This is used for orthodontics, implants and crown, bridge and veneer fabrication.  With wireless communication to an on-site milling station, restorations are fabricated in house, a huge time and cost savings to patients.  Virtual models are also sent instantaneously over the internet to various labs depending on their expertise.
Dr. Aron Kivel graduated from the University of the Pacific School of Dentistry in San Francisco, revered for its strong clinical focus and heavily weighted humanistic approach to dental education, a model designed to nurture an empathetic and compassionate chairside approach.
Upon graduation, Dr. Kivel joined both the famous dental office of reality TV's "Extreme Makeover" in Century City and the Center for Aesthetic Dentistry in Beverly Hills, experiences that laid a strong foundation of personalized and modern dental care in a backdrop of Hollywood stars and entertainment industry leaders. "What I remember most is how nice and down to earth folks were one-on-one.  I'll never forget shooting the breeze with people whose music and films I love.  Just everyday people getting their teeth checked out, mostly."  He then lived and worked in Manhattan Beach where he began to see the virtue of delivering health care with a tight, highly-trained clinical team to hard-working patients looking for excellence, efficiency and excellent value.  
After five years in the Los Angeles area, Dr. Kivel wound up helping a dentist in San Francisco stabilize his practice after the dentist suffered a stroke.  Eventually, this led to Dr. Kivel moving back to the Bay Area, near family, to assume ownership. The practice became known as "sfdental", with the motto "Modern Dentistry – Classic Values."  It received hundreds of 5-star reviews and offered a full range of services that prided itself on these two promises.
What lingered was an idea of living in a special small town, taking Modern Dentistry and Classic Values to another level, one that dove deeper into the patient experience. "My wife and I spent years visiting and playing in great small towns of the West.  Ashland stood out for all of the reasons I hear echoed by patients all of the time: community, culture, family-orientation, schools, recreation, weather, seasons, pace.  The list goes on!"
We spoke with Dr. Kivel to learn more about his practice, Soulsmile, here in Ashland, Oregon.
Dr. Kivel thanks for taking the time to do this interview with us today. Please tell us about your inspiration for moving to and taking over a practice here in Ashland.
The pleasure is all ours.  Thank you for interviewing us and providing this amazing format to say hello to your readers.  We are very grateful to you.

Starting in San Francisco, Ryann and I toured towns in the West counterclockwise, when we could, in our little RV. The sole purpose was to find a great new home.  When we arrived in Ashland, we had contemplated dozens of great towns.  Ashland grabbed our attention as soon as we pulled into town.  We chanced upon the Festival of Lights on our first visit here and the rest seems like a few weeks of discovering attributes of just the town that we were looking for. What we didn't know was that the community, culture and "good vibes" of Ashland would deliver beyond our expectations.  We feel so lucky to be here.

After being introduced to colleagues in town, it turned out that two of the most well-respected local dentists were nearing retirement, two guys with stellar reputations both locally and beyond.  Well, we got to know them and the fit turned out to be great.  Both dentists were loved by their patients and did absolutely excellent work.  They also were passionate about their profession.  To love your work, and be loved in your work, is pretty darn near the definition of "success" in my book. So it is an honor to follow in the footsteps of Drs. Dumont and Benson.  
Let's get back to the old-fashioned communication and sincerity you speak of. Who have been some of your mentors and inspirations in your life for this, and tell us more about the new name that you and Ryann choose for the practice – Soulsmile.
My step father was an amiable guy that gave a firm handshake and a friendly look into the eyes of anyone he met.  One day it occurred to me that he never used the word "I."  Isn't that amazing?  He framed his entire interaction around whoever he was talking to.  And he meant it.  Well, I could never be him.  But I do credit him with allowing me to see my work in the eyes of my patients.  The dental experience means different things to different people.  From no-big-deal exam and cleaning to, you know, really scared, scared about money, pain, lots of things.  

Well when Ryann and I knew we were moving on to our final practice, and with LA and San Francisco, ortho, implants, cosmetics and other experiences, we felt strongly about "rocking a blue suit to the party."  You know – making a bold statement about how much we want our patients to feel great about the smile that comes from deep down.  For many, this means being confident in keeping their teeth for life while keeping their natural aesthetic.  For others it may mean having a smile they've always wanted, through veneers or orthodontics, for example.  For some it means digging down deep to overcome their fears with a dentist and team they really connect with, doing some challenging work together, working towards a goal that has always seemed out of reach.  

Ryann proposed the name Soulsmile.  And it was like meeting Ashland … done!

Soulsmile is a two-way commitment.  Patients bring us what they want for their dental health.  And we bring to patients a plan to get them there.  One goal: deep satisfaction with whatever "smile" means to our patients.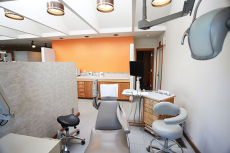 You have a very interesting journey that led you to becoming a dentist. You were actually an intellectual property attorney before you became a dentist. You must really enjoy a good challenge to have been able to succeed in both careers!
You are an outstanding detective!  I had become interested in medicine late in college.  It seemed whimsical at the time so I stayed the course with my business major.  I went on to work for Oracle Corporation where I was introduced to the concept of intellectual property which eventually led to going to law school and then practicing trademark law.   But the nagging itch from "the doctor bug" never quite went away.  By then I had discovered dentistry and was hooked.  Eventually, I found myself chatting with the UOP Dental School admissions office and the rest is history.  If any undecided student would like to contact me on this topic, please feel free.
Early in your dental career you had the opportunity to work in some very interesting dental settings, including the dental office of Dr. Bill Dorfman, who is well known for the TV show Extreme Makeover. What key principles have you incorporated from these experiences into your new practice here Ashland?
The Extreme Makeover take away was how emotional the dental experience and outcome can really be.  Many people who know of the show may not know that the "reveal' of the patient's smile were temporary veneer and crowns, not even the really beautiful final restorations.  Yet the impact was still massive.  It wasn't just the patient who let tears go, everyone in the room did!  Doctors too.  

But really I think of working in the Manhattan Beach area of Los Angeles and San Francisco as the important experiences leading to Soulsmile.  People just like you and me want to keep their teeth for life, are apprehensive about services that they can't even see, and really value the connection with the doctor and team they've chosen.  
You are also a very active student – continually seeking out new material and taking advanced training programs. I heard that in this past period, you completed more than 6 times the required continuing education units required of dentists! Please talk about your passion for learning and the training opportunities you provide for your team.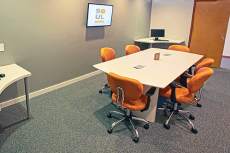 Since 2012, I dedicated my continuing education to two subjects:  CAD/CAM (computer based) dentistry and implantology.  Eventually I became a mentor for Scottsdale, Arizona's CERECdoctors, the leading instruction institute for digital dentistry.  Simultaneously I trained with two international implant programs to deepen my education in restorative and surgical dental implants.  The goal of both was to reduce the hassle and cost of two very expensive procedures, crowns and implants, for our patients.  In broadening my experience in implants, I am also better able to work with and refer challenging cases to specialists.

At Soulsmile we have a meeting room symbolically smack dab in the center of the office, dedicated to patient education and team training.  We have a policy of meeting before the workday and closing the office for one hour every week and four hours every month for calibration and training exercises, continuing education review and outside presentations.
Building upon your experiences in San Francisco, you are very committed to using cutting-edge technologies.
One of my favorite business authors, Jim Collins, in his book Good to Great, covered the role of technology in great companies in a way that I believe to be true.  He said that technology was not the reason for the greatness, but rather an accelerant.  In short, he said that greatness came from, first, the people, then, producing an excellent product through a predictable system based on core strengths.

So I would say that is what I aspire to at Soulsmile.  Our highly-trained team will use leading-edge technology in a systematic way so as to produce dental results that are predictably excellent.  Right now our primary focus is on CAD/CAM for digital impressions.  We also rely on photography a great deal for patient communication.  Behind the scenes we use lasers and other mechanical technologies… but hopefully our patients are barely even aware of those.  We'd rather they enjoy the Bob Marley coming out of the speakers!

The future is, of course, wide open.  From 3D imaging to biomimetics, we'll be there.
Part of the process I had never considered is that by fabricating your own restorations in-house, you can eliminate the temporary fixes and this brings huge benefits to the patient experience.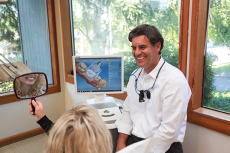 Digital impressions make our treatments more accurate and efficient for everyone. Time and cost savings are passed directly to patients. Our patients also benefit from minimally invasive techniques as working in same-day digital dentistry simply changes the way a dentist can think about delivering service.  Also, patients have a complete understanding of what is going on, why, and what solution is being provided.  It is very interactive and, actually, a lot more comfortable too.
How do you see the world of dentistry changing over the next ten to fifteen years?
At this stage in technological and scientific advancement, it seems that what is imagined one year is being made reality a short time later.  I've already seen crowns milled from a patient's previously removed third molars; it is possible that harvesting dental tissue early in life for use later in life is a very real possibility.  And robotics in dentistry seems to be a strong likelihood.  

As for the practice of dentistry, with practices becoming more sophisticated, I believe we will see three practice types emerge:  corporate practices lead by non-dentists with a solely for-profit business model, group practices designed to consolidate services under one roof in a cost-control business model, and geographically-distinct affiliated dental practices led by passionate individuals who are willing to work together to provide high-quality well-orchestrated services at a great value while remaining intimately connected with the patient base.  The sole dental provider will likely not be a viable entity within ten years.  This is, of course, just my opinion.
Soulsmile will be participating in the Mini Makers Faire with ScienceWorks. Can you tell me more?
We are really looking forward to seeing all the great exhibits at the Mini Makers Faire in town.  On our end, we'll bring our CAD/CAM acquisition unit, milling station and crystallization oven to show the entire process of in-office restoration fabrication.  We'll do live demos and also have various scenarios ready to show, for example, implant, ortho/invisalign, crowns, veneers, smile makeovers, and, of course, some digital-gone-wrong, just to demonstrate the importance of good data input when using CAD/CAM.  
Over the past year in Ashland you've received some great reviews for your services. Please share some recent customer testimonials with us.
Thank you for asking.  We have been blessed with a warm reception from the community and our patients.  I hope people can feel our dedication to this great town and region.  So the feedback really is so meaningful to us.  Here are couple recent favorites.

"Dr. Kivel and his staff are professional, skilled, informative, thoughtful and friendly.  I particularly liked the clear explanation of options and procedures available, and the reasoning behind each available choice. The technology this office uses is light years ahead of any other dentist I have been to. My two most recent former dentists were both fairly young practitioners, who were all very good, but compared to my experiences with these former dentists – Dr. Kivel's level of care felt like jumping from medieval times to the computer age, skipping the industrial revolution altogether." – Eugene A., via Yelp

"Dr. Kivel and his team are an absolute pleasure to deal with. Scheduling appointments is always a breeze, they're situated in a beautiful and modern office washed with natural light, and the quality of care and attention to detail is outstanding. Top-notch in all respects! As a plus, Dr. Kivel is just an all-around cool guy. Highly recommended." Julian S., via Google

"I was having an issue with a crown and experiencing some pain from a nearby tooth. I sent Dr. Kivel a message. He was quick to contact me and set up a time to meet to take care of it. That may not sound so extraordinary except it was a Saturday afternoon. He along with his wife, Ryann, met me at his office and took care of the issue. Who does that? Thank you Aron and Ryann for going the extra mile!" – Pam V., via Facebook
I know you and Ryann love having an active life here in Ashland. What adventures do you guys have planned for this upcoming year?
We are constantly blown away by the lineup of fun outdoor activities and cultural events in the area.  I love riding bikes, kitesurfing and surfing the coast, and trying to keep upright while learning to whitewater kayak.  Ryann's favorite is motorcycle adventuring, especially when it begins with breakfast at Greensprings Inn. We'll be mixing those up together, as well as seeing our first Elizabethan Theatre Shakespeare performance, and hiking a few segments of the PCT this summer.  What a great place to live!
Last but not least, do you have any last thoughts or comments that you would like to share with our readers?
Sure, I do have two parting comments.  First, we have an ongoing philanthropy program whereby we provide dental care to a community member in need at no cost.  All that is required is an email to our office with a brief explanation of the situation and contact information.  We are also attempting to put into effect a program where we will open the office for an entire day every two months to provide care for those in need.  Hopefully the Rogue Valley will see organized dental philanthropy in the coming years so that we can all live without serious dental concerns.

Lastly, I would like to say a special thank you to my team.  They work incredibly hard to connect with our patients' wants, to then provide systematic dental excellence, over and over.
Learn More:
Soulsmile
www.soulsmile.com
1144 Iowa St, Ste A
541-482-4995