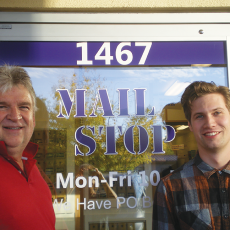 Conveniently located in the Market of Choice Shopping Center, The Mail Stop fulfills all your shipping and postal needs faster and with less hassle.  From FedEx to UPS, USPS to Private Mailboxes, The Mail Stop can help you get your packages shipped quickly and easily and without the long lines or terrible parking you might experience in other locations. We recently dropped in to speak with local owner Loran Faudree.
Loran, thanks for talking with us today.  The Mail Stop is celebrating its one-year anniversary in the new location. How has the last year gone for you?  What are customers saying?
Always nice to connect with 'LG Nation.'  The Mail Stop has been making several transformational changes. We are 'Greener,' and better positioned to serve our clients.  The move next to Market of Choice and Milagros has made The Mail Stop more accessible, more convenient, and a pleasant place to do business.  Customers continue to comment on how easy it is to park at The Mail Stop and that they can accomplish more than one thing while at the shopping center.
Loran, give us a brief overview of the services you have to offer at the Mail Stop.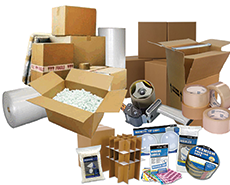 Shipping – We ship memories, personal treasures, financial documents, travel documents, and commercial shipments in small boxes or large boxes. Our shipments go to local and international destinations. Our fully integrated shipping system lets you see exactly when each carrier delivers and how much it will cost. No need to spend time looking up rates or calling for quotes that don't include insurance, pick up fees, or other restrictions. Get all the information, right at our counter, from a friendly professional staff.
Private Mailboxes – Our private mailboxes offer convenience, security, and privacy at competitive rates. 24/7 access to receive packages from all the major carriers, and all USPS deliveries.

 

Renting a box at the Mail Stop gives you a street address and maintains your privacy. No more packages or important documents left unattended at home or work. Rentals start at $15.00/month with a three month minimum to start. Setup fee ($5) and key deposit ($5) required. Two pieces of signed, pictured ID are required. Boxes are available. Process takes about 10 minutes.
Drop Offs – The Mail Stop accepts 'drop-off packages' (returns and those packages that already have shipping labels on them) for USPS, FEDEX, UPS, and DHL. Drop off your packages and be done with waiting for the driver to come. When you drop items off at the Mail Stop there are NO PICK UP CHARGES and same day pick-ups.
Copy, Scan, FAX, Notary – Notarize important documents and if needed, ship them overnight from the Mail Stop. Notary fees are $10.00 per stamp. We also scan documents for customers and can e-mail directly to recipients of your choice.

 

We also recommend a courtesy copy for your own e-mail 'inbox'.

 

The Mail Stop can also do small black and white or color copying jobs on site.
Mail Forwarding – Going on vacation? Moving? Going to your second home? No problem. The Mail Stop staff is at your service! For a fee ($2.00) we can forward your mail at your request to another location even if it is international.
Shredding – Disposing of important documents has become a top priority for large corporations and many everyday Americans. Your documents are shredded on site and recycled. Cost is $.69 per pound. Save pick up fees (usually about $30.00) and the inconvenience of 'waiting for the driver.'
The line at the downtown post office can be horrendous during the holidays.  Are you offering similar services at The Mail Stop?
Well not the long lines, but we do have the other Post Office products.  Flat Rate envelopes and Flat Rate boxes work well for customers who want to ship an item 'that is heavy for its size.' Flat Rate shipping also offers delivery in 2 – 3 days to most destinations and USPS tracking. You can also save money on this type of shipping because the box or envelope is provide at NO CHARGE! We can save you time and money!!
Customer service is important at The Mail Stop and we love your little sign which reads, "Services may vary according to my mood and your attitude."
Christian and I regularly count our blessings that our clients are so nice to work with.  Our first time visitors usually appreciate the helpful tips we extend to them about packaging, saving money, or getting deliveries when needed.  Repeat customers appreciate the choice of how to ship parcels and the fact that they can get stuff shipped quickly, professionally, and without long lines.  At the Mail Stop, sending packages doesn't start with where do I park, is there a line, does anyone care about what am I doing?
How has Christian's mood been recently?
He has handled political issues such as Bates v. Dotterrer by putting their flyers in the appropriate private mailboxes at The Mail Stop. He handles the GMO issue with transparency when we are sorting the mail. He suggests using recycled boxes when asked how to pack things.  All in all, I'm thinkin' bout giving him his first Gold Star (out of a box of 50) for such a solid, dedicated performance. I keep hearing customers say, 'He's a great kid.'  A chip off the ol' block!
Are you guys doing your exercises to be in shape for the holiday rush?
We are indeed!! We regularly pull tape off of rolls and apply it to packages to increase upper body strength and improve finger dexterity. Our minds are razor sharp from remembering zip codes and estimating how long it will take for your packages to be delivered. As long as there is Rock n Roll we will be ready!!!
Do you guys still have P.O. Boxes available?
The Mail Stop has one of largest choices of private mailboxes in Ashland. People working out of their homes don't have to use their home address on business correspondence. Businesses that are not open everyday don't have to leave their mail unattended when closed.  People that are away from home during the day don't have to leave packages 'exposed to view' on their porches until they return at night. Our 24/7 access allows customers to get their mail after hours, on weekends or holidays. Another advantage is mailbox holders have a street address that allows delivery from all major carriers. Cost is $15.00/month.  We also do mail forwarding!
I noticed that you have some great greeting cards and gifts.
We continue to expand our retail space to meet consumer demand.  The greeting cards go with birthdays, anniversaries, graduation, and congratulatory events that often accompany gifts and shipping. Our journals, note pads, and other accessories are available to compliment your thoughtfulness.
OK, what's the scoop with the 50 giant crates that took up 12 parking spaces outside the shop?
When we say we accept shipments from all major carriers we mean it!
Oh, my grandmother wants to come down this week and have you guys pack up all her fine crystal and china to get sent back east… any comments?
Come on down! We wrap, pack, and ship; but most of all we listen to your concerns and understand that the contents of a box are not always about dollars and cents. Memories, personal treasures, heirlooms, and special occasion items can have a different value.  We try and protect those values also. If you need professional packing services, care and understanding, try The Mail Stop first.
What are the most common mistakes people make when shipping something of value?
There are probably two things that occur over and over again around damage during shipping. Not having the right materials for the packing job, and not purchasing insurance at the time of shipping.  Insurance fees are approximately $1.25/$100 of insured value and is a good deal to send along with your package. If your package contains valuable items, wrap it, pack it, INSURE IT, and ship it, or let us do it.
Finally do you have any special comments or thoughts you might like to share with the community?
I'd like to give a shout out to the many customers who have supported our locally owned and operated business.  We sincerely appreciate it.  In closing, a couple of suggestions about Holiday shipping: First ship early….it is cheaper.  Next, if you lack the proper shipping materials to pack your item(s) bring it in to the Mail Stop and for a small fee we can do it for you. (Our reusable boxes start at $.95; such a deal.)  If you think you need to insure your package because of it's value you probably should. Ask about the cost at the time of shipping. And last but not least, see step one, ship your Holiday packages early!
Where can you be found when you're not at the shop?
My dog Sophie and I are frequent hikers on the Ordeson Todd/White Rabbit trails. It is so nice to have the peacefulness of nature right out the back door. I also enjoy some fantastic day trips biking through the local vineyards and orchards. Can't forget Mt A and some of the great skiing that is available.
Learn More:
The Mail Stop
Loran Faudree, Christian Welsh
1467 Siskiyou Blvd
541 488 1204