Interviews
Valerie Rachelle & Rick Robinson – Oregon Cabaret Theatre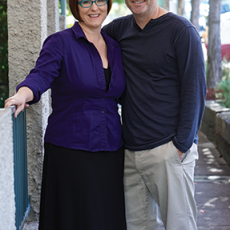 Get ready for another great season of all new performances, fresh energy and excitement brought to you by the Oregon Cabaret Theatre! The LocalsGuide headed over to the Cabaret to meet with new owners Valerie Rachelle & Rick Robinson to get the inside scoop on the upcoming shows.
Valerie and Rick, thanks for talking with us today and welcome to Ashland.
Thank you! It's a beautiful town – one we've been visiting for years to come up and see shows at OSF. But to live here has really been amazing so far.
Oregon Cabaret Theatre will always be remembered in large part to its artistic director and co-founder, Jim Giancarlo. Jim unexpectedly passed away this summer, which was a great loss and a surprise. As I understand it, you were actually in the process of finalizing your purchase of the theatre when this happened.  Can you please talk a little bit about this experience for you?
Yeah, we were at that last stage – we had agreed on terms, and we were waiting on a preliminary agreement to sign when we got that terrible call… and it was such a big shock, obviously. He was such a good person, just great to work for, and so loved by the community.

Paul, Jim's brother called us a few days later – and this in the midst of just an awful time of grief for him and his family – to re-assure us that that he wanted to honor Jim's wishes and go through with the sale of the Cabaret. Originally, the plan was to come up here, learn the Cabaret business from Jim, plan a 2015 season with him, and then take over officially on January 1st, with lots of lunches planned for the years to come when we needed help or advice…

It's tough. His are very big shoes to fill. When you talk to people in town, you realize everyone knew him.  So far, everybody's been very kind – very supportive of us.
I am glad to know that things had been arranged in a way so that the legacy of the Oregon Cabaret Theatre would continue.
And it's great that it continues with a lot of the same people who have helped to make it what it is. Kathleen Mahoney (resident stage manager), Craig Hudson (Cabaret founder and resident scenic designer), Kerri Robbins (resident costume designer), and Mike Halderman (technical director) are all staying with us on the production side along with Julie Gurwell (general manager), Scott Frankenberger (chef) Jenny Harris (box office manager), and Tiffany Hokanson (restaurant manager). It was important to Jim that we keep as much of the existing staff as we could in the transition, and we intend to honor that. It's our impression that it's been the people that work here that have made the Cabaret such a special place over the years.

It's been a rough time for these folks as well because Jim was well-loved, but during it all, they've come to work and kept the place moving forward. The fact that Backwards in High Heels is such a great show is a testament to the perseverance of director (and Jim's dear friend) Christopher George Patterson and his team of artists.
Valerie, you had known Jim on a personal level working here in 2012 as the director of the Winter Wonderettes. What was it like working up here at that time?
Well, it was during that experience that the seed was planted. I met Jim when I worked as a casting director at PCPA Theatrefest, a theater with which Jim had a long relationship, and he kept trying to get me to come up to Ashland to direct.  A show in 2007 fell through because I was pregnant with my daughter – I would have been 8 and half months along when the show opened!

Finally, I got a chance to work here on the Winter Wonderettes and immediately loved the place, the town and the theatre. The Cabaret has a magical quality, an elegance from an earlier era. I'm someone who always felt like I was born in the wrong era – I love the music of the 30s and 40s far more than anything modern, and stepping into the doors of this place felt like coming home. Even back then, Jim joked about retirement, and I would joke back, "Well, if you ever feel like selling the Cabaret…"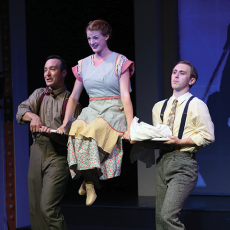 Can you tell us a little bit about your own theatre experience outside of Ashland?
I've worked all over the Western half of the country, directing more than 60 shows. I've directed at PCPA in Santa Maria, the Utah Festival Opera and Musical Theater in Logan, SRT in Santa Rosa, Fresno Grand Opera, Glendale Center Theatre, The Morgan Wixson, and Lucid by Proxy, just to name a few. In addition to the freelance directing work, I was PCPA's resident casting director for four years and I taught movement there as well. My favorite class was a mask workshop – over the course of the workshop, I could just watch the actors free themselves physically. It's a class I got to teach again at USC when I moved back to Los Angeles.
What are some of the essential qualities that stand out in your mind when you think of the Oregon Cabaret Theatre, and what it has come to represent over all these years?
I think what the theatre has come to represent over the years is entertainment. The reason the Cabaret gets such high ratings on Yelp and TripAdvisor is a consistency in the quality of the food, shows, and service. People have come to expect that, regardless of what's playing, they're going to come in and have a good time. The Cabaret lives in the shadow of one of the best – if not the best – festival theaters in the country and I think it thrives because it offers a different kind of experience. In the short time we've been here, when we tell people, we're taking over the Cabaret, so many have said, "We love the Cab! We've been going there for years!"

And for many of the actors and artists who have worked here – it represents a first professional gig – a first theatre job outside of the cocoon of college theatre. We've talked to more than one of our actor friends who have told us about the Cab being one of their first jobs and how much they loved it up here; about how they still felt part of the extended Cabaret family that Jim built up over time.
Rick, you also bring a great level of skills and experience to the table. Please tell us about this and your role for this upcoming season.
My wife is the director/choreographer who's really good at putting on first class musicals, so you'll see more of her work on the Cabaret stage. Right now, what I'm doing is more of the behind-the-scenes stuff: the re-branding, the new website, taking a new approach with marketing, some building improvements. But I'm a playwright and a director myself and will be involved in the art when it's the right project. Holiday 2015, we're doing A Christmas Carol, and I'm working on adapting that for the Cabaret stage.
This past month you announced the new season's shows. Val, can you please tell us about them?
Yes, of course. It's our first season and the theatre's 30th, so we've announced a big season to celebrate. We're starting things off with the show that opened the Cabaret in 1986, Dames at Sea. I think the reason this was the perfect show to open the theatre are still true – it's a funny, tap-heavy, romantic musical – and it fits well on the Cabaret stage. And we just felt like it was the perfect way to celebrate the opening of our 30th season.

Next we're doing Musical of Musicals, which is a very funny, newer musical that's sort of a comic valentine to musical theatre – it's five shows in one, and each has bit of fun with a famous composer or team – there's mini-musicals in the style of Rogers and Hammerstein, Sondheim, Jerry Herman, Andrew Lloyd Webber, and finally Kander and Ebb. Each one is great and we think it's funny whether you're huge fan of each of these composers, or someone who's new to musical theatre.

Our next show is Kander and Ebb's classic Cabaret, and we're going to do it like you've never seen it before. We're going to completely change the Cabaret space, dress up our wait staff – actors will be putting on make-up in the house and be in the audience for pre-show. We're just going to bring a whole new level of immersion, and it's a big show, bigger than has been done here in a while and one we're just completely excited to share with people. I've directed Cabaret before, but this is going to be the way I've always wanted to do it, in a space that's absolutely perfect for it.

The fall show is The 39 Steps, and while it's not a musical, it's a very entertaining quick change show, where four actors play more than 150 characters to tell this epic spy story that really shouldn't be possible to do on a stage. But that's part of the fun – using theatrical magic and the physicality of your actors to create chase scenes on the top of trains and plane crashes and all of these big moments that happen in the story.

And we're closing the season with our holiday show, A Christmas Carol, which is a show almost everybody is familiar with. We're going to do a version that's very true to Dickens' story.
Valerie, what elements of your own style can we look forward to being shared at the Cabaret?
Well, both of us are storytellers, and we're going to lean toward doing shows that tell a story. In my shows, I always want to share the joy of live theatre with an audience – if I have a hallmark, it's that my shows are joyful, energetic, and well paced. I don't like down time for ponderous set changes. I like to keep things moving. I like working with actors who love what they do, because I think that bleeds into the work and right over into the audience.
Rick, as I understand it season subscriptions have just gone on sale. How can we go about getting signed up?
There are a number of different ways to purchase. You can call our box office at 541.488.2902 or come down and sign up in person at First and Hargadine here in Ashland. You can now also subscribe online at oregoncabaret.com, and like always, you can mail us our 2015 brochure with your subscription and payment information filled out.
Finally, are there any last words or comments you would like to share with our readers today?
Well, we just want people to know that the Cabaret is good hands. We know we have big shoes to fill, but we're confident that we're the right people to build on Jim's legacy. We're theatre people – we met doing summer stock, and we built our own theatre company with friends in L.A. Doing this – putting on shows – it's absolutely in our blood.

We feel so lucky to be in this beautiful place, to raise our daughter here, and to inherit a theatre that has such a loyal fan base.
Learn More:
Oregon Cabaret Theatre
241 Hargadine St. Ashland
541.488.2902