Interviews
Tony Bonsell, Euro-Mek- Foreign Auto Repair
In 1974, Tony Bonsell moved to Ashland, Oregon with his young family to open Euro-Mek, a full-service auto mechanic shop. 42 years ago there were only two mechanics in Ashland, and nearly the same amount of traffic lights. Traffic was light, but Ashland loves their foreign cars, which is exactly what Tony specialized in. Not only is it a great accomplishment to have remained in business for so long, but even greater to still be working with many of his original customers. I headed down to the shop to talk with Tony.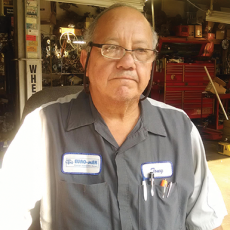 Tony, congratulations on your long career and service to our community! What has the secret to success been?
Long hours, doing the job right, and knowing what you're doing. Also, good equipment, good suppliers and good teachers.
You've specialized in foreign cars, so I'm curious what your favorites are.
Air-cooled VWs, Porsches, German Lloyds, antique British cars such as Morris Minors, MG, MGTF, MGTD, MGB, MGTC and Bentley, Jaguars, Rolls Royces, Singer Gazelles, Hillman Huskies, Sunbeam Alpines, Sunbeam Talbots, Sunbeam Tigers.
Tony, please tell about the personal cars you own. What do you drive now?
Two German Lloyds, a 300SD turbo Mercedes, which runs on biodiesel that I make, a '66 Mustang, and an Alfa Romeo 164.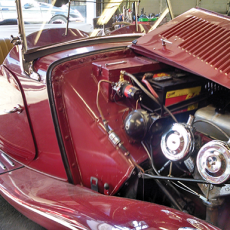 You originally worked on a golf course as a groundskeeper. How did you make your way into the career of being a mechanic?
I took mechanics in high school. I used to swipe my dad's vertical lawnmower motor and put it on my bicycle until it blew up! Then we didn't have to mow the lawn. I also went to San Jose City College for four years.
What was the first car you owned?
Fiat 1100 four-door, and then a 1943 Jeep with a star on the hood.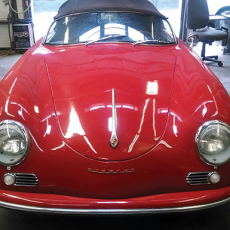 You must have some pretty good stories of car repair from the past 42 years. Are there any that come to the top of your mind?
Yes, several years ago I built a brand new engine for a 1967 Camper VW Bus that was destined to drive across the USA. It did make the trip and came back to the shop with the complaint that it did not have as much power as when they left. I thought the valve clearance may have been tightened up. When I went to lift the van with a 2.5 ton jack, it would not move… just groans. Why would this be so heavy? Upon interior inspection, there was rocks everywhere that they had picked up from across the country to remember the journey. These were magical rocks, three tons or more. After the rocks were removed, the VW ran fine.
Once in 1965, I was test-driving a 356 Porsche convertible up Siskiyou summit when it caught on fire twice. When I was driving down the summit, just before the train trestle, the left rear wheel came off, drum and all, and I commented to my wife Kate, "whose wheel is that," as it passed us up. Then the back of the car collapsed with sparks flying, smoke, and terror as the trestle was fast approaching. I bulldogged the car to the edge of the road and then we had to walk. Kate had to walk with dress, heels and all to the construction workers' site of I-5 when the concrete was being installed… several miles. The cotter pin had not been installed from a previous shop.
Tony, you use to race cars. Tell us about that.
I used to race at the Fremont Raceway, Fremont Drag Strip, Fremont Off-Road Racing, Las Vegas 400, Baja 1000, Portland International, plus a lot of not recognized places.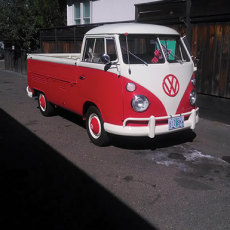 What were some of your top speeds?
180 mph average for three hours, 930 Porsche, Portland International. The Blue Max at 230 mph, dragster, Fremont Drag Strip (1972).
Do you have any favorite drives here in Southern Oregon?
My favorites are Lithia Park, Green Springs, and going to the coast.
You've received quite a collection of customer testimonials over the years. Can you share one with us?
"We were stuck in Ashland, OR, with a 1978 VW camping van that had been running ever poorer as we drove from Mammoth Lakes to Ashland (460 miles). Finally, at the RV park/campground it failed, wouldn't start. Turned key to start, got one instantaneous burst of engine spurt, followed then by dead throttle. Euro-Mek had been referred as a VW specialist with many years experience in Ashland. I drove down to the shop in a rented car in the morning and talked with the owner, Tony. He said he was very familiar with this type of van, had a couple ideas – but would need to check the car. It was Wednesday, he was leaving town Sunday, couldn't tell how long he might need it, if possible get the car in "today or tomorrow." We got the car towed there within a couple hours, with no idea how long we would be without our little camping home, but we left it there with him and went to see King Lear at the Shakespeare Festival for the afternoon – tragedy upon tragedy. We called at the second intermission. HE HAD IT RUNNING. We checked his closing time, "5:30." We drove there directly after the play. He had found two hoses loose and put them back on with secure clamps, replaced a leaking valve cover gasket that he had noticed, and gave me a bill for $90.04. The car drove perfectly back to Mammoth Lakes. Here was a case of a repairman who had a stranger over a barrel and treated him most honestly and did a perfect repair of a simple but serious fault. We were back in our campground for the night with no further cost than the rented car. Thank you Tony!!!" –Everett E.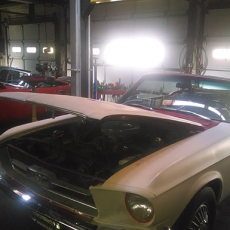 What services are you offering now days?
The same as always… restorations including carburetors, SU (made own tools 48 years ago to alignment when working on Jaguars).
Also, made alignment tools for carbs on Datsun Fairlady, 240 Z, 260 Z, Japanese. Plus, all services for modern autos.
Your hours remain the same?
Yes – 9 to 5:30, Monday – Friday.
What's your best word of advice? Any sage wisdom for the youngsters?
-Check your oil, maintain the car, and stop when the idiot lights come on.
-Do not attempt to lie to your mechanic about what really happened…
-We know about switching tires from front to back from burn outs.
-Overheating… well, really what caused this? No oil in the car…. "but I only went 5 miles to the nearest off-ramp." "I thought it would make it." "It's snowing and raining." 
Tony, thanks for doing this interview with us today. Do you have any last thoughts or comments you would like to share with our readers?
Well, when I first started I was working with everyone my own age, then I was able to work with all of their kids, and now I am working with all their grandkids. So I would like to say thank you to all of our long-term customers and friends we have made here in Ashland, Oregon. If you haven't seen us in a while, drop on in and say "hi" some time.
Learn More:
Euro-Mek Foreign Auto Repair
564 A St.
Ashland, OR 97520
541-482-4256