Articles
You Cant Go Wrong with Brothers for Breakfast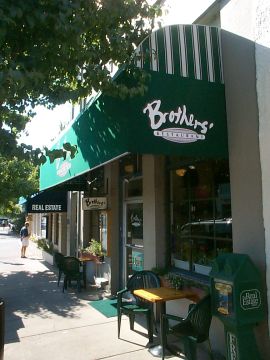 The moment my guest and I walked in to Brothers we felt comfortable. The sunny, light yellow walls, happy plants and cheerful bouquet created a warm atmosphere and the beautiful natural and scenic photography by local photographer Dave Sherman and whimsical photos of the staff by Chris Briscoe gave the eyes much to take in. Even the specials board had a masterpiece chalk drawing of a sunflower that the waitress told me local caterer Awna Zegzdryn drew. As I looked around I could feel the love and attention that had been put into the smallest of details.
We chose a table upstairs and our waitress came over with menus.There were omelets and scrambles galore on the menu with lots of tempting flavor combinations. There were also huevos rancheros and burrito options alongside deli favorites like potato latkes and lox, bagels and cream cheese. Everything sounded delicious.
My guest and I both chose scrambles; his, a combination of bacon, spinach, red onion, tomato and mozzarella, and mine, including pesto, sun dried tomato and mozzarella. The waitress assured us we had chosen well and that those were two of her favorites. We both ordered hash browns extra crispy (though beans or sliced tomatoes were other options) and my guest ordered sourdough toast, among the options of bagel, toast or scone.
While we waited for our meal we saw a woman at a nearby table receive a beautiful and good-sized mimosa and others enjoying Noble Coffee. I saw an order of perfectly round and brown flapjacks go by and another man enjoying a scone though I couldn't tell if it was the Plum Walnut or Jalapeno Cheese which were both being offered that day. Everyone looked quite contented.
A little more time elapsed than I would have liked for our meal to arrive but the fun part was watching the chef carefully prepare our meal from the second story above. The meal was well worth the wait because when it arrived the omelets were perfectly cooked with lots of gooey cheese and the hash browns were crisp as we had requested. The amounts of the different omelet ingredients in mine were balanced just right to create a fabulous flavor and the pesto was fresh and garlicky.
My guest's omelet was also balanced and delicious. He loved his hash browns but said the sourdough toast, while toasted just right, tasted more like white bread than sourdough. But it didn't detract from his immense enjoyment of the breakfast. "This is an A in my book," he said. I agreed and we both agreed, we'd be back.