Above Lithia Park is a short public trail along a gorgeous section of Ashland Creek that provides shade in the summer and solitude in the winter.
Finding the Fairy Ponds is easy. (Finding actual fairies, however, is a bit more difficult.) From Lithia Park, take Winburn Way until it ends. Then turn right onto Granite Street, and go for a mile or so until the road turns to gravel and you pass Ashland Reservoir. When the road veers left after the chain link fence, keep going straight on the gravel road. Ashland Creek will be flowing to your right. Just after the creek flows under the road, the Fairy Ponds trailhead will be on your left in front of a gate.
Hike the trail a short way to a clearing. (It's a nice spot for a picnic or Frisbee throwing. For the more adventurous, there are some trails to the right that head up the mountain.) The trail to the Fairy Ponds resumes on the far side of the clearing. You'll soon encounter the first of the shallow pools that give the area its name.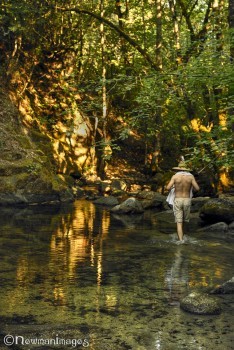 The trail continues upstream for a bit as it skirts small tributaries and big boulders. There are plenty of spots along the creek to scramble and get your feet wet, or you can simply relax on a rock and read a book. The trail only goes for another couple of hundred feet upstream, and then it ends.
The Fairy Ponds are at their deepest—and busiest—in spring and early summer when snowmelt from Mt. Ashland fills the granite creek beds. In the autumn and winter months, the ponds provide solitude and beauty for hikers, dog walkers, and even the occasional skinny dipper…or the two of us with our cameras. (Don't worry—we'll be clothed!)
About NewmanImages: Jay and Sue Newman are two seasoned weekend wanderers who know where to find beauty in any direction from Ashland. Find us on Facebook. You can purchase prints at NewmanImages.SmugMug.com or at the Ashland Artisan Emporium in the Ashland Shopping Center on Highway 66. (Walk in, take a right, go to the 2nd row from the end, we're the first booth on the right.) Look for our images in the upcoming photography book, Ashland, Oregon, by Barbara Tricarico.