Interviews
Blue Toba Authentic Indonesian Food a Cultural Culinary Experience in Ashland
Come take a cultural culinary journey to the Blue Toba, Ashland's first and only authentic Indonesian restaurant, located in the Ashland Shopping Center. Chef Birong, a long-term resident of Ashland, is native to the island of Sumatra, Indonesia, born into the Batak Tribe of Lake Toba, the largest, most beautiful volcanic lake in the world.
Each year Birong brings back fresh spices found only in Indonesia to be able to offer you Indonesia's most famous and delicious dishes at the Blue Toba. Hand- and heart-crafted with a mortar and pestle, Chef Birong blends the multi-layered depth and beauty of Indonesia into every dish he makes. 
In today's interview, we visited with Chef Birong to learn more about his story and restaurant here in Ashland.
Birong, thanks so much for inviting us down to the restaurant today and for doing this interview. I love to see you succeeding and Ashland getting to enjoy this great food you make!
Thanks so much. We always appreciate participating in the LocalsGuide. You guys have always been so encouraging to us. And yes, I am so grateful to the Ashland community for its ongoing love and support of Blue Toba and for understanding that what we do here is unique and as authentically Indonesian as I am!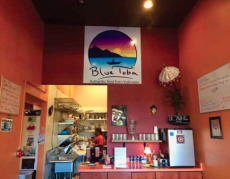 Please talk about the cultural culinary journey that occurs when one visits the Blue Toba. This is not an everyday opportunity.
Indonesian food is incredibly labor-intensive. There is no starting with a store-bought curry paste and embellishing it to add flavor. Our curries and sauces, for example, start out with a plate of leaves, sticks, and pods that I either bring back from Indonesia myself, or have my family send them to me, and I make it from scratch. I won't cut corners. For example, I could easily buy Thai chilis to replace Indonesian chilis, which would cut down my cost because you can buy Thai chili here, but I won't do that. I buy fresh chilis in Indonesia and I dry them myself in the Indonesian sun and bring them back to use for the spicier dishes that we offer here. I want Blue Toba to stay authentic, and mean authentic. It's easy to put that word in your business title, and a whole other thing to stay true to it. People who have been to Indonesia and come to Blue Toba say that the second they walk in the door, the smells alone instantly transport them to Indonesia. They feel like they've fallen into a portal and been taken right back there. I am very pleased by this.
Birong, I would love for you to share a little bit more about your own story. 
I actually wanted to be a soccer player when I was young. I was pretty good at it, but my parents were against it. They didn't think it would give me a secure future. So, because I had no idea what to do with my life, I asked my father for $3000 and a one-way ticket to America to see what I could end up doing. He liked this idea and said yes. In a roundabout way, I found myself in Ashland in my mid-twenties and was fortunate enough to be granted a scholarship to SOU. I had to work to keep myself here. Full-time. None of it was rewarding for me, so I thought I should find something that would give me a career and enable me to work for myself. Because I love to eat and am most passionate about different cultures, I wanted to bring my culture to Ashland, a town I loved and made my home. I knew the best way to introduce culture is through food, so I set myself on a mission and journey to learn everything I could about Indonesian cooking. I'd work at my labor job here and save enough money to go back to Indonesia and go to culinary school. I also learned from local village folks at their homes. Between those two, I developed quite a menu that was enough to open a restaurant. I didn't have much financially, but I had the heart and motivation and determination to keep the vision of Blue Toba. And here we are. It took a couple of decades, but we are here. And here to stay. I am so thankful I can bring a taste of Indonesian culture to this town. It's a fascinating, amazing culture and it all starts with one bite of food!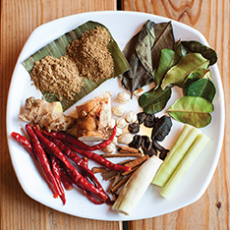 It seems like you have been on quite an adventure.
I highly and passionately value diversity of culture. For decades, I dreamed of offering even a taste of cultural experience to this beautiful town of Ashland that has been my home for thirty years. I have traveled around the world, and I come from a culture that is so diverse in its people, food, rituals, languages, etc. I think we grow immensely when we tap into different cultures, how other people around the world live and see the world. It makes us whole, humble, grateful, expansive. Living here for all those years, I craved not only my homeland's food, but something where when I taste it, I am transported to a place I've never been before. I wanted to bring that here. It seemed a vision out of reach being that opening a restaurant is no small feat, even a small one such as Blue Toba. But with years of working hard at labor jobs and a dream that fueled me every day, I finally was able to bring Blue Toba into being. Indonesia has some of the best, most flavorful, unique food I have ever had in all my travels. Yes, I come from there, but regardless, the food in and of itself is an embodiment of its diversity and rich culture. It is unlike anything I've ever eaten. I made it my mission to learn the nuances of the cuisine. Not a 'fusion' version, but the real deal. I studied not only in culinary school in Indonesia, but I learned from my mother and other elder women in the villages during my travels so that I could offer the most authentic version of Indonesian food. I wanted to bring that to Ashland. I wanted to have a place where people could go and feel like they just entered into another culture by taste, smell, and atmosphere. By all the feedback given from my customers, I think we have accomplished that and that makes me happier than anything.
Who helped you form the appreciation you have for food?
It's hard for anyone, even someone not from Indonesia, to not appreciate the food. It's so layered with flavor that just keeps you wanting more. My mom was the first, probably, to inspire my appreciation for Indonesian food. She'd cook for hours, days. That is part of our culture. The food is everything there. It is not only why and how we gather and bring people together, but it is also incredibly complex and evokes the essence of Indonesia in every bite.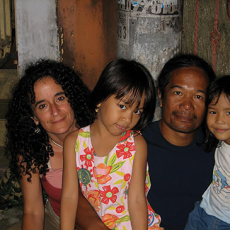 "It's not just rice." Could you please explain this?
Blue Toba's rice is special, for sure. It's very labor-intensive like the rest of our food. I did not want to serve my food with just plain white rice, even though it's organic and common to use. I make a rice called 'nasi kuning,' or 'yellow rice.' The base of it is organic basmati and then turned into what Indonesians use only for ceremonial food. You don't find this on the streets of Indonesia. One would have to be at a wedding, a cultural ceremony, or some other big event to find the yellow rice. It's made with turmeric, lime leaf, lemongrass, coconut milk and other things I won't reveal here because it truly is something unique to Blue Toba. Even the process in which I cook it is a secret and is what makes it the fragrant, unique, delicious rice that it is. We had a customer on Yelp that said she is not a rice fan at all. Never liked rice. Then she tried the rice at Blue Toba and couldn't get enough of it. She ate her partner's portion and then had to order more because she couldn't stop eating it!
Walk us through the process of making Rendang. I hear it is no easy task.
Rendang is definitely our top seller. We have customers that come in once or twice a week to get it. They tell us they've been thinking about it for it for days and just had to come in again. I remember growing up, my mom making Rendang and it took all day to make. I'd open the front door to come home and the scent of it would waft through the house and make everyone's mouth water. Rendang is complex and labor-intensive like no other. It is a spicy dried curry cooked with the best cut of Painted Hill beef. So tender and layered with flavor because it has to cook for at least five hours to get it just right. And you can't just put it in a crock pot or turn it on low and leave it simmering on the stove. You must stir it every fifteen minutes. We've had customers from out of town that were in Ashland for four or five days and once they discovered Rendang, they came in every day to get it for the rest of their stay in Ashland.  It's the most famous and loved dish in Indonesia. And also at Blue Toba, but most everything at Blue Toba seems to be a favorite when people come and try it.  
You hand-select the spices that are used in Blue Toba. Please talk about this process.
Every year I go home to Indonesia and hand-pick the spices from the fresh markets. I choose the best I can find. If I can't get back home, my brother does this for me and sends us the spices. Or if we run out before I can get back, I'll call him and tell him what I need. I try and support the same market vendors each time, ones that hand-pick the best and sit there all day at the market selling their goods. I love going to the fresh markets. The colors and scents of all the spices brings me right back to childhood. Such an array of everything delicious. Ingredients that with knowing, skill, intuition and the culture in your veins, turn into what I consider to be the best food in the world, cooked with thousands of years of tradition. I stay true to that when I cook. I am honored to be born into the diverse country of Indonesia. It is known as the 'spice islands.'  You cannot get these spices anywhere else in the world. Many of them don't even have English names because you cannot find them here. I'm in my 'playground' when I go to the fresh markets. Such vibrant colors, shapes and sizes filling up woven baskets by locals. To bring that back to Ashland is special and rare. It makes me proud and very happy to offer my culture in all its diversity to this town. It's not just food at Blue Toba. It's a cultural experience. The next best thing to being in Indonesia.
Many of the spices also hold many medicinal properties as well.

Yes, just like turmeric is well known for its anti-inflammatory properties, which we use a lot in our food, there are many other spices that have health benefits as well. In Indonesia, there is an herbal medicine called Jamu. You can find it almost anywhere. It's made of a variety of plants, roots, bark, flowers, seeds, leaves and fruits and remedies a large variety of illnesses. So many of the ingredients in Jamu are used in our cooking all over Indonesia. Most spices all over the world, I imagine, have some kind of health benefit if used in their raw form and not processed like so much food can be. Because we at Blue Toba use the raw form of the spice, root, leaf, oe pod, it tends to have a health infusion benefit. People have said over and over again how good they feel after eating at Blue Toba. Like all their cells wake up and are alive. I attribute this to spices we use and the way they are combined together to make the sauces.
What are some highlights you like to share on your menu?
Honestly, I eat Rendang every day. I've loved it since I was a kid and it brings me back to everything and everyone I love in Indonesia. Even though we have mild dishes at Blue Toba, ones that are very flavorful and delicious, I lean toward the spicier ones because that's what I grew up with. Most Indonesians like spicy. Really spicy, but I'm grateful for the mild dishes so that we can accommodate all palates. I love the Gulai, too. It's a spicy coconut milk curry that is so unique and when put side by side with the Rendang over 'nasi kuning', the yellow rice, I'm personally in heaven. Gulai is very unique. Indonesian curries are not to be compared with Thai or Indian curries. They are very different in flavor and spices used. In Gulai, there is a dried fruit called asam kandis, an aromatic sour-ish fruit. I think in English it would be 'mangosteen.' Another ingredient is Indonesian cinnamon. The flavor of Gulai is amazing. Each bite reveals some mystery of culture to me. Same with the Rendang. These two are my favorite. I also love 'mie gorgeng,' Indonesian fried noodles that I make at Blue Toba. We have some customers that come only for those noodles. They want to try something else, but can't get their minds or taste buds off the noodles.
Customers who appreciate Blue Toba are unique and often bring with them their own cultural experiences which you appreciate.
I'm amazed who comes out of the woodwork to come to Blue Toba, such as Indonesians that I had no idea were here, living in Medford or White City. I think our customers really appreciate not only the high quality (organic) of the food, but yes, the cultural experience they get from each bite. In a town like Ashland, I feel that to contribute to diversity here is so important. Even if people have not traveled to Indonesia, when they come in, sit inside and study the seven-foot map of Indonesia on the wall and taste and smell the food, they walk out feeling like they'd just been in another country. Many people in Ashland have traveled to Indonesia, so it's a treat for them too, to be taken back to a country they visited and loved. Again, feeling like they walked into a portal, landing inside another culture is special. To offer that to the community is a great feeling for me. I am a world traveler. I have been to many countries and one of the main ways to experience a culture is through the food. It speaks volumes. Every time I stir a sauce, I am stirring with a few thousand years of tradition, love, and reverence for my culture which I can only hope is translated through the food. From the feedback we get, it seems to be the case.
Birong, you must know half the town. I always see you greeting your customers by first name as they walk through the door.
Yes it's a small town. It's great to know everyone and if I have time, come out and catch up. I am also honored that we are part of people's rituals. Sometimes people come back once a month, some customers come once a week. Some come every few days. I love maintaining the connections and knowing what we do is deeply appreciated.

Being that Ashland is a small town and I've been here for nearly thirty years, I am honored to know so many people. Because Blue Toba is small in size (and mighty in flavor!), there is an intimacy that can happen. People feel like they're coming over to my 'house' for dinner. It's so important to me to have a 'mom and pop' feeling, where people feel a part of the family when they come and eat. It's very much how it is in Indonesia. This 'village' feeling where you can go and talk and eat and feel like you are welcome. That doesn't happen much in America. To bring that aspect of Indonesia here was one of my main goals. A place where the owner and chef is your friend, your community, welcoming you into the 'village' to feed your belly, but also your soul. We have customers that come every other day to eat and even if they can't that day, they'll stop in and say 'hi' and see how we're doing. I appreciate this so much. It feeds me and gives me the energy to keep doing what I have always envisioned for Blue Toba. That not only is it a deeply cultural experience, but a friendly, personal one as well. I am so grateful to the Ashland community for all their support, cheering us on, loving what we do and appreciating the depth and level of labor-intensive cooking I offer, so that the word 'authentic' is not just a noun, but a verb. It's true blue and our customers get that. They understand it. They love it and are so gracious, kind, and friendly, I feel like I am a part of my own culture brought here to infuse into this culture.  
You are continually receiving great reviews for your cooking. Can you please share some with us?
"Outstanding food and delightful discussions with the owner. My mouth is still dancing with joy. I highly recommend."

"Truly authentic! Very delicious! What a relief for us to find true native food! Brings us to want to travel to Indonesia again! The owner Birong is totally hands-on.
All the ingredients are fresh. Fun to talk to him when the lunch rush ended.
As I told him, it's hard for us to find any food. Better than we get in SF Bay Area!
Truly a great find if you are a first timer to Indo Food.
Or like us, so glad we saw his ad in Ashland travel mag. Keep up the good work, Birong!"

"Just got introduced to this place when I joined a girl's night in with takeout from Blue Toba. Lucky me, I was able to taste multiple dishes and they were all unbelievable! Especially the lemongrass rice is very delicious combined with their curry. My favorite was Rendang and Ayambakar. I raved about it to my husband so we went back for lunch the next day. Cucumber water was refreshing, I tried the lunch special which was grilled chicken breast with Indonesian sauce (house made dark palm sugar sauce and chili sauce), personally I don't like chicken breast but I still cleaned my whole plate and munch on my husband's Rendang. Can't wait to go back! Great place, uniquely flavorful, simple dishes and surprisingly enjoyable. This type of restaurant is our favorite kind of place to visit, you will be delighted too!"

"This is by far the best food Ashland has to offer. Authentic, fresh organic, consistent and so yummy!"

"There is something really special about the food here. The dishes are simple, but the flavoring is complex, yet refined. Often times I will forget about this little restaurant because it isn't "downtown," and doesn't have the fine dining atmosphere, but then when I come back, and sink my teeth into that tender Rendang, every single time, I say "why don't I eat here every day?!" Seriously though, from the mouth of a local, born and raised, this place is the bomb-diggity. And I don't use that term lightly. Just get the Rendang, maybe a side of veggies. You'll see what I mean."
Do you have any plans for traveling this year?
I am hoping to go back to Indonesia in February to learn some more dishes, get some more spices and visit my family where we gather in hordes around the table and eat together. It's my favorite thing to do!
Do you have any current special we should try out?
I just started making Soto Ayam. Not sure I'll have it in the spring and summer because it's a chicken soup. Unlike chicken soup known in America, Soto is simmered for hours with galangal, lemongrass, kaffir lime and other spices/herbs I won't disclose. It is served with rice noodles. I've seen customers drop their spoons and lift the bowl likes it's a coffee mug, just to get every last drop. Oh how I love seeing this. A 'licked clean' bowl or plate does my heart good! Being that I am just one chef, it's hard to add more dishes, but I do every once in a while offer a new special when I have the time and space to do. I'm what they call a 'one man show.' This is not food you can teach just anyone to cook. For now, it's just me and being the time-consuming, labor-intensive cuisine that Indonesian food is, I've got a lot on my plate with what is already on the menu. But yes, I will keep trying to add a special when I can. I have so much I want to offer, so many more dishes to bring to the table. In time, hopefully, I'll be able to do so.
Learn More:
Blue Toba
1690 Ashland St, Ashland, OR, 97520
www.bluetoba.com
Facebook
541-708-6214