Interviews
Rogue World Music Building Community & Cultural Awareness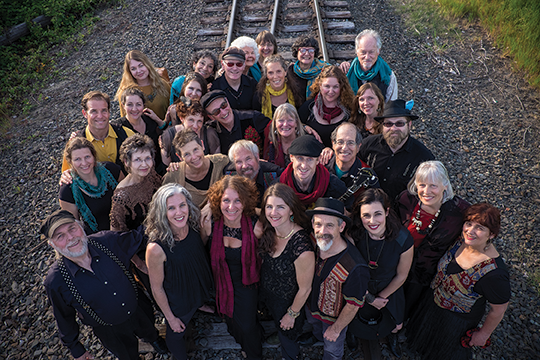 Rogue World Music, an Ashland non-profit arts and culture organization, builds community and cultural awareness through performance, education, and participation. RWM's past Board President Dee Fretwell interviewed new Executive Director Val Rogers about the organization's evolution and future direction.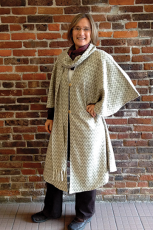 Val, the board of Rogue World Music is thrilled to have you as our first Executive Director! Tell me, what attracted you to this role with RWM in Ashland?
I've been involved with world choral music for nearly 2 decades. In fact, RWM's founder, Megan Danforth, and I met at a world music singing camp near Eugene, Oregon that I organized 10 years ago. That experience, and my encouragement, inspired Megan to found the Rogue World Ensemble, which later became Rogue World Music. I'd served on the organization's Stewardship Council since the beginning, so I was aware of how it had grown and evolved. I agreed with the board that the organization was ready for professional management.

And I already have a strong connection with the Ashland choral community, particularly the Rogue Valley Peace Choir, whose founder, Diane Garcia, was inspired by her experience in the Eugene Peace Choir when I directed that group. I feel like I've been a "midwife" to two of Ashland's most vital community choirs, and that makes my heart so happy. In addition, I've taught several workshops here in South African choral singing (my specialty) that have been popular with singers from many different Ashland choirs. So, Ashland already feels like home.
That's awesome! I understand you're bringing more than your musical expertise to this new job. Tell us more about that.
Besides music, nature is the other driving passion in my life. I grew up in Idaho and had many summer adventures horse-packing in the wilderness with my family. When I first moved to Oregon, I worked as a member of the Hoedads forestry collective, planting trees in the industrial forest. Later, I earned a master's degree in geosciences from Oregon State University and worked for the US Forest Service and local watershed councils assessing watershed health. For 14 years, I was Volunteer Coordinator, then Development Director, with an environmental nonprofit in Eugene helping to restore 5000 acres of native riparian, prairie and upland habitats. Both my environmental and music careers built skills in project and people management, strategic planning, and program development, and much more. It feels like all of my skills and passions are coming together in this leadership role with Rogue World Music.
Rogue World Music started out as an adult choir (Rogue World Ensemble) and has grown to include children's choirs (Rogue World Choristers) plus workshops, folk dances, and performances by other world music artists. How do you see the organization developing in the future?
It's true, Rogue World Music has accomplished a lot in its first seven years! I think all of these programs are successfully serving the community, and helping to achieve our mission, in different ways. Both of our musical directors, Shaun Garner with the Ensemble, and Jen Knippel with Choristers, are doing a fantastic job! And our founder, Megan Danforth, has developed an amazing network of world music artists who contact us for presentation in schools and public performances.

Right now, the board is developing its first strategic plan for RWM. In the near-term we'll focus on optimizing our three core programs (performance, education, participation) and increasing efficiency based on what we've learned works best. In the longer term, we seek to increase our impact beyond Ashland to serve the broader Rogue Valley region. And we plan to direct more resources toward partnering with other organizations to support good causes and offering more opportunities for people to participate in community music-making.

We're already pursuing this vision with our education program where we have three new after-school Choristers Clubs in Phoenix, Medford, and Central Point and in a new partnership with Crater Performing Arts Center in Central Point.
And the spring Ensemble concert in April is also in Central Point, right?
Correct. It will be at the wonderful Crater Performing Arts Center (CPAC) in Central Point at 7 PM on Saturday, April 21. This is a joint performance with Ashland's Unity Drum and Dance. The facility is perfect because it's a beautiful theater with plenty of room for all the drummers, dancers, and singers.
That sounds like an exciting show!
It's very exciting. With lots of great songs from African and African-American traditions, and all the powerful rhythms, colorful costumes, dynamic dances, and rich harmonies, this show will lift your spirits for sure! I've got to give a big shout out to Matthew Reynolds at Crater Performing Arts Center for hosting us and helping make this show possible. He accomplishes an amazing amount for students and the community at CPAC on a very limited budget. We're looking forward to giving back to Matthew and the Crater High School students by bringing in some world music artists to share their traditions with the students and teachers next year.
I understand you've planned a special community event with this concert? Tell us about that.
Yep! We're hosting our first open community sing the following Tuesday, April 25th, at the Rogue Valley Unitarian Universalist Fellowship church in Ashland starting at 6:45. Folks will learn some songs from the concert and others songs from African and African-American traditions and get to sing them with the choir! Everything will be expertly taught and no music reading or experience is necessary. In no time, the room will be resonating with harmony and your spirit will soar with joy!
That sounds fun! So, this is not just for "choral singers" per se, right?
Choral singers are always welcome, of course. But anyone who wants to experience being IN the music, surrounded and uplifted by a community in harmony is encouraged to come. There are so many people who love to sing and need the nourishment that group singing can provide, but who may not have the time or the desire to make a weekly commitment to rehearsals. We want to serve these folks, and this is the first step. Go to rogueworldmusic.org then workshops/community sings where recordings and wordsheets can be downloaded. If people come, and bring their friends, we'll continue to offer these opportunities.
This is the "participation" part of Rogue World Music's mission, isn't it?
Absolutely! Providing opportunities to weave world music participation into the fabric of community life is right at the heart of our mission of building community and cultural awareness. Since time immemorial, singing and dancing together have been fundamental ways communities have strengthened the bonds that help them function. These activities provide human nourishment and vitality every bit as much as food and drink do! Traditional societies have always known this, and it's still important today, perhaps even more so in this age of digital everything. These are primal ways for people to connect and create a communal experience of unity and joy. With all the animosity in the air right now, as a community we need to remember how to, and consciously choose to, use these tools to enhance our well-being, both individually and collectively.
Is there a dance event coming up as well?
There sure is. We're wrapping up our spring event series with a community folk dance that brings together international folk and contra dancers on Saturday, April 29th, 7 pm at The Grove in Ashland. We're partnering with Southern Oregon Contra to bring in an excellent California band called Chubritza that plays both styles. Local fav leader, Jasna Pecaric, will teach the Balkan style dances.
What made you decide to package your spring events this year?
Well, the concert with Unity was scheduled early, then Chubritza's and Jasna's schedule determined the dance date, and I suggested we put a community sing in the middle to create a spring package!
Is there a special package price?
Yep, folks can buy a "triple-play" ticket and enjoy all 3 events for $30. This would be an amazing thing to do as an extended date with someone you're getting serious with. You'd really know if your hearts were compatible after this experience. Or, because the triple-play ticket is transferrable, families or friends could buy one and share it. The whole point is that we want to give the community lots of ways to enjoy and experience different musical traditions.
How else do you see RWM fulfilling the participation part of its mission?
We want to strengthen our relationships with other organizations and share some of this traditional music that comes from the deepest wellsprings of human experience to support local causes that matter in our community. Because singing and dancing is too powerful, too essential, to be confined to the aesthetic realm alone! We're open to collaboration, not just with other artistic groups, but with cultural, social, environmental, educational, and all kinds of organizations.
What about the new Ashland World Music Festival? How does that fit into RWM's vision?
The Ashland World Music Festival is a great example of a new partnership between RWM and the City of Ashland Parks Department to offer a whole day of world music programming to the whole community for free! This year, it will be Saturday, May 20th, from 12 to 6 pm at the Lithia Park Bandshell. There will be eight different acts, all featuring different cultural traditions, including Americana. We're seeking business sponsors for the event so we can set up tent shelters in case of rain. This is only the second year for this event, formerly Siskiyou de Mayo, so we're keeping the acts all local for now. If turnout is good and interest grows, we could look at bringing in some regional or national acts in the future. But we'll always feature our local world music artists as well.
Anything else you'd like folks to know about Rogue World Music?
As our programs continue to grow and diversify, our need for community support does so as well. We are a 501c3 non-profit, so all financial contributions are tax-deductible. But we're also seeking in-kind support of goods and services. One thing we need right now is a large enclosed trailer or "toy hauler" to store and transport our custom-built risers and other theatrical supplies. And we need volunteers who can serve once a week as assistants to our Music Director in our Choristers Clubs. No musical experience required, but experience & skill managing groups of kids is essential. We'd also love to work with a volunteer videographer who's excited to capture the magic of community music.
Learn More:
Won Birin Kirin (We Are One) concert with Unity Drum and Dance
Friday, April 21st, 7pm at Crater Performing Arts Center, 655 N. 3rd St. Central Point. Tickets $15 – $20 www.brownpapertickets.com
Community Sing! 6:45 pm, Tuesday, April 25th, Rogue Valley Unitarian Universalist Fellowship, 87 4th St. Ashland. Tickets $10 www.brownpapertickets.com
International and Contra Dance with Chubritza,  7 pm, Saturday, April 29th, The Grove, 1195 E. Main St, Ashland. Tickets $12 at the door.
Triple Play – All 3 events
$30 www.brownpapertickets.com
Contact Val Rogers at
valrogers@rogueworldmusic.org